The Guess brand has always been renowned for its contribution towards helping charitable causes and raising money for those in need and less fortunate. The latest news on this front is that Guess along with Sequel AG, the exclusive worldwide distributor of Guess Watches, are raising money for 'Maison Chance', a project dedicated to building a new school in Vietnam for disabled and disadvantaged children. They are doing this via the launch of a new fundraising campaign 'Faces to Watch – Time to Give' which has involved the addition of a sleek and striking new ladies watch called 'Time To Give'.
A little information on the charity itself – the 'Maison Chance' project which means 'House of Luck' and part of the Village Chance project was founded by Swiss resident Tim Aline Rebeaud who has spent the last 15 years building and running Maison Chance in Vietnam. The scheme provides educational and vocational training to 200 children and 70 handicapped people, as well as residence and care for 60 people with serious disabilities.
Maison Chance u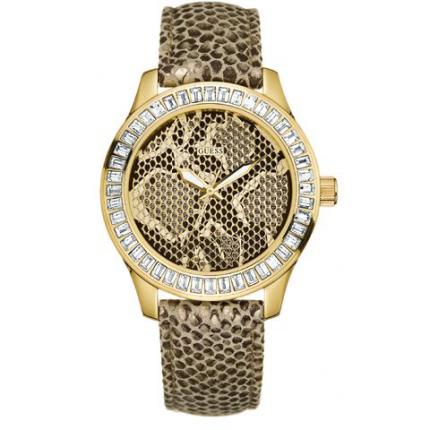 ltimately aims to provide a fully integrated school, rehabilitation centre and community health centre for children living on the street and also for the handicapped.
In order to raise funds for the Maison Chance, Guess has launched an incredible and limited edition 'Time To Give' ladies watch. A percentage of the proceeds from the sale of this watch will go directly to help fund the Maison Chance project.
The Guess watch, in true Guess style is sleek, striking and ultra stylish. With a gold plated case and diamante embellished bezel, the strap boasts a python skin effect strap and dial to ensure that you stand out from the crowd!
In addition to raising funds from the proceeds of the 'Time To Give' Guess watch, Sequel AG and its partners, distributors and manufacturers will hold a number of special events and other fundraising initiatives to support Maison Chance.
It is great to think that the brand is always thinking of how it can use its distinctive and unique products as a way of helping charities and of course, allowing its customers to also be safe in the knowledge, that they too are contributing to an extremely worthy cause.
Tags:
guess
,
Guess 'Time To Give' watch
,
Guess Watches
,
Maison Chance
,
Sequel AG
,
Tim Aline Rebeaud
,
Village Chance project
,
watches
,
'Faces to Watch – Time to Give'