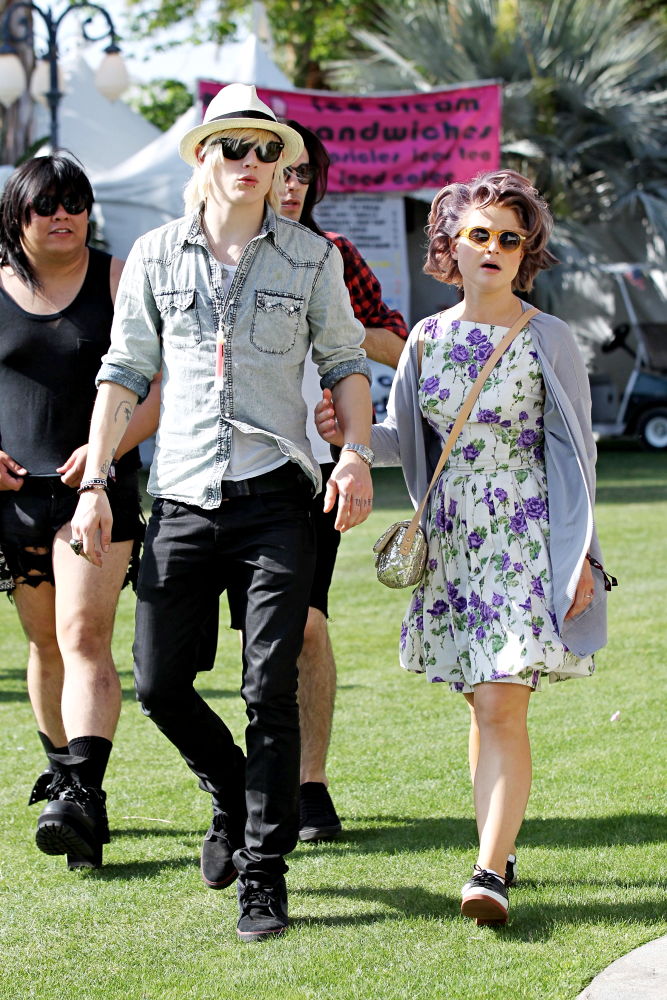 Summer is officially here, the sun is shining and we couldn't be happier! With the warmer months comes the usual smorgasbord of amazing festivals to get your hedonistic thrills at. Whether you enjoy moshing at 'Download', country pursuits at 'The Green Man', teenage kicks at 'V Festival', fancy dress at 'Bestival', glamour at newbie 'Vintage at Goodwood' or the mystic of 'Glastonbury', you must ensure you're dressed for the occasion.
Festivals, fashionable summer gear and cool sunglasses all go hand in hand. Maybe it's the influence of Gaga or perhaps Dita Von Teese, but this summer is all about kooky and vintage. With styles from the Fifties and Sixties making a comeback, we predict this year's festivals to be awash with vintage shaped sunglasses in a cat's eye style or small round frames, oversized sunglasses in reds, greens and brown and retro-looking shades.
The festival season kicked off with April's Coachella Festival in California, where a host of celebrities dazzled with their fashionable threads and on-trend sunglasses. Kelly Osborne was spotted wearing small round framed lilac sunglasses, Katy Perry went retro in angular black frames with a bold white stripe across the top, Dita Von Teese personified Fifties elegance in oversized brown sunglasses with graduated lenses and Kate Bosworth dressed to impress in classic Ray Ban Aviators.
Aviators and Wayfarers from Ray Ban transcend fashion and will always be popular and current. For classic sunglasses you can't go wrong with either of these styles for festival frolicking. The same goes for oversized glam shades. Designers like Gucci, Bvlgari, Versace, D&G, MDG Sunglasses, Chanel and Pucci all have great sunglasses for summer goddess style. On the other hand if you're a seasonal type of girl with a desire to look fabulous and 'now' – take a leaf from Kelly O's book and opt for small round shades. This style was all over the spring / summer catwalks and looks great in pastel coloured frames teamed with a floral frock or playsuit. Or you may want to play the vintage diva with cats eye shaped sunglasses – again a strong trend on the catwalk this year. Look to brands like Prada and Marc Jacobs to achieve this look.
We've got our Big Chill tickets and our festival sunnies sorted. Now it's just a case of praying for sunshine! Here's hoping….
Tags:
aviators
,
Bvlgari
,
chanel
,
D&G
,
Dita Von Teese
,
Festival Sunglasses
,
gucci
,
Kate Bosworth
,
Katy Perry
,
Kelly Osborne
,
Marc Jacobs
,
MDG sunglasses
,
Prada
,
Pucci
,
Ray Ban
,
sunglasses
,
Versace
,
Wayfarers
Versace is arguably the best known luxury designer brand. The label is widely known to be glamorous, beautiful, sophisticated and luxe. Headed up by Creative Director Donatella Versace, who took over the family business following the death of her brother Gianni in 1997, Versace has gone from strength to strength under her guidance.
Perhaps best known for their daring, plunging eveningwear, Versace is comfortable in the limelight and the headlines, as movie stars and musicians clamor to wear the latest designs from the Versace collection. Elizabeth Hurley is a fantastic example of a Versace Woman. Elevated to fame on the arm of Hugh Grant whilst wearing THAT infamous safety pin dress, she has since gone on to star in numerous Versace campaigns and has been a great supporter of the label and a good friend to Donatella. Similarly Jennifer Lopez is a big fan of Versace. If you had to think of one image of J-Lo, I'm guessing it would be of her wearing the green tropical, slashed to the navel, attention grabbing dress at the 2000 Grammys, early in her career. That dress was the topic of conversation for many months after and as such Versace enjoyed another red carpet smash.
Current fashion favourite, singer, Lady GaGa is renowned for her very bold choice of eyewear. The sunglasses that she is seen in, in every promotional shot, video and out on the town are widely acknowledged to be vintage Versace.
A bit like their uber sexy dresses, Versace sunglasses have an unmistakable injection of sexual prowess. Curvy and often over sized, with gold detailing largely on the arms and the instantly recognisable Versace logo, Versace shades are the accessory of choice for many a stylish woman. Although bling, Versace sunglasses never overstep the vulgar mark. Normally in black or tortoiseshell and available in many differing styles (wrap around, fly, square), Versace eyewear is definitely a stylish choice for fashion-forward confident women.
Click here to visit our Versace Sunglasses section
Tags:
Donatella Versace
,
Elizabeth Hurley
,
grammys
,
Hugh Grant
,
J-Lo
,
Jennifer Lopez
,
Lady GaGa
,
shades
,
sunnies
,
Versace
,
versace safety pin dress
,
Versace sunglasses
Falling in love could see you starting to look at the world through rose-tinted glasses, but it would seem the latest trend for lovebirds is to actually start sporting matching specs. Only yesterday Kelly Osbourne and new beau Luke Worrell were seen hand-in-hand wearing identical yellow and purple sunnies. Catching up on a spot of shopping in Beverley Hills before they met up with Mrs O, we hope the Chanel boutique managed to dissuade the young lovers from buying exactly the same outfits too. It's not the first time they've been snapped looking like peas in a pod either; last month they both left a Covent Garden nightclub wearing heart-shaped shades.
But it's not just Kelly and Luke that have been doing a Posh and Becks. Model of the moment Agyness Deyn and best bud, fashion designer Henry Holland have also been pictured wearing near-identical shades, (and shirts, shorts, shoes and hairstyles), and Paris Hilton and Benji Madden have also been accused of falling victim to the latest fashion.
So why is wearing the same specs so appealing, and is there such a thing as unisex sunglasses? Well it would seem the answer is yes! Whether you're rocking the androgynous look á la Deyn, or simply fancy borrowing your other half's stylish sunnies, unisex shades won't leave you looking out of place. And they're more common than you think. Whether you're a label lover or a plain Jane, brands including Armani, Versace, Marc Jacobs, Rayban and Oakley all have a fantastic selection to choose from. The only problem you'll face is who gets to wear them first – you or your loved one? It's only then when you'll realise why a matching pair might be the only way to go.
Tags:
Agyness Deyn
,
Armani
,
Benji Madden
,
Henry Holland
,
Kelly Osbourne
,
Luke Worrell
,
Marc Jacobs
,
Oakley
,
Paris Hilton
,
Ray Ban sunglasses
,
Rayban
,
Versace