Watches make the perfect statement accessory and lucky for you, here at Shade Station we have a huge array of designer and brands to ensure that you find the perfect piece of arm candy. From classic and traditional, sleek and sporty, vibrant and eclectic and elegant and glamorous we have every style imaginable at a great range of budgets.
Let's start with some new key style additions to the offering. First up we have the ultra trendy ES2157 Fossil watch style which with its black acetate strap, black dial and diamante embellished bezel, this is definitely one major watch trend to look out for. Watches can be feminine but edgy and the Fossil Watches brand is perfect at achieving the balance just right, always introducing highly stylish designs but injecting their own unique edge.
Diesel Watches is still a major player in the watch style scene and is renowned for its unique, eclectic and original designs that are completely unique to the brand. Diesel has some amazingly stylish new watches to look out for with wide straps – including rubber straps in some of the new additions which are very much on trend this season, bold dials and visually exciting detailing. Diesel watches for guys and girls tend to be bold and convey real statement style that works with a variety of looks.
DKNY is famous for conveying the essence of New York style in its products and the same applies with the amazingly stylish range of DKNY Watches. One particular new style that has us swooning is the NY4847  DKNY watch which captures every watch trend in a unique and striking design. With its translucent turquoise rubber strap and striking white dial this DKNY watch perfectly conveys the essence of spring and summer and will compliment your style and inject some vibrancy into your look. The brand has a great selection of other new watch styles with fresh white and aqua tones a common theme. Elegant, highly stylish, versatile and unique – DKNY watches definitely will not disappoint!
As this season is all about colour, Ed Hardy Watches are the perfect way to achieve this look with their stunningly striking tattoo inspired designs. With sleek straps (often cuff style) and unique tattoo designs including lions, skulls, fairies, butterflies among just a few of the Ed Hardy watch logos these watches are genuine works of art and really add visual interest and a certain LA edge to your look.
LTD Watches were huge in 2009 and what with JLS designing their own unique range called the JLS vs LTD towards the end of the year, the brand is set to be even more popular in 2010. Each watch is strictly limited, as the name suggests and these vibrant unisex styles are all about the colour factor! The new style which is set to be big this season is the Rolex style LTD Watch with its sleek bracelet strap – be quick though as each model is limited and once the style is gone, it's gone so be sure you get yours fast!
Wenger watches are a new brand addition to Shade Station. With collections that are traditional, sporty or contemporary these are real investment watches with incredible function abilities. Tested in the Swiss Commando Raid, Wenger watches really go the distance and with such a great variety of aesthetic styles to choose from, you will definitely find a watch to suit. Perfect if you are looking for watch with something that little bit special.
Guess Watches is loved for its super elegant and glamorous watches that are feminine and chic and of course with that sexy edge that the brand is renowned for! A new Guess watch style is the Heart to Bling watch which perfectly captures the glitzy, glam trend with diamante embellished heart design on the dial. Guess watches also has some beautifully coloured and fresh tones for this season and are wonderfully sophisticated, fun and feminine.
Adidas watches are a great way to combine the two key seasonal trends of sporty and colourful and have some incredibly vibrant and funky new styles in an array of fresh and summery colours such as pink, blue, white, purple, green and yellow. With highly polished rubber straps, large multifunctional digital dials and of course, all at affordable prices, Adidas watches are always a firm favourite and have that high trend appeal that instantly lift your look.
Tsovet is also a new brand on the scene and these are incredibly unique and special watches that combine the vintage and contemporary in terms of the materials used in production and the watch technologies. With some strikingly beautiful designs, Tsovet watches are real statement pieces and make for the perfect investment watch when you are looking for something extra special. There are also some wonderfully feminine female designs in fresh colours such as white and gold.
The true British brand Ted Baker is also still a huge favourite and manages to combine its own unique style whilst injecting those key trends to keep the watches super stylish and fashionable. With an array of watches that incorporate bold colour and patterns as well as more understated silver watches, Ted Baker watches for this season typically feature beautifully colourful straps, perfect for a spring and summer look.
Michael Kors watches are great for those ladies who favour exquisite style and elegance and there are some wonderful trend inspired designs to look out for this season. Nude tones are highly on trend in 2010 and Michael Kors watches perfectly capture this with creams, fawns and browns a common feature as well as the stylish polycarbonate strap design such as the MK5197 with diamante embellished inner links – perfect for entwining high fashion and sparkly glamour!
Sporty attire and sporty style watches are huge this season and Japanese fashion inspired and a favourite of the celebs, Superdry Watches has recently launched the Superdry Sport collection and with their vibrantly coloured plastic straps including hot pink, blue, white and green with equally vibrant dials, these watches are definitely a great way to entwine sporty and colourful in one watch!
Bench Watches is a great brand for those of you who like skate, street and urban style and there are some fantastic new designs to look out for this spring. With typically wide leather straps and bold dials which prominently display the Bench watch logo, fresh light colours and true statement but effortlessly cool style is what the brand perfectly conveys.
Tendence Watches are a fabulous new brand to look out for and have been featured in a number of high profile style publications, favoured for their refined and exquisite aesthetic style and conveying the theme that everyone should stick to their own individual style and refrain from following trends simply because it is fashionable. Tendence watches therefore take their own inspiration when designing the watches which have a distinctively striking look with boldly featured numbers and detailing on the dials, wide straps and strong elements of colour in some styles.
These are just a few of the brands and styles to look out for and other favourites include extreme sport favourite Animal watches, the urban style inspired Black Dice watches, Nautica watches for every outdoor sportsman, innovative TX watches, glamorous and flirty Seksy watches, innovative and striking Oakley watches, classic Police watches, traditional Timex watches, and geek chic inspired Tokyo Flash watches with their watches that are designed to engage the brain and really make us think about the concept of telling the time! Be sure to check out our watch page for a full list of our exciting brands!
At Shade Station we are always on the lookout for the latest brands and styles and regularly update our watch collections accordingly. Check out our style blog so you are up to speed with what's hot and new in! Be sure to also keep your eye on our sale items to get that sought after watch at a fantastic price. Whatever style of watch you are looking for or are seeking inspiration to try something new, we have all the latest and greatest watch brands and styles as well as the classic designs to ensure that you find your perfect watch!
Tags:
Bench watches
,
Black Dice watches
,
cool watches
,
designer watches
,
Diesel watches
,
DKNY watches
,
Ed Hardy watches
,
fashionable watches
,
Fossil watches
,
funky watches
,
Guess Watches
,
LTD watches
,
Michael Kors watches
,
nautica watches
,
Oakley watches
,
Police watches
,
Seksy Watches
,
sport watches
,
superdry watches
,
Ted Baker Watches
,
Tendence watches
,
Timex Watches
,
Tokyo Flash watches
,
Tsovet watches
,
tx watches
,
watches homepage
,
Wenger watches
TX watches were launched in 2005 and the brand's main objective was to create watches with a striking collaboration of style, movement and function. TX watches are a blend of American innovation, Italian style and design and German technological engineering. This detailed combination has led to a collection of watches which are regarded as elitist with precise instrumentation and a cutting edge look. Only the finest materials are used to create the watches and each one is designed with a sense of adventure in mind and built to endure physical activity.
TX watches are designed primarily for the outdoors and are ideal for every adventure lover. The watches use the first ever quartz analogue Perpetual Weekly Calendar in addition to Linear Chronograph making them extremely unique to the brand as this technological combination isn't available anywhere else around the word.
A new TX watch style to look out for includes the Linear which comes in a variety of colours and materials and as the name suggests, features a linear chronograph, a 2nd time zone function ability and a multifunctional retrograde. In addition to all of these innovative and high tech features, the watch has a slick and sophisticated appeal making it a stylish accessory when worn out and about for every day and evening use. The various colour and material options also adapt the visual look of the watch if you prefer an edgy, sporty or robust look for example. Other new styles include the World Time Sport TX watch which features 24 time zones and a multifunctional retrograde. This watch also has many colour and material options available and looks incredibly elite and contemporary. The new Pilot TX watch has a classically sophisticated aesthetic and also features a 2nd time zone function.
In terms of the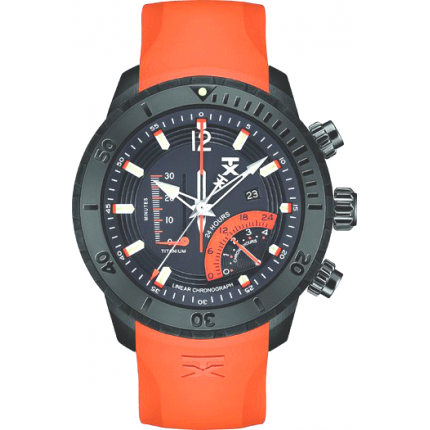 visual style of the whole TX collection, TX watches have that luxurious aesthetic and the quality of the materials are definitely visually apparent. Most of the watches feature round dials and some incorporate a bold injection of colour on the strap or on the clock face. These watches look like they are built to be worn on the move but many of the designs have a chic and sophisticated aesthetic allowing them to also look great for evening wear or even for general day to day use. TX watches are designed and built for purpose but have that added style factor flexibility.
So what makes TX watches so functional? Quality control, testing and high technology are all factors which make TX watches regarded as exceptional. Each TX watch contains four motors which function independently; one motor drives the hour, minute and second hands, and the remaining three are responsible for the running of the other features. The effect of this precise mechanism is superb function ability and reliability. The watches are made from the highest quality materials in
cluding premium sapphire crystals, sculpted dials, detailed crafted hands and etched case backs.
The brand also places great importance on how the user interacts with the watch and takes into consideration their needs and wants. Considering this right from the beginning stages, the watches first spend five years in Germany whereby the watch movement will be developed. Each timepiece is made from materials and parts manufactured in Europe which is also what makes the overall product unique. The watches then undergo numerous reliability, strength and function testing which ensures that when it reaches the customer, the watch will be faultless.
The TX watch collection is extremely refined, functional and has a decadent and stylish look when worn either on the go or for an evening out. These are definitely investment watches that have something extra special and incredibly unique.
Tags:
Europe
,
Germany
,
Lenear
,
Linear Chronograph
,
Perpetual Weekly Calendar
,
Pilot TX watch
,
premuim sapphire crystals
,
tx watches
,
watches
,
World Time Sport TX watch
TX Watches are a truly international brand. Combining American innovation, Italian style and German engineering, TX Watches produce luxury wristwear which appeal to a global cross-section of people. Renowned for their cutting-edge technology, classic style and unique quartz movements, TX watches are seen as one of the industry leaders when it comes to wristwear performance and function.
Almost all watches use quartz movement these days, but TX Watches have patented their special quartz movement which took them five years to develop. This makes their particular movement entirely exclusive to the brand and also means that their wristwear is extremely precise.
With four motors working independently of each other in each watch and produced with the highest quality materials, a TX Watch is effectively a techy dream disguised within a classically elegant package.
TX Watches invoke the spirit of travel and adventure – with multiple time zones, durable technology and a polished exterior; these innovative wristwatches are the height of international travelling style. Priced at an affordable £300 – £600 TX Watches are not so expensive as to break the bank, but just so to make it feel like you're treating yourself to a true investment wristpiece.
Tags:
cutting-edge technology
,
investment wristpiece
,
luxury wristwear
,
precise movement
,
Quartz movement
,
tx watches
,
unique quartz movement
,
watches
,
wristpiece
,
wristwear