Despite being founded back in 1937, the Ray-Ban brand today in 2010 is stronger than ever! Every year Ray-Ban usually reveals a new and exciting style or a revamped version of an iconic style, so we are always waiting in anticipation to see what's coming next!
Last year when retro style was a huge key trend, the old-school colour inspired Ray-Ban Clubmasters were one of the hottest designs to be seen wearing. Still a favourite that has continued through to summer 2010, the Clubmaster is an incredibly popular style and we predict that the forthcoming music festivals will definitely see the colourful and classic Clubmasters once again, in all their glory!
There is also a Ray-Ban d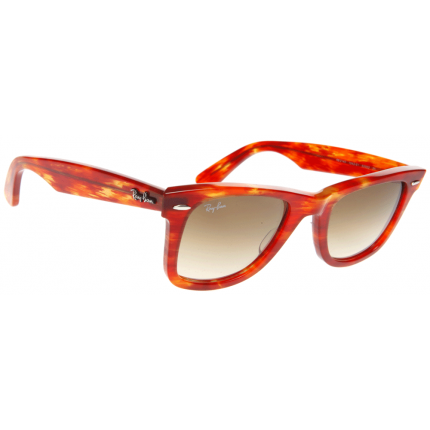 esign that all the style icons, celebrities and anyone who knows a thing or two about fashion are constantly seen wearing – the Ray-Ban Wayfarer. Kate Moss, Nicole Ritchie, Lauren Conrad, Kristen Stewart and Robert Pattinson have all been seen sporting their classic and colourful Wayfarers (with Robert wearing them on-screen in Twilight as well as off-screen!) and the design just seems to flatter every face shape, providing your finished look with that sense of star quality.
It's probably fair to say that the Ray-Ban Wayfarer has become a defining fashion item of this era and is likely a staple in many of our wardrobes or at least one that is high up on our wish list! The flattering shape that looks great on men and women is synonymous with only the coolest movers and shakers in the fashion and celebrity industry, yet also looks effortlessly stylish on us 'normal' folk who love the opportunity to get a piece of what our face celeb is wearing – and be able to wear it according to our own style and still look great. Ray-Ban sunglasses are accessible to everyone yet still possess sought after status due to the brand's significant history and the superior quality of each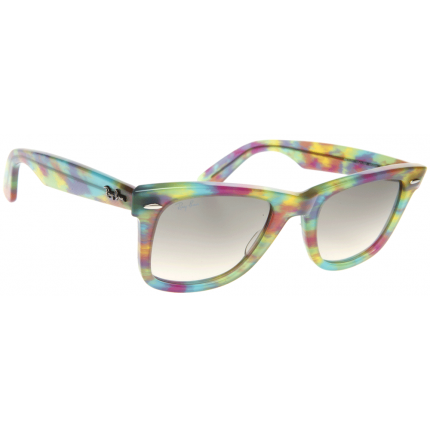 pair, meaning that you really do get more than what you pay for.
Colour and the concept of mixing patterns and prints is a huge look for summer 2010 in clothing and accessories, therefore the Wayfarer has adapted accordingly to suit this trend. The acetate, slightly masculine and bold shape remains exactly the same but vibrant colours and patterns on the main frame and/or the frame interior have being added with the result being a contemporary, fresh and trendy collection with that flawless classic edge that has highly contributed to the overall success of Ray-Ban. From desert camouflage Wayfarers to pastel multi coloured crystal Wayfarers and even bright sunshine yellow Wayfarers, make sure you check out the latest collection to see which creative design catches your eye – each and every pair will make you look instantly stylish in an effortlessly 'thrown together' way, and the use of colour and pattern in the new Wayfarers is a great way of adding some vibrancy to your summer style!
Tags:
desert camouflage Wayfarers
,
Kate Moss
,
Lauren Conrad
,
Nicole Ritchie
,
pastel multi coloured crystal Wayfarers
,
Ray Ban
,
Ray Ban Clubmasters
,
Ray Ban sunglasses
,
Ray Ban Wayfarers
,
Robert Pattinson
,
sunglasses
,
sunshine yellow Wayfarers
,
Twilight
There aren't many sunglass brands that have reached iconic status, yet Ray Ban has undoubtedly achieved this well-earned title. The label has enjoyed extreme highs and lows over the past 70 years and despite the lows, Ray Ban is here to stay. Very few sunglass brands have defined generations and inspired hundreds of similar designs and imitations. Amazingly given their popularity and rich heritage of celebrity endorsement throughout the Fifties, Sixties, Eighties and Noughties, Ray Ban spent long periods of time in the wilderness until their popularity surged once again.
Ray Ban sunglasses have graced movie icons such as James Dean and Audrey Hepburn, Eighties stars John Belushi and Tom Cruise and present day hipsters like Kate Moss and Lily Allen at one time or another. Of course it's no surprise that the classic 'Wayfarer' has been worn more times by celebrity fans than any other model the label have produced. Popularised by films like 'Breakfast at Tiffanys', 'The Blues Brothers' and 'Risky Business' the 'Wayfarer' has enjoyed incredible success due to its simple design and sharp look.
The slightly nerdier looking 'Clubmaster', worn by Twilight star Robert Pattinson and the very stylish German actress Diane Kruger, has a smaller fan base but is still a classic design and affords the wearer a distinctly hip look.
The ever popular Ray Ban 'Aviator' design has been hugely imitated over the years and was Ray Ban's initial creation back in 1929. Designed with special anti-glare lenses for use by pilots in the US Air force, the 'Aviator' model is both practical and effortlessly cool. Perhaps the most versatile of all the Ray Ban designs the 'Aviator' style suits men and women of all ages and can be worn both casually or formally.
Ray Ban is not only limited to these 3 styles. The brand have produced an incredible range of sunglasses over the years and you will find many of the styles on these Shade Station pages. Without a doubt Ray Ban has earned it's icon status and we look forward to many more years of show-stopping Ray Ban designs!
Tags:
Audrey Hepburn
,
aviator
,
Blues Borthers
,
Breakfast at Tiffany's
,
Clubmaster
,
Diane Kruger
,
John Belushi
,
Kate Moss
,
Lily Allen
,
Ray Ban
,
Ray Ban sunglasses
,
Risky Business
,
Robert Pattinson
,
shades
,
sunglasses
,
sunnies
,
Tom Cruise
,
Twilight
,
Wayfarer
We all know that RayBan sunglasses are one of the most popular, ever stylish and versatile sunglasses around. The brand has a remarkable history and has been featured in numerous iconic films including Top Gun, The Blues Brothers and Men in Black.
This month, when I have been looking through the style pages of the glossies, Ray-Ban sunglasses have cropped up on many occasions and the brand definitely seems to be the choice of many celebrities. Yes, it may be November, but sunglasses as every fashion lover is aware, can make for a high style statement and add a finishing touch to your look come rain or shine. Ray-Ban's have the added advantage of being incredibly functional and so when the sunshine does pop out on the odd occasion (well, here in the UK!), then you know your peepers will be fully protected from UV rays.
So, Ray-Bans and celebrities. The two definitely seem to go hand in hand and here is a rundown of who has been wearing what style of R
ay-Ban shades over the past month or so.
Most of us have harboured an obsession with the Twilight film and of course, more recently the new sequel New Moon. Remember when we saw the rather dashing Edward Cullen (Robert Pattinson) in the first scenes of Twilight with a cool pair of shades? Well, these were infact the classic Wayfarers and the actor himself in addition to his co-stars Kristen Stewart and Taylor Lautner claimed that Ray-Ban Wayfarers are the ultimate Twilight accessory. Well, if they're good enough for great looking vampires!
Rachel Bilson who has become quite the fashionista since the hit show the OC has regularly been spotted in her Ray-Ban 2140's in a dark tortoiseshell tone. The dark shade of these sunglasses compliment Bilson's dark hair and skin tone as they offer something a little softer in colour than block black. With sleek lines and sharp style, these 2140's make for a great laid back look a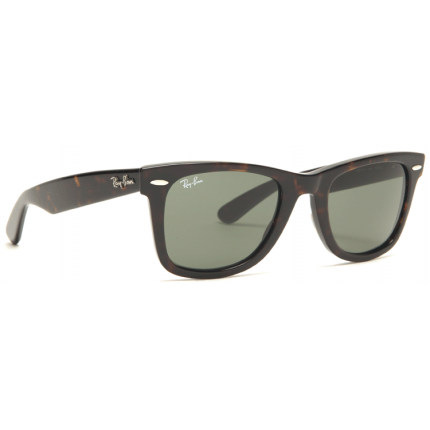 nd are very popular among a young and trendy crowd.
With the departure of Lauren Conrad from the latest season of the Hills, Audrina Partridge has taken the crown of style Queen (and drama!) in the show and has frequently been spotted wearing a pair of Ray-Ban aviators in gold. From a style perspective, these are the ultimate in versatility and Audrina has been seen wearing them en-route to the gym, out casually with friends and to the beach. They definitely inject an effortlessly cool edge to your look no matter what your choice of outfit. Another fan of the Ray-Ban aviators is Minority Report bad boy actor Colin Farrell who was pictured wearing a gold rimmed pair. Ray-Ban aviators were first launched in 1937 and aside from contemporary updates such as colour and lens technologies, the aesthetic styling is exactly the same proving that the brand is timelessly on trend.
From a functional perspective, many Ray Ban sunglasses also incorporate a G-15 lens. The G-15 lenses transmit colour naturally and therefore you get a clearer and true vision as opposed to just seeing heavy lens colour. This technology has been incorporated into many Ray-Ban
sunglasses over the past seven decades and is unique to the brand.
Other celebs who love their laid back Ray-Ban look is Nicky Hilton, Kate Moss, Peaches Geldof and Rhianna, some of whom favour their coloured Ray-Ban Wayfarers which were one of the most popular accessories at this year's music festivals. Ray-Ban is one of those brands that people love, trust and tend to find a pair within the extensive selection that suits them. Unlike some other designer brands, they are also affordable with the Wayfarers just below £80 so you can look like a celeb and not break the bank!
Ray-Ban has existed for over 70 years and with iconic styles consistently worn and re-vamped, this brand is definitely staying at the forefront of fashion for quite some time.
Tags:
Audrina Partridge
,
Colin Farrell
,
coloured Ray-Ban Wayfarers
,
Edward Cullen
,
G-15 lens
,
Kate Moss
,
Kristen Stewert
,
Men in Black
,
Minority Report
,
New Moon
,
Nicky Hilton
,
Peaches Geldof
,
Rachel Bilson
,
Ray Ban
,
Ray Ban aviators
,
Ray Ban sunglasses
,
Ray-Ban 2140
,
Rhianna
,
Robert Pattinson
,
sunglasses
,
Taylor Lautner
,
The Blues Brothers
,
Top Gun
,
Twilight