Fashion trends come and go but there are certain accessory staples that will always be on trend. Sunglasses are one of them and even overtook the popularity of the bag in 2008. Every guy and girl need an ultra cool pair of shades to see in the spring and summer months and with London Fashion Week fast approaching, we are certain to see some stylish frames adorning the faces of the fashionistas to hide those late night party eyes.
Tom Ford sunglasses are sure to be one of those brands that we see in between (and probably during) the shows and are the perfect accessory to complete your wardrobe this summer. Glamorous, chic, and statement style is what Tom Ford is all about and a pair of his frames will ensure that you get noticed. Not only stylish but equally as functional, all Tom Ford sunglasses are hand crafted in Italy with exceptional attention to detail.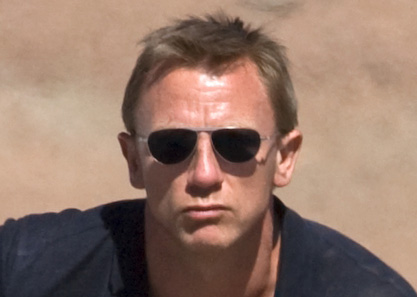 So what exactly is it that makes this brand so desired? Quite possibly the fact that every fashion loving celebrity owns a pair, of course! The various shapes available, particularly the oversized range, exuberate sophistication and drama and will instantly transform your dressed down jeans and t-shirt into an A list look. The famous 'Whitney' style has been updated for 2009 into a range of other female name inspired versions, including the 'Simone' style; a gorgeous black vintage style frame with bamboo effect arms. The
'Yvette' style with a gold frame and pearlised cream arms is definitely a personal favourite and epitomises the definition of glamour. Of course, there is something for the men too, and the Tom Ford James Bond range as seen on Daniel Craig in the most recent film 'Quantum of Solace' definitely give that sleek 007 vibe to your look!
Other celebrities who favour Tom Ford sunglasses include our very own Colleen Rooney, Paris and Nicky Hilton, Lindsay Lohan, Jennifer Aniston and Brad Pitt. Tom Ford is absolutely one of the must have sunglasses brands this season and the great thing about his styles are that they never go out of fashion and will see you through many summers (and late night parties!) ahead.
Click here to visit our Tom Ford Sunglasses section
Tags:
Brad Pitt
,
Colleen Rooney
,
Daniel Craig
,
James Bond
,
Jennifer Aniston
,
Lindsay Lohan
,
London Fashion Week
,
Nicky Hilton
,
Paris Hilton
,
Quantum of Solace
,
Simone style
,
Tom Ford
,
Tom Ford sunglasses
,
Tom Ford Whitney style
,
Tom Ford Yvette style