For decades the classic 'Teardrop' or 'Aviator' style sunglasses have dominated the fashion and eyewear world with celebrities, film stars, fashionistas and the public alike all adorning these flattering and inherently alluring frames. Many brands have got in on the act including Dior Sunglasses, Gucci Sunglasses, Oliver Peoples Sunglasses, Police Sunglasses, Polo by Ralph Lauren Sunglasses, Tom Ford Sunglasses and of course the brand that started the craze; Ray Ban Sunglasses. The original Ray Ban RB3025 Aviator Sunglasses have featured in a vast array of films, TV shows and on the faces of some of the world's most loved celebrities with the most famous appearance being made in Top Gun back in 1986. Everything about the Aviator style made them bound for success; the teardrop effect lens accentuates the natural lines on your face and will therefore suit the vast majority of people whatever their head size or shape. In this blog post we are going to explore some of the most popular Aviator models and run through exactly what makes each one so incredibly popular.
Ray Ban RB3025 - These are the grand-daddy of retro styling and stone cold cool eyewear. Back in the early 80s, sunglasses were primarily made from thick plastic which looked fantastic but were sometimes a little bit laborious if you wanted to wear them all day…enter the Aviator. Made from thin metal alloy, the frames sat comfortably on your face and never dug in thanks to their cushioned nose pads and unique shape; something that we had never seen before! Nowadays, the Ray Ban Aviator Sunglasses still turn heads and look just as iconic as their 20th century ancestors.
Dior Piccadilly 2 - Dior are one of the world leaders in fashion with their designs considered to be trend-setting and their eyewear second to none. The Dior Piccadilly 2 Aviator Sunglasses use both acetate and metal alloy to amazing effect and add a touch of dimension to the already stunning design.
Gucci GG4225/S - When you hear the name Gucci you are instantly transported to images of the truly rich living in true luxury, however their sunglasses are far from inaccessible. The Gucci GG4225/S Aviator Sunglasses not only utilise the teardrop lenses and thin frames, but further improve the design by adding a feminine weave effect on the arms!
Oliver Peoples Benedict - Born on the iconic Sunset Blvd Strip in Hollywood, Oliver Peoples has expanded its horizons massively from the small boutique they had back in 1986. The Oliver Peoples Benedict Sunglasses have slightly narrower lenses to the standard Aviator style meaning that they have a more 'wrap-around' appearance.
Police S8299 - Police were one of the founders of vivid and colourful designer eyewear and their brand new Aviator style S8299 Sunglasses juxtapose their rich history with modern innovation. With a slightly thicker frame and extended top bar, they are a breath of fresh air in the Aviator world!
Polo by Ralph Lauren PH3056 - Part of globally renowned fashion house, Ralph Lauren, Polo has started to become a fashion stalwart of its own and the PH3056 Aviator Sunglasses prove this perfectly. Polo's instantly recognisable logo is perched proudly on the thick arms as a sign of quality and their continued fervour for fashion excellence.
Tom Ford Cole - Tom Ford Sunglasses are so 'on trend' at the moment, it is difficult to keep their sunglasses in stock long enough to see the new styles! Luckily, however, we have seen the Tom Ford Cole Aviator Sunglasses and they are simply stunning. Made from both acetate and metal alloy, the top bar stands out prominently for a truly head-turning look!
_______________________________________________________________________________________________________
Tags:
aviator
,
aviator sunglasses
,
Dior Piccadilly 2 Sunglasses
,
Dior sunglasses
,
Gucci GG4225/S Sunglasses
,
Gucci sunglasses
,
Oliver Peoples Benedict Sunglasses
,
Oliver Peoples Sunglasses
,
Police S8299 Sunglasses
,
Police sunglasses
,
Polo by Ralph Lauren PH3056 Sunglasses
,
Polo Ralph Lauren Sunglasses
,
Ray Ban RB3025 Sunglasses
,
Ray Ban sunglasses
,
Shade Station
,
Tom Ford Cole Sunglasses
,
Tom Ford sunglasses
Tom Ford Sunglasses continue to push the boat out with the their designs and this year they have released some beautiful new frames which are set to be big hitters. In this blog we are going to take a look at the Tom Ford Robbie Sunglasses; they combine thick rimmed frames and thin metal arms which are a breath of fresh air in the male sunglass market. Tom Ford have incorporated metal accents to the frame to break up the beautiful colour schemes and add an extra dimension to these fantastic sunglasses.
But what really makes these sunglasses stand out is the interchangeable frame and earsock option that comes with the Tom Ford Robbie Sunglasses. All three colours that this frames comes in has the option for you to change the frame over to customise your look at any time! We have done an in depth video below which demonstrates this innovative technology and lets you see exactly what you're getting before you buy. Take a look and let us know what you think in the comments section below.
Follow us on Facebook and Twitter for daily updates…
Tags:
customise
,
earsocks
,
frame
,
interchangeable
,
Shade Station
,
sunglasses
,
Tom Ford
,
Tom Ford Robbie Sunglasses
,
Tom Ford sunglasses
This season sees a fantastic influx of new Tom Ford Sunglasses and they are quite simply stunning! Ranging from the flamboyant cat's eye styles to understated chic, the Autumn/Winter 2012 collection is set to make serious waves in the sunglasses pool this year and the colour combinations are absolutely beautiful. The new Tom Ford Women's Sunglasses include the likes of Tom Ford Anastasia Sunglasses, Tom Ford Alicia Sunglasses and Tom Ford Vivienne Sunglasses, all of which have been dubbed as the next big thing in the fashion sunglasses world and it is easy to see why.
The Tom Ford Anastasia Sunglasses are the epitamy of class and style utilising the beautiful 'cats eye' shape to full effect! An incredible range of colours accentuate the brilliant styling and the UV protective lenses provide the user with confidence in the sunshine. The lightweight frames and thin arms sit gently on your face whilst being durable and flexible at the same time. The Tom Ford Alicia Sunglasses really highlight the brand's ability and design with flowing lines, beautiful colour schemes and an incredible build quality! The arched lenses drop down into a uniquely crafted nose bridge to create a frame which is truly stunning  and the signature gold 'T' bar icon is emblazoned proudly on the hinges.
But it is not just the ladies that have the new releases this season with the Tom Ford Men's Sunglasses looking absolutely brilliant. New designs and colours have been mixed together and the resulting sunglasses are surely set to be future classics; including the Tom Ford Robbie Sunglasses, Tom Ford Cole Sunglasses and the Tom Ford Flynn Sunglasses. Tom Ford continue to push the boat out with the Tom Ford Robbie Sunglasses; the combination of thick rimmed frames and thin metal arms are a breath of fresh air in the male sunglass market. Tom Ford have incorporated metal accents to the frame to break up the beautiful colour schemes and add an extra dimension to these fantastic sunglasses. The Tom Ford Robbie Sunglasses also come with interchangable earsocks as standard to make these frames a future classic! Tom Ford have always been advocates of the classic teardrop shaped lens and their new Tom Ford Cole Sunglasses are another re-think of this amazing style. The two toned frames incorporate metal and plastic to make sure they are durable yet flexible and the beautiful colour schemes highlight the amazing design abilities that Tom Ford have. The FT0285 sunglasses suit the majority of face sizes and shapes and are the perfect gift or little treat for yourself.
Follow us on Facebook and Twitter for daily updates.
_______________________________________________________________________________
Tags:
Autumn/Winter 2012
,
Shade Station
,
sunglasses
,
Tom Ford
,
Tom Ford Alicia Sunglasses
,
Tom Ford Anastasia Sunglasses
,
Tom Ford Cole Sunglasses
,
Tom Ford Flynn Sunglasses
,
Tom Ford Robbie Sunglasses
,
Tom Ford sunglasses
,
Tom Ford Vivienne Sunglasses
Summer 2011 is all about statement style and if you're looking to add a sense of the wow factor into your wardrobe, then we urge you to take a look at the latest new styles in the Tom Ford sunglasses collection.
Ladies, if you know your stuff about fashion, then you'll already be all over the cat-eye trend that's been a hot look for stars including Kelly Osbourne, Angelina Jolie and Hilary Duff. If you want to take the ultra feminine cat-eye look a step further, then the dramatic Daphne sunglasses are the perfect choice – and not for the faint hearted! These amazing sunglasses feature a super bold shape and definitely bring the cat-eye and winged look right into 2011!
Preppy or geek-chic sunglasses are also still a hot look to be working and once again, Tom Ford has infused his own distinctive stamp on the trend with the launch of the Carter sunglasses. This unisex design is ultra sleek and simple with perfectly rounded lenses and the signature Tom Ford T-bar detailing. Fashion icon Fearne Cotton has been spotted wearing the Carter sunglasses and this is definitely a style that adds personality and individuality to your look.
The Tom Ford Campbell sunglasses are a new style for ladies that are reminiscent of the Wayfarer but with a more square-shaped and unique finish. The thick frame features square angles, which creates an androgynous inspired edge to your look and also includes the iconic Tom Ford T-bar detailing along the arm and over the temple.
These are just 3 of the new styles just launched within the Tom Ford sunglasses collection, so make sure you take a look at the
whole range, which also includes a great variety of demure and understated designs. For this season however, Ford has definitely focused on expression and character; taking inspiration from retro styles and adding creative twists to bring them right into the modern day, and also making each style distinctive as Tom Ford.
A huge number of celebrities and trendsetters are fans of Tom Ford sunglasses including the Olsen twins, Elijah Wood, Jennifer Aniston and Anne Hathaway to name only a few. Tom Ford is definitely a must-have label for any fashionista and a pair of Tom Ford sunglasses are the perfect way to express a unique sense of style and personality this season!
Tags:
Angelina Jolie
,
Anne Hathaway
,
Campbell sunglasses
,
Carter sunglasses
,
Daphne sunglasses
,
Elijah Wood
,
Fearne Cotton
,
Hilary Duff
,
Jennifer Aniston
,
Kelly Osbourne
,
sunglasses
,
the Olsen twins
,
Tom Ford sunglasses
Since leaving his much celebrated position as head of fashion house Gucci, Tom Ford has continued on his ascent to artistic greatness, firstly at the helm of his own Tom Ford label, and also as a lauded film director.
This connection between cutting-edge fashion and the silver screen is reflected in the sunglasses tastes of Tinseltown's elite. From Sunset to Santa Monica, Tom Ford sunglasses have been a staple accessory in recent years, whether they're the elegant criss-crossed silhouette models or the classic, bold-framed shades with the distinguished 'T' brand inlaid in the temples of the frames.
Tom Ford sunglasses are a favourite of Brad and Angelina, who are both regularly spotted, on and off screen, bearing an array of Tom's best creations.
We all know that Brad looks good in almost everything he wears, but there's no denying how effortlessly cool he is stepping out in this pair of Bailey Tom Ford sunglasses. The strong frame of 'T' branded range have been compared with the classic Wayfarer form, made famous by Ray-Ban, however, the smoother lines and finessed engineering of the Tom Ford sunglasses frames explain why they stand out as the brand of choice for the more discerning celebrity.
Other big names fashionably shielding themselves from the bright Californian sunshine in Tom Ford sunglasses include Lindsay Lohan, often snapped wearing the modest Conor or Arnaud models, and Halle Berry, recently seen showing-off the bold Bianca style.
Tom Ford sunglasses hark back to the elegant, simple styles of the 1950s. While this style is particularly popular right now, his designs embody an unmistakable, classic quality, that truly make Tom Ford sunglasses timeless.
Whether you should find yourself under the glare of the sun or the lights of the red carpet, Tom Ford sunglasses have obtained a well-deserved position as one of the most desirable, luxury brands for any occasion.
Tags:
Brad and Angelina
,
Halle Berry
,
Lindsay Lohan
,
Ray Ban
,
sunglasses
,
Tom Ford
,
Tom Ford sunglasses
Tom Ford is certainly a force to be reckoned with in the world of fashion and entertainment. A pair of the designer's highly sought-after sunglasses are a must-have for every style loving guy and girl, simultaneously adding a unique look to every outfit, whilst also oozing A list style!
It doesn't really get more luxurious than Tom Ford Sunglasses. From the super alluring sixties inspired cat-eye Tom Ford Karina sunglasses for ladies, to the masculine yet ultra sophisticated men's Tom Ford Gregoire sunglasses, the Tom Ford Cary sunglasses are also a superb unisex take on the Wayfarer but still possess the Tom Ford touch and charm.
There really is a design within the Tom Ford sunglasses collection to suit all manner of style tastes. Whether you prefer a classically chic look, or like to opt for something more show-stopping and original such as the Tom Ford Nico sunglasses,
there will be a design to appeal. Every pair incorporates exquisitely beautiful detailing and is also typically available in a range of colours.
Tom Ford sunglasses are the perfect way to infuse a spark to your look and show that you take pride and thought in adding impact to your day-to-day style. As if you need any further convincing, Tom Ford sunglasses are a favourite among the likes of Scarlett Johansson, Angelina Jolie, Gwen Stefani, Olivia Palermo, Brad Pitt and Kate Hudson to name only a few.
If one of your New Year's resolutions is to sharpen up your style, a pair of Tom Ford sunglasses will certainly make the perfect and timeless accessory investment!
Tags:
Angelina Jolie
,
Brad Pitt
,
Gwen Stefani
,
Karina Tom Ford Sunglasses
,
Kate Hudson
,
Nico Tom Ford sunglasses
,
Olivia Palermo
,
Scarlett Johansson
,
sunglasses
,
Tom Ford Karina sunglasses
,
Tom Ford sunglasses
Fashionistas sit up and take note! Those in the know have made their style predictions for the year ahead and it's looking like another vintage inspired annum…
The following trends are going to be hot in 2011 and as always Shade Station have got the perfect pair of sunglasses to compliment all of fashion's fancies.
Seventies
With the return of Biba and Halston in 2010, it was clear the era that gave us Studio 54, platform shoes and Saturday Night Fever was going to have a big impact on 2011. Already the high street is awash with flowing skirts, pleated culottes, retro colours, flares, headscarves and oversized sunglasses. In it's new year edition Heat magazine encouraged readers to stock up on super-sized shades and Vogue.co.uk predict sunglasses to take on "exaggerated shapes…. the new shades have a quirky retro feel". To channel Farrah Fawcett in her Seventies heyday, super-cool brand D Squared sunglasses would achieve the desired effect. And lovely Pucci sunglasses are also 'very of the era'.
Ladylike Sixties and Pretty Fifties
With the midi skirt the length du jour, the full circle skirt remaining popular and pointed kitten heels replacing towering heels, 2011 looks set to be a refined year. In terms of accessorising your prim but pretty outfit, Fashionising.com suggest cat's eyes sunglasses are the shape to be focusing on. Check out our vintage sunglasses section or our Marc Jacobs sunglasses and Tom Ford Sunglasses for feline shapes. For classic Fifties and sixties oversized sunnies hit our Chanel, Prada, Roberto Cavalli, Dolce & Gabbana and BVLGARI sunglasses pages!
Animal Print
Another trend that is hanging on for dear life… Seemingly more popular than ever this year, shops are bursting with leopard prints, zebra, tiger and ever giraffe! If you're wearing animal print on your person we would kindly suggest not wearing matching sunglasses and instead choose a pair of big sedate black or brown shades. However if you need to jazz up your outfit with a little print there's plenty of tortoiseshell to go around! Almost all of the designer labels at Shade Station have tortoiseshell sunglasses on offer, however we particularly like Ray Ban's tortoiseshell Way Farer sunglasses and Oliver Peoples shades too.
White and Orange
Maybe it's because of the whole Seventies vibe going on, that both white and orange feature so strongly this year… whatever the reason it's nice to see some bold colour on the catwalk. Ray Ban sunglasses are always on trend with their bright colours and Marc Jacobs sunglasses, Carrera sunglasses and Von Zipper sunglasses have some great styles with white frames too.
These are our pick of the big trends for 2011 so whatever look you fancy trying, remember, we've always got the best selection of sunglasses to compliment your style!
Tags:
2011 fashion trends
,
Biba
,
Bvlgari sunglasses
,
Carrera sunglasses
,
D Squared sunglasses
,
Farrah Fawcett
,
Halsten
,
Heat magazine
,
Marc Jacob sunglasses
,
Oliver Peoples
,
Pucci sunglasses
,
Ray Ban Wayfarers
,
Saturday Night Fever
,
Seventies
,
Shade Station
,
sunglasses trends
,
Tom Ford sunglasses
,
vogue.co.uk
,
von zipper sunglasses
Tom Ford sunglasses are the business. Always oversized and generally rocking a retro vibe they are the celebrity's shade of choice. Universally loved by Hollywood's leading ladies (and men), Jennifer Lopez, Angelina Jolie and Brad Pitt have all been snapped modelling Tom Ford shades in recent months.
Nicholas Hoult has become the poster boy for Tom Ford sunglasses, since starring in Ford's Directorial Debut, 'A Leading Man'. Alongside his female sidekick Carolyn Murphy, his face is regularly splashed across the fashion glossies and billboards. It's certainly been an interesting career trajectory since his geeky turn in Nicholas Parson's 'About a boy'!
Tom Ford is primarily known for his menswear and accessories but this year he shocked the fashion world by throwing a surprise 'Cocktail Party' which was in fact designed to reveal his first womenswear collection in 6 years. Top fashion folk were invited to the 'Cocktail Party' which was held in New York and had all the hallmarks of a Fifties couture show. Ford asked women that inspired him to model his spring/summer '11 collection, among them were; Beyonce Knowles, Julianne Moore, Daphne Guinness, Lauren Hutton and Amber Valetta.  Ford commented "I want to concentrate on real women and the real customer. It's all about individuality, individual style, different body types, women who have their own style." One official photographer was present to avoid press leaks and its rumoured photos of the show will not be released until January next year!
Such secrecy has created even more of a buzz about Tom Ford. If this story is anything to go by then every woman in the fashion-know is going to have Tom Ford on her radar! As is always the case designer clothes are way beyond our budget, but thankfully with a little scrimping and saving, designer sunglasses are not! With this year and next, seemingly obsessed with all things vintage, Tom Ford sunglasses are the perfect label to hit the retro mark. There are so many different styles and most of them are beautifully oversized which was such a common trait in the '50s, '60s and '70s.
Thankfully the sun hasn't disappeared just yet and there's always the need for the perfect pair of shades to take you through the winter. In order to be bang on the money for next year's big trends we'd suggest investing in a pair of Tom Ford sunglasses and you won't be disappointed!
Tags:
Amber Valetta
,
Angelina Jolie
,
Beyonce Knowles
,
Brad Pitt
,
Daphne Guinness
,
designer sunglasses
,
Jennifer Lopez
,
Julianne Moore
,
Lauren Hutton
,
Nichola Hoult
,
sunglasses
,
Tom Ford shades
,
Tom Ford sunglasses
,
Vintage sunglasses
Tom Ford is definitely the man of the moment in fashion and entertainment. He recently unveiled his first women's ready-to-wear collection at New York Fashion Week and previously this year, he astounded audiences and critics with his film 'A Single Man'.
The collection of Tom Ford sunglasses are incredibly chic and represent the essence of high-end fashion; creating a perfectly groomed and polished look and with some styles bolder than others. The Nico Tom Ford sunglasses for example, are ultra strik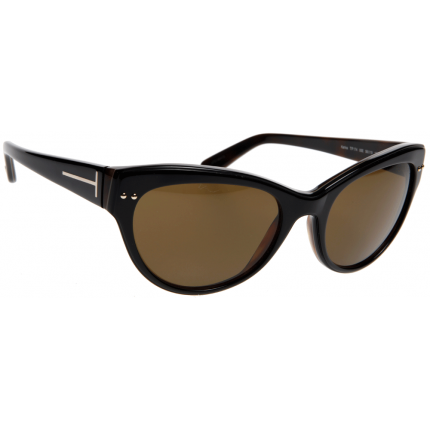 ing and statement with their triangular shaped frame and are a great style for adding that wow factor to your look!
Just in time for autumn, Tom Ford has introduced a new style to his sunglasses collection. A design for ladies, the Karina sunglasses can be described as sophisticated and with just the right hint of statement style whilst also being versatile and adaptable to a wear with a variety of looks. The frame is uniquely shaped in such a way that the lower section of the frame is rounded and the upper part draws to a point and creating a V shape across the top section of the frame. There are two subtle studs at each top corner of the frame and the Tom Ford T Bar shaped detailing upon the temple. The Karina sunglasses are available in a variety of tones including light havana, black, and black with a tortoiseshell interior meaning that the bolder colours also work to create a more statement finish if desired.
Of course, there are also a range of Tom Ford styles for men (some of which are unisex styles), including a selection of extremely chic designs such as the Marco aviators and the new Wayfarer inspired Cary sunglasses
with a dark tortoiseshell frame and deep green lenses.
Tom Ford has the ability to really put his own stamp on his designs but also makes them highly relevant to what's happening in fashion and incorporates elements of current trends. Some of his sunglasses are incredibly statement and striking whereas others are more demure, highly versatile and ooze chic style. As a designer, Tom Ford is remarkably renowned, iconic and respected for his talent and a pair of Tom Ford sunglasses will make the perfect accessory investment!
Tags:
A Single Man
,
Cary sunglasses
,
Karina sunglasses
,
Marco aviators
,
New York Fashion Week
,
Nico Tom Ford sunglasses
,
sunglasses
,
Tom Ford sunglasses
Tom Ford sunglasses are one of the most stylishly superior in the eyewear and fashion industry. Created for men and women who appreciate the sense of bold, luxurious and unique design, the sunglasses remain sophisticated and chic whilst also being statement enough to allow the wearer to convey their own personality and stand out in the crowd.
Fashion is of course, ever evolving and whilst there will always be an 'it' style of accessory, be it a handbag, watch or a particular pair of sunglasses, the majority of people want an item that serves longevity and won't be considered a 'not' accessory in six month's time. When people invest in a pair of sunglasses they want something that is unique to them and would probably prefer to be the only person wearing them as opposed to wearing the same style as every other person just for the sake of that design being 'in fashion'. This is where Tom Ford shines as a designer – his creations are instantly recognisable with the use of innovative and bold shapes, colour tones and expressive styles which has mad
e the Tom Ford brand and thus his collection of sunglasses, a timeless trend all of their own. Tom Ford is synonymous with sophistication and the range of Tom Ford sunglasses perfectly captures this style trait.
There are a couple of new styles for summer in the Tom Ford sunglasses collection; the first of which is the slick and streamlined Marco sunglasses. A simple aviator design that looks equally great on men and women, these sunglasses feature a pale gold slim frame, black ear socks and graduated olive lenses. The use of soft colours adds to the versatility of this style – aviators are one of the most popular styles of sunglasses around and never fail to look incredibly stylish with literally any outfit. The Tom Ford Marco design is ultra sleek and will look equally as good in five years time as it does today.
A further new addition to the collection is one for the ladies; the Callae Tom Ford sunglasses. Again, the detailing is minimal but the design is striking and statement with a thick brown frame with rounded edges and brown arms which curve at the ear stems. This style is oversized with the graduated brown lenses more of an egg-shape than fully rounded. The perfec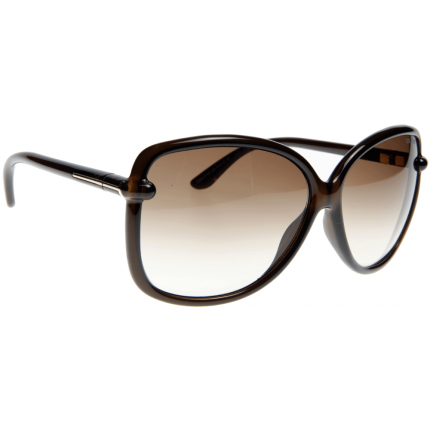 t pair of sunglasses for achieving effortless glamour that is striking without looking too overstated.
An example of Tom Ford at his most bold and creative is demonstrated in the Nico sunglasses (as seen in the main image). Not for the shy girls, these shades show you mean business, portray a confident sense of style and that you are more likely a fashion innovator than a follower! With a thick, defined and almost triangular frame that boasts sharp angles, the Nico sunglasses have a futuristic appeal and due to their distinctive aesthetic, will continue to look amazing season after season.
As Tom Ford is such a highly skilled and creative designer and is also a strong and vibrant personality who is very much the 'face' of his brand, a huge number of celebrities are fans of the brand and are often spotted wearing his sunglasses. Audrina Partridge, Angelina Jolie, Brad Pitt, Kate Moss and Denise Richards are just a handful of stylish individuals who are regularly papped wearing a pair with actress and singer Demi Lovato also loving the bold Nico frames! All Tom Ford sunglasses are hand crafted in Italy and ensure superb quality along with a stunning style that represents elegance, charisma and an assured and confident approach to fashion.
Tags:
Angelina Jolie
,
Audrina Partridge
,
Brad Pitt
,
Callae Tom Ford sunglasses
,
Demi Lovato
,
Denise Richards
,
Kate Moss
,
Marco sunglasses
,
Nico sunglasses
,
sunglasses
,
Tom Ford
,
Tom Ford sunglasses
Older Posts »