Nixon watches have certainly caused quite a reaction within the watch industry in recent years and despite having only existed since 1997, the reputation of the brand has continued to grow from strength to strength. Founded in California, Nixon started as a boutique watch manufacturer and specialised in designing and producing watches for a younger market who were primarily looking for fashionable watches as opposed to function. However the brand could see that there was an increasing market of consumers who wanted both fashion and quality and so Nixon embarked on catering for this need which is what has made them so successful and popular today.
In 2006 Nixon was bought by high profile company Billabong who produces clothing, shoes, accessories and watches geared towards the surf and skate industry. This has also helped to raise the Nixon profile and exposed the watches to a wider target market. Despite the watches being skate and surf orientated, the quality combined with the unique style means that they are incredibly popular on a much larger scale.
Nixon watches are definitely considered as an elitist watch and are associated with innovative and creative design, incredible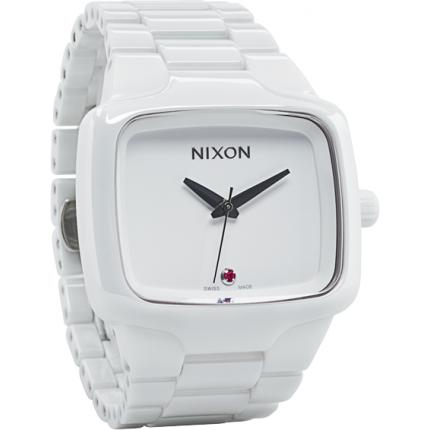 quality and unique and slick styling. Some Nixon watches are also rather expensive such as The Ceramic Player which at £1,100 is definitely an investment watch that you would expect to wear for years to come. The materials used in this model include sapphire crystal in addition to 25 jewels and Swiss Made Mechanical movement – these are the absolute finest you can get  and so this watch is indeed one that will last for decades and the sleek and simple yet striking styling means that it will look timelessly on trend. If your budget doesn't stretch that far, fear not as there are many Nixon watches which sit in a more affordable price bracket. A new model to look out for is the Rubber Player which again is very simple (and designed with a similar aesthetic to the Ceramic Player) with its block colour, rubber strap and case and sleek dial with a jewel placed at the 30 minute marker. This Nixon watch is also available in yellow and bright blue if you like to inject a bold splash of colour into your look (very on trend right now). At £140, this watch is a little more on budget but the quality and sleek styling is still top of the agenda .
Nixon tend
s to make their watches considering various personalities and therefore some styles are a little more overstated than others. The Duke Nixon watch for example is bold with its chunky layered aesthetic and striking dial and the Time Teller P is a youthful looking watch incorporating multiple bright and vibrant colours. If you want classic, The Spencer is a great option and for girls, The Pirouette and The Rayna are perfect if you want something feminine but funky. The Dork Nixon watch with its talking digital display will definitely appeal to those with an inner geek! Whether your personality is fun and youthful or classic and chic, there is definitely a Nixon watch to suit. Whatever you choose, high quality and innovative styling is guaranteed.
Tags:
Billabong
,
California
,
nixon
,
Nixon watches
,
The Ceramic Player
,
The Dork
,
The Duke
,
The Pirouette
,
The Rayna
,
The Rubber Player
,
The Spencer
,
The Time Teller P
,
watches