Ted Baker is an incredibly diverse brand and the Ted Baker watches collections are always full of exciting designs whereby each watch is completely different from the next. Ranging from demure and elegant, to eclectic and exciting, to more classic and traditional in the truly British sense, Ted Baker has a watch to suit every style personality and will always add a hint of vibrant appeal to your look!
Let's take a look at some of the new Ted Baker styles to hit our Shade Station shelves…..
For something super chic and dainty, the Ted Baker TE2057 watch for ladies is a design that has a timelessly stylish aesthetic. The strap is ultra slim black leather with a textured finish and the elegant dial is shaped with rounded vertical edges and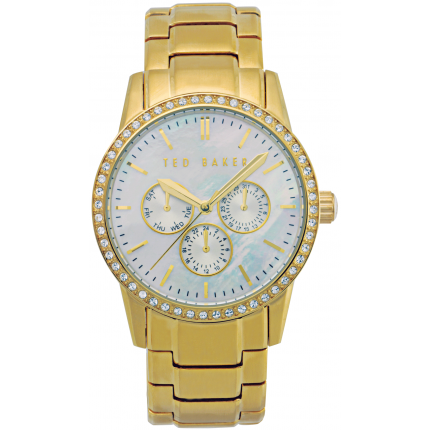 straight horizontal edges. The hour and 30 minute markers are presented in large Roman numeral numbers which provides just the right amount of dial detailing, and there are two diamantes positioned either side of the dial. Perfect for just about every occasion and adding that extra hint of glam sophistication to your outfit!
We all know that gold watches are a must-have for autumn/winter and Ted Baker has a fabulous version in the form of the ladies TE4039 Ted Baker watch. Ticking all the right style boxes, this watch has a gold plated stainless steel case and bracelet strap and to add a bit of sparkle, the bezel is embellished in diamante stones. The large dial is a pretty textured silver tone which nicely contrasts with the gold accents.
Colour may have been huge for summer but just because winter is approaching, that doesn't mean we have to pack our colour popping accessories away until next summer. Bold colour can really liven up an autumn/winter outfit and this TE1048 Ted Baker watch for men is an ideal choice as features a vibrant blue rubber strap and a chic large white dial with blue and silver accents. The watch is sleek and uses colour as the main focal point so is still vers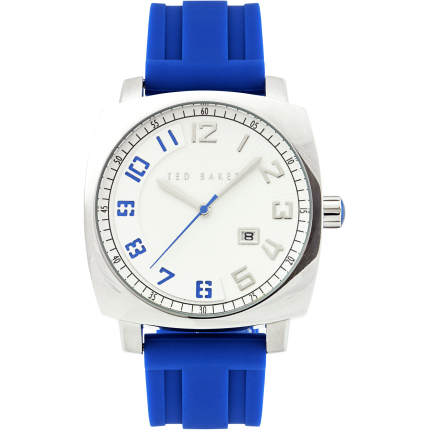 atile for a variety of looks.
For something classic and simple yet still striking, the Ted Baker TE2054 ladies watch is the perfect choice. This watch features an elegant white leather strap (white straps again, are a huge look) and a minimally styled round white dial with gold time markers and the Ted Baker logo. The combination of gold and white adds a fresh yet classic look to any outfit and will work perfectly from the office to an evening out.
These are just a selection of the new Ted Baker watches styles just in for autumn and many of these are also available in a choice of varying colours so you can really find something that reflects your own personal style. Ted Baker watches aside from their original looks, are also renowned for their high quality materials and movements.
A great way to convey the British style in its true, unique form!
Tags:
designer watches
,
fashion watches
,
TE2054 ladies watch
,
TE2057 watch
,
TE4039
,
ted baker
,
Ted Baker Watches
,
watches
Ted Baker is a core British brand that always manages to keep up with current trends but still injects its own unique stamp on its range of clothing and accessories – including Ted Baker watches.
Whether you are looking for sleek and stylish, sporty and casual, elegant or eclectic, Ted Baker has a superb range of watches to appeal to every taste. Achieving the perfect balance of adding a statement and unique touch too your look without being too ostentatious, a Ted Baker watch shows you have great style and like to opt for something a little alternative from the norm.
A prominent style in the Ted Baker offering is the TE1040 watch for men with its carbon coated stainless steel case, black textured leather strap and bold square dial with pink/gold Roman numeral time markers. Ted Baker products of
ten use a hint of colour within their styles to make them pop and add extra visual interest.
The TE3022 Ted Baker watch for men is also an interesting style combining a sense of vintage appeal with ultra contemporary. The bracelet strap is polished stainless steel with brushed central links and the round dial is also silver but with a visible watch mechanism which immediately makes this style stand out and adds an antique edge.
The TE2040 is a super elegant watch for ladies and features a gold plated stainless steel case with a diamante embellished bezel and a sleek white strap complete with white stitching detailing. This design with its gold accents and pretty but unique finish, is the perfect demure watch whilst also conveying statement style.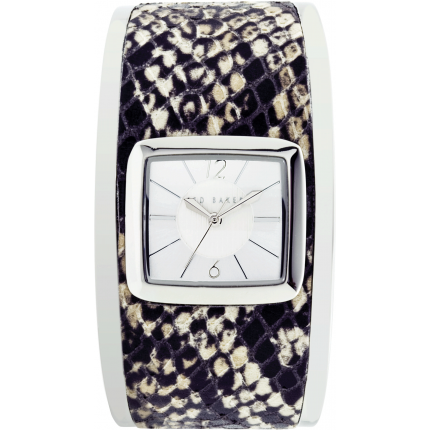 For something ultra striking, the TE4000 Ted Baker watch for ladies is definitely quite a show stopper! With a python snake style bangle strap and a square silver dial which is contained within the strap, this is definitely a watch that has a highly original style.
Ted Baker is an incredibly well respected British brand that is also renowned for its exceptionally high quality products. With the wide array of Ted Baker watch styles that will suit and compliment a variety of fashion preferences, you will definitely find a watch to appeal! The brand also regularly launches new seasonal styles so make sure you keep a look out for the new Ted Baker watches just in!
Tags:
TE1040
,
TE2040
,
TE3022 Ted Baker watch
,
TE4000 Ted Baker watch
,
ted baker
,
Ted Baker Watches
,
watches
Ted Baker is a highly renowned and popular British label mainly because it represents true unique British style. Starting on a small scale, the very first Ted Baker shop was opened by managing director Ray Kelvin in 1988 in Glasgow and only sold clothing made for men, the main product of which was dress shirts. The shop incorporated an extra and unique initiative of also offering a dry cleaning service when you purchased a shirt. Needless to say this proved very popular and got people talking about the shop! Even today, Ted Baker does not rely as heavily on big advertising campaigns as other brands and strongly believes that word of mouth is the most effective way of advertising and creating a buzz. People spoke more and more about the shop and even lack of funds didn't stop its progression; people saw it as a highly creative brand whereby the personality and style of the clothing spoke for themselves. Ted Baker
rapidly grew and began extending its lines to appeal to a wider audience and thus launched a line of women's clothing, shoes and accessories. Two years after the Glasgow store opened, a further one was opened in Covent Garden and also in Soho, Nottingham and Leeds in 1994.
Now in 2009, Ted Baker is a strong lifestyle brand which sits a notch above the high street but not as expensive as high end designer companies. Notorious for its strikingly unique designs with bold yet never ostentatious colours, Ted Baker is truly representative of dynamic British style.
Ted Baker watches, like that of the clothing and other lines of accessories, comprises of a range of different styles for men and women. Each watch is made using stainless steel and some feature leather straps in cool colours such as green, brown or even bold orange and often incorporate a crocodile skin style finish. Each timepiece has a different shaped dial face with subtle additions including gold trims or patterns, making each watch unique. Made using only the highest quality manufacturing methods, you can also be sure that a Ted Baker watch will last a number of years with fashion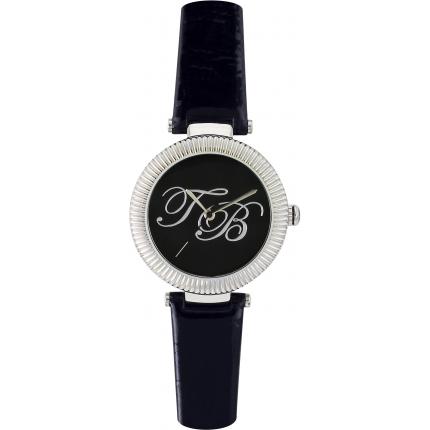 and function of equal priority. The Ted Baker watch collection has something for every style preference; there are some stunning feminine and delicate watches in key seasonal colours such as white and gold, as well as more classic designs which incorporate edgy detailing.
Some of the latest styles for autumn and winter include-:
-  The Ted Baker TE1028 watch – This sleek ladies style features a chic black leather strap with a croco finish and a striking square dial. Simple but super stylish and the perfect statement versatile watch.
-  The Ted Baker TE3016 watch – A super funky men's watch with a stainless steel bracelet strap and a white face, this watch looks incredibly fresh, fun and on trend.
- The Ted Baker TE2025 watch – A distinctively Ted Baker style men's watch, this design has a slim purple leather strap and a rectangular dial which sits horizontally and also features the Ted Baker logo written across. This is actually quite a feminine style but has an element of cool quirkiness when worn by a man.
Ted Baker watches have the confidence to play with styles and incorporate a creative use of colours; turquoise and sea tones are featured in the ladies collection as well as hints of purple and pink which Ted Baker is particularly famous for and tend to be its trademark colours. The men's styles are equally vibrant yet remain classy, chic and sophisticated with that element of fun that makes Ted Baker so unique from other brands.
Fighting against the current recession, Ted Baker is one of the few brands that has managed to exceed its targets and is still constantly updating its collections to ensure it is giving its consumers what they want. A great example of a brand that has remained true to its original values and stuck to the word of mouth based form of advertising; people feel closer to the Ted Baker brand and trust its notoriously high quality products and sense of style. The collection of watches are a great way of expressing your unique style personality and there is definitely something for every age and trend preference within the range.
Tags:
Covent Garden
,
Leeds
,
Nottingham
,
Ray Kelvin
,
recession
,
Soho
,
ted baker
,
Ted Baker Watches
,
The Ted Baker TE1028 watch
,
The Ted Baker TE2025 watch
,
The Ted Baker TE3016 watch
,
watches
Ted Baker is the label universally loved by all Brits. Dominating the luxurious end of the high-street, Ted Baker is know for it's quirky classic designs and the quality of it's materials. Although perhaps best known for its classy clotheswear Ted Baker does a very natty line in accessories and mens and women's watches. 

Ted Baker watches for men are traditional and sturdy, yet manage to ooze an enviable cool. Making good use of expensive looking leather for the watch straps and large arresting faces with retro graphics to tell the time, Ted Baker wristwear looks appropriate whatever the event. These sophisticated timepieces look great dressed up with a suit for the office and equally hip when paired with jeans for the pub or the park. Shade Station is offering 7  amazing men's Ted Baker watches at credit-crunch prices to help see you through the recession in perfect style!
Ladies are also spoilt for choice with Ted Baker's fabulous range of dainty, pretty wristwear designed purely with sophisti-cats in mind. Using a smattering of diamante, some well-placed jewels and interesting detailing on the watch straps, Ted Baker's watches for women will elevate any outfit and ensure your wrist is both glamorous and accurate! Ladies can pick up their Ted Baker watches for up to half their usual price at Shade Station right now! So hurry whilst our Super Ted watches are still in stock!
Click here to visit our Ted Baker Watches section
Tags:
credit-crunch
,
Shade Station
,
ted baker
,
Ted Baker Watches
,
timepiece
,
watches
,
watchstrap
,
wristwear
Stylish and contemporary with a universal appeal, Ted Baker is the brand which never disappoints. From its simple beginnings in Glasgow back in 1988 selling men's dress shirts, to its current global influence selling all manner of lifestyle goods (including watches)…Ted has come a long way in 20 years – and they haven't looked back since.
Sitting comfortably at the top end of the 'high street', Ted Baker happily rules the roost with the likes of Paul Smith and seamlessly bridges the divide between 'Gap and Gucci'. Not that this has wavered any celebrity attention. The brand openly admits it relies largely on word of mouth and celebrity endorsement, rather than major advertising campaigns to push their products, and luckily for them, it's worked.
The perfect pressie for this festive time of year, women are spoilt rotten with a huge range to choose from – opt for a chunky wrist strap, cream leather cuff or a natty crocodile skin design. Or if you're a sucker for some glitz and glamour, keep your beady eyes open for their jewel-encrusted numbers and slender designs with a subtle dusting of diamantes. There's even some Celtic engraved bangles on the menu. And if it is a traditional piece you're after, Ted's got that covered too, with contemporary twists on classic designs. After all, that's what the company has built its reputation on…
Modern men won't be disgruntled either, chunky timepieces in black and brown dominate the
collections, with bold charming faces that cleverly combine an irresistible mixture of brawn and class. It's no surprise Ted Baker found its way into Casino Royale, the Bond film that awoke us all to Daniel Craig's many talents. So whatever your taste – if you want a well-dressed wrist to see you through the New Year, look no further than this quintessentially quirky British brand.
Click here to visit our Ted Baker Watches section
Tags:
Casino Royale
,
Daniel Craig
,
Paul Smith
,
ted baker
,
Ted Baker Watches
Ted Baker is famous for his attention to detail and quirky designs. This can also be said for his range of watches that are geared towards style conscious men and women who are seeking something a little different in a subtle way. Ted Baker is an established lifestyle brand that isn't afraid of pushing the boundaries, but yet remains classically stylish and on trend.
Ted Baker as a brand is geared towards the fashion conscious and is a firm favourite among celebrities and fashionistas. The range of male and female watches is broad and there really is something for every taste and occasion. As we are now in the midst of the festive season, your watch is the perfect way to accessorise a simple party frock – the Ted Baker Acorna watch with its white leather strap featuring gold banding is perfect to jazz up a classic little black dress and definitely makes a style statement. The timepiece is ultra feminine but the design quirky.
Many men prefer a simple watch that is versatile and wearable from day to night and will
still look stylish. The Quality Time watch features a beautiful brown leather strap and suggests the wearer is effortlessly cool and takes pride in his appearance without trying too hard.
The Ted Baker range is undoubtedly fresh and funky. Some of the watches are a little more daring than others and are all great value for money. In the words of Mr Baker himself "It's all in the wrist" and this range definitely emphasises that point.
Click here to visit our Ted Baker watches section
Tags:
Acona Ted Baker watch
,
ted baker
,
Ted Baker Watches
,
the Quality Time Ted Baker watch
W is for Watches…
…Along with 'it' bags and statement shoes, a designer watch is another must-have accessory in the fashion world. However, with so many celebrities these days endorsing the many and varied numerous brands and watch ads seen on every other pages of magazines, buying a watch can become confusing. Whether you opt for a simple classic or something with a little more bling, Shade Station has a fabulous range to suit everyone's taste when it comes to wrist jewellery. Here's a quick low down to help you choose the timepiece that's perfect for you….
Spring/ Summer 2008 saw the trend emerging for female celebrities to dress down their girly outfits with a masculine watch. If you don't want to wear a man's watch brands such as Fossil and Seksy do some great mannish watches for women. The chunky leather straps and large faces combined with features such as gold detailing and coloured faces ensures they manage to maintain the element of sexy femininity.
If chunky is what you're after but girly style remains high on your agenda, Ted Baker's range is perfect. With the cut-out flower detailing on the leather strap these watches are bang on the floral trend for S/S 08. Funky yet functional, Nixon and Nooka's selection of watches with their quirky face shapes, neon colours and bright straps are a must-have chunky watch for anyone who loves to be different from the crowd.
For an all-rounder watch that will carry you through from day-to-night, you can't go far wrong in ditching the leather in favour of a metal strap. Guess watches with their embossed or jewelled silver embellished straps are fabulously affordable quality for those on a budget. DKNY's dainty silver watches are the ultimate for understated luxury, also the perfect choice of timepiece to see you from desk-til-dawn in style.
However, just because watches aren't probably the first thing you think about when accessorising an outfit, it doesn't mean they're not just as important as a necklace or earrings. So, there's no exception to the rule either when it comes to your chosen timepiece – never mix and match silver and gold! Silver- coloured watches are simple to buy and are often more available in different ranges, whereas gold, unless it is real gold, can be tricky. If the colour isn't just right or too shiny, gold watches can often look cheap and tacky, so purchase with caution. Seksy's range at Shade Station is gold and glamorous and offers the choice of chunky and delicate styles for those who prefer their watch to be more of an understatement.  
If you're looking for something that's classy with a difference, Michael Kors innovative use of bone-effect straps and tortoiseshell features are a sure fire winner for you. But if bling is you're thing look no further than D&G's stunning diamante range.
If you're a great believer that a watch is an investment piece last you through every fashion fad and trend, indulge in a designer piece by Roberto Cavalli. For a watch that will go with any outfit, the classic black number is the one. Or for something more opulent that is sure to catch the eye of many admirers, the snake-effect designs are the epitome of the designer's extravagance and classy in so many ways.
Tags:
D&G
,
designer watches
,
DKNY
,
guess
,
nixon
,
nooka
,
roberto cavalli
,
seksy
,
ted baker