The autumn/winter fashion season is fast approaching and what better time to begin donning some sparkling accessories to add a sense of glam to your look!
Seksy watches are one of the most trendy, sophisticated and glamorous brand of watches out there and are perfect for every fashionista who likes to inject the wow factor into her everyday look. Best of all, Seksy watches won't break the bank with prices ranging from a very reasonable £29 to approximately £68 depending on the type of watch you opt for.
What is also appealing about Seksy watches is the use of dynamic shapes in the designs. For example the 4274 Seksy watch boasts a stunning wave effect design which really creates an elegant but statement look on the wrist.
The 4278 Seksy watch is a design which features unique open triangular links and with one side of the watch entirely em
bellished in stunning diamante stones, you also achieve the added glam factor!
For something ultra unique and statement, the 4192 Seksy watch with its stainless steel slotted bangle strap is a great style, and with a choice of dial colours including black, pink and white you still achieve a feminine look but with an added edge that makes the watch more versatile and visually interesting.
Similarly, the 4197 Seksy watch with its open weaved bangle strap and chic oval shaped dial is a further dynamic design and simultaneously has the aesthetic effect of a bracelet meaning that you are achieving two accessories in one which adds to the versatility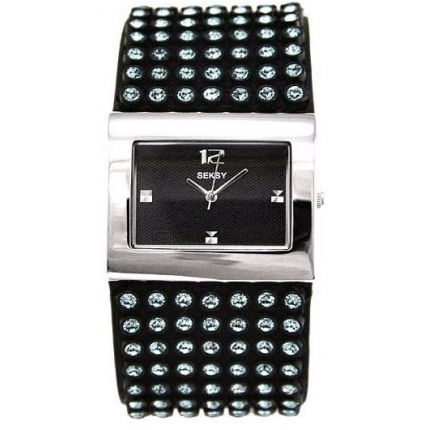 and high value for money factor!
Ultimately Seksy watches are the perfect accessory for every lady who likes her accessories to represent a sense of femininity but also likes to incorporate a unique edge to her look and opt for something a little different. Seksy watches are also available in tones including gold, silver and statement black so you can be as overstated or demure as you wish. If you are looking for watch that effectively adds a touch of chic and the high trend factor to your everyday look, but also works to compliment your dressed up outfits, then a Seksy watch could be the ideal choice!
Tags:
4192 Seksy watch
,
4197 Seksy watch
,
4274 Seksy watch
,
4278 Seksy watch
,
seksy
,
Seksy Watches
,
watches