It is always great when you find a designer brand that has both great quality and stunning looks in a product along with an appealing (or affordable!) price tag to match. Seksy watches by the watch manufacturer Sekonda comprise of a fantastic collection of watches designed to be glitzy, glam, on trend and of a superb quality. The brand actually has a slogan 'beware of expensive imitations' which is a playful way of emphasising that you don't have to pay huge costs to get a fantastic product and that fashion forward style can be accessible to everyone.
Seksy is very much renowned for its product placement and the watches are often seen either sponsoring or appearing on high profile prime time television programmes which allows them to be further exposed to their young and trendy target audience. It has recently been announced that this year the Seksy brand, specifically the stunning Seksy Electra watch is sponsoring 'A Night in With Cheryl Cole' which is a one off show whereby the
pop starlet and X Factor judge will be hosting a one hour show after the X Factor final. The show is rumoured to have guests such as Rihanna, Alexandra Burke and Will Young lined up. The Seksy Electra is a stunning watch that has a asymmetric bracelet made from highly polished stainless steel and a rectangular face with a textured silver dial (other dial colour options available), either side of which is embellished with rows of diamante stones. This super glam and highly on trend watch is sure to be an even bigger hit after the show!
The equally gorgeous Seksy Wave style watch is also sponsoring 'Take That in Concert' which is a one off gig due to be aired on the 19th and 20th of December.
Another music event held only in November was 'The Carpenters Extravaganza' whereby a number of bands and artists performed their versions of The Carpenters songs as a tribute to the band whose work have had a great impact and influence on music of today. This incredible event was sponsored the beautiful Seksy Curve watch which with its stunning open link wave shaped bracelet strap, sleek black dial and diamante embellished interior edge, is a further glamorous and ultra sophisticated watch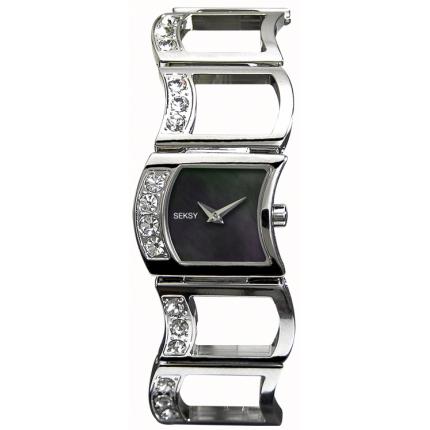 and a sure must have for the party season! This watch is also available in other colour variations.
Seksy is already a much acclaimed brand, consistently noted on the fashion pages for its incredible range of super glitzy and on trend watches. Ultimately Seksy watches provide every style conscious person the ability to invest in a high fashion piece that is within an affordable price range yet very much sought after and worn by a number of glamorous and fashion forward celebrities such as Girls Aloud. Seksy are constantly redesigning their ranges and the unique and original designs mean that this brand definitely has something striking to offer with that wow factor. With the use of diamante stones incoporated in many of the watches Seksy is the perfect way to add some sparkle to your winter look and have you ready for the party season in a flash!
Tags:
A Night in with Cheryl Cole
,
Alexandra Burke
,
Girls Aloud
,
Rihanna
,
Sekonda
,
Seksy Curve
,
Seksy Electra
,
Seksy Watches
,
Seksy Wave
,
Sesky
,
Take That in Concert
,
The Carpenters Extravaganza
,
watches
,
Will Young
,
X Factor