One of the reasons why we love Diesel watches here at Shade Station is due to the vast range of style preferences that the brand appeals to. Some of the new Diesel watches are real show stoppers and in true Diesel style, remain totally unique yet will work with almost any look.
Here are a few of our favourites that are new to the Diesel offering this season. You may be looking for some inspiration for a Christmas gift, but I bet you'll find these difficult to resist for yourself!
The first new Diesel watch that caught our eye, is the new DZ7188 unisex design. Perfect for those who like a burst of colour and a modern high-tech finish, this watch boasts a sleek brushed stainless steel strap, coloured function buttons and a multi-functional reversed digital display. This watch would look uber stylish for girls teamed with a feminine outfit to provide edge and contrast, whilst looking equally fashion forward with any look on the guys.
Next up is the Limited Edition DZ4187 Diesel watch for men, which is highly unique
and special as has been released to celebrate the founder of Diesel, Renzo Rosso's 55th birthday. This statement and aggressively styled design features a carbon coated stainless steel case, a green fabric strap and a bold dial displaying the 'This Is My Time' statement. If you're already a fan of Diesel (and who isn't!), this watch is a definitely worthy investment as the numbers produced are strictly limited.
For something particularly sleek whilst also being rugged and statement, the new DZ7179 Diesel watch for men, is a great choice, With defined and jagged edges, this model features a polished stainless steel bracelet strap for the slick factor and the dial also includes three time zones in addition to an analogue and digital display, therefore ticking all the function boxes! Diesel is a brand that is relevant 
on a global scale in terms of style and attitude and this is the perfect watch to convey this theme.
If you're looking for the ideal accessory to show your timelessly stylish approach to fashion, a Diesel watch is just the thing you've been looking for. The three watches above are just a handpicked selection of the new Diesel watches available this season, and of course there are many others to browse through, so make sure you check out the entire range.
Tags:
Diesel
,
Diesel watches
,
DZ4187 Diesel watch
,
DZ7179 Diesel watch
,
DZ7188
,
Renzo Rosso
,
watches
Diesel watches, or 'Timeframes' as they like to call them, are a hot, chunky wrist accessory for the winter. Great for men or women, Shadestation have the whole collection for your delectation.
New in this season are;
Diesel Watch: DZ4187
This limited edition Diesel watch was created in honor of Diesel founder, Renzo Rosso's, 55th birthday this September. The wrist piece is called 'This is my time' and features this very slogan on the face and also Rosso's engraved signature. In matte black with a khaki fabric strap this Diesel special edition watch has both amazing style and extreme durability. Each watch also has a unique number as proof of it's limited identity.
Diesel Watch: DZ1350
Solid, striking and unashamedly urban this Diesel watch is a man's best friend. With a chunky brown leather strap and a two-tone dial set in an oversized black carbon case this style oozes confidence. The dial is a tale of two halves, with one side picked out in grey and black with white numbers and the other, criss cross, without numbers and with orange accents. Of course the Diesel logo is very present on both the face and the casing.
Diesel Watch: DZ5207
This style is for women, but sports the androgynous look. It looks sophisticated but is definitely aimed at a slightly tougher type of woman and should be avoided if you're into diamonds and pearls! A slim black leather strap, gives way to a square silver case and a black dial. There are sliver, pink and white accents across the face and the Diesel logo sits proudly top centre of the dial.
Diesel Watch DZ1370
Without a doubt the most sophisticated and charming of the
Diesel watches
bunch. Although tough and totally urban, this wrist piece would look equally good in the office or out to play. The strap is made of a polished stainless steel linked bracelet and the face is round and oversized. The white minute markers and the numbers 02, 03, 04 picked out, lends this style a uniqueness, and elevates it above other similar models.
Diesel watches
are consistant in their design and have a stylish and uncompromising edge which, quite frankly, blows other competitors out the water! For a massive choice and superb prices you needn't look any further than Shade Station.
Tags:
Deisel watch
,
Diesel watch
,
Diesel watch DZ1370
,
Diesel watch DZ4187
,
Diesel watch DZ5207
,
Diesel watches
,
Renzo Rosso
,
Shade Station
,
This is my time. Diesel watch DZ1350
,
watches
Diesel is definitely one of the more unique fashion brands out there. People all around the world love the label for its creativity and dynamic and universal sense of style.
Each and every part of the Diesel collection embodies this theme and the Diesel watches collection is no different. Constantly impressing us with new and exciting designs that fuse vintage appeal with high tech functions and incredibly original styling, a Diesel watch will always inject the wow factor to every look.
The brand continually remains fresh and exciting and there is an array of fab new styles for this season. Many of which boast statement and rugged aesthetics whilst others are sleek, streamlined and colour inspired.
Perhaps the most special of the recent additions is the men's Diesel watch named This Is My Time. This specific watch has been launched as a Limited Edition model and celebrates the founder of Diesel, Renzo Rosso's 55th
birthday. The bold and striking design is oversized (featuring an impressive 57mm carbon coated stainless steel case!) and has all the functions typical of a Diesel watch including a date window in addition to blacked out sub dials which adds extra definition and dynamic to the style.
The 'This Is My Time' statement is featured at the bottom centre of the dial and the watch also displays Rosso's engraved signature. But be warned as this watch is produced in highly limited quantities, so once it's gone it's gone! Each This Is My Time watch also comes with its limited edition identification number and will eventually make a great collectors item.
There is also a fantastic selection of other Diesel watches to feast your eyes upon – the sleek D77179 for example with its rugged aesthetic, also features three time zones. This is a function that Diesel is renowned for including in its watches to represent its universal appeal.
The Diesel brand is edgy, it isn't afraid to stand out, it always has the consumer's main needs at heart and its products are consistently the best quality possible. Ultimately, a Diesel watch asserts some real style quality into your outfit and will always boast the latest technologies.
Tags:
D77179
,
designer watches
,
Diesel
,
Diesel watch
,
Diesel watches
,
Renzo Rosso
,
This Is My Time
,
watches
The Diesel brand was founded in 1978 by Renzo Rosso and is regarded as an incredibly fashion forward, innovative and dynamic brand that is popular for its clothing, shoes and accessories, including the collection of Diesel watches. Diesel's product ranges perfectly convey the strong brand identity and the collection of funky, edgy and super stylish watches are geared towards those who appreciate a unique sense of fashion.
Diesel has a strong presence in the fashion industry and this is due to the fact that the core team all understand the message that the brand aims to portray. When Renzo Rosso founded the brand, he wanted it to be a fashion innovator and thus broke barriers and went beyond conventional trends to create a niche in the market that other brands now try to replicate. The Diesel range, including Diesel watches are dynamic, adventurous and challenge trends, allowing people to express their style in their own unique way.
Diesel watches can definitely be described as refreshing; they combine contemporary and vintage styling and the recent additions also boast futuristic and sleek aesthetic features. Quirky, kooky and eclectic but in a way that isn't too over the top, Diesel watches are one of the most exciting and cool accessories around.
Whatever your style, a Diesel watch will help to emphasise that and the various designs are the perfect way to sharpen up your look. Starting with the exclusive DZ7112 for example, if you like slick, charismatic and something incredibly unique, this futuri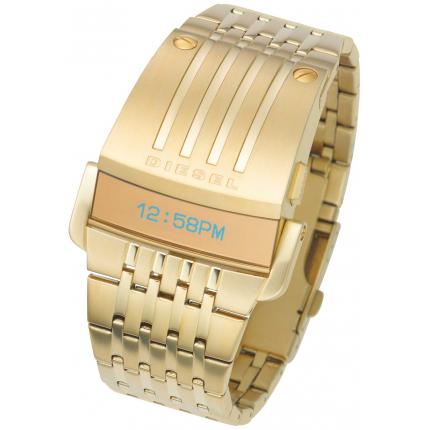 stically styled men's watch will definitely make you stand out from the crowd. With a minimal time display keeping the look streamlined and the multi strand gold plated stainless steel wide strap, this watch is a real show stopper.
Whilst Diesel is notoriously edgy and a little alternative, if you do favour a feminine look, fear not as the exclusive DZ5147 ladies watch is the perfect balance of elegant and cool. With a vibrant and striking scrunched purple leather strap and purple octagonal dial, this watch remains statement and bold but incredibly feminine.
Perhaps you are looking for something completely unique with high function on the agenda as well as great looks? For all style geeks, the DZ7102 Diesel watch with its three separate time movements and bold wide textured black leather strap is definitely one of those wow watches! With gold detailing, the aesthetic remains chic and sleek.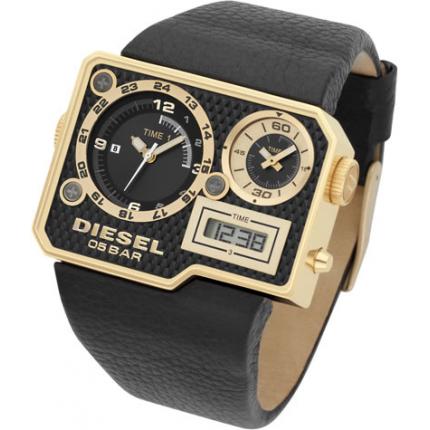 For something fresh and perfect for moving into spring, the unisex DZ7087 with its white leather strap and multifunctional digital dial with mirror electroplating detailing, this watch is incredibly sharp, sophisticated and really conveys Diesel attitude whilst being versatile and light toned, ideal for spring/summer.
The ranges of Diesel watches are extensive and whether your style is smart, classic, sophisticated, edgy, overstated or elegant, there is something that will appeal to you and inject that element of unique Diesel personality. Rosso wanted to create a brand that provided people with something alternative than what was 'in fashion' but that can also be mixed and matched no matter how trendy or quirky your style tends to be. Diesel is a highly respected brand and the simple addition of a Diesel watch will instantly lift your look and show that you have serious style!
Tags:
Diesel
,
Diesel watches
,
DZ5147
,
DZ7087
,
DZ7102
,
DZ7112
,
Renzo Rosso
,
watches
The famous designer label Diesel was founded over 20 years ago by Italian designer Renzo Rosso and has grown rapidly to become an international fashion phenomenon based on innovative, exciting and highly stylish designs. The Diesel brand which creates casual clothing – most famously jeans, shoes and accessories including sunglasses and watches, has a huge number of stores all over the world.
When Rosso founded Diesel, he wanted the brand to be different and was prepared to take a risk as opposed to following existing fashion and jumping on the trend bandwagon. Rosso wanted to challenge current designs in the industry and provide an alternative to people who appreciated a unique style. Rosso believed that the brand would only evolve in the way he desired if he was inspired by a team of like-minded people and therefore he selected a team who worked hard to create a more dynamic, innovative, exciting and imaginative line of clothing. Rosso was considered a dream to work for as he gave his designers a free reign on their ideas, allowing them to be as open minded as they wish; the only creative brief being to design a collection that was geared towards people who like to reflect their
individuality and independence through the way that they dress and wear what suits them as opposed to merely following trends.
Diesel became a fast success and people love the fact that the brand is a fashion leader. You will notice that the style has remained fairly continuous over the years proving that the brand is timeless – if you bought a pair of Diesel jeans five years ago, they will still look fantastic today and the same applies to Diesel accessories such as the collection of watches and sunglasses. Diesel is also renowned for its incredibly high quality products and cutting edge production methods. From the design development of the styles, the choice of fabrics and materials used, to the manufacturing methods and quality control, you can be assured that a Diesel product will be of the best quality possible.
The Diesel 'trend' is one that is regarded as applicable to everyone all around the world which is why the company also strongly believes in employing designers, marketers and retail assistants among many other roles, from all across the globe which encourages an unpredictable and varied take on fashion and creates an extremely inspirational environment to work in. This is definitely why the brand has become so dynamic and successful and it is often featured as a case study and used as an example of how other companies could be structured in order to be successful.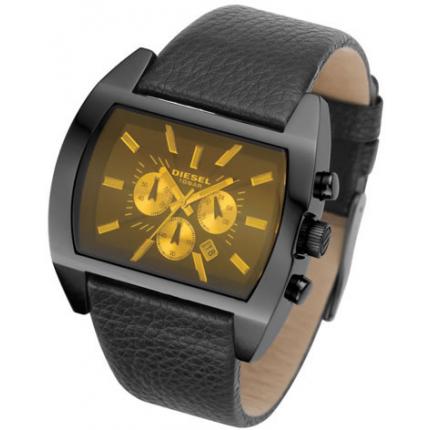 Diesel has an effortless yet polished style and when you wear a piece of Diesel clothing or don a pair of Diesel sunglasses, you instantly feel like you are expressing your own style without trying too hard. The collection of Diesel watches and Diesel sunglasses are a great way of injecting the Diesel spirit to your look. With cutting edge designs that will still look stylish in years to come and with cool features such as dual digital and analogue displays within the Diesel watch collection for example, Diesel is constantly creating fresh and innovative looks that are striking but that will work well with your existing wardrobe and enhance it as opposed to contradicting it for the sake of being different. Celebrity fans of Diesel include Jessica Simpson and Britney Spears and this is a brand that is definitely here to stay – perfect for those that work their own unique style!
Tags:
Britney Spears
,
Diesel
,
Diesel sunglasses
,
Diesel watches
,
Jessica Simpson
,
Renzo Rosso
,
sunglasses
,
watches
Diesel is a brand that is loved all over the world and favoured for its unique sense of cutting edge and dynamic style. Diesel was founded in 1978 in Italy by Renzo Rosso and the range of clothing, shoes, accessories and watches have that exquisite sense of Italian style with a completely unconventional and cosmopolitan edge that makes it applicable to worldwide fashion. Diesel jeans are one of the most popular in the world as are designed to compliment a range of shapes and sizes and look effortlessly cool.
The collection of Diesel watches are very much in keeping with the remainder of the brand's products and take inspiration from culture and of course fashion, style and trends that are popular on a global scale. Diesel watches are incredibly unique and range from more classic stainless steel models to highly original and eye catching eclectic and vibrant watches that have that innovative and cool Diesel stamp.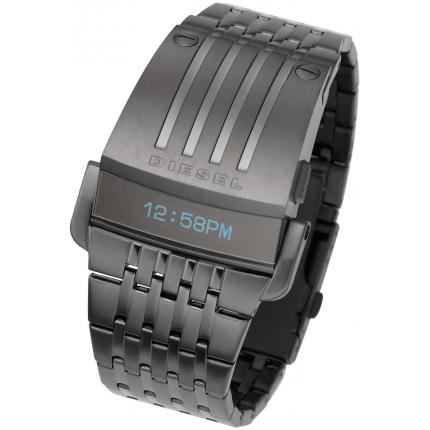 There are some fantastic new Diesel watch styles to look out for. Here is a rundown of some new exclusives that are sure to catch your eye-:
-          DZ7111 – A men's Diesel watch that has a futuristic aesthetic and minimal yet incredibly effective styling, this model features a dark carbon coated strap and case and a multi functional LED digital display which lights up in blue. This watch is the definition of cool and is extremely contemporary in style. It almost reminds me of something you would see in a futuristic action film! The gold plated version is also super slick!
-          DZ7086 – A Diesel watch with brand attitude, this men's style features a chic textured black wide leather strap and a funky LED digital display with a hologram image. Again this is a futuristic themed watch and definitely a statement accessory.
-          DZ7109 – Now, if we're going to talk ultra modern then this men's Diesel watch is a prime example. With a super sleek and streamlined stainless steel bracelet strap with an electroplated mirrored face, the multi functional digital display lights up in red and looks absolutely striking on the wrist. A sure conversation piece!
-          DZ5148 – Something for the ladies, this Diesel watch perfectly combines feminine with edgy. The scrunched black leather strap and chic octagonal dial with a beautiful blue mother of pearl toned finish is perfect for girls who like to be elegant but inject a sense of funky street style and refrain from being too 'girly'.
These are just a selection of the new models to choose from and this season, Diesel have definitely adopted a futuristic feel to their range of watches which is very much in line with the geek chic appeal that has been very popular in 2009. Diesel watches ultimately offer something a little alternative from the norm with their cutting edge designs, clean lines, streamlined aesthetics and striking features. Of course, if you prefer something a little more typically classic, Diesel watches such as the DZ1244 or the DZ1253 are ideal and there really is something in the collection to suit all tastes. Diesel doesn't need to be over to top because it represents a laid back and effortless style that looks best in that 'thrown together' type look.
There are many Diesel watches including models with chronographs, digital displays, leather and stainless steel straps, striking colours, and of course, the brand's typical unique style. There are models created specifically for men and women in addition to unisex designs. A Diesel watch will defy seasonal trends and continue to look super stylish for years to come because the Diesel brand could be described as a trend all of its own and one that will always be 'in fashion'.
Tags:
Diesel
,
Diesel watches
,
DZ1244
,
DZ1253
,
DZ5148
,
DZ7086
,
DZ7109
,
DZ7111
,
Renzo Rosso
,
watches
Diesel was founded in 1978 by Italian designer Renzo Rosso, who had the ambition of creating a brand which was innovative, edgy and representative of Italian style with a cosmopolitan edge. Diesel quickly became popular following its launch launched and it is favoured because it provides a fashion brand that sits between high end designer and High Street. Diesel primarily became most renowned for its range of denim but today the brand has extended its product lines and we can now enjoy the Diesel style in the form of sunglasses, watches and jewellery.
The main essence of Diesel is a dynamic, edgy and cutting edge style and the great range of Diesel jewellery is no exception. Featuring black and stainless steel chunky rings, necklaces and bracelets this iconic brand designs its jewellery to provide the wearer with a unique sense of style and character. The Diesel lettering is often boldly featured across the pieces and the materials used include leather, silver, semi-precious stones and resins. The jewellery is innovative, dynamic, incredibly stylish and very much sought after.
The range of rings are exceptionally popular and with designs such as the DX0199 with its wide silver band and a classic Diesel logo with a black surround section as the dominant and striking feature, this unisex ring is definitely a statement! Th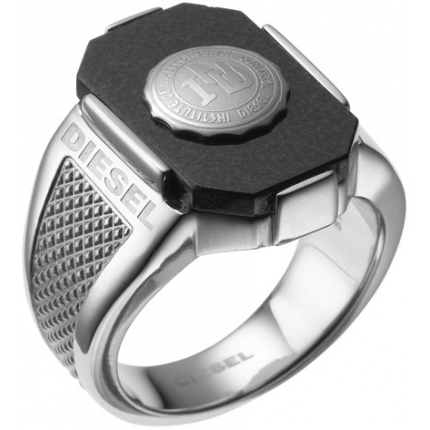 e men's black DX0051 ring with its black band and silver Diesel lettering logo which wraps around is a great example of urban style and looks incredibly funky and masculine. The DX0045 ring is a similar style in silver but the Diesel lettering logo is laser cut around the circumference of the band.
The DX0198 unisex bracelet would look equally great on men and women. For ladies, a current key trend is the 'biker look' where we are seeing girly dresses for example teamed with leather jackets, biker boots or edgy jewellery to create depth and a dynamic style. This bracelet features a chain link attachment and a carbon section with the Diesel logo. The DX0089 is another cool bracelet for ladies and a little more typically feminine with three strands incorporating pyramid links and a Diesel logo clasp.
Dog tag necklaces are synonymous with street/urban style and the unisex Diesel DX0005 is incredibly simple but statement with a black leather coated dog tag with the Diesel logo and an embossed Indian head logo.
The Diesel brand is renowned for being extremely high quality and the range of Diesel jewellery also reflects that. For girls who favour and edgy and urban look, Diesel jewellery is a fantastic choice as it still retains a sense of femininity. Each product is manufactured to the highest quality possible and some pieces feature jewel embellishments and are typically steel with a brushed chrome finish. Diesel Jewellery is definitely considered extremely sought after and each piece is designed to get noticed and add a real element of unique style to your look.
Tags:
biker look
,
Diesel
,
Diesel jewellery
,
Diesel logo
,
dog tag
,
DX0005 necklance
,
DX0045 ring
,
DX0051 ring
,
DX0089 bracelet
,
DX0198 bracelet
,
DX0199 ring
,
jewellery
,
Renzo Rosso
Diesel is a label that seems to ooze 'cool' from every pore. With the likes of David Beckham, Sienna Miller and Megan Fox wearing their clothes on a daily basis, Diesel is one of the affordable 'high street' brands that appeals to both Joe Public and Hollywood A-Listers. Launched in 1978 by an Italian named Renzo Rosso, Diesel's focus was very much on producing quality jeans aimed at the youth market. Since its inception the label has continued to grow stronger year by year. With quirky advertising, clothes and accessories of a superior quality and a seemingly universal acknowledgment of the 'cult of Diesel' the brand has found itself with a strong foothold in the retail market today.
 
Famed for their innovative denim, Diesel also produce delicious smelling scents and a great wristwear portfolio. Diesel watches are sturdy, generally chunky, occasionally unisex and always ahead of the trend. Known for their ability to stay one step ahead of the competition, expect the unexpected and the very best from Diesel. Where else would you find a hybrid watch that is styled one half as a men's sports watch with a brushed stainless steel bracelet and the other half as a city gents leather wristwatch?! This original watch known as DZ4160 has to be seen to be believed!
Another model – DZ9043, features 3 separate time movements on 2 faces built into the watch all wrapped within a chunky stainless steel multi-link bracelet.
 If you're a fan of Diesel's laid back, hip style then we'd urge you to check out their Diesel watches. Designed for both men and women, Diesel watches look great as a causal accessory to any outfit and make an interesting talking point due to their occasional futuristic and unusual appearance!
Tags:
chunky watches
,
DavidBeckham
,
Diesel watches
,
Diesel watches. Diesel
,
Megan Fox
,
Renzo Rosso
,
watches
Founded in 1978 by Renzo Rosso, the Diesel brand has since become one of the most popular brands in the fashion industry and is renowned for its laid back, cool, yet sharp image. Rosso and his team of designers always aspired to become fashion innovators as opposed to catching on to trends and are certainly that little bit more edgy than the norm. Diesel quickly became a fashion leader and hence, you will often see other brands trying to emulate the Diesel style. Their methods of manufacturing their products are based highly on quality control and therefore every item is as high quality as you can get, and of course, reflects a sense of unique individual style.
For summer 2009, Diesel has a range of fabulously fresh and creative frames and styles. The new polished black Diesel shades with the silver logo on the arms are extremely cool and are a little bit sporty yet ooze style with that high fashion essence. The silver sunglasses with tortoiseshell features are smart and sophisticated and something a little bit different. Diesel also have a fantastic selection of sportier wrap around styles, aviators and the classic frames.
The great thing about Diesel sunglasses is that the frames are unisex. In order for the same pair of shades to
look great on both men and women, they have to be skilfully crafted and of a style that suits both genders. Diesel captures this balance perfectly. The brand is one of the key looks for many super cool celebrities such as the Beckhams, Beyonce, Brad Pitt, Paris Hilton and Matt Damon. Diesel sunglasses are a way of portraying your style, in a subtle way that makes a big fashion statement. It also shows you are a true style innovator and not a follower!
Click here to visit our Diesel Sunglasses section
Tags:
Beckhams
,
Beyonce
,
Brad Pitt
,
Diesel sunglasses
,
Matt Damon
,
Paris Hilton
,
polished black Diesel shades
,
Renzo Rosso
,
silver sunglasses with tortoiseshell features
Since founded in 1978 by Italian designer Renzo Rosso, Diesel has become one of the most fashionable, urban, cool and desirable brands out there. The label originally manufactured jeans but as the popularity grew, it branched into the word of accessories and jewellery; creating unique and dynamic pieces that are hugely popular among the most fashionable trend setters.
If you are looking to find a piece of jewellery that has statement style written all over it (quite literally), look no further than the Diesel range. The collection is mainly unisex so I wouldn't describe the pieces as……feminine – the styles tend to be a little more street and urban style and guaranteed to get noticed. The Diesel rings are popular with a stainless steel band with the brand logo wrapped around – very funky indeed! The Diesel dog tag necklaces completely depict urban style and create an edgy look to the plainest of outfits.
Diesel has managed to establish itself in the fashion market as a high end, desirable brand appealing to those people with a taste for high fashion, but the price also reflects it is attainable to everyone. Many of the jewellery pieces are of a reasonable price but you still know that you are investing in something extremely cool that will never go out of fashion. Diesel is one of those classic brands that sets its own trends as opposed to following in the footsteps of others. Buy a Diesel cuff bracelet today and the chances are it will still be adorning your wrist and receiving compliments in 5 years time.
Diesel Jewellery is fast becoming one of the coolest jewellery brands around and portrays ultimate self
confidence in your style. If you're looking for an unusual eye catching piece, Diesel Jewellery items are certainly the must have and best of all, most of the pieces are for both men and women so you can even steal it from your other half and still look stylish!
Click here to visit our Diesel Jewellery section
Tags:
Diesel cuff bracelets
,
Diesel dog tag necklaces
,
Diesel jewellery
,
Diesel rings
,
Renzo Rosso
Older Posts »