The brand Ray Ban was created by Bausch & Lomb to supply high quality sunglasses to US pilots in the 1930s. The initial Ray Ban Aviator design was based on a oblique teardrop shape, and over the past 75 years Aviator sunglasses have become a true design classic.
The early Ray Ban Aviator sunglasses offered wearers the first anti-glare lenses, filtering out infrared and ultraviolet rays. Combined with lightweight frames and an ergonomic fit for comfort, Ray Ban found they had an instant hit on their hands. The Aviator style became synonymous with pilots and then the military, when General Douglas McArthur was photographed wearing them during the Second World War and subsequently pictures were splashed across the world's media. Whilst the Ray Ban Aviator sunglasses were clearly sharp and lent the wearer a distinct air of cool, they were also the finest quality sunglasses of the time and offered ultimate UV protection.
From their early link with the US military, Ray Ban's Aviator sunglasses found another Service connection, on the silver screen in 1986, courtesy of a squadron of handsome navy chaps.
Maverick and Ice Man. Need anymore be said?
Tom Cruise and Val Kilmer immortalised Ray Ban Aviator sunglasses in everyone's favourite Eighties classic, Top Gun. Whether he was racing his fighter jet, riding his motorcycle or bedding Kelly McGillis, Tom Cruise's Ray Ban Aviators were ever present. So much so, that sales of Ray Ban's Aviator sunglasses rose 40% that year!
Since Top Gun put Aviators on the movie map, dozens of other films followed suit. Memorable placements include Cobra, To Live and Die in LA and Michael Jackson's This is It. Michael Jackson was a huge fan of Ray Ban Aviators, particularly their mirrored Aviator sunglasses, which he wore constantly in public and in many of his music videos.
Aside from movies Ray Ban Aviator sunglasses are popular with a host of celebrities and the general public. The style flatters every face shape, the lenses are so dazzlingly clear and the frames so neat and light that it's very hard not to love the Aviator. Ray Ban Aviator sunglasses have earned their cult status and then some!
Tags:
Eighties classic
,
Kelly McGillis
,
Michael Jackson This is it
,
Mirrored Aviator sunglasses
,
Ray Ban
,
Ray Ban Aviator Sunglases
,
Ray Ban aviators
,
Ray Ban sunglasses
,
RB3025
,
sunglasses
,
Tom Cruise
,
Top Gun
,
Val Kilmer
Once again the stars flocked to the Coachella Festival in California this April, to see the likes of Kanye West, Mumford and Sons, Arcade Fire and The Kings of Leon perform. The temperature was soaring and the celebs, as always, kicked back in their best festival garb… Known for the great line up year after year, Coachella is also famed for it's super stylish A-list party crowd, who set the bar high for fashionable festival goers throughout the ensuing festival season.
California's finest kept it cool with loose flowing fabrics in soft muted colours like white, cream and peach, as well as teeny tiny denim shorts and quirky little dresses. All outfits were of course accessorised with the coolest designer sunglasses. With the mercury hitting highs of 40 degrees over the festival weekend, sunglasses were essential to keep celebrity peepers covered. Amongst the A-List, Ray-Ban sunglasses appeared to be the brand of choice. Actress Kate Bosworth is huge fan of Ray Ban sunglasses and was pictured wearing her Ray Ban Aviators all weekend. Known for her hip style Kate Bosworth is very loyal to the label and was spotted in the same Ray Ban aviator style shades at Coachella in 2010 too.
Another actress famed for her laid back, but cool, edgy style is Kirsten Dunst. Kirsten was spotted with her boyfriend Alexander Skarsgard from True Blood, rocking black Ray Ban Clubmaster sunglasses, whilst he was wearing a similar style of shades with red frames. Joshua Jackson, best known as Diane Kruger's other half and for playing Pacey in Dawsons Creek is also a fan of Ray Bans. At Coachella he was seen relaxing in the sun sporting Ray Ban Wayfarer sunglasses.
Ray Ban sunglasses are always a popular choice at festivals…. whilst the Wayfarers come in a multitude of colours and patterns and look ultra modern, the Clubmasters have a retro style which is very hip right now and the aviator shape is an absolute classic. Ray Ban sunglasses combine superb technology with an effortlessly cool style, making them the ultimate brand for festival revelling!
Tags:
Alexander Skarsgard
,
Coachella Festival Coachella 2011
,
Diane Kruger
,
Joshua Jackson
,
Kate Bosworth
,
kirsten dunst
,
Ray Ban aviators
,
Ray Ban Clubmasters
,
Ray Ban sunglasses
,
Ray Ban Wayfarers
,
Ray-Bans
,
sunglasses
Whether you're hitting the slopes or taking a winter beach break, your eyes need protection – and there's no better combination of sun damage prevention and style than Ray Ban sunglasses.
Ray Ban was the very first sunglasses brand to introduce anti-glare lenses, initially to pilots and then to the demanding public. To date they are the sunglasses brand of choice for those who value technological innovation and hip design.
Ray Ban sunglasses have always been at the cut and thrust of cool. Adorned by actors, rock stars, indie kids and style divas, Ray Ban sunglasses have achieved cult status with many of their collections. Their Aviator sunglasses and Wayfarers have become the blueprint for contemporary popular design and both the High Street and top end designers model many of their own sunglasses designs on these popular silhouettes.
Ray Ban not only produce best-selling, ultra-hot sunglasses they also live the image. With a big presence in the music industry, at festivals small and large, UK and abroad, and links to the art and design industry, they encompass everything a modern lifestyle brand should.
Ray Ban's Rare Prints Wayfarers are going to be even bigger news this year with new designs released imminently. Last years Floral trend remains big news this Spring / Summer '11 and Ray Ban's floral Rare Print Wayfarers fit the bill perfectly.
Another trend identified in our blog last week is bright colours, particularly white and orange. With the summer just around the corner stay ahead of the curve and get your hands on a pair of vivid Ray Ban Wayfarer sunglasses or even Ray Ban Clubmaster sunglasses with a colourful brow bar.
With celebrity endorsement from the likes of Kylie Minogue, Lily Allen and Kate Moss, you'll be in good company wearing your Ray Ban sunglasses this year!
Tags:
Kate Moss
,
kylie minogue
,
Lily Allen
,
Ray Ban aviators
,
Ray Ban Clubmasters
,
Ray Ban sunglasses
,
Ray Ban Wayfarers
,
sunglasses
If you're not in Ray Ban sunglasses this summer you may find yourself in the minority… The Ray Ban craze shows no signs of abating – quite the contrary in fact as they've already updated their tasty portfolio of shades this year.
At the beginning of 2010 Ray Ban introduced their 'Rare Prints' range of Wayfarer sunglasses – a twist on the original block shades, with subway designs, floral motifs and stripes. In addition to some snazzy prints, Ray Ban have released the Wayfarer II, an update on the Wayfarer style with two tone coloured frame and arms. The summer is the perfect time to add more colour to your palette and Ray Ban make it super easy, as so many of their Wayfarer designs are colourtastic! Just pop a pair on and you've nailed a couple of trends in one go!
Most young celebrities acknowledge the style power of Ray Ban Wayfarer sunglasses and some are die-hard fans. Stylish men and women who wear Wayfarers include; Rachel Bilson, Kate Bosworth, Dominic Cooper and Robert Pattinson.
Continuing with the colour theme and also picking up on our love for oversized shades, Ray Ban's Cats 1000 are a great pair of sunglasses to cover your peepers this summer. With acetate frames, massive lenses and a retro style, the Cats 1000 come in a range of bright colours including acid pink and yellow, tortoiseshell and two tone.
Another hit this summer for Ray Ban has been their sunglasses style RB4141. A little like a re-worked Club Master, but with Wayfarer arms, these shades have smaller round lenses and smack of Sixties vintage with a new age twist. Worn by the likes of Lady Gaga and Pixie Geldof, the perfectly round lenses are a huge trend this season.
And finally we couldn't leave without mentioning our love of Ray Ban Aviator sunglasses. The original and still the best – these beauties were designed for pilots back in the day and now adorn everyone from Cheryl Cole, Kylie, Tom Cruise and David Beckham. Loved by all and sympathetic to most face shapes, Aviators are the classic stylish option to some of Ray Ban's wackier styles.
Tags:
David Beckham
,
Dominic Cooper
,
Kate Bosworth
,
Lady GaGa
,
Rachel Bilson
,
Ray Ban aviators
,
Ray Ban Cats 1000
,
Ray Ban Clubmaster
,
Ray Ban Rare Prints
,
Ray Ban sunglasses
,
Ray Ban Wayfarers
,
RB4141
,
Robert Pattinson
,
sunglasses
,
Tom Cruise
Have you seen the one where the guy gets a pair of Ray Ban Wayfarer sunglasses tattooed to his face? Or the one where the
chameleon changes colour every time it touches a 'Colourized' pair of Ray Ban sunnies? Or the one where a cow gives birth to a naked skinny man wearing white Ray Ban sunglasses ? Or even the one where 100 people freestyle wearing a selection of Ray Ban sunglasses?
Thanks to the internet, companies like Ray Ban are finding crazy, hilarious and abstract ways to advertise their product and make some global noise. Clever, off-the wall short virals are without a doubt one of the hottest ways in 2010 to get people talking about a brand. Ray Ban has always been slightly ahead of the curve and their sunglasses appeal massively to the internet generation, thanks to their retro, classic designs, cool advertising and huge celebrity endorsement.
Hot young thing Marina, the flame haired lead singer of band 'Marina and the Diamonds', always carries a pair of Ray Ban Wayfarers in her handbag, even at red carpet events. In this month's Instyle magazine she is quoted at The Brits saying her Wayfarers "… are great on no make-up days." Other fans of Ray Bans are well documented. You name a young Hollywood celebrity and they've probably been pictured in a pair of Ray Ban Wayfarers, Ray Ban Clubmasters or the classic Ray Ban Aviator.
New to the Ray Ban sunglasses collective this year is the Rare Prints line and The Outdoorsman range. Adding a fresh twist to 2 old classics, Ray Ban have rejuvenated their already incredibly popular Wayfarer and Aviator styles to bring them bang up to date for a new decade. The humble Wayfarer has been attacked with stripes, pastel floral patterns and even a subway map for 2010 and the ever so stylish 'suits anyone' Aviator has been given a facelift with a luxurious hint of leather across the bridge,
If the Met Office is anything to go by, we're in for a scorcher this Summer, so make sure you spend the sunny season protecting your eyes with the coolest brand on the sunglasses block.
Tags:
Colourize
,
Marina and the Diamonds
,
Ray Ban aviators
,
Ray Ban Clubmaster
,
Ray Ban OutDoorsman
,
Ray Ban Rare Prints
,
Ray Ban sunglasses
,
Ray Ban Wayfarers
,
sunglasses
We all know that RayBan sunglasses are one of the most popular, ever stylish and versatile sunglasses around. The brand has a remarkable history and has been featured in numerous iconic films including Top Gun, The Blues Brothers and Men in Black.
This month, when I have been looking through the style pages of the glossies, Ray-Ban sunglasses have cropped up on many occasions and the brand definitely seems to be the choice of many celebrities. Yes, it may be November, but sunglasses as every fashion lover is aware, can make for a high style statement and add a finishing touch to your look come rain or shine. Ray-Ban's have the added advantage of being incredibly functional and so when the sunshine does pop out on the odd occasion (well, here in the UK!), then you know your peepers will be fully protected from UV rays.
So, Ray-Bans and celebrities. The two definitely seem to go hand in hand and here is a rundown of who has been wearing what style of R
ay-Ban shades over the past month or so.
Most of us have harboured an obsession with the Twilight film and of course, more recently the new sequel New Moon. Remember when we saw the rather dashing Edward Cullen (Robert Pattinson) in the first scenes of Twilight with a cool pair of shades? Well, these were infact the classic Wayfarers and the actor himself in addition to his co-stars Kristen Stewart and Taylor Lautner claimed that Ray-Ban Wayfarers are the ultimate Twilight accessory. Well, if they're good enough for great looking vampires!
Rachel Bilson who has become quite the fashionista since the hit show the OC has regularly been spotted in her Ray-Ban 2140's in a dark tortoiseshell tone. The dark shade of these sunglasses compliment Bilson's dark hair and skin tone as they offer something a little softer in colour than block black. With sleek lines and sharp style, these 2140's make for a great laid back look a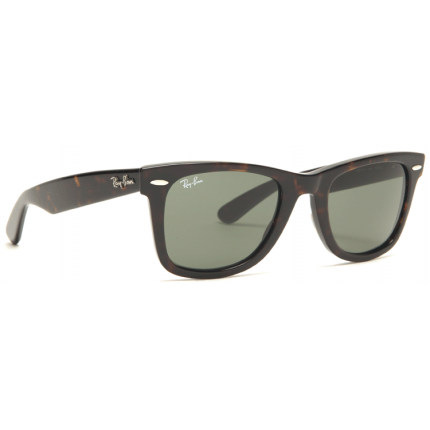 nd are very popular among a young and trendy crowd.
With the departure of Lauren Conrad from the latest season of the Hills, Audrina Partridge has taken the crown of style Queen (and drama!) in the show and has frequently been spotted wearing a pair of Ray-Ban aviators in gold. From a style perspective, these are the ultimate in versatility and Audrina has been seen wearing them en-route to the gym, out casually with friends and to the beach. They definitely inject an effortlessly cool edge to your look no matter what your choice of outfit. Another fan of the Ray-Ban aviators is Minority Report bad boy actor Colin Farrell who was pictured wearing a gold rimmed pair. Ray-Ban aviators were first launched in 1937 and aside from contemporary updates such as colour and lens technologies, the aesthetic styling is exactly the same proving that the brand is timelessly on trend.
From a functional perspective, many Ray Ban sunglasses also incorporate a G-15 lens. The G-15 lenses transmit colour naturally and therefore you get a clearer and true vision as opposed to just seeing heavy lens colour. This technology has been incorporated into many Ray-Ban
sunglasses over the past seven decades and is unique to the brand.
Other celebs who love their laid back Ray-Ban look is Nicky Hilton, Kate Moss, Peaches Geldof and Rhianna, some of whom favour their coloured Ray-Ban Wayfarers which were one of the most popular accessories at this year's music festivals. Ray-Ban is one of those brands that people love, trust and tend to find a pair within the extensive selection that suits them. Unlike some other designer brands, they are also affordable with the Wayfarers just below £80 so you can look like a celeb and not break the bank!
Ray-Ban has existed for over 70 years and with iconic styles consistently worn and re-vamped, this brand is definitely staying at the forefront of fashion for quite some time.
Tags:
Audrina Partridge
,
Colin Farrell
,
coloured Ray-Ban Wayfarers
,
Edward Cullen
,
G-15 lens
,
Kate Moss
,
Kristen Stewert
,
Men in Black
,
Minority Report
,
New Moon
,
Nicky Hilton
,
Peaches Geldof
,
Rachel Bilson
,
Ray Ban
,
Ray Ban aviators
,
Ray Ban sunglasses
,
Ray-Ban 2140
,
Rhianna
,
Robert Pattinson
,
sunglasses
,
Taylor Lautner
,
The Blues Brothers
,
Top Gun
,
Twilight
Ray Ban is an all American brand that completely depicts the essence of American trend. The look of the range of sunglasses is classic yet fresh, and chic but fun. Originally designed in 1937, Ray Ban sunglasses were intended solely for the purpose of protecting the eyes of those in the military forces. They soon became quite the fashion accessory however, especially during the Second World War.
Ray Ban sunglasses are all about attitude yet are one of the most functional brands available by providing the ultimate in eye protection. In the earlier days, they became particularly popular following being featured in a selection of Hollywood films. Indeed, we may remember the likes of Will Smith sporting them in 'Men in Black' and Dan Aykroyd in the hit movie 'The Blues Brothers' but the glasses were actually also seen in early classics such 'Breakfast at Tiffany's' in 1961. Tom Cruise was partly responsible for making Ray Bans popular with the younger market after wearing them in his first movie 'Risky Business'.
The Wayfarers are one of the most recent and renowned styles but Ray Ban aviators and the classic wire
styles are also immensely cool and chic and have a rather effortless retro look. The most recent fashion forward public figure to be seen wearing the brand as none other than the ultra trendy Barack Obama. The Jonas Brothers are also fans.
Ray Ban is a unisex brand – they really do look fantastic on both males and females. With such a distinct history and so many styles and colours to choose from today, Ray Ban certainly has a long and fashionable life ahead!
Click here to visit our Ray Ban sunglasses section
Tags:
Barack Obama
,
Breakfast at Tiffany's
,
Dan Aykroyd
,
Men in Black
,
Ray Ban
,
Ray Ban aviators
,
Ray Ban classic wire styles
,
Ray Ban sunglasses
,
Ray Ban Wayfarers
,
The Blues Brothers
,
The Jonas Brothers
,
Tom Cruise
,
Will Smith