Bvlgari sunglasses are quite simply, the ultimate in exquisite Italian style. Designed for ladies, Bvlgari sunglasses are elegant, chic, bold and incredibly luxurious. Worn by celebrities such as Jessica Alba, Mariah Carey, Angelina Jolie and Penelope Cruz, Bvlgari shades are synonymous with A list Hollywood style and can add a striking finishing touch to even the most casual of outfits.
Due to aesthetic features such as rich toned gemstones, elaborate hinge and arm detailing, and autumnal coloured frames, Bvlgari sunglasses are the perfect winter accessory, as despite the weather not being as hot as we may like, our eyes still need to be protected from the sun's rays. Plus, Bvlgari sunglasses add the perfect finishing touch to a winter look, so it would be a shame to waste the opportunity to wear them!
There are a fabulous selection of new Bvlgari styles to choose from this season. First up, we have the BV8081B sunglasses, which in typical Bvlgari style, are oversized boasting a square shaped frame with a more rounded interior frame section to
infuse a sense of femininity to the design. The frame and arms are classic black, but rich colour is incorporated in the form of a large and stunning violet toned gemstone positioned upon the hinge. The lenses are also graduated violet for a chic and colour inspired finish.
For something a little lighter in tone but retaining the luxurious Bvlgari look, the BV8079B Bvlgari sunglasses feature a textured beige frame, purple arms and a purple toned gemstone embellished hinge. This style is more understated, than some Bvlgari styles but still oozes elegance, sophistication and the essence of true Italian style!
If you prefer a more sporty style of sunglasses but still want them to convey a high-fashion edge, then a visor style from the Bvlgari collection could be just the thing you're looking for. The new BV6050B sunglasses for example, feature a dark blue upper frame section, a luxe blue gemstone hinge,
elegantly curving arms and a graduated grey lens. The ultimate in fusing stylish with sporty!
These are just a selection of new styles to choose from and the Bvlgari collection really has something to appeal to a variety of tastes whether you prefer a more overstated look, or something more demure. Bvlgari sunglasses are real show piece accessories, boast expert craftmanship, alluringly ornate and decorative detailing, and will add the perfect finishing touch to every look.
Tags:
Angelina Jolie
,
BV6050B sunglasses
,
BV8079B Bvlgari sunglasses
,
BV8081B sunglasses
,
Bvlgari sunglasses
,
jessica alba
,
Mariah Carey
,
Penelope Cruz
,
sunglasses
BVLGARI sunglasses are the perfect choice for all you ladies who like to add a super glamorous, sophisticated and bold finish to your look. These shades are all about being unafraid of expressing your style and are loved for their exquisite aesthetics, exceptional quality and intrinsic attention to fine detailing.
Possessing the essence of fine Italian style, BVLGARI sunglasses are designed for ladies who like to distinguish their look and personality with the use of statement accessories. They are renowned for their artistic designs and the ability to convey a classic and sophisticated look that shows a refined sense of style.
There are a couple of new BVLGARI styles to look out for this season; the first being the new BV6037 design, which in typical BVLGARI style, is oversized and features a striking off-gold toned frame which extends slightly outside of the lenses (
a key trend seen on sunglasses over the past few seasons) and also curves inwards at the exterior edges to add shape and definition. The arms incorporate beautiful diamante hinge detailing which instantly injects an ultra feminine and elegant edge and the lenses are a soft graduated brown tone – perfect for spring and summer whereby you may prefer a lighter toned pair of sunglasses.
A further style to look out for is the exclusive BV8038B pair of BVLGARI sunglasses which again are oversized and feature a thick jet black frame and wide jet black arms with the prominent aesthetic feature being the bold diamante embellished version of the BVLGARI logo elaborately displayed across the length of the arm. This style is also available in brown and bronze tortoiseshell. What is great about BVLGARI sunglasses is that they typically feature one striking element and keep the remainder of the design simple so that the attention to immediately drawn to only one aspect and keeps the overall look of the sunglasses chic but statement.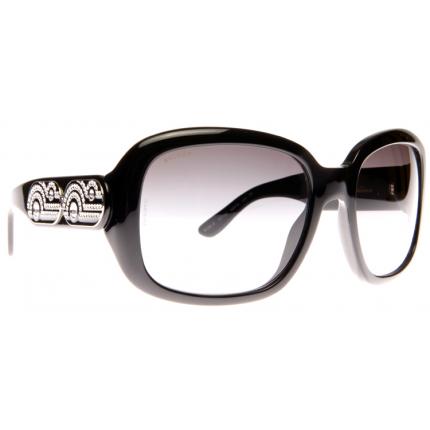 A vast array of celebrities love the glamorous style of BVLGARI sunglasses – these including Victoria Beckham, Penelope Cruz, Tara Reid and Jennifer Aniston to name only a few. With a wide variety of coloured frames (including a selection of lighter toned styles for summer) and designs including oversized, visors and wraparounds, BVLRAGI is definitely the perfect brand choice if you want to add an instant element of dramatic Italian style to your look. A pair of BVLGARI sunglasses will make you feel ultra feminine, polished and elegant and also allow you to stand out from the crowd in the most uniquely fashion forward way possible!
Tags:
BV6037
,
BV8038B
,
Bvlgari
,
Bvlgari sunglasses
,
Jennifer Anisto
,
Penelope Cruz
,
sunglasses
,
Tara Reid
,
Victoria Beckham
If you're celebrity savvy like us you will have been watching all the action at the recent 2009 Cannes Film Festival with interest. The stars, the dresses, the parties and the gossip kept us entertained for at least a week!
Angelina and Brad put on a show of togetherness in answer to reports of an imminent split. Penelope Cruz braved the festival whilst suffering with flu. Twilight's Robert Pattinson's non-stop partying was widely reported. Surprise at the pairing of Hero's Hayden Panettiere and T4's Steve Jones, seen canoodling onboard David Furnish's yacht for the duration of the festival. Paris Hilton and her beau Doug Reinhart courting the paps as usual and Mariah Carey promoting her new film 'Precious'. As well as 2 films depicting the life of Mademoiselle Chanel and an appearance from Chanel's Creative Director, the unflappable Karl Lagerfeld, made for an exciting festival.
The French Riviera was awash with Hollywood Glitterati and the sun shone brightly, so unsurprisingly we were treated to a role call of the latest, most fashionable designer sunglasses as modelled by the A-Listers.
Police sunglasses were a popular choice amongst the men, with director Quentin Tarantino, rapper Neyo and the newly reformed Spandau Ballet all sporting various cool looking styles. Brad Pitt took to the Red Carpet for his movie  'Inglourious Basterds' wearing top to toe Tom Ford including a sharp looking pair of Tom Ford style aviators. Both Robert Pattinson and Orlando Bloom flew the flag for Ray Ban, with the Twilight star rocking some Ray Ban Clubmasters and Bloom wearing nothing but swimming shorts and a pair of Ray Ban Wayfarers.
German born Diane Kruger is rarely seen without her Ray Ban Wayfarers and Cannes was no exception this year. Eva Longoria turned up the heat with a sizzling pair of large red Gina sunglasses by Louis Vuitton accompanied by her husband, basketball player Tony Parker. Red head Julianne Moore was pictured wearing a stunning pair of oversized black Gucci sunglasses and singer Mariah Carey chose a fabulous pair of Roberto Cavalli sunglasses for her photo call. Closing this year's festival was Chanel muse and actress Anna Mouglalis with her film 'Coco Chanel & Igor Strvinsky' wearing… Chanel sunglasses – bien sur!
Click here to visit Shade Station Home Page
Tags:
Angelina
,
Anna Mouglalis
,
Brad Pitt
,
Cannes Film Festival 2009
,
chanel
,
David Furnish
,
Eva Longoria
,
Gina sunglasses
,
gucci
,
Hayden Panettiere
,
Julianne Moore
,
Karl Lagerfeld
,
Louis Vuitton
,
Mariah Carey
,
Neyo
,
Paris Hilton
,
Penelope Cruz
,
Quentin Tarantino
,
Ray Ban Clubmasters
,
Ray Ban Wayfarers
,
Robert Pattinson
,
shades
,
Spandau Ballet
,
Steve Jones
,
sunglasses
,
Tom Ford
You would probably never imagine that luxury Italian fashion label BVLGARI has been creating the most sophisticated and chic accessories for over a hundred years now – definitely one of the more classic brands! What makes BVLGARI so popular is its ability to take timeless styles and inject an extra wow factor every so often to make their sunglasses the height of fashion. Well renowned for being one of the more luxurious and elite brands, all the A Listers at some point have been snapped sporting a pair of BVLGARI's – the typical oversized frames and daring features convey chic style, drama and ultimate sophistication.
An exclusive to Shadestation comes the jet black BVLGARI sunglasses – what makes these so gorgeously glamorous is that the signature BVLGARI branding is embellished in diamante stones. Very glitzy indeed! The new oversized aviator style shades with light brown lenses and swirl arms are stunning and little more casual but definitely just as chic. For a slightly sportier option the BVLGARI frameless visors are perfect but with a cool diamante design on the arms, that extra sparkle is still incorporated.
BVLGARI sunglasses are designed for those who like to establish their style with uniquely stunning
accessories. The common jewel features on the various styles of BVLGARI sunglasses definitely add a glamorous element and a real touch of Italian class. Celebrities who adore their BVLGARI's include Nicolette Sheridan, Jessica Alba, Penelope Cruz, Tara Reid and Angelina Jolie. Definitely an investment pair of sunglasses, BVLGARI will keep you looking uber stylish and chic for years to come. Why not establish your style with a real touch of class!
Click here to visit our Bvlgari section
Tags:
Angelina Jolie
,
Bvlgari frameless visors
,
Bvlgari sunglasses
,
jessica alba
,
jet black Bvlgari sunglasses
,
Nicolette Sheridan
,
oversized aviator Bvlgari sunglasses
,
Penelope Cruz
,
Tara Reid