Donna Karan is the founder of DKNY and starting out independently in 1989, the brand was born consisting of clothing for women. Karan wanted to create capsule or wardrobe staple pieces that every lady could wear and feel glamorous and feminine in and that could also be versatile and constantly stylish to compliment a busy lifestyle. DKNY watches are very much representative of this same theme and thus have an elegant yet edgy appeal with a timelessly classic finish that makes them highly wearable for a number of looks and occasions.
Representing New York Lifestyle-: New York is an exciting, dynamic and bustling city always on the go and that is exactly what DKNY watches aim to represent. With cutting edge designs and styles, these watches can take you from day to night in an instant and are versatile in a way that they compliment both casual and dressy outfits.
Keeping Up With Technology -: In order to maintain a raised brand profile you must move with the times and technologies without compromising your already established style that customers love. Donna Karan earlier this year launched an iphone application which allows users to access information on the brand in an instant, again reflecting the essence of New York lifestyle whereby people tend to require information on an asap basis. This brings the brand closer to the customer and a very clever way of always ensuring you are keeping up with your target audience and that they are always reminded of your presence.
Something for every Style-: Whether you're looking for a watch that is classic and timeless, classic, sophisticated, elegant, funky or bold, DKNY has a watch to suit your style preference. If you like sleek and chic stainless steel or diamante embellishments with the added glam factor, there is something for you. These watches are exceptionally renowned in the fashion industry and thus will always make a style statement, but by the same token they are durable, functional and reliable. Some key new styles to look out for include the NY4329 which with its ultra sleek soft white leather strap and multifunctional silver dial, this is definitely an elegant and feminine watch but with a hint of edginess and high trend appeal. The new NY4422 ladies watch is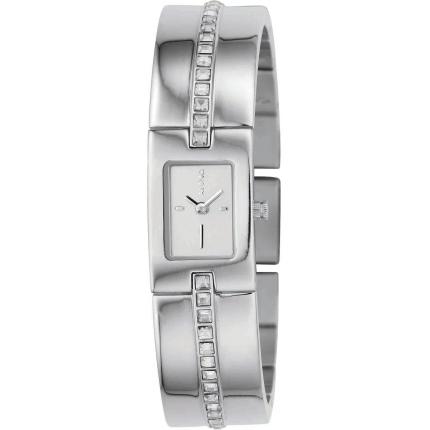 incredibly demure and dainty with a petite dial and double strand twisted bracelet strap. The new NY4446 ladies watch has the glamour appeal as well as having a funky edge with its polished stainless steel bracelet strap and a row of sunning diamante stones throughout the centre. The perfect piece to take you from day to night!
In addition to being super stylish, DKNY watches are also affordable with the designs varying between approximately £48 and £150 and are a great way of injecting a piece of the brand into your everyday style. The collection of DKNY watches are extremely diverse and there is certainly a design to compliment every style personality. These watches are built to last, are timelessly classic with that high trend edge and are designed and manufactured with their own unique appeal. DKNY watches are the perfect choice to opt for when you are seeking the ultimate best in style, durability, reliability and originality.
Tags:
DKNY
,
DKNY watches
,
Donna Karan
,
NY4329
,
NY4422
,
NY4446
,
watches