DKNY watches are one of the most fashion forward brands in the world and are designed to be versatile and highly wearable. With watches made for men and women, the brand gears its designs towards representing New York style, culture and trends and therefore DKNY watches are incredibly glamorous and able to transcend from day to night.
The face and skill behind the brand, Donna Karan strongly believes that fashion should be timeless and adaptable and therefore she makes the designs applicable for daywear, evening wear and any occasion in between. For a more casual look as opposed to glitzy glamour, the ladies NY4750 is the perfect option with a classically chic polished black slim strap and a sleek black rectangular dial. This watch will instantly polish your look and add an element of
sophistication. There is also a beautiful and feminine baby pink new version of this same watch for something a little more girly! If you are looking for a watch with a splash of colour, the NY4387 is ideal with its slim deep red leather strap and D shaped dial which adds a nice unique touch. Many DKNY watches have easy to read faces with simply designed dials and make a bold statement whilst still being practical enough to live up to the wear and tear of everyday use. The men's NY1424 for example features a chic black leather strap and large dial with easy to read yet highly sophisticated features.
If you are looking for something with a bit of sparkle, DKNY is the perfect brand for you and gets the balance just right with hints of glamour incorporated into smart and sleek designs. One watch which particularly stands out is the new NY4411 which with its diamante slash link style bracelet strap and petite dial is a stunning watch and will definitely add a pop of sparkle to your look. The new NY3493 ladies watch is very slim in style and features beautiful square diamante inserts which adds a sense of New York glamour to a classic and feminine style. In fact there are a number of strikingly elegant women's watches often made with highly polished stainless steel metal and then accented with a spot of crystal sparkle for that hint of bling that every lady loves!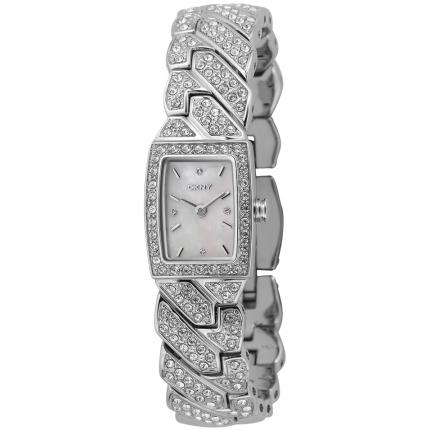 DKNY watches are definitely a great representation of sophisticated style and have that ability to make you feel instantly glamorous and chic which is also what Donna Karan aims to achieve throughout her entire collection. The brand strives to capture the essence of New York City, conveying the vibrancy and versatility of the people who live within it and the watches are designed to be mixed and matched with a variety of looks to make dressing for any occasion as easy as possible whether you are looking for bright and bold or glitzy and glamorous. DKNY watches are on the wish lists of the most style conscious individuals and will definitely see you through the forthcoming party season and beyond in true New York style.
Tags:
DKNY
,
DKNY watches
,
Donna Karan
,
N1424
,
New York
,
NY3493
,
NY4387
,
NY4411
,
NY4750
,
watches