As a designer Marc Jacobs is renowned for his ultra chic yet daring and sometimes surprising approach to fashion. Particularly in America, Marc Jacobs is one of the most highly regarded, sought after and popular designers and this status has certainly transcended to a global level with the designer being iconic and favoured all over the world.
The style of Marc Jacobs fashion is very much of the tone that you can't miss it – his creations are designed to be noticed, and this is definitely reflected at the twice yearly Fashion Weeks whereby Jacobs often stuns and dazzles the rows of fashion mavens with his eclectic but ultra sophisticated pieces and unpredictable creations. The mystique of Marc is also heightened with the use of unconventional choices of models used in his advertising campaigns including Charlotte Rampling, Dakota Fanning and Victoria Beckham.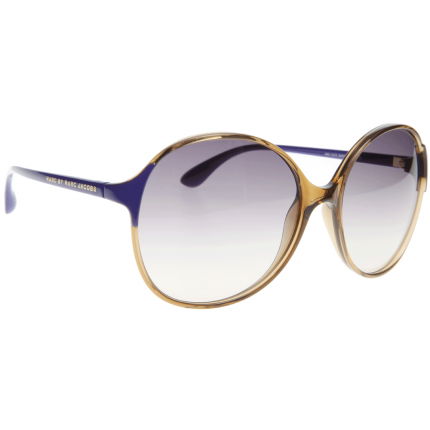 The collection of Marc Jacobs sunglasses are a reflection of his general approach to fashion but are incredibly wearable and convey the wearer's superior and refined taste of style. With a high-end finish, the designs range from the classically oversized MMJ127 to the dramatically oversized and new for this season MMJ153 sunglasses with their ultra slim frames and arms and vibrant and on-trend colour combinations. There are also a range of retro inspired oversized styles including the MMJ160 sunglasses and the MMJ132 aviator design.
Colour and pattern is a huge theme behind the designer's work which is also represented in the Marc Jacobs sunglasses collection. Some sunglasses are bolder than others – a great example of this is the MMJ155 style which is reminiscent of the iconic Wayfarer with a black and white cloud patterned frame and arms. This is a fun and youthful style and reflects Jacob's playful attitude towards fashion. Other frames also include colour and pattern but have a super chic finis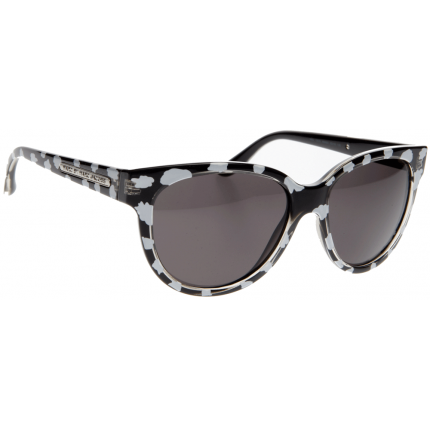 h which is perfect for adding a high fashion edge but vibrant element to your look.
Fashion is exciting and it should be a fun way of adding the spirit of your own personality into your look. Marc Jacobs perfectly achieves this with his range of sunglasses which capture the balance of being exciting and light-hearted whilst remaining wonderfully sophisticated, super trendy and stylish. Combining patterns, prints and colours is a key trend of 2010 and a pair of Marc Jacobs sunglasses will not only allow you to work the trend into your look, but the individuality of each design will see you through numerous seasons to come in flawless and striking style.
Tags:
Charlotte Rampling
,
Dakota Fanning
,
Marc Jacobs
,
Marc Jacobs sunglasses
,
MJ155
,
MM132
,
MMJ127
,
MMJ153
,
MMJ160
,
sunglasses
,
Victoria Beckham
,
Wayfarer
Marc Jacobs is one of the most iconic designers of our time and he is renowned for his intrinsic attention to detail, urban styling and impeccable structuring. The new range of Marc Jacobs sunglasses are simply dazzling and combine a fusion of retro styling with contemporary twists that are unique to the Marc Jacobs brand. Marc Jacobs sunglasses are made for men and women as well as a selection of unisex frames and the various styles for this season are definitely something quite special. Celebrity fan of Marc Jacobs sunglasses include Vanessa Hudgens and Audrina Partridge.
The styles of Marc Jacobs sunglasses vary from aviators to oversized and there are even some more sporty styles thrown into the mix which still retain that Marc Jacobs glamour. Here is a rundown of some of the key styles from each style to look out for-:
MMJ127-: These blue Marc Jacobs classic style oversized sunglasses have a distinct retro appeal and the vibrant blue frames and arm socks provide a contemporary twist and a fresh look that is perfect for this season and right on trend. These sunglasses are versatile enough to wear on a day to day basis and convey the essence of high fashion chic with an element of fun. The Marc Jacobs branding across the length of the arm also adds a modern touch.
MMJ126-: A cl
assic pair of oversized sunglasses with super large lenses, these are the type of sunglasses that you can throw on and instantly look glamorous regardless of your outfit. An excellent choice for daytime sophistication and will create a polished look.
MMJ133-: These oversized frames are on the smaller scale of the oversized family and the brown tortoiseshell toned frame and arms definitely injects an element of classic chic.
MMJ132 –: A classic aviator style for men and women, these sunglasses are effortlessly sophisticated and the purple toned frames and ear socks provide a contemporary spark. Aviator sunglasses are one of the most versatile types as tend to suit most face shapes and age ranges. They look timelessly stylish and are a great option of you like to keep your look classic.
MMJ134 -: A classic style which screams fun, these vibrant blue sunglasses have a gorgeous pink fade effect and are
right on trend.
MMJ112-: For those who like their sunglasses retro sporty, this style incorporates a striking blue and white colour combination and the flat top frames and large lenses make for an effortlessly chic yet sporty look.
Many of the Marc Jacobs sunglasses mentioned above are also available with various frame and lens colours so make sure you check out the full range.
As a designer, Marc Jacobs like to create his products considering the item's versatility and value in terms of wear-ability. His collection of sunglasses will work with a wide variety of looks from a casual ensemble such as jeans, trainers and a t-shirt through to a chic sundress or a high fashion polished look. The use of colour means that the sunglasses allow you to jazz up a plain look and they really make a statement about your personal style. Marc Jacobs is one of the most sought after designer labels of our time and owning a pair of these sunglasses truly allows you to incorporate that Marc Jacobs glamour into your look.
Tags:
Audrina Partridge
,
Marc Jacobs
,
Marc Jacobs sunglasses
,
MMJ112
,
MMJ126
,
MMJ127
,
MMJ132
,
MMJ133
,
MMJ134
,
sunglasses
,
Vanessa Hudgens