Michael Kors always maintained a strong passion for fashion and began designing clothes at the age of 19 whilst studying fashion design at the Fashion Institute of Technology in New York. In 1981, Kors launched his very first Michael Kors womenswear line at Bloomingdales and Saks Fifth Avenue among a number of other stores and the collection was so progressively popular that Kors was named the first ever women's ready-to-wear designer and in 1997 went on to became the Creative Director for the French fashion house Celine. Here, Kors proved his credibility as a designer and as an industry business professional who just seemed to have that natural strong instinct regarding what consumers wanted. Kors left Celine in October 2003 to concentrate on his own brand and launched his very first menswear line in 2002 and then proceeded to launch the Michael Kors runway collection, the MICHAEL Michael Kors and KORS Michael Kors lines in 2004. The MICHAEL line has a more casual yet wonderfully elegant approach to style and includes women's handbags, shoes and accessories.
Numerous celebrities favour the exquisite Michael Kors style, these including Hollywood stars such as Jennifer Lopez, Heidi Klum, Catherine Zeta-Jones and Jennifer Garner who wore a stunning Kors custom dress when presenting the Academy Awards in 2006. Many Kors dresses and garments have been featured in iconic films, such as Bandits whereby Cate Blanchett's character wore a Michael Kors piece. Most recently the super stylish Michelle Obama wore a Michael Kors black
shift dress in the first official photographs taken after her husband was elected the new US President. The stars love the sophisticated yet simple glamour conveyed in Michael Kors attire and the brand has that element of luxury with a laid back, comfortable feel.
Watches are an incredibly strong part of the Michael Kors accessory collection and like the remainder of the products within the brand, are reflective of an exquisite sense of style, immense quality and fine craftsmanship. Michael Kors watches depict the essence of decadence and luxury and comprise of some fantastic on trend watches with key fashion features for this season as well as some more classic and elegant styles.
A style which is new for the forthcoming season is the Michael Kors MK5198 watch which has a funky stainless steel multi panelled bra
celet strap and a baby pink face. Delicate but edgy this ladies watch is perfect for a younger brand fan and is highly on trend but retains that Michael Kors refined sophistication. This design is also available with a pink polycarbonate strap for the ultimate girly accessory. The new MK2165 ladies watch also captures the leather strap watch trend with two bolts either side of the dial for a touch of a harder edginess. There is also a cute charm feature attached to the watch with the MK lettering logo which again, adds a high trend feminine element to the whole design. The MK2153 watch captures the chunky layered watch trend with a wide cuff style leather strap with layered buckle detailing. The elegance is maintained in the petite and minimal dial and this is an incredibly visually striking watch, still with that element of Michael Kors luxury. Other Michael Kors watches include distinctive features such as tortoiseshell bands – the MK4046 is a great example of this. Other defining features include shell fi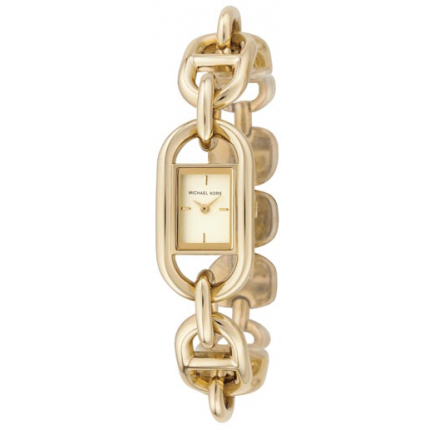 nish style patterns, super feminine chain bracelet styles and the incorporation of warm autumnal colours including fawns, browns and creams. These neutral soft colours enables the watches to suit a variety of skin tones, particularly if you are pale skinned and therefore find that some watches may look too harsh for your colouring. Michael Kors watches have achieved the perfect balance by remaining classic yet incorporating strong hints of current trends.
As a designer and business man, Michael Kors understands that to run a successful label with longevity, you have to maintain a unique brand style but inject contemporary edges to keep up with current trends. Celebrities adore the refined style of Michael Kors clothing and accessories and whilst his garments are perhaps a little out of reach for the average lady on the price scale, a Michael Kors watch will allow you to feel that sense of designer luxury in true A List style.
Tags:
Bandits
,
Bloomingdales
,
Cate Blanchett
,
Catherine Zeta Jones
,
Celine
,
Fashion Institute of Technology
,
Heidi Klum
,
Jennifer Garner
,
Jennifer Lopez
,
Michael Kors
,
Michael Kors collection
,
Michael Kors MK5198 watch
,
Michael Kors watches
,
Michelle Obama
,
MK2153 watch
,
MK2165 ladies watch
,
MK4046
,
Saks Fifth Avenue
,
watches