Lipsy prides itself on getting the hottest styles from the catwalk, to the high street, in record time. It is a high street brand adored by the public and celebrities, particularly those who love their slinky, sexy dresses. British celebs are often caught flying the flag for Lipsy, including Rochelle Wiseman from The Saturdays, Tulisa from N-Dubz, X-Factor's Dagenham princess Stacy Solomon and Pixie Lott, who actually designs her own collection for the label.
Whilst the label is uber-glamorous it's also slightly rocky – which is why the former punkiest member of the Pussycat Doll troupe has been drafted in to represent Lipsy's new watch collection. You may know Kimberly Wyatt for her slightly fierce peroxide quiffed hair and lashings of smoky eye makeup. Lipsy thought her the perfect 'rock-chick' choice to be an ambassador for their dazzling watch range and created a circus themed photo shoot to showcase the new union.
Thankfully at Shade Station we've managed to get our hands on the collection and we can safely say these striking watches will be the perfect accessory to hit the Christmas party season with (or your favourite nightclub!)
In keeping with the rest of the label, the new Lipsy watches have glitz and sparkle a-plenty. Traditional watches are given a smattering of diamante and / or some snake skin touches and chunky stainless steel and plastic cuffs in hot pink, white, black and silver are decorated with large jewels for a bling-tastic effect! The Lipsy watches collection also includes some delicate and pretty charm bracelets with tiny round dials incorporated into the design.
With a huge celebrity following and a growing brand (they've just launched their first scent – with a party at Movida and hot new boy band The Wanted) Lipsy is a label to watch and lust after. Their affordable designs have struck a cord with the nation and Lipsy has become the go-to-brand for the ultimate party frock and now the very best in blinging, sexy watches.
Tags:
Dazzling wristwear range
,
Kimberly Wyatt
,
Lipsy watches
,
Lipsy wristwear collection
,
N-Dubz
,
Pixie Lott
,
Rochelle Wiseman
,
Stacey Solomon
,
The Saturdays
,
The Wanted
,
Tulisa
,
watches
,
X Factor
Lipsy is a brand that is one of the most fashion-forward on the High Street. With ultra trend inspired designs that also convey a strong hint of the brand's unique personality, it means that looking good has never been so easy! What is also favourable about Lipsy is that it is affordable with many of the products looking a great deal more expensive than they are – and also of a high quality which is equally important.
We are very excited to have the latest range of Lipsy watches in stock here at Shade Station and the collection is definitely quite a show stopper – think cuff style watches adorned with jewels, glitzy diamante embellished options, chic and elegant styles, and jewellery inspired watches such as charm bracelets with the dial featured on a charm – a huge watch and jewellery trend of 2010.
So let's take a lo
ok at some of the styles in the Lipsy offering. If you are seeking bold and statement, then look no further than the LP004 Lipsy watch, which with its extra wide bangle style bangle strap which is boldly embellished with various shaped small diamante stones, this watch will add the wow factor to any outfit – and will look particularly striking with your little black dress, adding a rock chic inspired edge!
For a style that is hot news on the trend scene, the LP020 Lipsy watch is a must-have for this season. With its textured gold leather strap and gold dial with a diamante embellished bezel, this watch also features the elegantly written calligraphy style 'L' Lipsy logo. This is a very traditional style watch in terms of the basic aesthetic but the original and sparkly Lipsy edge makes it highly unique.
Black watches are often associated with sporty and you don't necessarily think of the colour black being the most feminine of choices – especially in accessories. However, the Lipsy LP303 watch is a great example of how the brand fuses edgy, elegant and feminine into a black watch style. The design features a black quilted leather strap with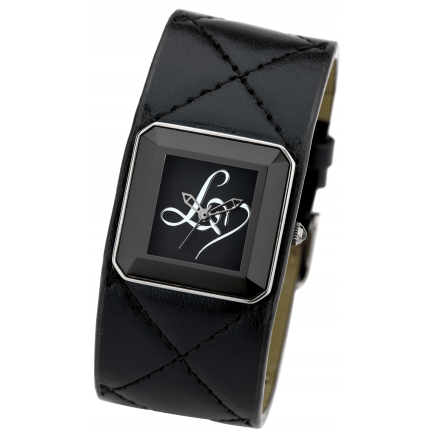 criss-cross stitching that provides an exquisite and luxurious feel to the watch. The square black dial remains simple with chic angled case edges and displays the Lipsy heart logo. An ultra sophisticated style that shows classic style taste.
Kimberly Wyatt is the face of Lipsy watches, and the pop star, dancer and style icon perfectly embodies what the brand represents – high fashion style with a unique rock chic edge. Lipsy watches enable you to incorporate key trends into your look but still express your personality and stand out from the crowd. Best of all Lipsy watches are purse friendly meaning that despite their sought after status, are still highly accessible.
A must-have accessory for the autumn/winter season!
Tags:
Kimberly Wyatt
,
Lipsy LP303 watch
,
lipsy watch
,
Lipsy watches
,
LP004 Lipsy watch
,
LP020 Lipsy watch
,
watches
Ladies, you will likely be very excited to hear that we have a new brand of watches soon to arrive at Shade Station…. in the form of the ultra trendy, fun and stylish Lipsy watches!
You are probably already aware that Lipsy is an uber stylish fashion label for ladies and has celebrities including singer and style icon Pixie Lott as the inspiration behind one of its most popular lines.
Lipsy have now added a stunning range of watches to their collection and have suitably chosen former Pussycat Doll and rock chic Kimberley Wyatt as the ambassador who's sophisticated yet statement style is a perfect reflection of the collection.
The great thing Lipsy watches is that they have a unique quality yet are also highly trend inspired and hot news on the fashion scene with bling features including diamante stones and statement designs, but with an added feminine and elegant touch meaning that you can really create a statement and vibrant finish to your overall look.
So what can we expect from the collection? Well, the Lipsy watch
range comprises of designs which include feminine charm bracelets – if you know your stuff about fashion then you're probably aware that charm bracelets are a huge look right now and the fact that the watch doubles as a bracelet also means that you are essentially getting two accessories in one! Some Lipsy watches also feature ultra glamorous diamante embellished straps and dials in a addition to a selection of more edgy cuff watches complete with diamante stones and striking designs to add that rock chic edge to your look and the style which Kimberley Wyatt is particularly renowned for.
Other Lipsy watches include designs with leather straps and prominent round dials that are a little more traditional in aesthetic appearance but immediately stand out as unique with the super contemporary and sparkling Lipsy detailing. Colour is also a predominant design element with some Lipsy watches featuring hot pink straps complimented with gold dials and bezels or even a subtle hint of light pink for example in so
me watches which creates a more subtle finish.
Whoever said that you have to pay mega bucks to look good has certainly being proved wrong in this case as you'll be pleased to hear that Lipsy watches are also very budget friendly with prices ranging from approximately £20 – £45.
As we move into autumn/winter, a hint of sparkle is the ideal way to add the wow factor to your look and with these vibrant, glamorous and ultra chic designs, a Lipsy watch will make your perfect statement accessory!
Tags:
designer watches
,
Kimberley Wyatt
,
Lipsy
,
Lipsy watches
,
Pixie Lott
,
watches