If you're looking to fuse superb designer style with full function, then the collection of Prada Sport sunglasses could be just what you're looking for.
Prada Sport sunglasses were launched in 1992 and were designed as part of Prada's lifestyle and sports orientated line. All the sunglasses within the Prada Sport collection boast the iconic sleek red line, typically on the arm, which refers to the name, Prada Linea Rosa – an alternative name for the Prada Sport brand.
Prada Sport sunglasses comprise of some incredibly striking yet practical designs, all of which boast style and technical innovation and are made using lightweight and durable materials and incorporate dynamic lens technologies and the most superior and current frame constructions.
The collection features a selection of chic and timelessly stylish aviators such as the PS52M Prada Sport sunglasses for men, whereby the wide arms provide the sporty and contemporary edge, and also a superb array of visor designs including the fierce in
style PS03M Prada Sport sunglasses for men. With its goggle inspired visor lens and ultra sleek contours, this design definitely enables the wearer to make an impactful style statement!
There are also a number of Prada Sport styles for women or unisex designs that look equally great on both men and women. These styles remain heavily sports inspired and are perfect for girls who are looking for something a little less high-fashion led. However, fashion and trends are definitely incorporated into the collection, as displayed in the PS06LS Prada Sport style, which is an oversized design with a thick frame and a strong hint of retro influence – currently a key look on the style scene.
The sports luxe trend is huge for spring/summer 2011 and the collection of Prada Sport sunglasses perfectly capture this, whilst also being practical and versatile enough to remain a timeless classic season after season.
Tags:
Linea Rosa
,
Prada Sport sunglasses
,
PS06LS Prada Sport sunglasses
,
PS52M Prada Sport sunglasses
,
sunglasses
We all know that Prada is a brand which captures the essence of luxury and high-fashion. However, sometimes a brand needs to be able to provide something a little more casual and practical whilst still of course retaining the glamour and style. Therefore Prada also launched Prada Sport in the early 1990's which is the brand's leisure line and designed to be slightly more sport fashion orientated, as the name suggests.
Now, whilst most of us may think of tracksuits or even worse, the dreaded shell suit when we think of sports fashion it has actually become very much on trend over recent years and the definition of a sporty style certainly does not mean baggy, conservative or unflattering. In today's era whereby physical activity or at least being on the go most of the time has become part of many of our lifestyles, we can't walk around wearing high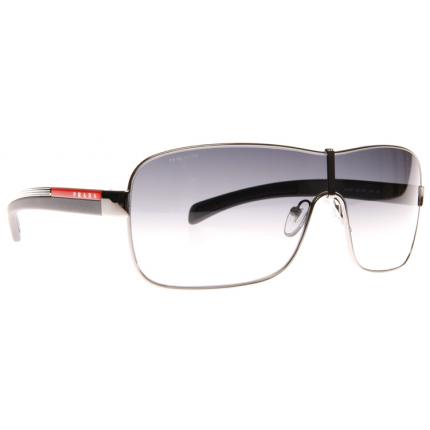 fashion attire or accessories all of the time because it simply isn't practical. Advertising has also become far more leisure fashion orientated with images of healthy, athletic and happy people on the go. Sports stars are also becoming sports personalities and we see them wearing sport/fashion brands which of course then increases the popularity of the sports/fashion genre and makes it regarded as more trcndy and sought after. Prada quickly recognised this and by providing the Prada Sport line, this means the brand really does have something for those who want their attire and accessories to enhance their physical performance and thus caters for fashion across all style sectors.
The collection of Prada Sport sunglasses are highly stylish but are designed to be more practical for everyday wear, robust and durable. The Prada Sport label is sometimes known as the Linea Rossa line which means 'red line' in Italian and this is because a red line is the defining design detail used on the Prada Sport products. Within the range of unisex Prada Sport sunglasses, you will often find the red line positioned on the arms. It is a highly distinctive feature and simple yet stylish. Prada Sport sunglasses aren't designed to be bold fashion accessories but more geared towards practicality with that trendy and super stylish Prada edge.
The main characteristics of Prada Sport sunglasses are very much associated and influenced by notorious Italian
exquisite style and quality perfection. The brand strongly believes that high quality should be top of the design agenda and therefore the collection of sunglasses are designed based on extensive research and development and use only the most durable and robust materials in the production stages to ensure a long lasting product that can be worn on a day to day basis and never fail to look fantastic. Prada Sport is an innovative brand that utilises advanced technologies but respects that people favour the brand for its tradition style and concepts. Prada Sport sunglasses definitely have are strong character which is enhanced by flawless technology and unique style. The ultimate in combining practicality with full function. A fantastic range of sunglasses that are contemporary, cool and offer something highly credible in the sports/fashion world.
Tags:
Linea Rosa
,
Prada
,
Prada Sport
,
Prada Sport sunglasses
,
Prada sunglasses
,
sunglasses