It's hard to believe that LTD Watches were only launched in 2009 as the buzz surrounding them has definitely been quite phenomenal, and the watches have been seen on the likes of The Saturdays, JLS, Dizzee Rascal and Jameela Jamil to name only a few.
Colour popping, sleek and cool, what is unique about the LTD Watch brand is that each watch is strictly limited to approximately 100-150 models and therefore, if you like a style you need to get in quick before it goes! Luckily for our bank balances though, LTD Watches have also become so popular because they are budget friendly with average prices ranging from around £45 – £170 (though you can find some sneaky LTD Watches on sale if you check out the LTD Watch page!).
The brand is constantly evolving and launching new collections throughout the year and the new designs for autumn are incredibly chic and can be described as ultra sophisticated in style which is perfect to suit the tone of the autumn and winter fashion trends.
We are very much used to vibrantly coloured LTD watches in tones such as yellow, green and purple to name only a few, but the new LTD Watch 280301 design which is a part of the new Steel collection, moves away from bold colour and features a gold plated stainless steel case and bracelet strap which instantly injects a chic finish to the watch and makes it h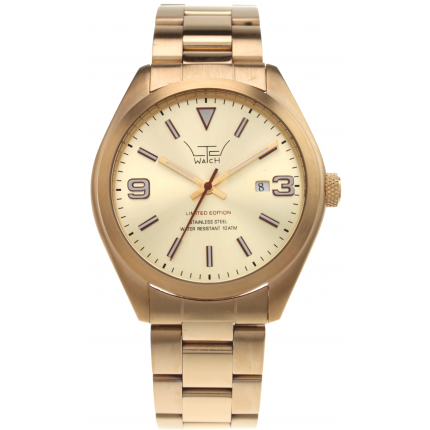 ighly on-trend with retro inspired gold watches a must have accessory for this season. This design was also featured in the October issue of Artrocker. If gold isn't your thing, you can opt for a silver version in the same style.
Keeping the coloured theme alive and prominent however (it is the LTD Watch trademark feature after all!), the new LTD Watch 091001 embodies the fun essence of colour with a pink polycarbonate bracelet strap and also features a silver bezel with ridged grooves which adds a dynamic combination of colour and texture and still provides that sophisticated finish. Adding a bold splash of colour can really liven up those muted tones that we'll be seeing in autumn/winter so this watch makes for the ideal statement accessory. Other colour options are also available in this design.
LTD Watches are very active on the celebrity circuit and in the music industry and the Maximo LTD watch was even featured in the 'Booty Call' video by The Midnight Beast. LTD Watches are most definitely the hot watches to be seen wearing and remember, they are limited so make sure you get yours quick!
Tags:
Atrrocker Magazine
,
Booty Call
,
Dizzee Rascal
,
Jameela Jamil
,
JLS
,
Limited watches
,
LTD Watch 091001
,
LTD Watch 280301
,
LTD watches
,
Maximo LTD Watch
,
The Midnight Beast
,
The Saturdays
,
watches
If you like your style to be colourful, vibrant, unique and stylish then LTD Watches are the perfect option to compliment your look for summer 2010! LTD Watches is the brand that literally burst onto the fashion scene in 2009 and is already a favourite among numerous celebs including Calvin Harris, Jordan Thomas, The Saturdays and Dizzee Rascal.
Each LTD watch is strictly limited to just 150 models which is partly why the brand is so popular and sought after (despite the accessible price tags!). But you have to be quick – once they're gone, they're gone which is why we're here to let you know about the hot new styles just in and allow you to get your hands on them asap ready for summer!
LTD Watches have become renowned for producing highly fresh, modern and colourful watches that are always one step ahead of the trend game and boasting simple designs enhanced with unique aesthetic and functional twists meaning that there is a style and colour that you are sure to love!
A new style that we have our eye on at the moment is the new Maximo LTD Watch in black. With its smooth PU black rubber strap and bold black dial with white and silver markers and accents, what is particularly striking is the off-set crown which is positi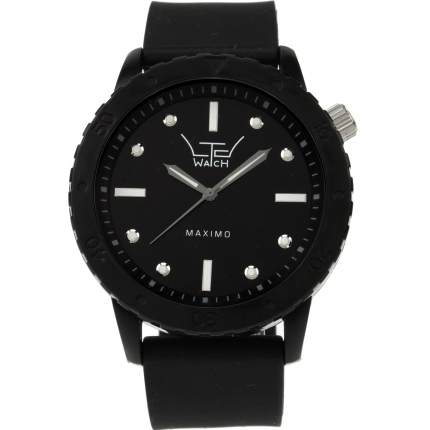 oned slightly higher up (at the 10 minute level) and the unidirectional rotatable bezel which is a feature often found on diving watches and allows you to measure a specific period of time. If black isn't your thing and you prefer a more colour inspired version there are also other vibrant colours in the offering including hot pink, purple, yellow, white and this season's trend inspired pastel grey. For a watch of this unique style and function the £65 price tag allows you to really express your personal style (that won't be seen on 100's of other people!) at an affordable price. Who said exclusive meant expensive?!
LTD Watches are highly robust, durable and are able to endure the wear and tear of everyday activity which means you are also investing in a high quality watch that serves great function.
The new Maximo style mentioned above is available for delivery from mid-May so if you want to be alerted of its arrival by email make sure you enter your email address by clicking on the product status 'Tell me when this arrives'. Remember, they're strictly limited so be sure to be quick as this style is one of the hot faves for summer!
Tags:
Clavin Harris
,
colourful watches
,
Dizzee Rascal
,
limited watch
,
Limited watches
,
LTD watches
,
Maximo LTD Watch
,
The Saturdays
,
watches
New to Shade Station this week is the very aptly named 'LTD Watches'. Adopting a clever gimmick to keep up with the ever-changing fashion forecast, LTD watches produce a number of highly limited edition watches each season. Approximately 100-150 on-trend wrist pieces are created of each design in the range and once they're gone, that's it folks, they're gone forever – never to be reproduced.
This innovative concept ensures the designs always remain fresh and able to stay abreast of seasonal trends, whilst also being highly covetable.
There are universal similarities in each design, such as a magnified date window, a stainless steel case back, precision Japanese Quartz movement and a polycarbonate case and bracelet. And you can also be certain of the authenticity of the model, as each watch comes with it's unique limited edition number marked on the back. This season there's a colour for everyone; choose from black, white, canary yellow, vivid green, royal blue or baby pink LTD watch. Each has a different coloured face and is certain to add a splash of humour and creativity to any wrist.
Competitively priced at £49 a piece these exclusive designs are a steal and enable the wearer to stay well astride of fickle accessory trends from season to season.
Click here to visit our LTD Watches section
Tags:
accessory
,
limited edition
,
Limited watches
,
LTD watch
,
LTD Watch Watches
,
LTD watches
,
precision Japanese Quartz movement