Michael Kors is an American power house. Not only is he a lux designer of great note, he has a starring role in TV's Project Runway and is the recipient of this year's Lifetime Achievement Award from the prestigious Council of Fashion Designers of America (that's the fashion Oscars to you and me!) Where does a man who is juggling some serious balls have time to breathe, let alone embark on new projects? His latest is a fabulous new make-up line in collaboration with Estee Lauder, aptly named 'Very Hollywood'.
Michael Kors counts some of Hollywood's leading ladies among his loyal fans. Packing a punch at the Oscar parties this year was Jennifer Hudson in a midnight blue Michael Kors gown and comedian of the moment, Tina Fey, in a dazzling one-shouldered Kors number. These ladies made the headlines and created quite a buzz for the Michael Kors brand…
Michael describes the type of women he creates clothes and watches for as "… a woman of any age, any nationality and who is fashion conscious without being a fashion victim". Sounds like anyone of us, if only we could afford some of his beautiful designer lux clothing! Thankfully his watches, sunglasses and accessories are a little more affordable.
Michael Kors watches are very elegant and stylish, in keeping with the beautiful clothes he produces. We especially love all the tortoiseshell watches in his collection. Tortoiseshell continues to have a strong fashion presence this year and Kors ensures there's plenty of the wonderful print to go around. There's no shortage of vintage gold and white Michael Kors watches either, which all makes for a classically decadent collection.
Tags:
designer watches
,
Estee Laude
,
Jennifer Hudson
,
Kors
,
lux watches
,
Michael Kors
,
Michael Kors watches
,
Project Runway
,
Tina Fey
,
tortoiseshell watches
,
watches
Any fashion lover will know that Michael Kors clothing and accessories depict the essence of luxury. People love the brand because it has a simple and easy to wear style but remains in an exquisite class all of its own due to the carefully designed cut, materials and craftsmanship.
Michael Kors as an individual is always keen to step out and really be the face of the brand, making appearances on programmes such as Project Runway and is happy to provide his own opinion, expertise and recommendations on style. The recession has affected millions of people and has of course, had an impact on consumer's ability to spend money on what would be considered luxury items. However, Kors believes that no matter what you spend on clothing and accessories, achieving great style is accomplished by the way you wear something and what you team it with and not necessarily by wearing top to toe designer pieces with a huge price tag.
Kors revealed his opinion that some people can look over the top if they laden themselves in designer garments and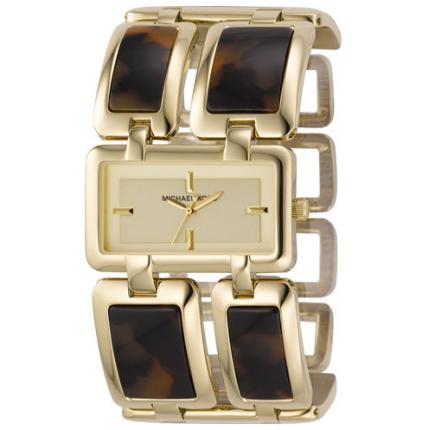 the trick to keeping it refined and not like you are showing off is to balance the look. For example, if you wear with an injection of colour, keep the cut simple and streamlined and the same goes with adding jewellery – a bold Michael Kors watch will look equally as beautiful and effective if worn with a high street plain silhouette – the effect won't look as striking if you team it with a complicated outfit and over the top jewellery as the ensemble then gets too clustered. Kors is renowned and loved for his simple and elegant style and believes that a must-know style rule is to balance so that you emphasise one point whether this be hair, clothing colour, jewellery or shoes.
The range of Michael Kors watches are the perfect accessory to apply to that rule and are definitely statement enough to wear as your main focal accessory. With exquisite gold toned and neutral colours and striking but gentle patterns, a Michael Kors watch defines elegance, sophistication and adds something unique to your look with a timeless appeal.
Here is a rundown of the latest Michael Kors watches-:
MK4127 – A stunning dual strand bracelet style watch with tortoiseshell patterned links and a sleek gold dial, the colour combination is very autumnal and will warm up the look of the skin and outfit.
MK5198 – A contemporary styled Michael Kors watch with a silver multi strand bracelet strap and baby pink dial, this is slightly more trend focused and youthful.
MK5195 – Similar to the watch above but entirely baby pink with silver detailing. Incredibly girly and contemporary in style but with that Michael Kors sophistication.
Michael Kors is consistently updating his collections to cater for new trends as well as retaining his individual and unique style. The watches are instantly recognisable as Michael Kors and the designer always gets it right because he has a great eye for style and knows what works. Great style doesn't have to be an outfit of designer clothing and accessories – a few key pieces placed together in the right way make for effortless yet striking style and that is exactly what the addition of a Michael Kors watch achieves.
Tags:
Kors
,
Michael Kors
,
Michael Kors watches
,
MK4127
,
MK5195
,
MK5198
,
Project Runway
,
watches