We all know that RayBan sunglasses are one of the most popular, ever stylish and versatile sunglasses around. The brand has a remarkable history and has been featured in numerous iconic films including Top Gun, The Blues Brothers and Men in Black.
This month, when I have been looking through the style pages of the glossies, Ray-Ban sunglasses have cropped up on many occasions and the brand definitely seems to be the choice of many celebrities. Yes, it may be November, but sunglasses as every fashion lover is aware, can make for a high style statement and add a finishing touch to your look come rain or shine. Ray-Ban's have the added advantage of being incredibly functional and so when the sunshine does pop out on the odd occasion (well, here in the UK!), then you know your peepers will be fully protected from UV rays.
So, Ray-Bans and celebrities. The two definitely seem to go hand in hand and here is a rundown of who has been wearing what style of R
ay-Ban shades over the past month or so.
Most of us have harboured an obsession with the Twilight film and of course, more recently the new sequel New Moon. Remember when we saw the rather dashing Edward Cullen (Robert Pattinson) in the first scenes of Twilight with a cool pair of shades? Well, these were infact the classic Wayfarers and the actor himself in addition to his co-stars Kristen Stewart and Taylor Lautner claimed that Ray-Ban Wayfarers are the ultimate Twilight accessory. Well, if they're good enough for great looking vampires!
Rachel Bilson who has become quite the fashionista since the hit show the OC has regularly been spotted in her Ray-Ban 2140's in a dark tortoiseshell tone. The dark shade of these sunglasses compliment Bilson's dark hair and skin tone as they offer something a little softer in colour than block black. With sleek lines and sharp style, these 2140's make for a great laid back look a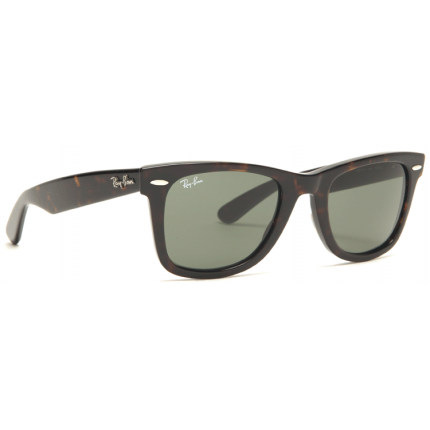 nd are very popular among a young and trendy crowd.
With the departure of Lauren Conrad from the latest season of the Hills, Audrina Partridge has taken the crown of style Queen (and drama!) in the show and has frequently been spotted wearing a pair of Ray-Ban aviators in gold. From a style perspective, these are the ultimate in versatility and Audrina has been seen wearing them en-route to the gym, out casually with friends and to the beach. They definitely inject an effortlessly cool edge to your look no matter what your choice of outfit. Another fan of the Ray-Ban aviators is Minority Report bad boy actor Colin Farrell who was pictured wearing a gold rimmed pair. Ray-Ban aviators were first launched in 1937 and aside from contemporary updates such as colour and lens technologies, the aesthetic styling is exactly the same proving that the brand is timelessly on trend.
From a functional perspective, many Ray Ban sunglasses also incorporate a G-15 lens. The G-15 lenses transmit colour naturally and therefore you get a clearer and true vision as opposed to just seeing heavy lens colour. This technology has been incorporated into many Ray-Ban
sunglasses over the past seven decades and is unique to the brand.
Other celebs who love their laid back Ray-Ban look is Nicky Hilton, Kate Moss, Peaches Geldof and Rhianna, some of whom favour their coloured Ray-Ban Wayfarers which were one of the most popular accessories at this year's music festivals. Ray-Ban is one of those brands that people love, trust and tend to find a pair within the extensive selection that suits them. Unlike some other designer brands, they are also affordable with the Wayfarers just below £80 so you can look like a celeb and not break the bank!
Ray-Ban has existed for over 70 years and with iconic styles consistently worn and re-vamped, this brand is definitely staying at the forefront of fashion for quite some time.
Tags:
Audrina Partridge
,
Colin Farrell
,
coloured Ray-Ban Wayfarers
,
Edward Cullen
,
G-15 lens
,
Kate Moss
,
Kristen Stewert
,
Men in Black
,
Minority Report
,
New Moon
,
Nicky Hilton
,
Peaches Geldof
,
Rachel Bilson
,
Ray Ban
,
Ray Ban aviators
,
Ray Ban sunglasses
,
Ray-Ban 2140
,
Rhianna
,
Robert Pattinson
,
sunglasses
,
Taylor Lautner
,
The Blues Brothers
,
Top Gun
,
Twilight
Older Posts »