It's hard to believe that LTD Watches were only launched in 2009 as the buzz surrounding them has definitely been quite phenomenal, and the watches have been seen on the likes of The Saturdays, JLS, Dizzee Rascal and Jameela Jamil to name only a few.
Colour popping, sleek and cool, what is unique about the LTD Watch brand is that each watch is strictly limited to approximately 100-150 models and therefore, if you like a style you need to get in quick before it goes! Luckily for our bank balances though, LTD Watches have also become so popular because they are budget friendly with average prices ranging from around £45 – £170 (though you can find some sneaky LTD Watches on sale if you check out the LTD Watch page!).
The brand is constantly evolving and launching new collections throughout the year and the new designs for autumn are incredibly chic and can be described as ultra sophisticated in style which is perfect to suit the tone of the autumn and winter fashion trends.
We are very much used to vibrantly coloured LTD watches in tones such as yellow, green and purple to name only a few, but the new LTD Watch 280301 design which is a part of the new Steel collection, moves away from bold colour and features a gold plated stainless steel case and bracelet strap which instantly injects a chic finish to the watch and makes it h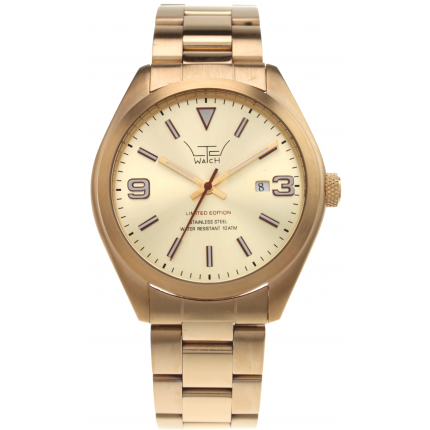 ighly on-trend with retro inspired gold watches a must have accessory for this season. This design was also featured in the October issue of Artrocker. If gold isn't your thing, you can opt for a silver version in the same style.
Keeping the coloured theme alive and prominent however (it is the LTD Watch trademark feature after all!), the new LTD Watch 091001 embodies the fun essence of colour with a pink polycarbonate bracelet strap and also features a silver bezel with ridged grooves which adds a dynamic combination of colour and texture and still provides that sophisticated finish. Adding a bold splash of colour can really liven up those muted tones that we'll be seeing in autumn/winter so this watch makes for the ideal statement accessory. Other colour options are also available in this design.
LTD Watches are very active on the celebrity circuit and in the music industry and the Maximo LTD watch was even featured in the 'Booty Call' video by The Midnight Beast. LTD Watches are most definitely the hot watches to be seen wearing and remember, they are limited so make sure you get yours quick!
Tags:
Atrrocker Magazine
,
Booty Call
,
Dizzee Rascal
,
Jameela Jamil
,
JLS
,
Limited watches
,
LTD Watch 091001
,
LTD Watch 280301
,
LTD watches
,
Maximo LTD Watch
,
The Midnight Beast
,
The Saturdays
,
watches