For decades the classic 'Teardrop' or 'Aviator' style sunglasses have dominated the fashion and eyewear world with celebrities, film stars, fashionistas and the public alike all adorning these flattering and inherently alluring frames. Many brands have got in on the act including Dior Sunglasses, Gucci Sunglasses, Oliver Peoples Sunglasses, Police Sunglasses, Polo by Ralph Lauren Sunglasses, Tom Ford Sunglasses and of course the brand that started the craze; Ray Ban Sunglasses. The original Ray Ban RB3025 Aviator Sunglasses have featured in a vast array of films, TV shows and on the faces of some of the world's most loved celebrities with the most famous appearance being made in Top Gun back in 1986. Everything about the Aviator style made them bound for success; the teardrop effect lens accentuates the natural lines on your face and will therefore suit the vast majority of people whatever their head size or shape. In this blog post we are going to explore some of the most popular Aviator models and run through exactly what makes each one so incredibly popular.
Ray Ban RB3025 - These are the grand-daddy of retro styling and stone cold cool eyewear. Back in the early 80s, sunglasses were primarily made from thick plastic which looked fantastic but were sometimes a little bit laborious if you wanted to wear them all day…enter the Aviator. Made from thin metal alloy, the frames sat comfortably on your face and never dug in thanks to their cushioned nose pads and unique shape; something that we had never seen before! Nowadays, the Ray Ban Aviator Sunglasses still turn heads and look just as iconic as their 20th century ancestors.
Dior Piccadilly 2 - Dior are one of the world leaders in fashion with their designs considered to be trend-setting and their eyewear second to none. The Dior Piccadilly 2 Aviator Sunglasses use both acetate and metal alloy to amazing effect and add a touch of dimension to the already stunning design.
Gucci GG4225/S - When you hear the name Gucci you are instantly transported to images of the truly rich living in true luxury, however their sunglasses are far from inaccessible. The Gucci GG4225/S Aviator Sunglasses not only utilise the teardrop lenses and thin frames, but further improve the design by adding a feminine weave effect on the arms!
Oliver Peoples Benedict - Born on the iconic Sunset Blvd Strip in Hollywood, Oliver Peoples has expanded its horizons massively from the small boutique they had back in 1986. The Oliver Peoples Benedict Sunglasses have slightly narrower lenses to the standard Aviator style meaning that they have a more 'wrap-around' appearance.
Police S8299 - Police were one of the founders of vivid and colourful designer eyewear and their brand new Aviator style S8299 Sunglasses juxtapose their rich history with modern innovation. With a slightly thicker frame and extended top bar, they are a breath of fresh air in the Aviator world!
Polo by Ralph Lauren PH3056 - Part of globally renowned fashion house, Ralph Lauren, Polo has started to become a fashion stalwart of its own and the PH3056 Aviator Sunglasses prove this perfectly. Polo's instantly recognisable logo is perched proudly on the thick arms as a sign of quality and their continued fervour for fashion excellence.
Tom Ford Cole - Tom Ford Sunglasses are so 'on trend' at the moment, it is difficult to keep their sunglasses in stock long enough to see the new styles! Luckily, however, we have seen the Tom Ford Cole Aviator Sunglasses and they are simply stunning. Made from both acetate and metal alloy, the top bar stands out prominently for a truly head-turning look!
_______________________________________________________________________________________________________
Tags:
aviator
,
aviator sunglasses
,
Dior Piccadilly 2 Sunglasses
,
Dior sunglasses
,
Gucci GG4225/S Sunglasses
,
Gucci sunglasses
,
Oliver Peoples Benedict Sunglasses
,
Oliver Peoples Sunglasses
,
Police S8299 Sunglasses
,
Police sunglasses
,
Polo by Ralph Lauren PH3056 Sunglasses
,
Polo Ralph Lauren Sunglasses
,
Ray Ban RB3025 Sunglasses
,
Ray Ban sunglasses
,
Shade Station
,
Tom Ford Cole Sunglasses
,
Tom Ford sunglasses
If your little darlings are jealous of mummy's designer sunglasses then worry not – they too can be kitted out with the very best in designer shades, courtesy of Gucci.
The Gucci sunglasses range include Gucci Kids sunglasses, which are the perfect blend of chic, cool and uv protection. We're constantly warned against the dangers of the sun and it's harmful uv rays and whilst we adults are still tempted to misbehave in the sun (read, fail to apply lotion and buy cheap sunglasses with naff lenses) it's important to ensure adolescents are educated and protected from any sun damage at a young age.
As one may expect from the calibre of the stars behind the Gucci Kids advertising campaign, Jennifer Lopez and her 2 year old twins Max and Emme, the sunglasses range is fittingly, uber stylish. Following the season's trend for sporty styles and circular lenses, the Gucci Kids sunglasses collection packs a punch when it comes to summer fashion. Durable is the name of the game here and every style is constructed from acetate material and comes with a one year guarantee. In addition the lenses are UV protected, ensuring your child's eyes are fully safeguarded from the sun.
There are two designs to choose from. One is a slightly oversized modern take on the aviator, with frames in different colours and the option of graduated lenses, and the other style is a very hip, very fashionable pair of perfectly round frames in white or black.  Gucci Kids sunglasses retail at a surprisingly good price and can be purchased even cheaper at Shade Station, where prices have been slashed this Spring. Whilst it may be tempting to spend less on kids accessories, the importance of sun protection cannot be over-stressed and if you can afford to buy them, Gucci Kids sunglasses offer unbeatable uv protection as well as super star style.
Tags:
childrens designer sunglasses
,
Gucci Kids sunglasses
,
Gucci sunglasses
,
Jennifer Lopes
,
kids designer sunglasses
,
sunglasses
If you're looking to invest in a fabulous pair of sunglasses this season then you can never fail to go wrong with the ultra glamorous Gucci. Representing the ultimate in chic and elegant designer style, Gucci Sunglasses has added some fabulous sunglasses to its collection for summer 2011, all of which achieve the perfect balance of being trendy yet timeless.
The Gucci spring/summer 2011 catwalks were brimming with colour, which has also transcended through to the label's accessories and sunglasses. The new GG3187 Gucci sunglasses for ladies are a perfect example of this and are available in a variety of fashion-forward and fresh colours that will add a summery finish to every look. The style is classically oversized with a square-shaped frame and each version features the iconic Gucci print upon the arm.
The label has also gone for a sporty vibe this season and the new GG1648 Gucci sunglasses are a design for men and ideal if you want a sporty style but with the smart and chic Gucci edge. This masculine style has a slightly wrapped finish, tapered arms and the overall design detailing is kept minimal making these sunglasses perfect for casual everyday wear.
The aviator is a style that we don't think will ever go out of fashion. Aviator sunglasses are universally flattering and add a sleek finish to every look whilst boasting that laid-back cool edge. Gucci has introduced a new aviator into the collection in the form of the GG2887 sunglasses, specifically designed for ladies. The shape and style remains classic but the combination of the metal and leather frame detailing and the highly positioned bridge adds a modern,
fresh and luxe twist.
The celebs are a huge fan of the Gucci brand and style icon Pippa Middleton was recently spotted wearing the super chic GG3168 sunglasses, teaming them with a casual outfit.
Gucci is an iconic label and a pair of the brand's sunglasses will make a welcome addition to every style-lover's accessory collection!
Tags:
GG1648 Gucci sunglasses
,
GG2887 sunglasses
,
GG3168 sunglasses
,
GG3187 Gucci sunglasses
,
Gucci sunglasses
,
Pippa Middleton
,
sunglasses
If you're hunting out a truly fabulous pair of sunglasses, it's always worth investing a little more if you want to combine superb quality with flawless style. Gucci sunglasses are a perfect example of this – the brand is one of the most luxurious and renowned in the world and aside from its products boasting alluringly exquisite aesthetics, the materials used and overall quality are outstanding. Plus, as one of the most iconic designer labels out there, a piece by Gucci is a welcome addition to any fashionista's wardrobe!
There is an incredibly wide selection of beautiful new Gucci sunglasses just added to the collection and these are the perfect way to infuse a luxe and elegant edge to your cosy winter look.  Ranging from glamorously oversized, to sleek aviators and more sporty-esque visor styles, there is something to appeal to every fashion-loving individual.
One of the new styles that we definitely have our eye on are the new GG3180 Gucci sunglasses for ladies. This design is oversized but has a more square shaped frame that is wider at the exterior edges and rounded at the interior frame section, which injects a completely unique and distinctive finish to the overall shape. The hinge incorporates a luxurious gold toned hinge and this is a style that is ultra versatile and really adds a striking and high-fashion edge to your look.
A further new Gucci style that looks equally chic on both men and women are the GG2888 sunglasses. A modern design, these sunglasses are oversized with a sleek gold frame and rounded lenses. These sunglasses are simple and minimal but have that exquisite Gucci finish meaning that they are timelessly stylish and will add impact to any outfit.
For a more classically oversized look, the new GG3167 Gucci sunglasses for ladies are the perfect choice. Featuring a more
square shaped frame, these sunglasses also boast a brown and bronze tortoiseshell finish complimented by a gold embellished hinge. The ultimate in Gucci elegance!
Of course, these are just three examples of the new styles and we have added a number of new designs to the collection, so make sure you take a look at the entire range. A favourite with nearly every A list celebrity and style icon, a pair of Gucci sunglasses are a worthy investment that will never fail to look chic, sophisticated and at the height of style for years to come.
Tags:
Catherine Zeta Jones
,
GG2888 sunglasses
,
GG3167 Gucci sunglasses
,
GG3180 Gucci sunglasses
,
Gucci sunglasses
,
sunglasses
Yum… The new range of Gucci sunglasses at Shade Station are enough to make you wish you had access to SJPs bank account for a few hours (not that we don't always!). Super sophisticated, on trend and fabulously oversized, Gucci sunglasses are the shade du jour of all the off-duty British girls in Hollywood. Two such stars are Kate Beckinsale and Catherine Zeta Jones who both regularly indulge in a little Gucci action, wearing styles 2985S and GG2995 respectively.
Gucci sunglasses frequently feature on the silver screen too… this years best actress Oscar winner Sandra Bullock, wore Gucci sunglasses style 3034 in the smash hit film The Blind Side and they're also the choice for leading men like Tom Cruise and George Clooney.
Gucci is never far from the showbiz news… a recent collaboration with music producer Mark Ronson, has led to the development of a pop-up Trainer Store, Gucci Icon-Temporary, for which Ronson has designed a limited edition collection of trainers. The store, in Covent Garden, had its opening night last week and will remain in London until the end of May when it moves East to Japan.
Ladies Gucci sunglasses are famed for being glamorous, with touches of luxe. Although Gucci do dabble in aviator styles and smaller frames, it is the oversized sunglasses, which hide Hollywood peepers, that have proven most popular. Largely in black, brown and tortoiseshell Gucci sunglasses tend to have detailing on the arms, that make them stand-out from other luxury sunglasses brands… and they always have the famous interlocking double G's which identify the Gucci label.
Tags:
Catherine Zeta Jones
,
George Clooney
,
gucci
,
Gucci sunglasses
,
Kate Beckinsale
,
Ladies Gucci sunglasses
,
Mark Ronson
,
sunglasses
,
Tom Cruise

It may be freezing outside but the sun has made the occasional rare appearance. On these bright, happy happy days, sunglasses have been unearthed from dusty drawers and the world has seemed a perkier place. As Spring draws nearer, Shade Station for one are hoping to see a lot more of the sun. Now is the time to start looking at buying a new pair of shades – it never hurts to be optimistic!
We've got our eye on Gucci this week. Never mind the winners, at this years Oscar's, Gucci was the big fashion name among the men. Recipient of the Best Actor award, Jeff Bridges wore top to toe Gucci, and other guy candy sporting Gucci at the Academy Awards were Mr Penelope Cruz, Javier Bardem, and ladies man and potential beau of Jennifer Aniston, Gerard Butler.
It's clear that everyone loves a bit of Gucci and although we can't afford a Gucci tux or indeed a Gucci frock we can afford a pair of Gucci sunglasses! Celebrity ladies who love Gucci sunglasses include; Angelina Jolie, Miley Cyrus, Jessica Simpson and Julia's niece, Emma Roberts. The Gucci sunglasses collection for women is hot on glamorous oversized shades with black, grey and tortoiseshell frames and sexy aviators with both metal and coloured plastic frames. Gucci sunglasses for men don't disappoint either, celebrity males fans include; Jamie Foxx, Tom Cruise and George Michael, among others!
So why not join us in our optimism and start looking for your perfect pair of sunglasses in preparation for the good times ahead!
Tags:
Angelina Jolie
,
Emma Roberts
,
George Michael
,
Gerard Butler
,
gucci
,
Gucci sunglasses
,
Gucci sunglasses collection
,
Jamie Foxx
,
Javier Bardem
,
jeff Bridges
,
Jennifer Aniston
,
Jessica Simpson
,
Miley Cyrus
,
Oscars
,
perfect pair of sunnies
,
Shade Station
,
sunglasses
,
Tom Cruise
With summer on the way, a pair of sunglasses provides the essential accessory to protect your eyes and ensure that you look super stylish. Whether you prefer your sunglasses to be chic, sophisticated, super glamorous, sporty, or perhaps a combination of each style, we definitely have something that will appeal. With a huge array of designer brands to choose from, you need look no further than Shade Station when finding your perfect pair of sunglasses.
Carrera sunglasses are going to be huge this summer and we have already seen both Lady Gaga and Alicia Keys rocking a pair of Carreras in their recent music videos. With celebrities such as Kanye West and Paris Hilton also working the Carrera sunglass look, these retro sporty inspired sunglasses with vibrant coloured and fresh toned frames are effortlessly cool, great for everyday chic and offer something a little alternative.
A new exciting brand just added to our list is Pucci sunglasses . This designer label is famous for its vibrantly printed scarves with beautiful swirly, psychedelic style patterns and the brand has now launched a sunglasses range. Capturing the key trend of colour, the collection comprises of some wonderfully glamorous oversized retro style sunglasses with the iconic boho style Pucci pattern as well as block colours including stunning aqua tones as well as feminine violet and purple. The detailing incorporated into the Pucci sunglasses is also striking.
Next up we have the ever stylish and faithful Police sunglasses brand which with their understated yet effortlessly cool range, you will never fail to look chic and stylish. Police shades have also added some new styles to their collection which include sleek wraparound sunglasses, classic style sunglasses with narrow frames and aviators and even some retro oversized styles with a sporty edge. Great sunglasses for both the guys and girls!
Fendi is also a hot designer brand to look out for and following the launch of the new Fendi Chef handbag, the luxury brand thought it only fair to launch a pair of Fendi sunglasses to match – perfect for every fashionista! There are some wonderfully dramatic but elegant Fendi oversized sunglass styles with pretty embellishments such as a small flower positioned on the frame making for a delicate touch. Perfect for channelling a high fashion and polished edge.
Who could forget Prada? The ultimate in glamour, Prada sunglasses have some incredibly styles for both men and women ranging from classically oversized to cool aviators and some new geek chic styles with narrow lenses and thick frames. The Prada butterfly sunglasses which are nipped in at the centre are still a huge must-have for this season and add definition and a unique edge to your look – perfect for something that little bit different. In an array of vibrant colours as well as classic tones such as black and brown, Prada sunglasses tick every style box.
Prada Sport sunglasses are also a new addition and offer something a little more sports orientated and great for everyday on-the-go chic with understated classic styles complete with the vibrant Prada Sport logo. Wraparound sunglasses, visor style sunglasses, geek chic style sunglasses (thick frames and narrow lenses) and aviator sunglasses are the hot designs to look out for and perfectly capture that summer chic look with a casual edge.
Ray-Ban sunglasses never fail to be a hot favourite and the style icons cannot get enough of the revamped and on-trend colourful Wayfarers which are constantly seen when the sun comes out (and even when it doesn't!). This season, Ray-Ban have also launched Limited Edition Wayfarers which of course, are only available for a limited amount of time and are going to be a firm style favourite this summer an sure to be seen at the music festivals. One of the most classic of all the Ray-Ban's and one of the first styles of sunglasses to be launched is the Aviator RB3025 sunglass which is still going strong and a classic that has been adapted to incorporate various lens and frame colours but retaining the original edge that makes it so popular and again, a favourite among the celebrities!
For something ultra dramatic, glamorous and show stopping look no further than BVLGARI sunglasses. These sunglasses are always regarded as on trend due to their high fashion appeal that never fails to attract attention. Regularly spotted on the most chic of style icons and celebrities BVLGARI sunglasses are the depiction of luxury fashion. With intricately designed hinge detailing, embellishments that often stretch down the length of the arm and the incorporation of exquisite colours the collection of oversized and visor style BVLGARI sunglasses are timeless accessories.
Tom Ford is the man of the moment in both movies and fashion and his collection of Tom Ford sunglasses are wonderfully chic and glamorous. One particular style that will definitely turn heads is the oversized Nico Sunglass style – these sunglasses are creatively designed with a triangular style frame but as this season is all about going bold and as fashion is about creating a statement then why not give them a try and assert your own unique high fashion style! Other styles include the more classic and slim framed oversized styles as well as some super chic new aviators which are timeless sunglass classics.
Lady Gaga shot to stardom in 2009 and she is now one of the most famous ladies in pop, also noted for her unusual but amazing sense of fashion. Whilst off stage Lady Gaga can often be spotted working the latest designer shades and she was recently featured on the front cover of V Magazine in a pair of MMJ112 Marc Jacobs peel-off style sunglasses! The MMJ112 sunglasses are an oversized retro style and look incredibly funky and stylish in hot seasonal colours. These are sure to be a favourite this spring/summer along with the other oversized and aviator Marc Jacobs sunglass styles.
The famous Oakley sunglass brand never fails to surprise and impress with its highly innovative and stylish range of sunglasses, perfect for every sporting need. Some of the new releases including the O Rokr and Split Thump incorporate added high tech features such as an MP3 player and Bluetooth so you can listen to your favourite tunes and keep in touch whilst on the go! The new Oakley Conduct frame is an amazingly slick visor style with Oakley's unique High Definition Optics for precise visual clarity and a chic and bold aesthetic style. The Oakley M Frame sunglasses capture the futuristic style appeal and feature innovative M shaped lenses for function, style and comfort and the new Oakley Hinder sunglasses are an oversized style for ladies with that distinct Oakley attitude with a high trend edge. Oakley is always at the forefront of eyewear technology and the brand's sunglasses never fail to look sleek and streamlined and convey that the wearer really means business!
Other hot brands to look out for include the classically sophisticated Chanel sunglasses  in addition to Dior sunglasses, Dolce & Gabbana sunglasses, Roberto Cavalli sunglasses, Gucci sunglasses and Armani sunglasses for a wide array of super glamorous sunglasses that make for the one faithful accessory that will remain stylish for seasons to come. D Squared sunglasses, Prada Sport sunglasses and Von Zipper sunglasses offer a fantastic range of sporty but cool sunglasses and are a hit among the extreme sport athletes and celebrities. For a classic touch of chic, look no further than Armani sunglasses, Roberto Cavalli sunglasses and for that injection of street style edginess, why not opt for a pair of innovatively designed Diesel sunglasses?
At Shade Station we are always on the lookout for the latest brands and styles and regularly update our sunglasses collections. Check out our style blog so you are up to speed with what's hot and new in! Be sure to also check out our sales to get that sought after style at a fantastic price. Whatever style of sunglasses you opt for, or even if you are looking to try something new, we have all the latest and classic styles to ensure that we fulfil every sunglass style and function need.
Tags:
Alicia Keys
,
Armani sunglasses
,
aviator rb3025
,
aviator sunglasses
,
Bvlgari sunglasses
,
Carrera sunglasses
,
celebrity sunglasses
,
chanel sunglasses
,
designer sunglasses
,
Diesel sunglasses
,
Dior sunglasses
,
Dolce & Gabbana sunglasses
,
fashionable sunglasses
,
fendi chef sunglasses
,
Fendi sunglasses
,
funky sunglasses
,
geek chic sunglasses
,
Gucci sunglasses
,
hot sunglasses
,
Kanye West
,
Lady GaGa
,
lady gaga marc jacobs
,
limited edition wayfarers
,
luxury sunglasses
,
Marc Jacobs sunglasses
,
new sunglasses
,
oakley Hinder sunglasses
,
Oakley sunglasses
,
oversized sunglasses
,
Paris Hilton
,
Police sunglasses
,
prada butterfly sunglasses
,
Prada Sport sunglasses
,
Prada sunglasses
,
Pucci sunglasses
,
Ray Ban sunglasses
,
retro sunglasses
,
roberto cavalli sunglasses
,
sunglasses
,
Sunglasses Homepage
,
tom ford nico
,
Tom Ford sunglasses
,
Tom Ford Whitney
,
visor sunglasses
,
von zipper sunglasses
,
wayfarer sunglasses
,
wraparound sunglasses
Spring is slowly but surely on its way and here at Shade Station we have a vast array of sunglasses, watches, jewellery and accessories to see that you step into the new season in ultimate fashion forward style!
Whilst many of us don't have the opportunity or budget to completely update our wardrobe each season, the simple use of a glamorous pair of sunglasses, a uniquely styled watch or a statement piece of jewellery can completely transform and update your outfit, bringing it to the forefront of fashion and injecting hints of those key trends making you every inch the style icon!
So let's take a look at what's in the offering from Shade Station for the forthcoming season. Firstly, as the sun begins to finally shine, you are going to need a spectacular pair of sunglasses for safety and of course, style purposes. There are some incredible new brands to look out for in addition to a vast collection of new styles from the classic favourite brands.
One brand addition that we are pleased to announce is Burberry sunglasses. Famous for its iconic classic 'Burberry Check', this high end brand now has a superbly stylish range of sunglasses with the ever favourite oversized styles in addition to some more contemporary designs. Some of which incorporate the Burberry check pattern whereas others boast fresh spring colour nude tones (a top key trend this season) such as white, warm brown and fawn. The ultimate in feminine chic!
The next new sunglasses brand to look out for is Prada Sport sunglasses. Capturing the essence of the renowned Prada Italian style but adding a casual and sporty aesthetic, these sunglasses comprise of chic visor styles, wrap around and highly on trend geek chic style narrow and rectangular lenses with thick rimmed frames. Prada Sport sunglasses perfectly unite two key trends this season; colour and sport style with fresh white, red, and brown frames to choose from as well as classic colours and all incorporating the vibrant Prada Sport logo. Perfect for on-the-go-chic!
Marc Jacobs is hot on the fashion agenda and we have some incredibly stylish sunglasses to look out for by this ultra trendy and sought after brand. With dramatically oversized sunglasses to cool aviators, there are again a wide variety of designs to choose from for both men and women. Marc Jacobs sunglasses have a range of both colour and the always sophisticated black and the up to the minute shape will definitely allow you to fashionably stand out from the crowd!
Other brand favourites that we have added new sunglasses styles to include the ever chic and classic Chanel sunglasses which if you are the definition of a true glamour and style Queen, you won't be able to resist! Fendi sunglasses, BVLGARI sunglasses, Gucci sunglasses and Dolce & Gabbana sunglasses and Dior  sunglasses offer some incredibly sophisticated and vibrant high fashion orientated designs whilst Police sunglasses, Von Zipper sunglasses and Oakley sunglasses have some fantastic sports and lifestyle orientated styles capturing the ultimate in high function and great fashion. And who can forget the classic Ray-Ban brand? There are some amazing new Ray Ban sunglasses styles to look out for with modern twists on iconic styles such as the Wayfarer and Clubmaster in addition to some brand new fresh and contemporary designs. The limited edition Wayfarers with scenes such as the New York subway are a must for those at the cutting edge.  For the ultimate in high tech innovation, Oakley has some incredible new sunglasses incorporating the latest lens technologies providing maximum eye protection and of course, conveying superb style. One of  Shade Station's favourite brands this summer for ladies is Pucci sunglasses. The colours, shapes and design are so perfect we defy any stylish lady not to be going gaga over them!
Watches are a fantastic accessory to capture a particular style and we have some great new models to keep your eye out for. Again, it is all about the colour this season with watches and the bolder and more vibrant the better! Brands that perfectly express this include the sporty but ultra trendy Adidas watches, Nixon watches, Black Dice watches and LTD Watches, D&G watches and Ed Hardy watches with their beautifully detailed tattoo art watches. Hot brands which have some fabulous new styles are DKNY watches for that spirit of New York style, Diesel watches for innovative edginess and Fossil watches for something completely unique but highly on trend. All of these brands offer a variety of watch styles and achieve a great balance between originality and high trend appeal. For something super elegant DKNY watches, Guess watches and Michael Kors watches have some wonderfully striking and feminine watches with diamante embellishments, bracelet straps, chic patterns and jewellery reminiscent aesthetics. Perhaps you are after something classic and traditional? If so, be sure to check out our ranges of Ingersoll watches, Tsovet watches, and Wenger watches.
Sporty watches are again very high on the trend agenda this season and brand which capture this look include Japanese fashion inspired Superdry (check out the Superdry Sport watches), Animal watches, Nautica watches, Timex watches and who can forget the sure sporting favourite Oakley watches with some cutting edge and innovative designs that will ensure you are top of your game!
Finally for that 'geek chic' appeal, be sure to take a look at our collection of Tokyo Flash watches with their exquisitely futuristic designs and cunning but clever methods of telling the time. Philippe Starck watches also has some visually exciting and minimal style models and the celebrity favourite Black Dice watches includes some ultra fashion forward and innovative styles. 
When the weather begins to warm up and we're no longer adorned in coats, scarves and gloves, jewellery is a fantastic way of conveying a unique sense of style and Shade Station has some beautiful, funky and edgy styles to look out for by key brands. Jewellery is going to be a huge trend this season, with statement pieces seen on the catwalks to perfectly compliment a chic summer look and add depth, colour and definition.
The hot new brand to look out for is Venus Beads which have some gorgeous boho chic style beaded bracelets incorporating vibrant colours such as turquoise, pink, red, blue violet and black. If feminine is your thing, look no further that Venus Beads with their wonderfully intricate patterned beads and subtle charms. Wear two or three stacked for a high fashion look or an individual bracelet will add just the right pop of colour to inject vibrancy into your look.
Amore & Baci have some extremely fun, elegant, flirty and unique pieces to catch your eye. With chunky colourful rings with beautiful patterns and diamante embellishments, cool charms in the designs of handbags, shoes and angels, what is unique about this brand is that you can create your own unique bracelet or necklace with the addition of charms – add as many or as few as you wish. If you are a girly girl with a sense of edginess and likes her jewellery to represent personality, this is a fantastic brand to opt for.
We also have some new street inspired pieces from Black Dice with a selection of cutting edge rings and dog tag style necklaces for man and ladies and Diesel, Police and D&G have also perfectly combined edgy with striking. Guess and CC Skye (a favourite of boho Queen Nicole Ritchie) also have some incredibly feminine and statement jewellery.
As well as a whole host of fantastic products, we promise to keep you updated with new brand additions and styles as well as celebrity and designer news and gossip via our daily updated Style Blog so you can be sure that you are well in the know about who is wearing what! We also have a Twitter page, whereby you can follow us @shadestation for instant and regular Shade Station and general fashion news.
Here at Shade Station we make it our top priority to provide you with as many designer sunglasses and watch  brands and products as possible to cater to a range of style personalities and budgets – all of which have high quality in common. We believe that everyone has a unique sense of fashion and the huge array accessories in the offering allow you to create a bespoke look to your spring and summer style. We hope you enjoy browsing our website for that perfect accessory and from the whole team, we wish you a happy and of course, a stylish season ahead!
Tags:
Adidas watches
,
amore & baci beads
,
Animal watches
,
Black Dice watches
,
Burberry sunglasses
,
Bvlgari sunglasses
,
CC Skye Jewellery
,
chanel sunglasses
,
clubmaster sunglasses
,
D&G watches
,
designer sunglasses
,
designer watches
,
Diesel watches
,
Dior sunglasses
,
Dolce and gabbana sunglasses
,
Ed Hardy watches
,
Fendi sunglasses
,
Fossil watches
,
Gucci sunglasses
,
Guess Watches
,
homepage
,
Ingersoll Watches
,
Marc Jacobs sunglasses
,
Michael Kors watches
,
nautica watches
,
Nixon watches
,
Oakley sunglasses
,
Police sunglasses
,
Prada Sport sunglasses
,
Pucci sunglasses
,
Ray Ban sunglasses
,
sunglasses
,
superdry sport watches
,
Timex Watches
,
Tokyo Flash watches
,
Tsovet watches
,
venus beads
,
von zipper sunglasses
,
watch
,
watches
,
wayfarer sunglasses
,
Wenger watches
,
wristwear
For those of you who are fans of the reality TV show The City which follows the life of fashion industry worker and designer Whitney Port, who first found fame during The Hills, you will most likely recognise model Adam Senn who is the on/off boyfriend of Whitney's also model friend Allie.
Adam is most renowend for his appearance in the iconic luxury brand Gucci's advertising campaign and now has his eye set on Hollywood actress and notorious party girl Lindsay Lohan. The two met whilst Lindsay was in New York for Fashion Week and they apparently hit it off and have been spotted with one another a number of times since. The According to an insider, the two first met while LiLo was in New York for Fashion Week.
Adam was catapulted into the model spotlight, following his appearance in the rather controversial Gucci advertising campaign in 2003, which was shot by legendary photographer Mario Testino and is one of the main fashion campaigns that people always remember!
Guccio Gucci founded the House of Gucci in Florence in 1906 and his primary skill and creative talent was in the design and manufacturing of leather goods. He started out selling leather bags to horsemen in the 1920's and progressed to deigning luxury luggage as his clients tended to move from equine transportation to horseless carriages. In 1938 Guccio Gucci opened their first retail shop on the Via Condotti in Rome and the brand became very successful and associated with Hollywood stars such as Audrey Hepburn and Grace Kelly following further store openings in Beverly Hills, Paris and Tokyo. It was in 1947 that the iconic leather handbag with a bamboo handle was launched which is still an incredibly popular Gucci product today. In the 1990's, Tom Ford was responsible for escalating the brand back to its rightful sought after and exclusive status following it being sold in the 1980's. Ford extended the product lines and since Frida Giannini's arrival as Creative Director of Gucci in 2006, the brand range now includes a spectacularly stylish collection of leather accessories, perfumes, colognes, cosmetics, shoes and Gucci sunglasses. Gucci today is still one of the all time classic brands, whose products maintain that highly desired and exclusive appeal. It is often thought that if you own a piece of Gucci clothing or a Gucci accessory that certainly makes a statement about your style and status.
The latest news fr
om Gucci is the announcement that in 2010 Gucci and luxury auction company Christie's are collaborating to launch the 'Gucci Collector: Presented by Christie's' which is the first online location for the appraisal of Gucci products whereby Gucci collectors can upload their vintage Gucci products and a team of Christie's and Gucci experts will assess the value of the item. The owner will then have the option to sell the item back to Gucci or to list it at a future Christie's auction.
The collection of Gucci sunglasses are the perfect representation of the luxurious essence of the brand – with stunningly dramatic frames and the use of bold yet elegant colours and patterns and added aesthetic features such as arm hinge buckle and Gucci logo detailing, a pair of these sunglasses will definitely assert your exquisite and refined taste in fashion. The perfect way to add that elite and much desired Gucci style to your look.
Tags:
Adam Senn
,
Beverly Hills
,
Christie's
,
designer sunglasses
,
Frida Giannini
,
Gucci Collector: Presented by Christie's
,
Gucci sunglasses
,
Guccio Gucci
,
Lindsay Lohan
,
Mario Testino
,
New York Fashion Week
,
Paris
,
sunglasses
,
The City
,
The Hills
,
Tokyo
,
Tom Ford
,
Whitney Port
Gucci is one of the oldest and historic brands in the fashion industry and was founded by Guccio Gucci in 1906. Gucci began as a saddlery shop as Guccio had great craftsmanship skills, particularly in leather goods. He started out selling leather bags to horsemen in the 1920's and then developed into producing luxury luggage as his clients prgressed to traveling via horseless carriages. In 1938 Guccio Gucci opened his first retail shop on the Via Condotti in Rome.
As a brand, Gucci is renowned for its interesting and unique designs and therefore has quite a diverse customer base all around the world due to its innovative products which now consist of clothing, shoes, accessories and sunglasses.
The collection of Gucci sunglasses capture every key trend and range from shield style sunglasses, rimless sunglasses which look incredibly stylish and contemporary and aviator sunglasses which resemble the look of the old and classic aviator's glasses and also of course, the iconic oversized sunglasses.
All Gucci sunglasses incorporate some of the typical Gucci features such as the GG bamboo symbol and the colours vary from brown and black to red, green and beige. There is definitely an element of  retro and vintage appeal to the style of Gucci sunglasses but with contemporary features such as colour -  the new GG3100 sunglasses with their violet frames are a great example of this.
Gucci sunglasses
are definitely not a plain and ordinary brand. The new GG1926 are a square style with off grey toned frames and gradient lenses and are incredibly unique, fashion forward and have a sporty appeal. Despite being a relatively simple style, the strong lines and definition of these sunglasses definitely create a statement and are the depiction of sophistication.
For a classic oversized style which ooze drama and glamour, the GG3069 jet black Gucci sunglasses with large oval frames and the classic Gucci 'G' logo on the arm hinge, are the perfect option and will compliment any outfit with their sleek looks and sophisticated style.
Detailing is a common feature of Gucci and the GG2827 oversized sunglasses in a beautiful textured grey colour incorporate a striking Gucci crest logo on the arm hinge.
If you are looking for a classic aviator style, the GG1905 with silver frames and grey lenses are sophisticated, stylish and probably one of the most versatile of all sunglass styles.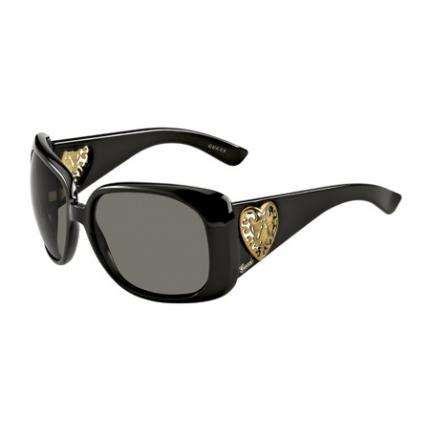 Despite sunglasses being primarily designed as an accessory to protect the eyes, classic designer brands such as Gucci are responsible for also making sunglasses the ultimate fashion statement and thus people are now fascinated by the innovative and visually exciting designs of Gucci sunglasses and the brand's other collections. Due to the huge variety of sunglasses within the Gucci collection, you are sure to find a pair that will suit your personal style and inject glamour and elegance into your look. In terms of quality and function, Gucci sunglasses are made using the most innovative technologies and materials and the lenses ensure 100% Protection from harmful UVA/UVB rays, to fully protect your eyes.
There are a number of celebrities and fashion icons who are renowned for loving their Gucci sunglasses including Madonna, Victoria Beckham, Jessica Simpson and Kanye West. Gucci has that element of Italian style that cannot be replicated and the collection of sunglasses are exquisite, refined, timelessly on trend and dramatic.
Tags:
G3100 sunglasses
,
GG1905
,
GG1926
,
GG2827
,
GG3069
,
gucci
,
Gucci sunglasses
,
Guccio Gucci
,
Jessica Simpson
,
Kanye West
,
Madonna
,
Rome
,
sunglasses
,
Via Condotti
,
Victoria Beckham
Older Posts »