Giorgio Armani is one of the most iconic and influential designers of our time whose range of clothing and accessories are favoured for their unique and exquisite Italian style. The designer was born in Piacenza, Italy in 1934 and found his way into the fashion industry in the 1960's. Unlike many designers who have always strived to pursue their passion for fashion from a young age, Armani was a late starter as originally went to study medicine at Milan University before falling into the fashion industry via his first job.
Armani's first taste of the fashion industry came when he became a window dresser at a large Milanese department store named La Rinascente. Renowned for being a perfectionist, he developed a unique style which was incredibly classic and chic and later following trips to the UK, this was further enhanced. Italy may be largely regarded as the centre of the fashion universe, but whilst in the UK Armani was very much inspired by the shop windows and how the mannequins were styled to perfection with bursts of vibrant colour. Favouring the essence of UK style, Armani decided to bring back some bright yellow cardigans that he had seen in a small boutique and sell them in Il Rinascente. Of course, people thought this was a crazy idea and that the cardigans were far too bold, brash, and elitist for the Italian traditional fashion. However, Armani was adamant that the English style could transcend to Italy and carried on regardless and the cardigans proved very popular. Following a job as a designer for Nino Cerruti's men's clothing company, Hitman, Ungaro and Zegna in 1974, Armani decided to go it alone and introduced his own menswear label. His first womenswear collection came only a year later following his success.
The success of Giorgio A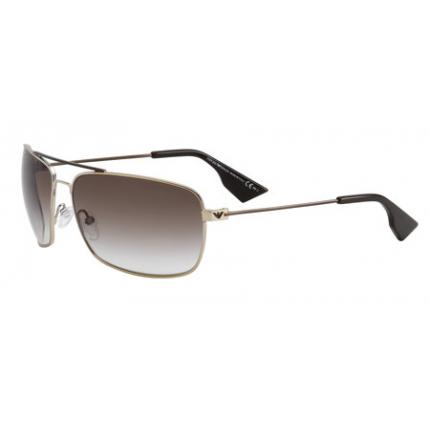 rmani is due to his ability to create clothing and accessories that people can actually wear. This may sound quite ironic since that is the job of every designer, but where designer fashion is concerned many people feel intimidated by it as feel it is too over the top, unsuitable and unwearable in relation to their lifestyle. Armani bases his design inspirations on everyday and regular people, believing that clothes should be made to be worn not just seen on the catwalks. Armani was responsible for making the feared power suit of the 1980's a little softer, demure and practical and Armani's collections are elegant, understated and can be mixed with a variety of other pieces.
The collection of Armani sunglasses are an extension of his range of clothing and portray that same essence of wearability but with an original style that can be sound in the form of bold patterns and  colours which injects a funky and high
trend edge. Where being bold is concerned, accessories allow you to be a little braver and thus Armani has created a superb range of sunglasses that vary from high trend through to classic and everything in between which ensures you can get just the right balance of Armani style.
Style icons who have appeared in Armani advertising campaigns include both Victoria and David Beckham and singer Beyonce and the number of A List fans of the brand is endless! A legendary designer of our time that allows each and every individual to look and feel stylish, classic and ultra sophisticated!
Tags:
Armani
,
Armani sunglasses
,
Beyonce
,
Giorgio Armani
,
Hitman
,
La Rinascente
,
Nino Cerruti
,
sunglasses
,
Ungaro
,
Victoria and David Beckham
,
Zegna
Armani is the designer label that is synonymous with classy, chic and sophisticated. The founder of the brand Giorgio Armani is a leading Italian designer whose line of clothing and accessories has led to him being highly regarded and respected in the industry.
Armani sunglasses look sharp and sleek and in addition to styles specifically for men and women, there are also a number of fashion forward unisex styles which look fantastic on both guys and girls. A wearer of Armani is typically confident, charismatic and super stylish and a pair of Armani sunglasses will certainly convey that essence of true Italian style with a sexy appeal.
There are some super stylish new designs to look out for this season. Here is a rundown of the latest and greatest Armani shades-:
- The new EA9592 3YG Armani sunglasses – these are definitely a statement pair of unisex shades in a chic wrap around visor style. The prominent feature is the star design which is positioned on the arm hinge. These are great for an Armani on-the-go attitude and convey striking but effortless style.
- The new EA9609 BKS Armani sunglasses – these shades are unisex and designed in a shape which is unique to Armani. With slightly oversized frames in a classic style, the black lenses are chic and sleek and these are a versatile pair of sunglasses that will see you through everyday activity in style. These are also available in a brown tortoiseshell tone.
- Oversized sunglasses are a huge trend and convey the essence of Hollywood A List glamour. These new EA9162 HS3 unisex sunglasses are typically a female style but would definitely look quirky and striking on men! With leopard print purple toned frames and gradient grey lenses, the classic Armani logo is positioned on the arm hinge. If you prefer a more subtle colour variety or purple isn't your thing, this style is also available in black and brown tortoiseshell which then of course, changes the dynamics of the style.
Other Armani styles include the aviators, visor, wrap-arounds as well as classic styles such as the ladies EA9339 sunglasses with simple styling and versatile appeal. For anyone who prefers a smaller frame or has a smaller face, these sunglasses are the ideal option. If you are looking for more of a funky and contemporary look, a pair of shield style Armani sunglasses such as the EA9443 look incredibly sexy with a sporty essence and also portray style confidence. If you want to make a bold state
ment, these Armani sunglasses are the perfect choice!
Armani sunglasses are a great purchase because they are designed by the name that is renowned for quality and superb design. Whether you are looking for sporty chic, Hollywood glamour or casual versatility with dynamic style, there is a pair of unique Armani sunglasses for you. A creative use of colour, pattern and exaggerated features is what makes Armani unique and dynamic and the wide array of sunglasses provide the opportunity to be as over or understated as you wish.
Armani sunglasses are the cutting edge of fashion and in addition are of the highest possible quality, fully protecting your eyes from UV rays and made from the finest materials. Celebrity fans of the brand include Kim Kardashian and Lauren Conrad. Italian style and quality is like no other and Armani sunglasses are the perfect example of just that.
Tags:
Armani
,
Armani sunglasses
,
EA9162 HS3
,
EA9339
,
EA9443
,
EA9592 3YG
,
EA9609 BKS
,
Giorgio Armani
,
sunglasses
You don't get much more 'designer' than Giorgio Armani. You'll have seen pictures of the man before, generally with his arm wrapped around the waist of a glamorous actress or a gorgeous model. A big happy, toothy white grin in a tanned face on the body of a diminutive, distinguished, older man.
Designers often use high profile figures in their advertising campaigns and Armani is no stranger to this ploy. As a friend of the Beckhams and inspired by their good looks and global influence, Armani has used the couple in his current underwear campaign to great effect. Both Victoria and David are known across the world for their amazing bodies and love of fashion and Armani's campaign has them posing seductively together and separately in beautifully designed underwear.
As well as sporting masses of Armani on the red carpet, celebrities are often seen out and about in stylish Armani sunglasses. Current favourites include model '9426/S' which Lauren Conrad from The Hills wears, Russell Crowe was spotted at the premiere for his latest film 'State of Play' wearing Armani's GA 567/S Aviators and wraparound model '9436' is worn frequently by Sarah Jessica Parker and Nicole Kidman.
Armani sunglasses are both stylish and chic. With a vast range to choose from, Shade Station has the freshest and most current styles to suit your face shape and help you emulate your favourite celebrity!
Click here to visit our Armani Sunglasses section
Tags:
9426/S
,
9436
,
Armani
,
Armani sunglasses
,
aviators
,
David Beckham
,
GA 567/S
,
Giorgio Armani
,
Lauren Conrad
,
Nicole Kidman
,
Russell Crowe
,
Sarah Jessica Parker
,
sunglasses
,
Victoria Beckham