We all know that when it comes to snow sports, goggles are one of the most important accessories for protecting your eyes and face. Oakley has a fantastic selection of goggles with many styles suitable for larger faces, some designed for smaller faces and others that are specifically geared for certain purposes and boast the relevant features.
The most recent style of Oakley goggles to hit the Shade Station shelves are the Oakley A Frame goggles. In typical Oakley style, the A Frame goggles incorporate a number of innovative features which makes them hugely popular among professional skiers and snowboarders and will ultimately allow you to hit the slopes in safe style!
Let's take a look
at the features of the Oakley A Frame goggles-:
-  The Oakley A Frame goggles include a highly resistant, robust and durable yet lightweight frame which ensures that you are protected from impact.
- A three-tiered fog defence system. This firstly includes surge ports to control airflow which is then enhanced by the specially formulated F-3 Series anti-fog treatment. The third element is a dual lens designed to reduce fog with a thermal barrier of trapped air.
- The precision of High Definition Optics (HDO) which include 100% UV filtering.
- Durable urethane that stays flexible for added comfort, and a triple-layer polar fleece foam with moisture wicking.
In addition to all of these technical specifications, the Oakley A Frame goggles are also available in an array of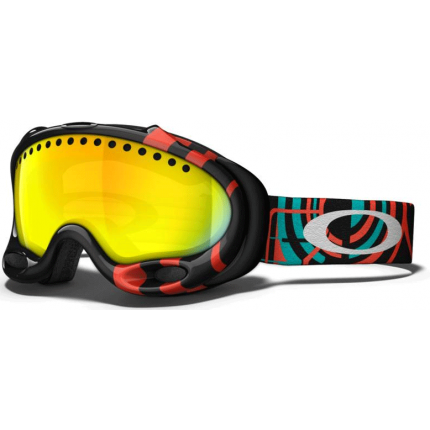 incredibly stylish and vibrant styles ranging from the men's Transit Turquoise design through to the wonderfully chic pink, white and black unisex Tempest Lava goggles which look pretty yet still convey the strong Oakley attitude!
Ultimately, the Oakley A Frame goggles have been designed as a way of tackling the issue of fog which can affect performance and of course, if you can't see to full potential then that adds to the danger factor which you definitely don't want! Oakley A frame goggles will ensure you can see clearly through foggy conditions; mainly due to the dual lenses with an air layer in between which prevents the fog entering the lenses and building up.
Yet another highly innovative and super stylish product by Oakley. Aside from the new A Frame goggles, there is also a huge selection of other Oakley goggles available ranging from the Ambush goggles, through to the Wisdom goggles. Make sure you check out the whole collection!
Tags:
Ambush goggles
,
Durable urethane
,
F-3 Series anti-fog treatment
,
goggles
,
HIgh Definition Optics (HDO)
,
Oakley A Frame goggles
,
Oakley goggles
,
Tempest Lava
,
Transit Turquoise
,
UV filtering
,
Wisdom goggles