September is all about fashion. With 'fashion week' making it's way around the globe, the start of Autumn offers the public a sneak preview of the trends that will be gripping us in Spring / Summer 2012.
Fashion Week begins in New York on the 8th September 2011 where designers synonymous with the Big Apple, like Marc Jacobs, Donna Karan and Michael Kors will take to the catwalk. The following week it's London Fashion Week. In the grand setting of Somerset House, Vivianne Westwood, PPQ, Mulberry and other great names in British Fashion, will share their vision for the fashion landscape in 2012. Next up is Milan, with Italian stalwarts like Prada, Gucci and Armani dazzling an international audience with their high fashion jinx. Fashion Week then makes it's way to the French capital of Paris, where designers such as Dior, Celine and Chanel will wow the packed aisles with their spectacular threads. Tokyo and LA are on the schedule for Fashion Week this Autumn, however the 'big four' remain – New York, London, Milan and Paris.
Now's the time to book your tickets for the various shows and start thinking about your outfit choices! Shade Station is here to help ensure you accessorise for the occasion! With our fabulous selection of cutting edge jewellery, beautiful watches and designer sunglasses, you'll be spoiled for choice and undoubtedly the best accessorised bod at Fashion Week!
Tags:
Armani
,
beautiful watches
,
chanel
,
designer sunglasses
,
Dior
,
Donna Karan
,
gucci
,
jewellery
,
London Fashion Week
,
Marc Jacobs
,
Michael Kors
,
Milan Fashion Week
,
New York Fashion Week
,
Paris Fashion Week
,
Prada
DKNY designer frocks are hard to come by, but DKNY watches are that little bit easier, and equally as glamorous. With plenty of jewels, elegance and sparkle, a DKNY watch is the perfect accessory to hit the party season with. A designer watch paired with a high street dress works wonders and a cheeky flash of diamante can go along way!
The following is our pick of the best DKNY watches for our Christmas party!
DKNY Watch: NY8051
A slither of glittering perfection… This beautiful, vintage inspired watch sports a slim linked bracelet strap studded with diamante and a round dial encircled by a ring of, yet more, diamante. The dial has a mother of pearl effect with silver accents at the 15 minute markers, creating a tranquil, simplistic centre amongst a sea of twinkling diamante. This DKNY wristpiece would look equally good wrapped up under our Christmas tree… (hint hint!)
DKNY Watch: NY8044
Another slip of a watch encrusted with diamante! The party season is all about sparkle after all! This elegant DKNY wristwatch has a slender highly polished stainless steel bracelet strap, dotted with rows of circular diamante. The rectangular face sits within a solid, polished aluminum case and again has subtle silver accents to denote the 15 minute markers.
DKNY Watch: NY8040
This gold plated watch is smooth and silky and would look fabulous on tanned skin with a deep green or purple coloured dress. The solid bracelet strap gives way to a neat square dial, embellished entirely with gold diamante for that wow factor!
DKNY Watch: NY4970
You want more diamante? Well we'll give you more diamante! This DKNY watch also has a vintage feel to it, with a slender white leather strap and a long black rectangular face surrounded by a stainless steel case studded with… yes you guessed it, diamante!
I think you can see where we're going with this blog… the Christmas party season is really all about glamming up, drinking lots and flashing a bit of sparkle. DKNY watches offer the perfect sparkle. If you can't twinkle at Christmas when can you?
Tags:
designer watches
,
DKNY
,
DKNY watch
,
DKNY Watch NY4970
,
DKNY Watch NY8040
,
DKNY Watch NY8044
,
DKNY Watch NY8051
,
DKNY watches
,
Donna Karan
,
watches
DKNY watches are a wristwear portfolio with heritage and integrity. As part of the New York inspired label DKNY, their ultra feminine watches fall neatly under the 'Lifestyle' branding of the company. Created by one of Fashions most respected designers, Donna Karan, DKNY designs are the toast of Hollywood. Many A-listers have been snapped wearing DKNY including Blake Lively, Rachel Bilson, Ugly Betty's Becki Newton and Kristen Stewart.
A DKNY woman is sophisticated, elegant and always dresses and accessorises appropriately for the occasion. It's not hard when there's an armoury of amazing DKNY watches to choose from! At Shade Station we have a fresh batch of DKNY watches for the summer, all at startlingly reasonable prices for a top designer brand…
Some of our favourites include;
DKNY watch NY4965
This is a striking, yet very simple watch in silver stainless steel. It is the wrist strap that makes it so special and unusual. The strap is made from rows of mesh stud detailing and the elegant rectangular face is framed by a thick piece of polished stainless steel. The white face displays the DKNY logo as well as the time!
DKNY watch 4933
Another sophisticated wristwatch, this time in gold plated stainless steel. The wristband is slim and styled with interesting intertwining locks and the dial is square with a thick gold frame encircling it. This style is also available with silver stainless steel and peppered with diamante.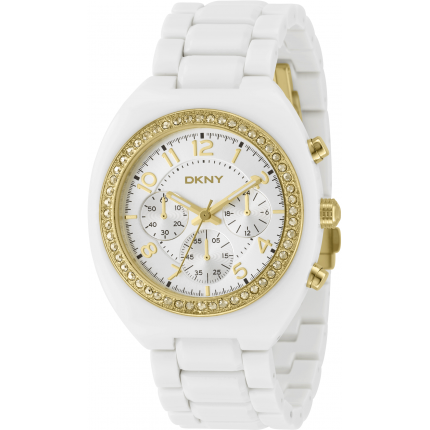 DKNY watch 4913
This is the most expensive watch in the DKNY portfolio at £180 (reduced from £225 bargain hunters!) but it taps into the current trend for fairly flamboyant ceramic watches (think Toy and LTD watches). In black or white with a ceramic link strap, the face is round with gold detailing, 3 hand movement, a date window and a sub dial chronograph.
DKNY watches offer plenty of choice and are a great way to add a designer touch to an outfit whilst on a budget!
Tags:
DKNY
,
DKNY 4913
,
DKNY 4933
,
DKNY designs
,
DKNY watch
,
DKNY watch DKNY 4965
,
DKNY watches
,
Donna Karan
,
watches

DKNY watches are designed with some serious New York flavour. With a pinch of glamour, a dash of diamante and a waft of sophistication, DKNY watches are the epitome of time-telling elegance. Inspired by the beauty of the New York skyline, its architecture and the innate NY sense of style, DKNY watches are injected with a distinct beauty. Worn by the likes of Paris Hilton and an army of fashionable women, Donna Karan's watches are the perfect wrist accessory to accompany a stylish wardrobe.
Donna Karan has been designing for over 25 years and in that time she has established herself as one of the grand dames of the industry. Her trademark jersey texture and fluid styles have allowed DKNY to stand out from the fashion crowd and she is known for putting New York on the style map. Twice a year, DKNY takes to the catwalk at New York Fashion Week and as is expected the DKNY collection is always met with rapturous applause and adulation.
Where DKNY's clothes line is often very simple and clean, their watches are rather more glitzy. Designed to appeal to very feminine women, the DKNY watch styles are largely produced in rich gold and silver colours, with lots of elegant detailing and splashes of diamante and sparkle. Perfect for socialites, party queens and fashionistas everywhere!
Tags:
DKNY
,
DKNY timepieces
,
DKNY watches
,
Donna Karan
,
New York
,
New York flavour
,
Paris Hilton
,
watches
DKNY is one of the most popular and iconic designer brands of this era as it maintains an exclusive reputation yet is designed to be worn by everyone and anyone. Many designers gear their collections towards those who are perhaps more affluent than average but DKNY products are designed to be glamorous and stylish yet practical and wearable.
DKNY (Donna Karan New York) was founded in 1984 by Donna Karan herself. Over the past 25 years, the brand has continued to grow, along with its popularity and it has achieved a solid reputation for producing one of the most impressive, sophisticated and highly trendy range of clothing and accessories, all of which represent the fast paced lifestyle of New York. DKNY is renowned for its exceptional high quality, unique and innovative designs and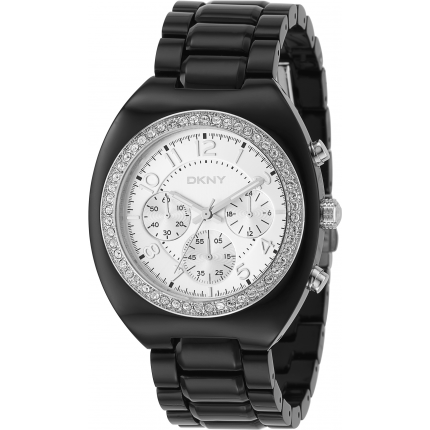 pieces that can be worn by a variety of ages and style preferences.
DKNY watches are ultimately designed to be diverse and versatile. The current collection has watches that come in a wide variety of styles, shapes, and colours thus catering to range of fashion tastes and of course, lifestyles. The watches are crafted for everything including casual wear, everyday use, elegant occasions and stylish parties. Many of the watches can also be worn to compliment an array of different looks and are suitable for all occassions.
The collection of DKNY watches include styles specifically for men and women, in addition to a great range of unisex designs. Each and every watch is made to be super stylish, versatile, functional and practical whilst depicting the energy and vibrancy of New York. Taking inspiration from classic and contemporary designs and technology, DKNY watches combine features such as ultra modern round, oversized cases with classic and elegant bracelet straps whilst also incorporating the latest in digital technology. The watches ultimately unify the old and new, which is again very representative of the modern day fast paced life of New York City that is also loved for its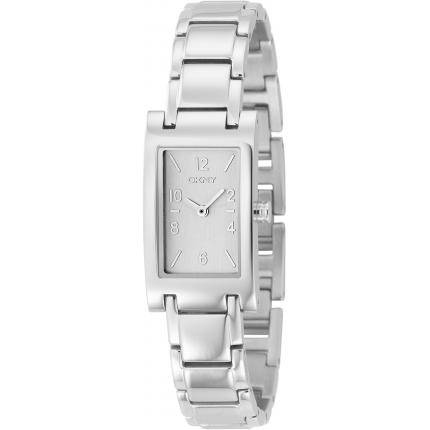 classic image. DKNY watches embrace the latest trends but instead of trends dominating the design, they are subtly incorporated with elements such as classic colour. DKNY is famous for its versatile use of black and white but some watches also include colour including vibrant purples, blues, pinks and reds to provide a modern touch.
DKNY watches are designed to meet the needs of its customers which include the young and old, all of which have different lifestyles and fashion tastes. Whether your style suits a contemporary ceramic bracelet strap watch with a hint of bling or perhaps a more delicate jewellery inspired watch, there is a range to suit and fully compliment your look. A DKNY watch is one of those ever faithful and timelessly stylish accessories that you know will add that finishing touch to whatever look and style you are going for!
Tags:
designer watches
,
DKNY
,
DKNY watches
,
Donna Karan
,
New York
,
watches
Whenever Fashion Week comes to town, DKNY is label that is always at the forefront of the catwalks and events surrounding the twice yearly iconic occasion. The brand is renowned for its exceptional pieces which are favoured by a number of A List celebrities and DKNY watches as part of the range of accessories are timeless, elegant and have an appeal whereby anyone can wear one, feel fantastic and look great according to their own unique style.
When you purchase a DKNY watch, you can be assured that you have invested in something truly dynamic, and a quality product that can last a lifetime and continue to look super stylish throughout the years. From function, aesthetic form and technology, Donna Karan has successfully fused all the vital elements to create a collection of stunning watches that are affordable and accessible. With designs incorporating wide bands to narrow bands, from stainless steel to leather, the perfect DKNY watch for every style preference can be found, allowing everyone to experience the ultimate in designer style.
Here is a rundown of some of the latest and greatest styles from the DKNY watch collection-:
NY4783-: This ladies watch features a cool and edgy black ceramic bracelet strap and a jewel embellished bezel and silver dial. This is one of the more urban style watches and the diamantes and black strap make for a complimentary contrast between glitzy and funky. This watch also features a sub dial chronograph.
NY3493-: A pretty, feminine and demure ladies watch, this style boasts a sleek and dainty slim bracelet strap with square diamante inserts. The slim rectangular silver dial is understated with minimal detailing and subtly features the DKNY logo. Perfect for eveni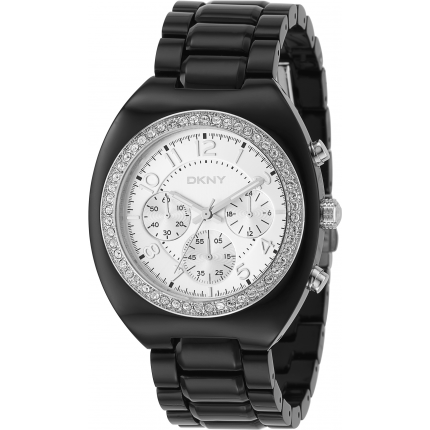 ng glamour!
NY4446-: Combining chic and sophisticated with a funky edge, this ladies watch features a silver bracelet strap with petite square diamante stones along the centre. Again, the silver dial remains understated to keep the focus on the pretty jewellery-like aesthetic of the watch.
NY4422-: Elegant dainty and with a unique design, this ladies watch has a double band twisted bracelet strap, of which the cross over sections above and below the dial are visible on the wrist. The small square dial is black.
NY3605-: Classic DKNY style, this ladies watch is incredibly versatile and will easily take you from day to night. With a silver bracelet strap with square links and a simple silver rectangular dial, this watch is feminine and sophisticated but not too over girly and great for understated glam!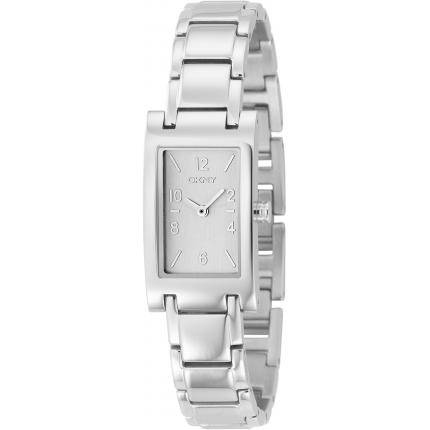 The affordability of DKNY watches is also what makes them that much more appealing as not only is it great if you are on a budget but obtaining a piece of high end fashion be it clothing or accessories can instantly lift your outfit and add that perfect finishing touch in A List style! Watches in addition to being functional are one of the most popular accessories and can create a real style statement regardless of how over or understated the design may be. The collection of DKNY watches definitely offer that exceptional sought after style and convey a true sense of exquisite high fashion. The ultimate elegant accessory that will make for a timeless style investment.
Tags:
designer watches
,
DKNY
,
DKNY watches
,
Donna Karan
,
NY3493
,
NY3605
,
NY4422
,
NY4446
,
NY4783
,
watches
Donna Karan is the founder of DKNY and starting out independently in 1989, the brand was born consisting of clothing for women. Karan wanted to create capsule or wardrobe staple pieces that every lady could wear and feel glamorous and feminine in and that could also be versatile and constantly stylish to compliment a busy lifestyle. DKNY watches are very much representative of this same theme and thus have an elegant yet edgy appeal with a timelessly classic finish that makes them highly wearable for a number of looks and occasions.
Representing New York Lifestyle-: New York is an exciting, dynamic and bustling city always on the go and that is exactly what DKNY watches aim to represent. With cutting edge designs and styles, these watches can take you from day to night in an instant and are versatile in a way that they compliment both casual and dressy outfits.
Keeping Up With Technology -: In order to maintain a raised brand profile you must move with the times and technologies without compromising your already established style that customers love. Donna Karan earlier this year launched an iphone application which allows users to access information on the brand in an instant, again reflecting the essence of New York lifestyle whereby people tend to require information on an asap basis. This brings the brand closer to the customer and a very clever way of always ensuring you are keeping up with your target audience and that they are always reminded of your presence.
Something for every Style-: Whether you're looking for a watch that is classic and timeless, classic, sophisticated, elegant, funky or bold, DKNY has a watch to suit your style preference. If you like sleek and chic stainless steel or diamante embellishments with the added glam factor, there is something for you. These watches are exceptionally renowned in the fashion industry and thus will always make a style statement, but by the same token they are durable, functional and reliable. Some key new styles to look out for include the NY4329 which with its ultra sleek soft white leather strap and multifunctional silver dial, this is definitely an elegant and feminine watch but with a hint of edginess and high trend appeal. The new NY4422 ladies watch is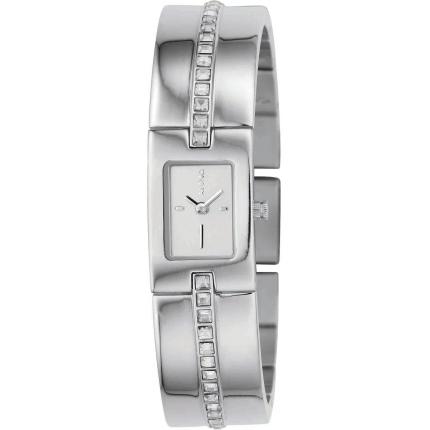 incredibly demure and dainty with a petite dial and double strand twisted bracelet strap. The new NY4446 ladies watch has the glamour appeal as well as having a funky edge with its polished stainless steel bracelet strap and a row of sunning diamante stones throughout the centre. The perfect piece to take you from day to night!
In addition to being super stylish, DKNY watches are also affordable with the designs varying between approximately £48 and £150 and are a great way of injecting a piece of the brand into your everyday style. The collection of DKNY watches are extremely diverse and there is certainly a design to compliment every style personality. These watches are built to last, are timelessly classic with that high trend edge and are designed and manufactured with their own unique appeal. DKNY watches are the perfect choice to opt for when you are seeking the ultimate best in style, durability, reliability and originality.
Tags:
DKNY
,
DKNY watches
,
Donna Karan
,
NY4329
,
NY4422
,
NY4446
,
watches
DKNY watches are one of the most fashion forward brands in the world and are designed to be versatile and highly wearable. With watches made for men and women, the brand gears its designs towards representing New York style, culture and trends and therefore DKNY watches are incredibly glamorous and able to transcend from day to night.
The face and skill behind the brand, Donna Karan strongly believes that fashion should be timeless and adaptable and therefore she makes the designs applicable for daywear, evening wear and any occasion in between. For a more casual look as opposed to glitzy glamour, the ladies NY4750 is the perfect option with a classically chic polished black slim strap and a sleek black rectangular dial. This watch will instantly polish your look and add an element of
sophistication. There is also a beautiful and feminine baby pink new version of this same watch for something a little more girly! If you are looking for a watch with a splash of colour, the NY4387 is ideal with its slim deep red leather strap and D shaped dial which adds a nice unique touch. Many DKNY watches have easy to read faces with simply designed dials and make a bold statement whilst still being practical enough to live up to the wear and tear of everyday use. The men's NY1424 for example features a chic black leather strap and large dial with easy to read yet highly sophisticated features.
If you are looking for something with a bit of sparkle, DKNY is the perfect brand for you and gets the balance just right with hints of glamour incorporated into smart and sleek designs. One watch which particularly stands out is the new NY4411 which with its diamante slash link style bracelet strap and petite dial is a stunning watch and will definitely add a pop of sparkle to your look. The new NY3493 ladies watch is very slim in style and features beautiful square diamante inserts which adds a sense of New York glamour to a classic and feminine style. In fact there are a number of strikingly elegant women's watches often made with highly polished stainless steel metal and then accented with a spot of crystal sparkle for that hint of bling that every lady loves!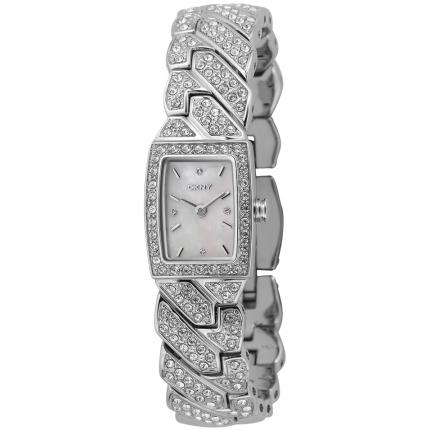 DKNY watches are definitely a great representation of sophisticated style and have that ability to make you feel instantly glamorous and chic which is also what Donna Karan aims to achieve throughout her entire collection. The brand strives to capture the essence of New York City, conveying the vibrancy and versatility of the people who live within it and the watches are designed to be mixed and matched with a variety of looks to make dressing for any occasion as easy as possible whether you are looking for bright and bold or glitzy and glamorous. DKNY watches are on the wish lists of the most style conscious individuals and will definitely see you through the forthcoming party season and beyond in true New York style.
Tags:
DKNY
,
DKNY watches
,
Donna Karan
,
N1424
,
New York
,
NY3493
,
NY4387
,
NY4411
,
NY4750
,
watches
The DKNY jewellery range captures the same essence as that of the Donna Karan clothing and accessories collection; it is reflective of the charisma, energy, architecture and culture of New York and of course, is highly stylish, trendy, funky, and can easily be transcended from day to night.
Donna Karan designs her collections to look great on women of all shapes and sizes – in fact, she will only design clothes that she herself would wear. Her Essentials range and her line of elastic bodysuits gained fast popularity and raised her profile as a credible and stylish designer. The DKNY collection now includes jewellery, watches and accessories.
When Donna Karan began designing her collection, she based the idea around the concept of a capsule wardrobe and created seven easy pieces that could be mixed and matched and worn for a variety of events and occasion – this was called the Essentials range. People liked this because it became easy for them to put outfits together and offered them a form of affordable and adaptable style that would last and look great for years. The range of DKNY jewellery is designed with the same philosophy in mind that it can be worn to compliment a variety of different looks. A DKNY ring can look equally great when worn to office as it does with a little black dress for a swanky party.
The collection of DKNY jewellery comprises of a selection of rings, necklaces, earrings and bracelets, all of which are interesting and un
ique in style and look incredibly trendy in that timeless DKNY fashion.
Here is a summary of the main features within the new DKNY jewellery collection
-          DKNY rings – bold, organic and chunky, bulky designs which also incorporate the DKNY logo. The new NJ1306 is a great example of this and also features diamante embellishments on the DKNY lettering.
-          DKNY necklaces – with designs featuring edgy and funky dog tags – the NJ1218 for example, and pendants – the stunning NJ1321 features a double strand chain with a selection of beautiful floral pendants with stones and diamantes. The new NJ1314 features a simple silver strand necklace and the DKNY lettering as separate pendants.
-          DKNY earrings – with funky drop style features such as the NJ1356. This pair incorporates diamante studded open circles in various sizes as well as smaller ball style pearls. Incredibly striking and elegant
-          DKNY bracelets – Cuff style bangles are a key trend and the NJ1315 bracelet with its wide aesthetic and prominent DKNY lettering logo is a fantastic statement piece. For something slightly delicate the NJ1056 bracelet with interlinking slim bangles and small charm attachment is dainty and incredibly feminine. Charms are also very fashionable and the new NJ1161 bracelet with its heavy looking chain and charms such as a heart shaped key makes for the perfect balance of elegant but funky. Some of the charms featured on the DKNY bracelets even include objects such as handbags, shoes and cocktail glasses – very New York!
The range of DKNY jewellery perfectly summarises what the brand represents – it is stylish, sexy, edgy, glamorous and incredibly versatile with a true flavour of New York city culture, fashion and lifestyle.
Tags:
charms
,
DKNY
,
DKNY collection
,
DKNY jeweller
,
DKNY jewellery
,
Donna Karan
,
Essentials range
,
jewellery
,
NJ1056
,
NJ1161
,
NJ1218
,
NJ1231
,
NJ1306
,
NJ1314
,
NJ1315
,
NJ1356
,
slim bangles
Aside from being one of the most fashion forward and stylish brands in the world, DKNY is also renowned and respected for how it consistently supports charitable causes. The most recent charity event of which DKNY hosted was in support of the Multiple Sclerosis (MS) Society.
This is a disease which is close to the DKNY team as the Donna Karan UK support manager Marlo Donato Parmelee is a sufferer of MS and has documented her experience in a book of memoirs which describes her life building up to the diagnosis when she was aged 32.
At the exclusive event, Marlo unveiled her book which is titled 'Awkward Bitch: My Life with MS' at the flagship DKNY store in London's Old Bond Street. The event included a champagne reception and a reading from the author who is a self confessed fashion obsessive. Ten percent of all proceeds went to the MS Society and the guests also enjoyed the opportunity to purchase some wonderful DKNY goodies including the new range of watches.
Donna Karan also r
ecently released a special Chari-Tee t-shirt which celebrated the 20th birthday of DKNY and the profits from proceeds will go to the charity Operation Smile. Since its launch in 1982, the charity has restored the smiles to 130,000 children around the world. The celebrity ambassadors of Operation Smile include singer and actress Jessica Simpson, Without a Trace star Roselyn Sanchez and supermodel Molly Sims. This very special t-shirt is a white-on-black design made and drawn on by Donna Karan herself and is sure to be reflective of the same New York style as within the other collections.
The new range of DKNY watches are stunning and incredibly fashion forward with that true DKNY style which represents the essence of New York. The new
NY4745 ladies watch incorporates a gorgeous pink leather strap with a shiny polished finish. The dial is also pink and despite its simple aesthetic, this splash of colour injects a trendy edge but retains that DKNY individuality. This style and colour can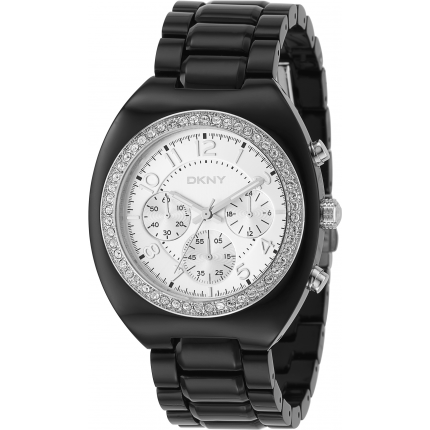 be described as super feminine and cute but there is also a purple and black version if you prefer something a little less girly! The new NY4783 is also a new addition and with a back ceramic case and bracelet strap this ladies watch is funky and trendy but the beautiful diamante embellished bezel adds some sparkle and bling! The combination of glitzy and edgy is a style trait that DKNY watches capture perfectly.
DKNY watches have everything you could desire in a watch; innovation, great style, unique design and a high quality finish. The brand is also popular not only because of the product aesthetic but because it consistently gives to good causes and aims to help those in need. Donna Karan is very much at the forefront of the DKNY charitable work as it is something that she is incredibly passionate about. Channeling her skill for fashion design in such a positive way to help others is a great example of a truly inspiring brand.
Tags:
Chari-Tee t-shirt
,
DKNY
,
DKNY watches
,
Donna Karan
,
Jessica Simpson
,
Marlo Donato Parmelee
,
Molly Sims
,
Multiple Sclerosis (MS) Society
,
NY4745
,
NY4783
,
Operation Smile
,
Roselyn Sanchez
,
watches
,
'Awkward Bitch: My Life with MS'
Older Posts »