Police was founded in the early 1980's and as the name of the brand suggests, it was inspired by the style of the eyewear as worn by the U.S Police. Police has progressed to become a hugely iconic brand, launched by the eye wear giant De Rigo and has become a worldwide fashion sensation, people loving the sophistication and effortless chic style the range of designs have to offer.
The range of Police sunglasses have a distinctively sporty edge but retain that every day sophistication, typical of Italian chic. The collections are never ostentatious, bold or too overstated but have a confident styling that keeps the designs sleek, streamlined, wearable, practical and incredibly stylish. The frames are designed to suit and flatter a wide range of face shapes and are extremely well constructed to ensure durability. The variety of frame materials and colours also mean that you can inject your own personal stamp on your look. The lenses within the Police collection tend to be more neutral and understated and thus perfectly they compliment the colour and style of the frames. This balance of edgy and classic retains the Police sophistication and wearability.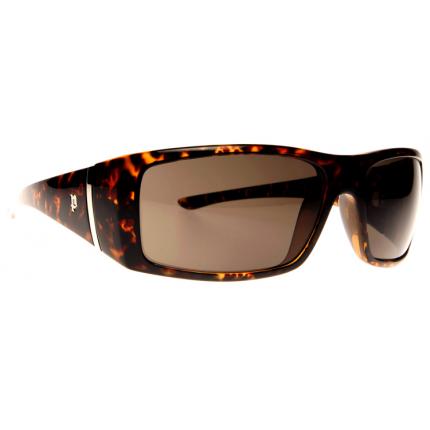 Most of the Police sunglasses designs are unisex and look equally great on and men and women. Police was originally geared towards men however and thus designed their range of sunglasses according to the male facial structure. Appreciating that male and female style has become more entwined over recent years, especially with accessories, Police have adpated the styles accordingly and are now worn by many women who favour that edgy yet sophisticated Police attitude that the brand is synonymous with. The sunglasses ultimately look masculine on men and funky yet chic on the girls.
The Police collection is incredibly stylish – here are a few styles to look out for this season-:
- S1594 – A classic wrap around style, these Police sunglasses have thick tortoiseshell frames and dark brown lenses with the 'P' Police logo on the arms. These sunglasses are are versatile and the dark brown tone adds something a little unique and different.
- S8296 – A super chic
and streamlined pair of Police sunglasses, the sleek chrome frame and arms add a sophisticated edge to a sporty style. Perfect for that on-the-go Police attitude!
- S8182 – A retro inspired pair of Police sunglasses with a contemporary edge, this style is incredibly classic with oval shaped lenses and chic chrome wire frames. The slightly mirrored lenses add a modern edge. These shades are great for all occasions.
- S8194 – Typically Police! These dark and sporty but chic shield wrap around Police sunglasses convey attitude, confidence and charisma. The black frames and lenses also add a sense of mystery!
Police is very much associated with men such as David Beckham, George Clooney and Antonio Banderas, all of whom are regarded as handsome, charismatic, charming and talented. All of these iconic individuals have been ambassadors
of Police and featured in the brand's advertising campaigns. Of course, we can't all look like the actors, sportsman and models featured in slick advertising campaigns but this certainly helps to create a sense of what the brand is all about and the image it portrays. The range of Police sunglasses due to their minimal and simplistic yet effective design features, look fantastic on most people and allow that effortlessly stylish attitude to be achieved by each individual in true Italian style. Police is ultimately a highly regarded, super sophisticated and respected brand and a pair of Police sunglasses will always remain a strong recommendation by the style experts, making for a long lasting investment.
Tags:
Antonio Banderas
,
David Beckham
,
De Rigo
,
George Clooney
,
Police
,
Police sunglasses
,
S1594
,
S8182
,
S8194
,
S8296
,
sunglasses
Older Posts »