New season, new Oakley Sunglasses. With the arrival of the Spring/Summer months, Oakley have released a new selection of sunglasses certain to sky rocket into the limelight. The Oakley Crosshair Sunglasses is one such model. The classic teardrop lens shape is facelifted, Oakley style with ultra-lightweight titanium in an iconic style that takes you anywhere with comfort and simplicity, whether you're going for a refined look or a laid back approach. As standard, Oakley sunglasses have HDO (High Definition Optics) lenses, which ensure that no light is refracted through the lenses. The Crosshairs also lend themselves well to an active lifestyle with Oakley's special rubber compound, Unobtanium, for ear socks. This means that the more you sweat, the more they stick to your head.
Now, if you like your sunglasses a little more unique, it might be time to look over the new Oakley Crankcase Sunglasses. The original Oakley sculpture with cutaways give you a look you can call your own, this clean design of subtly squared lenses and wide arms carve a new category to go with any lifestyle. Made from Oakley's patented OMatter frame material, the Crankcases are super light-weight making this unique statement a comfortable one too.
Over the years Oakley have been blending style with performance in such a way that has attracted people from across the world to use their sunglasses and this season is no different; especially in the ladie's range. The full ladies range come with a Women's Eyewear case as standard, so you won't have to worry about them tumbling around in your bag! The brand new Oakley Daisy Chain Sunglasses have brought with them the classic Aviator style with the combined knowledge of over 600 patents and over 37 years experience. One of the main complaints with the Aviator style is that the peripheral vision is not wide enough, which is why Oakley have optimized their lenses with a '6 base lens curvature', meaning that you do not get sunlight hitting your eyes! An invaluable asset whilst driving. However, probably the best thing about the Daisy Chain is the patented hydrophilic Unobtainium nosepads. Not only do they ensure a snug fit, they keep your glasses from grabbing your hair or clothing.
Another fantastic addition to the Oakley range this Summer is the very fashionable new Oakley Sweet Spot Sunglasses. Beautifully balanced design and a universally loved look make these Oakleys really hit the spot! The large, round lenses are very flattering and offer great protection from the sun. Feminine yet strong, Oakley Sweet Spot seems to tick all of the boxes. With sunglasses such as these, people tend to think that they just won't fit, however this is something you don't have to worry about with Oakley. The patented Three Point Fit technology means that they will only contact your head in three places; above your ears and on your nose. Meaning that they will fit pretty much any head size or shape!
All in all it seems pretty hard to think of a reason why you wouldn't go for Oakleys this summer. Whether you are going to lie on a beach somewhere, hurtle down a ski slope, or stay right here in blighty, Oakley sunglasses seem to get everything just right.
Tags:
Crankcase
,
Crosshair
,
Daisy Chain
,
HIgh Definition Optics (HDO)
,
hydrophilic nosepads
,
O Matter
,
Oakley
,
Oakley Crankcase Sunglasses
,
Oakley Crosshair sunglasses
,
Oakley Daisy Chain sunglasses
,
Oakley sunglasses
,
Oakley Sweet Spot sunglasses
,
sunglasses
,
Sweet Spot
,
Three-Point Fit
,
Unobtainium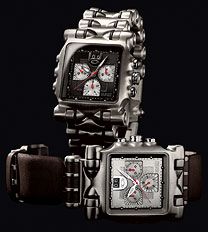 The Oakley brand is renowned and respected for its originality and innovation. Designing a range of sunglasses, goggles, clothing, accessories and most recently watches, Oakley produces each and every product using only the best materials, the highest quality and most advanced technologies and the collection of watches will never fail to impress.
People admire and respect the Oakley brand as it represents a sense of authenticity and thus has become quite an icon on a worldwide scale. The collection of Oakley watches incorporate the art of Swiss watch making and constantly challenge current design barriers and technologies. Oakley likes to present to its customers quite the unexpected and has the ability to transform standard materials into works of refined art and technology.
Here is a selection of Oakley watches to look out for-:
Crankcase-: A heavy duty looking watch with a bulky aesthetic, the Oakley Crankcase is designed for a lifestyle with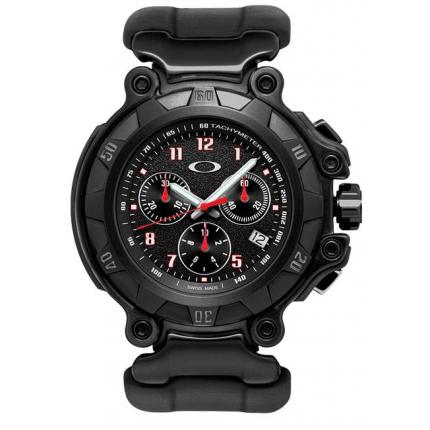 on-the-go purpose and attitude and the Swiss Made chronograph allows incredibly precise time keeping with the sub dials ensuring that each part of a second can also be measured accordingly. This chronograph comes with the precision of 13-jewel Swiss Movement and also has water resistance up to 100 meters beneath the surface. This watch is ultimately designed to be incredibly robust and durable and has quite the fierce aesthetic!
Judge II-: This is an improved version of the original Oakley Judge and this latest edition blends the precision of the finest Swiss Movement with the refinement of a new dial face. With links that are made from a combination of surgical grade stainless steel with a filled backing of Unobtainium which means that despite its heavy aesthetic, the watch is actually very lightweight on the wrist.  The Judge II also includes includes a sub dial for logging minutes and hours, plus a sweeping second hand that accelerates to the current moment when pause is released. An incredibly slick and sleek watch that has that refined Oakley sophistication.
Blade II-: This is definitely quite a unique and special watch by the Oakley brand and is made from a fusion of stainless steel combined with pure Unobtainium which is a material unique to Oakley. This watch is designed to fit a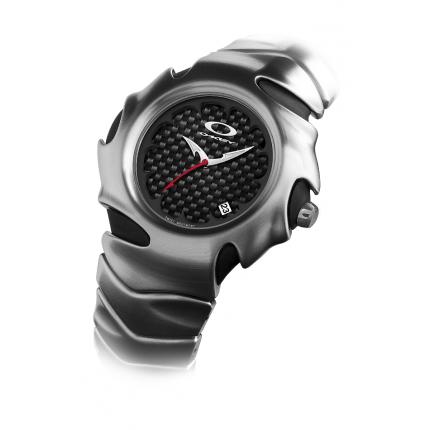 variety of wrist sizes and also has a 74-month battery which of course provides durability and longevity. The time can be measured to precise levels with the use of five-jewel Swiss Movement and sapphire crystal is also incorporated within the analogue display. Sleek, refined and highly innovative in true Oakley style.
Oakley likes to better and improve upon previous products, which is why you often find upgraded versions such as the Judge II and the Blade II. This is an example of how the brand is always sourcing new and better materials and technologies and whatever Oakley product you purchase including the range of watches you can be sure that you are investing in only the best. With incredible looks that have an intense attitude, an Oakley watch is designed to endure the entire distance and is guranteed to always come out on top!
Tags:
Blade II
,
Crankcase
,
Judge II
,
Oakley
,
Oakley watches
,
sapphire crystal
,
Swiss Movement
,
Unobtainium
,
watches