If you like your style to be colourful, vibrant, unique and stylish then LTD Watches are the perfect option to compliment your look for summer 2010! LTD Watches is the brand that literally burst onto the fashion scene in 2009 and is already a favourite among numerous celebs including Calvin Harris, Jordan Thomas, The Saturdays and Dizzee Rascal.
Each LTD watch is strictly limited to just 150 models which is partly why the brand is so popular and sought after (despite the accessible price tags!). But you have to be quick – once they're gone, they're gone which is why we're here to let you know about the hot new styles just in and allow you to get your hands on them asap ready for summer!
LTD Watches have become renowned for producing highly fresh, modern and colourful watches that are always one step ahead of the trend game and boasting simple designs enhanced with unique aesthetic and functional twists meaning that there is a style and colour that you are sure to love!
A new style that we have our eye on at the moment is the new Maximo LTD Watch in black. With its smooth PU black rubber strap and bold black dial with white and silver markers and accents, what is particularly striking is the off-set crown which is positi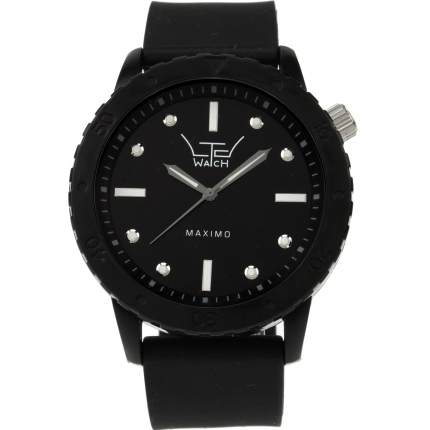 oned slightly higher up (at the 10 minute level) and the unidirectional rotatable bezel which is a feature often found on diving watches and allows you to measure a specific period of time. If black isn't your thing and you prefer a more colour inspired version there are also other vibrant colours in the offering including hot pink, purple, yellow, white and this season's trend inspired pastel grey. For a watch of this unique style and function the £65 price tag allows you to really express your personal style (that won't be seen on 100's of other people!) at an affordable price. Who said exclusive meant expensive?!
LTD Watches are highly robust, durable and are able to endure the wear and tear of everyday activity which means you are also investing in a high quality watch that serves great function.
The new Maximo style mentioned above is available for delivery from mid-May so if you want to be alerted of its arrival by email make sure you enter your email address by clicking on the product status 'Tell me when this arrives'. Remember, they're strictly limited so be sure to be quick as this style is one of the hot faves for summer!
Tags:
Clavin Harris
,
colourful watches
,
Dizzee Rascal
,
limited watch
,
Limited watches
,
LTD watches
,
Maximo LTD Watch
,
The Saturdays
,
watches