If you're hunting out a truly fabulous pair of sunglasses, it's always worth investing a little more if you want to combine superb quality with flawless style. Gucci sunglasses are a perfect example of this – the brand is one of the most luxurious and renowned in the world and aside from its products boasting alluringly exquisite aesthetics, the materials used and overall quality are outstanding. Plus, as one of the most iconic designer labels out there, a piece by Gucci is a welcome addition to any fashionista's wardrobe!
There is an incredibly wide selection of beautiful new Gucci sunglasses just added to the collection and these are the perfect way to infuse a luxe and elegant edge to your cosy winter look.  Ranging from glamorously oversized, to sleek aviators and more sporty-esque visor styles, there is something to appeal to every fashion-loving individual.
One of the new styles that we definitely have our eye on are the new GG3180 Gucci sunglasses for ladies. This design is oversized but has a more square shaped frame that is wider at the exterior edges and rounded at the interior frame section, which injects a completely unique and distinctive finish to the overall shape. The hinge incorporates a luxurious gold toned hinge and this is a style that is ultra versatile and really adds a striking and high-fashion edge to your look.
A further new Gucci style that looks equally chic on both men and women are the GG2888 sunglasses. A modern design, these sunglasses are oversized with a sleek gold frame and rounded lenses. These sunglasses are simple and minimal but have that exquisite Gucci finish meaning that they are timelessly stylish and will add impact to any outfit.
For a more classically oversized look, the new GG3167 Gucci sunglasses for ladies are the perfect choice. Featuring a more
square shaped frame, these sunglasses also boast a brown and bronze tortoiseshell finish complimented by a gold embellished hinge. The ultimate in Gucci elegance!
Of course, these are just three examples of the new styles and we have added a number of new designs to the collection, so make sure you take a look at the entire range. A favourite with nearly every A list celebrity and style icon, a pair of Gucci sunglasses are a worthy investment that will never fail to look chic, sophisticated and at the height of style for years to come.
Tags:
Catherine Zeta Jones
,
GG2888 sunglasses
,
GG3167 Gucci sunglasses
,
GG3180 Gucci sunglasses
,
Gucci sunglasses
,
sunglasses
The BCBG Max Azria brand is creating quite a buzz on the style scene! BCBG stands for 'bon chic, bon genre', which in English means 'good style, good attitude' and perfectly embodies what the brand represents – a fusion of European sophistication and American spirit.
It's no wonder therefore that BGBG Max Azria is a hot favourite show at the Fashion Weeks and loved by the likes of super glamorous stars including Angelina Jolie, Miley Cyrus, Sharon Stone, Victoria Beckham, Beyonce, and Catherine Zeta-Jones. All of these celebrities and many more are often seen at the most high-profile red carpet events adorned in BCBG Max Azria clothing and accessories.
Alas, whilst m
any of us are probably not able to dress in BCBG Max Azria threads, we can now taste a piece of the couture in the form of the designer's recently launched super elegant, glam, unique and sophisticated watch collection which is designed specifically for women and encompasses every element of how a lady likes to feel – beautiful, chic and striking!
If you regard yourself as a fashionista who instantly recognises a fabulous product, we're sure the BCBG Max Azria watches will have already caught your eye. With the watch collection comprising of designs that can be worn for everyday purposes through to ultra special evening watches where you need to make a style impression, the range is feminine, exquisite and fun to wear!
We have a new BCBG Max Azria style new in at Shade Station to introduce to you in the form of the new Florence watch which with its textured leather strap and bold round dial surrounded by a bezel with a series of cut out sections, this design is minim
al yet unique and statement and depicts the essence of star quality. The Florence colour options available are white and rose gold, white and gold and black and silver.
From the exquisite and demure Royale BCBG Max Azria watch to the fun, vibrant and colour popping Elite Sport watches, you will certainly find something that will appeal to your style preference and add that element of celebrity inspired glamour to every look. Best of all, the watches are accessible from a price perspective meaning that now you can experience a piece of the BCBG Max Azria watches action!
Tags:
Angelina Jolie
,
BCBG Max Azria
,
BCBG Max Azria watches
,
BCBG Watches
,
Beyonce
,
Catherine Zeta Jones
,
Elite Sport watches
,
Florence
,
Miley Cyrus
,
Royale
,
Sharon Stone
,
Victoria Beckham
,
watches
Earlier this year, the fashion world came to a stand still after learning the sad news that Alexander McQueen, (or Lee McQueen as he was known by his friends and family) sadly passed away in his London home. Alexander McQueen is one of the most iconic designers of our time and his contribution to the fashion industry was extraordinary.
Whilst the world of fashion has suffered a great loss, Alexander McQueen's collections are still incredibly prominent and the streets (especially in London) can be seen adorned with style icons and fashionistas rocking his trademark skull print scarves, jewellery, clothing and sunglasses. We are extremely excited to announce that the Alexander McQueen sunglasses collection has arrived at Shade Station and is the perfect expression of the designer's amazing talent for sharp style and his sense of imagination.
McQueen was always regarded as an elaborate expressionist and combined the use of unusual materials and fine craftsmanship to create his iconic pieces. The collection of Alexander McQueen sunglasses are definitely reflective of this with
each pair also featuring the iconic skull emblem either on the temple or positioned on the arm. Alexander McQueen sunglasses are luxuriously distinctive; fusing bold, exquisite colours and textures and designed in statement and ultra glamorous oversized shapes with fine attention to detail including elaborately finished and uniquely shaped arms and thick frames. Sleek oversized aviators and butterfly inspired shapes are also aesthetic themes that we see within the range and depict McQueen's flair for statement style entwined with his love of elegant, romantic twists.
Alexander McQueen sunglasses are a huge hit among a number of style icons and celebrities. Catherine Zeta Jones has been spotted wearing a pair whilst Jessica Simpson and Heidi Klum are also fans. Cheryl Cole also sported a pair from the collection when filming the recent X Factor auditions.
If you are looking to make a bold style statement this season, then a pair of 
Alexander McQueen sunglasses will do the job perfectly. A fine expression of the designer's personality and extraordinary talent, each and every pair is unique and dynamic in variety, colour, depth and style.
Tags:
Alexander McQueen
,
Alexander McQueen Sunglasses
,
Catherine Zeta Jones
,
Cheryl Cole
,
Heidi Klum
,
Jessica Simpson
,
Lee McQueen
,
sunglasses
,
X Factor
Yum… The new range of Gucci sunglasses at Shade Station are enough to make you wish you had access to SJPs bank account for a few hours (not that we don't always!). Super sophisticated, on trend and fabulously oversized, Gucci sunglasses are the shade du jour of all the off-duty British girls in Hollywood. Two such stars are Kate Beckinsale and Catherine Zeta Jones who both regularly indulge in a little Gucci action, wearing styles 2985S and GG2995 respectively.
Gucci sunglasses frequently feature on the silver screen too… this years best actress Oscar winner Sandra Bullock, wore Gucci sunglasses style 3034 in the smash hit film The Blind Side and they're also the choice for leading men like Tom Cruise and George Clooney.
Gucci is never far from the showbiz news… a recent collaboration with music producer Mark Ronson, has led to the development of a pop-up Trainer Store, Gucci Icon-Temporary, for which Ronson has designed a limited edition collection of trainers. The store, in Covent Garden, had its opening night last week and will remain in London until the end of May when it moves East to Japan.
Ladies Gucci sunglasses are famed for being glamorous, with touches of luxe. Although Gucci do dabble in aviator styles and smaller frames, it is the oversized sunglasses, which hide Hollywood peepers, that have proven most popular. Largely in black, brown and tortoiseshell Gucci sunglasses tend to have detailing on the arms, that make them stand-out from other luxury sunglasses brands… and they always have the famous interlocking double G's which identify the Gucci label.
Tags:
Catherine Zeta Jones
,
George Clooney
,
gucci
,
Gucci sunglasses
,
Kate Beckinsale
,
Ladies Gucci sunglasses
,
Mark Ronson
,
sunglasses
,
Tom Cruise
Michael Kors always maintained a strong passion for fashion and began designing clothes at the age of 19 whilst studying fashion design at the Fashion Institute of Technology in New York. In 1981, Kors launched his very first Michael Kors womenswear line at Bloomingdales and Saks Fifth Avenue among a number of other stores and the collection was so progressively popular that Kors was named the first ever women's ready-to-wear designer and in 1997 went on to became the Creative Director for the French fashion house Celine. Here, Kors proved his credibility as a designer and as an industry business professional who just seemed to have that natural strong instinct regarding what consumers wanted. Kors left Celine in October 2003 to concentrate on his own brand and launched his very first menswear line in 2002 and then proceeded to launch the Michael Kors runway collection, the MICHAEL Michael Kors and KORS Michael Kors lines in 2004. The MICHAEL line has a more casual yet wonderfully elegant approach to style and includes women's handbags, shoes and accessories.
Numerous celebrities favour the exquisite Michael Kors style, these including Hollywood stars such as Jennifer Lopez, Heidi Klum, Catherine Zeta-Jones and Jennifer Garner who wore a stunning Kors custom dress when presenting the Academy Awards in 2006. Many Kors dresses and garments have been featured in iconic films, such as Bandits whereby Cate Blanchett's character wore a Michael Kors piece. Most recently the super stylish Michelle Obama wore a Michael Kors black
shift dress in the first official photographs taken after her husband was elected the new US President. The stars love the sophisticated yet simple glamour conveyed in Michael Kors attire and the brand has that element of luxury with a laid back, comfortable feel.
Watches are an incredibly strong part of the Michael Kors accessory collection and like the remainder of the products within the brand, are reflective of an exquisite sense of style, immense quality and fine craftsmanship. Michael Kors watches depict the essence of decadence and luxury and comprise of some fantastic on trend watches with key fashion features for this season as well as some more classic and elegant styles.
A style which is new for the forthcoming season is the Michael Kors MK5198 watch which has a funky stainless steel multi panelled bra
celet strap and a baby pink face. Delicate but edgy this ladies watch is perfect for a younger brand fan and is highly on trend but retains that Michael Kors refined sophistication. This design is also available with a pink polycarbonate strap for the ultimate girly accessory. The new MK2165 ladies watch also captures the leather strap watch trend with two bolts either side of the dial for a touch of a harder edginess. There is also a cute charm feature attached to the watch with the MK lettering logo which again, adds a high trend feminine element to the whole design. The MK2153 watch captures the chunky layered watch trend with a wide cuff style leather strap with layered buckle detailing. The elegance is maintained in the petite and minimal dial and this is an incredibly visually striking watch, still with that element of Michael Kors luxury. Other Michael Kors watches include distinctive features such as tortoiseshell bands – the MK4046 is a great example of this. Other defining features include shell fi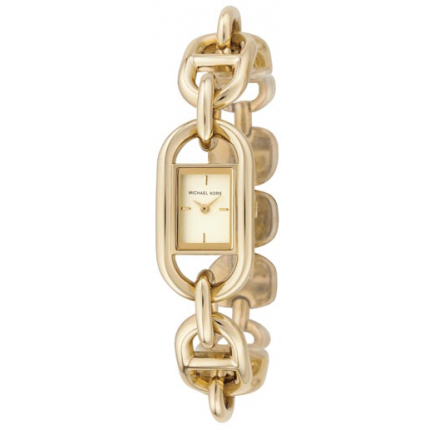 nish style patterns, super feminine chain bracelet styles and the incorporation of warm autumnal colours including fawns, browns and creams. These neutral soft colours enables the watches to suit a variety of skin tones, particularly if you are pale skinned and therefore find that some watches may look too harsh for your colouring. Michael Kors watches have achieved the perfect balance by remaining classic yet incorporating strong hints of current trends.
As a designer and business man, Michael Kors understands that to run a successful label with longevity, you have to maintain a unique brand style but inject contemporary edges to keep up with current trends. Celebrities adore the refined style of Michael Kors clothing and accessories and whilst his garments are perhaps a little out of reach for the average lady on the price scale, a Michael Kors watch will allow you to feel that sense of designer luxury in true A List style.
Tags:
Bandits
,
Bloomingdales
,
Cate Blanchett
,
Catherine Zeta Jones
,
Celine
,
Fashion Institute of Technology
,
Heidi Klum
,
Jennifer Garner
,
Jennifer Lopez
,
Michael Kors
,
Michael Kors collection
,
Michael Kors MK5198 watch
,
Michael Kors watches
,
Michelle Obama
,
MK2153 watch
,
MK2165 ladies watch
,
MK4046
,
Saks Fifth Avenue
,
watches
Michael Kors watches are incredibly refined, distinctive and offer a beautiful range for ladies. What makes the brand so exquisite is the ability to make the manufacturing of the timepieces as discreet as possible, meaning that the watches are fantastically crafted and look aesthetically stunning. The watches are styled in such as way that they are elegant, sophisticated and classy, as great emphasis and care has been placed on the construction.
The range offers some fantastic tortoiseshell styles which add a bit of spark to the collection and something that many other designer brands do not seem to focus on. Tortoiseshell is great for jazzing up a plainer outfit such as a work suit and injects a bit of individuality. There is also a beautiful and delicate bracelet style watch in the collection which is wonderfully feminine. The watches are coloured in creamy and brown tones meaning they are versatile yet very unique.
Michael Kors watches a favoured by some of the most elegant celebrities in the business;
Jennifer Lopez, Catherine Zeta Jones, Gwyneth Paltrow and Sigourney Weaver are all fans of the timepieces. These ladies are the perfect example of the type of female the watches are geared towards – classic, distinctive and confident in their own style.
Click here to visit our Michael Kors Watches section
Tags:
Catherine Zeta Jones
,
gwyneth paltrow
,
Jennifer Lopez
,
Michael Kors watches
,
Sigourney Weaver
,
tortoiseshell style