The Carrera brand though noted for its funky and highly trendy style, was founded in 1956 and the company produces a range of sports eyewear including ski helmets, goggles and sunglasses. The Carrera name was inspired by the 'Carrera Panamerica' which is a car race that covers the whole of Mexico. The spirit of Carrera is very much of the philosophy that its wearers have a huge passion and enthusiasm for sports and maintain the desire to be the best.
Carrera sunglasses are definitely one of the most fashion-forward of all of the sunglasses brands, especially those within the sports/fashion sector. The sunglasses are retro in style with funky and contemporary edges and are worn by a number of celebrities including Paris Hilton and Kanye West.
Carrera has very recently announced that one of the new frames within its collection, the Panamerika 1 design will be included in 12-time Grammy-winning singer/songwriter and producer Alicia Keys' new music video. The song from her new album 'The Element of Freedom' is called 'Try Sleeping With A Broken Heart',  which is being released on December 15th. The theme of the video shows Keys as a superhero, sporting the
Panamerika 1 Carrera shades.
These particular sunglasses are incredibly retro in style with a distinct 80's aesthetic and are part of Carrera's recently relaunched vintage collection and look spectacular in the new video. Another video in which you may recognise the Carrera brand is in Lady Gaga's new track Bad Romance. We see the pop diva rocking the super stylish Champion Carrera sunglasses which fit perfectly into the abstract and surreal nature of the video which sees Lady Gaga performing within a somewhat controversial and risqué setting.
The Champion Carrera sunglasses are a further highly stylish part of the collection and are again, retro in style and reminiscent of an oversized aviator. The white versions are incredibly cool and also feature the trademark Carrera red line across the top section of the frame. The Carrera brand is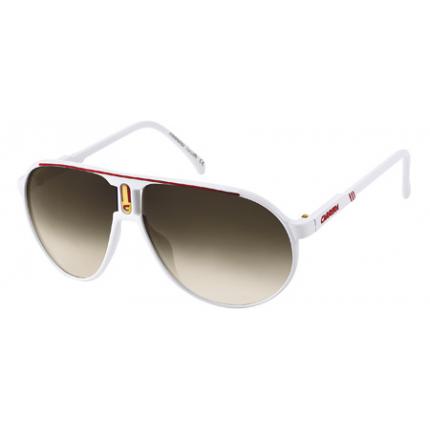 always successful in maintaining the core retro style but adding injections of contemporary elements such as bold and fresh colour. The fact that it is the chosen brand to be featured in high profile music videos by iconic artists is testament to how popular and fashion forward Carrera is regarded.
There are some hot new styles to look out for this season which include some classic aviator styles with vibrant lens and frame colours such as the Gypsy in addition to some striking sporty styles with that high trend edge such as the Jocker/T sunglasses in hot pink. Carrera sunglasses definitely make a style statement and should be worn with confidence and attitude! The brand is geared towards the theme of striving to be the best and you will definitely be the leader of the style pack whilst working a pair of these!
Tags:
'Try Sleeping With A Broken Heart'
,
Alicia Keys
,
Bad Romance
,
Carrera
,
Carrera Panamerica
,
Carrera sunglasses
,
Gypsy
,
Jocker/T
,
Lady GaGa
,
Panamerika 1
,
sunglasses
,
The Element of Freedom