The iconic Police brand was launched in Italy in 1983 and has fast become an incredibly popular brand name across the world. Throughout the stages of the extensive brand timeline, as the popularity of Police has grown, it has launched further products accordingly and Police is now famous for its stylish and sophisticated range of sunglasses, fragrances, clothing, watches and accessories. Police was one of the first brands to make sunglasses a fashion statement, particularly during the 1980's and it was their range of sunglasses that really put the brand on the map. Police watches were launched in 2003 and were representative of that same unique and innovative design geared towards individuals with a strong sense of their own style and didn't conform to fashion and trends simply because something happens to be in fashion.
Police is synonymous with a confident and charismatic personality and has chosen a range of iconic actors, personalities and sportsman as representatives and ambassadors of the Police brand, all of whom have been photographed in stunning advertising campaigns wearing Police products. Between 1999 and 2000, Paolo Maldini, Bruce Willis, George Clooney and Antonio Banderas all lent their faces to Police. In recent years, David Beckham has been the male icon associated with Police. All of these men are recognised on a worldwide level and truly convey what the brand repres
ents. They also of course portray a glamorous and masculine image and the pictures of George Clooney were primarily designed to capture the hearts of female fans and really brought his own individual style to the Police brand. Police has also recently announced that it will be sponsoring Italian 21 year old Formula 2 driver Edoardo Piscopo who is tipped to be a rising star in the motor racing industry and again, renowned for his handsome good looks.
Earlier this year, Police decided to become even closer to the consumer by launching a competition entitled ' BE YOUNIQUE' whereby they were seeking a fresh new face to step into the shoes of the renowned past ambassadors and become the new face of Police. Wanting to find someone unique and unknown was the key as the brand wanted to transform young and 'normal' men and women with regular occupations and transform them into the new face of Police which the avera
ge public can identify with. That said, the brand of course was looking for someone very special who could successfully portray the desired image. The competition was hugely popular and the winner was announced earlier this month and Andrea Garbolino from Settimo Torinese will now be the new face of Police. Garbolino was chosen for his metropolitan style and vibrant personality which is incredibly typical of the Police brand. He will take part in a photo shoot in October which is set to launch as part of the brand's 2010 international campaign.
Police watches are designed for men and women who favour a sleek and sophisticated style that comes from within their personality as opposed to simply what they wear. Police believes that your clothing and accessories should enhance your character and style and not define it. If you wear a Police watch, you are confident with your own dynamic style and your unique accessories reflect this. Many Police watches have a chunky aesthetic and feature stainless steel bands and striking dials with dual functions. Some also have black leather straps or black coated stainless steel which makes for an urban on-the-go look that easily takes you from day to night. Police wearers are seen to be always on the go the range of watches are casual enough for daywear yet would still spruce up an evening outfit. Italian style is very adaptable and the design of Police watches is very much of the same tone.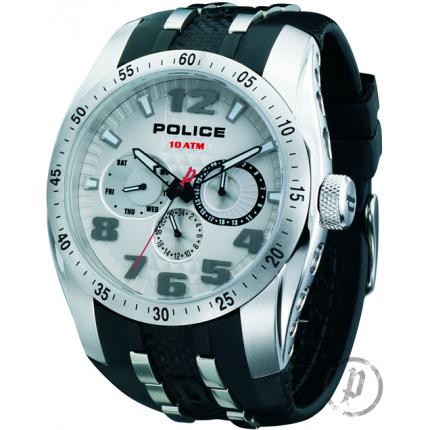 Some new Police watch styles to look out for include the Ambassador which is a classic and sophisticated men's watch with a typical Police polished appeal and great for day-to-night. With a slim multi-strand strap and sleek black face, this watch has a timeless appeal and adds an element of class to your look. For something a little bolder, the Kerosine has a carbon coated black finish and a striking large electro plated dial which is the predominant feature and makes for the perfect statement watch. The Vantage Police watch is a unisex style and captures the chunky watch trend with a white finish and bold yet simply styled dial.
There is a fantastic selection of new Police watch styles to choose from, some more understated than others but all retaining that essence of unrivalled class, style and sophistication that is unique to the Police brand.
Tags:
Ambassador
,
Andrea Garbolino
,
Antonio Banderas
,
BE YOUNIQUE
,
Bruce Willis
,
David Beckham
,
Edoardo Piscopo
,
George Clooney
,
Kerosine
,
Paolo Maldini
,
Police
,
Police watches
,
Vantage
,
watches