Police Sunglasses like to push the boundaries at all times and their brand new Police S8784 Sunglasses are a fantastic example of this! In the classic Aviator frame shape, these are sure to be popular with an awful lot of people and Police's unique use of materials and colours allows them to stand out from the crowd of similar frames. The Police S8784 Sunglasses juxtapose Leather with Metal Alloy which adds a whole new dimension to them and the tapered arms mean that they will fit the vast majority of head sizes and shapes. Police have incorporated striking temple designs into the arms with the cut out 'P' logo being etched out of solid metal; something that has never really been done on an Aviator Sunglass before.
Despite having thicker than normal frames, they are super lightweight and can be worn all day with ease and their UV protective lenses have great optical clarity to avoid any of those annoying sunglass headaches you can get with cheaper brands. Cushioned nosepieces are the perfect way to complete this frame and this means that they will never dig in even with prolonged use! They are available in two colours (pictured above) and will be due into us very shortly.
Make sure to find us on Facebook, Twitter, Google+ and Instagram for daily updates, news and views from the fashion world!
________________________________________________________________________________________________________
Tags:
aviator
,
Police
,
Police S8784 Sunglasses
,
Police sunglasses
,
Shade Station
,
sunglasses
For decades the classic 'Teardrop' or 'Aviator' style sunglasses have dominated the fashion and eyewear world with celebrities, film stars, fashionistas and the public alike all adorning these flattering and inherently alluring frames. Many brands have got in on the act including Dior Sunglasses, Gucci Sunglasses, Oliver Peoples Sunglasses, Police Sunglasses, Polo by Ralph Lauren Sunglasses, Tom Ford Sunglasses and of course the brand that started the craze; Ray Ban Sunglasses. The original Ray Ban RB3025 Aviator Sunglasses have featured in a vast array of films, TV shows and on the faces of some of the world's most loved celebrities with the most famous appearance being made in Top Gun back in 1986. Everything about the Aviator style made them bound for success; the teardrop effect lens accentuates the natural lines on your face and will therefore suit the vast majority of people whatever their head size or shape. In this blog post we are going to explore some of the most popular Aviator models and run through exactly what makes each one so incredibly popular.
Ray Ban RB3025 - These are the grand-daddy of retro styling and stone cold cool eyewear. Back in the early 80s, sunglasses were primarily made from thick plastic which looked fantastic but were sometimes a little bit laborious if you wanted to wear them all day…enter the Aviator. Made from thin metal alloy, the frames sat comfortably on your face and never dug in thanks to their cushioned nose pads and unique shape; something that we had never seen before! Nowadays, the Ray Ban Aviator Sunglasses still turn heads and look just as iconic as their 20th century ancestors.
Dior Piccadilly 2 - Dior are one of the world leaders in fashion with their designs considered to be trend-setting and their eyewear second to none. The Dior Piccadilly 2 Aviator Sunglasses use both acetate and metal alloy to amazing effect and add a touch of dimension to the already stunning design.
Gucci GG4225/S - When you hear the name Gucci you are instantly transported to images of the truly rich living in true luxury, however their sunglasses are far from inaccessible. The Gucci GG4225/S Aviator Sunglasses not only utilise the teardrop lenses and thin frames, but further improve the design by adding a feminine weave effect on the arms!
Oliver Peoples Benedict - Born on the iconic Sunset Blvd Strip in Hollywood, Oliver Peoples has expanded its horizons massively from the small boutique they had back in 1986. The Oliver Peoples Benedict Sunglasses have slightly narrower lenses to the standard Aviator style meaning that they have a more 'wrap-around' appearance.
Police S8299 - Police were one of the founders of vivid and colourful designer eyewear and their brand new Aviator style S8299 Sunglasses juxtapose their rich history with modern innovation. With a slightly thicker frame and extended top bar, they are a breath of fresh air in the Aviator world!
Polo by Ralph Lauren PH3056 - Part of globally renowned fashion house, Ralph Lauren, Polo has started to become a fashion stalwart of its own and the PH3056 Aviator Sunglasses prove this perfectly. Polo's instantly recognisable logo is perched proudly on the thick arms as a sign of quality and their continued fervour for fashion excellence.
Tom Ford Cole - Tom Ford Sunglasses are so 'on trend' at the moment, it is difficult to keep their sunglasses in stock long enough to see the new styles! Luckily, however, we have seen the Tom Ford Cole Aviator Sunglasses and they are simply stunning. Made from both acetate and metal alloy, the top bar stands out prominently for a truly head-turning look!
_______________________________________________________________________________________________________
Tags:
aviator
,
aviator sunglasses
,
Dior Piccadilly 2 Sunglasses
,
Dior sunglasses
,
Gucci GG4225/S Sunglasses
,
Gucci sunglasses
,
Oliver Peoples Benedict Sunglasses
,
Oliver Peoples Sunglasses
,
Police S8299 Sunglasses
,
Police sunglasses
,
Polo by Ralph Lauren PH3056 Sunglasses
,
Polo Ralph Lauren Sunglasses
,
Ray Ban RB3025 Sunglasses
,
Ray Ban sunglasses
,
Shade Station
,
Tom Ford Cole Sunglasses
,
Tom Ford sunglasses

Carrera was born out of a desire to create sunglasses and accessories for sports, primarily for people within motor sports, winter sports and cycling. Launched in 1956, the company name is Spanish for 'race' and pays homage to the 'Carrera Panamericana' Mexican road race of the 1950s.
Although designed for sport, Carrera have won over the fashion crowd to staggering effect. Helped by the likes of Kylie Minogue, Kanye West and David Beckham, Carrera is no longer just a company with a solid base in the sports industry, it's become a byword for cool looking sunglasses.
Worn by celebrities and hipsters alike, Carrera sunglasses  have surged in popularity in recent years. Whether it's Twilight's Taylor Lautner, wearing his Carrera 'Jocker's', Lady GaGa posing wearing 'Champion' Carrera sunglasses in her 'Bad Romance' music video or Gwen Stefani out and about in her white 'Safari' style Carrera sunglasses, Carrera has truly become a global phenomenon. The trickle down effect is evident as music festivals, gigs and hip hang-outs are awash with people sporting Carrera sunglasses.

Although the most frequently worn 'Champion' Carrera sunglasses are based on the familiar aviator design, they have a unique retro style. With over sized plastic frames, the Carrera logo on the bridge and a unisex design, these sunglasses provide the wearer with a Carrera cool look! There are many different styles of sunglasses within the Carrera portfolio and considering how popular they are, the price of a pair of shades is extraordinarily reasonable – at Shade Station you won't pay more than £72. I think you'll agree with us that it's unusual to get sunglasses with such quality, style and pedigree for such a competitive price!
Tags:
aviator
,
Carerra
,
Carrera
,
Carrera Jocker's
,
Carrera shades
,
Carrera sunglasses
,
Champion Carrera
,
Gwen Stefani
,
Lady GaGa
,
Safari style Carrera
,
sunglasses
,
Taylor Lautner
There aren't many sunglass brands that have reached iconic status, yet Ray Ban has undoubtedly achieved this well-earned title. The label has enjoyed extreme highs and lows over the past 70 years and despite the lows, Ray Ban is here to stay. Very few sunglass brands have defined generations and inspired hundreds of similar designs and imitations. Amazingly given their popularity and rich heritage of celebrity endorsement throughout the Fifties, Sixties, Eighties and Noughties, Ray Ban spent long periods of time in the wilderness until their popularity surged once again.
Ray Ban sunglasses have graced movie icons such as James Dean and Audrey Hepburn, Eighties stars John Belushi and Tom Cruise and present day hipsters like Kate Moss and Lily Allen at one time or another. Of course it's no surprise that the classic 'Wayfarer' has been worn more times by celebrity fans than any other model the label have produced. Popularised by films like 'Breakfast at Tiffanys', 'The Blues Brothers' and 'Risky Business' the 'Wayfarer' has enjoyed incredible success due to its simple design and sharp look.
The slightly nerdier looking 'Clubmaster', worn by Twilight star Robert Pattinson and the very stylish German actress Diane Kruger, has a smaller fan base but is still a classic design and affords the wearer a distinctly hip look.
The ever popular Ray Ban 'Aviator' design has been hugely imitated over the years and was Ray Ban's initial creation back in 1929. Designed with special anti-glare lenses for use by pilots in the US Air force, the 'Aviator' model is both practical and effortlessly cool. Perhaps the most versatile of all the Ray Ban designs the 'Aviator' style suits men and women of all ages and can be worn both casually or formally.
Ray Ban is not only limited to these 3 styles. The brand have produced an incredible range of sunglasses over the years and you will find many of the styles on these Shade Station pages. Without a doubt Ray Ban has earned it's icon status and we look forward to many more years of show-stopping Ray Ban designs!
Tags:
Audrey Hepburn
,
aviator
,
Blues Borthers
,
Breakfast at Tiffany's
,
Clubmaster
,
Diane Kruger
,
John Belushi
,
Kate Moss
,
Lily Allen
,
Ray Ban
,
Ray Ban sunglasses
,
Risky Business
,
Robert Pattinson
,
shades
,
sunglasses
,
sunnies
,
Tom Cruise
,
Twilight
,
Wayfarer
Ray-Ban sunglasses are one of the most timelessly stylish sunglasses in the industry and never fail to look on trend. The brand is also the choice of many celebrities and fashion icons and the various styles are consistently making appearances at summer music festivals and high profile events.
So where did Ray-Ban begin? The brand certainly has a unique history and many young people who regard Ray-Ban as contemporary and bang on trend are often unaware that the company has existed since 1936. What prompted the design of the first pair of Ray-Bans was when General John MacCready permanently damaged his eyes on a high altitude balloon flight. He realised a specific type of eyewear protection was required for flights of this nature and thus in 1929, a pair of gold-coated Aviator style of sunglasses complete with anti-glare G15 lenses were created and Bausch and Lomb won the contract to work on producing a whole collection. In 1936, the first Ray Ban plastic Aviator style was launched to the public who quickly realised the high function was complimented by style appeal. Finally in 1937 a patent for the G15 lens was issued and the brand name Ray Ban was trademarked and officially launched.
The ultimate goal of these unique large curved glasses was to protect the eyes from every angle for optimal protection from the sun. In the 1940's, Ray Ban was hired by the US Air Force to develop these glasses even further for use by air force pilots. The Aviator glasses soon became popular with the other branches of the US military as well and when General Douglas MacArthur was photographed landing on a beach in the Philippines during World War II, he was wearing a pair of Ray Bans.
It didn't take long however for the flattering style of Ray-Ban sunglasses to come to the fashion forefront and the sunglasses steadily became the hot accessory to be seen in. In 1952, the iconic Wayfarer was launched which subsequently went on to become the world's best selling type of sunglasses from any brand. Ray-Ban became the leading eyewear brand which has continued through to today.
Ray-Ban became incredibly p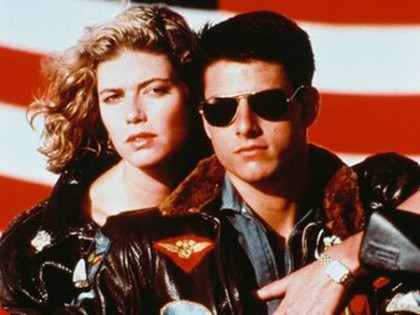 opular and being featured on the silver screen only helped to create a further buzz. Since the early 1960's, the collection has made numerous appearances in a wide selection of the world's most iconic films. In 1961 the Wayfarer was seen on the ultra glamorous Audrey Hepburn in Breakfast at Tiffany's. Other films whereby Ray-Ban's have been featured include Donny Brasco, Reservoir Dogs, Risky Business, Blues Brothers and who could forget Tom Cruise's famous Ray-Ban Aviators in Top Gun!
In addition to film, Ray Ban is also synonymous with the celebrity and fashion scene. Fans of the brand include Brad Pitt, Kate Moss, Alexa Chung, Nicole Ritchie, Sinenna Miller, Natalie Portman, Demi Moor and countless other A List stars. Where there is a great band or musician, it is also likely that there will often be a great pair of Ray-Ban's to complete
their look. Ray-Ban was particular popular at the time that Rock and Roll burst onto the scene and artists such as Madonna, Bob Dylan and David Bowie were often seen rocking out wearing their Wayfarers. More recently front men such as Brandon Flowers (The Killers), Ricky Wilson (Kaiser Chiefs) and Bobby Gillespie (Primal Scream) have been spotted out and about or on tour wearing their Ray-Bans. Effortless thrown- together style is the look that many Indie or Rock bands go for and Ray-Bans definitely compliment this depicting the essence of a cool and retro inspired trend.
Music is hugely association with the Ray-Ban brand and the recent revamped Wayfarers which have retained their original style but added a splash of vibrant colour, have been a massive focal accessory at the recent iconic music festivals such as Glastonbury and V Festival and the fact that both the audience and the artists, musicians and bands were wearing them is testament that they are accessible to everyone and actually look fantastic on both men and women and also on a variety of face shapes.
In 2008, Ray-Ban launched Ray-Ban rooms whereby the brand makes appearances at the most popular music festivals and has designated spaces or 'rooms' on site whereby they host DJ sets and performances from cutting edge new bands as well as past icons and current favourites. Within this space they also use the opportunity to showcase their new styles. At the recent the Isle of Wight festival, presenters, actors, celebrities and bands or artists including Fearne Cotton, Nick Grimshaw, Jameela Jamil, Tim Burgess, Samantha Morton, The Prodigy, McFly, The Pixies and Razorlight were just a handful of people who made an appearance at the Ray-Ban rooms which took place in various themed locations on-site. The celebs and audience were also able to sneak a peek at the new Colorize collection. By collaborating with highly popular current events, it gets the brand seen and associated with some of the coolest and highly regarded in the entertainment industry. This initiative also allows people to interact on a dedicated online site to vote their favourite Ray-Ban style and favourite bands as well as being able to try on the new styles at the locations and find out a bit more about the brand and what it represents. Ray-Ban recognises that getting closer to the consumer helps to raise their profile and understand the wants and needs of their customers to design new styles accordingly.
What is also favourable about Ray Ban is the brand's ability to consistently update their styles yet maintain that original retro appeal. The hot new styles recently launched include the Clubmaster which has been seen on numerous celebrities and incorporates a bold splash of colour to inject a contemporary edge. Featured in all the iconic fashion publications such as Elle Magazine, this is definitely a hot style to be seen in. High quality materials and the use of innovative technologies is incredibly high on Ray Ban's agenda and the brand uses specific types of material to create its products which then undergo numerous amounts of testing to ensure quality and durability.
Polarised lenses are also a defining technical feature of Ray-Ban sunglasses which provide ultimate glare protection as well as incredibly sharp and precise vision. The use of carbon fibre also means that the sunglasses are lightweight, strong, durable, flexible and comfortable for all day wear. One hundred percent UV protection is also used on each pair of sunglasses.
Ultimately Ray-Ban has certainly come a long way since 1936 but despite keeping up with current trends and always placing themselves at the centre of the action, the brand has maintained its core values. Ray-Ban sunglasses today are one of the most stylish and trendy but in addition provide the best eye protection and durability which was the purpose of why they were originally designed. If you are looking for incredible style and the best function, Ray-Ban will certainly be top of the list for many more years to come.
Tags:
aviator
,
aviator sunglasses
,
Clubmaster
,
designer sunglasses
,
Ray Ban
,
Ray Ban Aviator
,
Ray Ban Clubmaster
,
Ray Ban sunglasses
,
Ray Ban Wayfarer
,
Ray-Bans
,
sunglasses
,
Wayfarer
Gucci's flagship London store at 18 Sloane Street was recently treated to a renovation to bring it in line with the brand's contemporary 21st Century image. The new-look boutique was unveiled on the eve of the G20 meeting in April, as Alexandra Schulman, the editor of British Vogue threw a lavish dinner for Gucci's creative director Frida Giannini. Guests and revelers included Sophie Dahl with fiancé Jamie Cullum, Claudia Schiffer, the Geldof sisters and Richard Ashcroft.
 

Just like their stores, Gucci's campaigns are hitting more modern notes. Using a slew of hip stars to promote their fresh image, glossy Gucci ads have seen actress Clare Danes, popstar Rhianna and Brit model Lily Donaldson fly the glamorous Gucci flag.
 
Often going above and beyond her Gucci obligations, Rhianna in particular is a huge fan of the label. She is pictured regularly wearing Gucci and sporting the most up-to-date Gucci sunglasses. Other fans of Gucci sunglasses include Catherine Zeta-Jones, Kylie, Paris Hilton, Angelina Jolie, Madonna, Katherine Heigl and the beautiful Camilla Belle.
Often ostentatious Gucci sunglasses celebrate the label's glitzy vibrant Italian heritage. Bold and strong with arresting detail on the arms, regularly incorporating the 'G' of the logo, Gucci shades are flash and fabulous. The new collection for 2009 is comprehensive and smart, using cut out detailing, hints of gold, hearts and baroque patterns. Colours are diverse, from black and tortoiseshell to red and white, there's a shade for every fashionista. And the styles vary greatly too, from classic over-sized square and circular lenses and frames to blinged up aviators and a nod to the ever-popular ray-ban style.
Proving there's still plenty of call for striking European style shades, Gucci have come up trumps with this season's sunglasses collection and we urge you to unleash your inner diva and GO GUCCI!
Click here to visit our Gucci Sunglasses section
Tags:
Alexandra Schulman
,
Angelina Jolie
,
aviator
,
Camilla Belle
,
Clare Danes
,
Claudia Schiffer
,
Geldfor sisters
,
gucci
,
Gucci sunglasses
,
Katherine Heigl
,
Lily Donaldson
,
Madonna
,
Paris Hilton
,
Rhianna
,
shades
,
Sophie Dahl
,
sunglasses
,
Vogue