Von Zipper was originally founded in 1999 but was bought by sports/fashion label Billabong in 2001 who instantly recognised the brand's edgy and eclectic style and saw it as an up and coming brand that had great potential. Von Zipper was able to keep its original team of designers and retain its unique image and Billabong escalated it further into the sports/fashion industry and helped to raise its profile.
Von Zipper sunglasses and goggles are incredibly eye catching and have an attitude that represents the ultimate in competitive style and function. The Von Zipper product development and design team are constantly working towards launching new, exciting and innovative styles every year and fans of the brand are always waiting with anticipation to see what products are coming next.
Within the designs which incorporate visually striking patterns that instantly grab your attention, Von Zipper is influenced by individual style, fashion, hip-hop, punk rock and adrenaline and has a fearless attitude attached to the name. Bands including Green Day and Velvet Revolver are fans of the Von Zipper brand and are regularly seen sporting the sungla
sses. Von Zipper team riders include 3-time world surf champion Andy Irons as well as fresh talent including skateboarder Karen Jones, snowboarder Nick Visconti and surfer Joel Parkinson.
The brand has also been noted particularly during 2009 as a firm hit with a number of celebrities having been spotted on A Listers including Justin Timberlake, Paris Hilton, The Prodigy, Motorhead, The Offspring, Kanye West and Heidi Klum who love the eclectic and unique style that the brand has to offer.
In terms of function, Von Zipper goggles will ensure that you are safe on the slopes and that your eyes and face are fully protected. The brand is notorious for manufacturing its products using only the highest quality materials and most innovative of technologies. With functional features including air circulation between the goggle and the face, forward venting, anti fog lens coating and full 100 percent UV protection, there is an incredibly wide variety of styles and sizes with an array of vibrant colours and patterns. Always at the forefront of technology, there is even a style of Von Zipper goggles – the SkullCandy Replicator which incorporates a removable set of
headphones. With a funky black and white web style pattern, these are a fierce looking pair of goggles that will definitely look amazing up on the slopes!
Some of the smaller Von Zipper goggles such as the Sizzle style are designed for smaller faces and are also incredibly budget friendly at £38.25.
Von Zipper is regarded as an extremely cool and respected brand as aside from its collections, it also sponsors, hosts or makes appearances at cool sporting events such as the recent Eddie Aikau big wave surf contest which took place earlier this month and was also won by Von Zipper supercharger Greg Long. The brand's products have become renowned in the extreme sports industry and worn by a number of athletes who require the best in order to maximise their performance. In terms of style, Von Zipper has also become prominent in the fashion and celebrity world and is definitely the brand to be wearing in 2010 whether this be on or off the slopes!
Tags:
Andy Irons
,
Billabong
,
Eddie Aikau big wave surf contest
,
goggles
,
Green Day
,
Greg Long
,
Heidi Klum
,
Joel Parkinson
,
Justin Timberlake
,
Kanye West
,
Karen Jones
,
Motorhead
,
Nick Visconti
,
Paris Hilton
,
Sizzle
,
SkullCandy Replicator
,
sunglasses
,
The Offspring
,
The Prodigy
,
Velvet Revolver
,
Von Zipper
,
von zipper goggles
,
von zipper sunglasses
,
Von Zipper supercharger
Von Zipper is based in Irvine, California and is a highly respected eyewear company. The brand, which was bought by Billabong in 2001, produces a cool and funky range of sunglasses, ski and snow goggles, MX goggles and accessories.
The Von Zipper brand is regularly seen at global snow events and sponsoring a number of professional surfers, snowboarders, and wake boarders. Three time world surf champion Andy Irons is one of the professional athletes sponsored by Von Zipper who favours the brand because of its high quality goggles which ultimately enhance performance.
Von Zipper recently appeared at the annual Snowsports Industries of America (SIA) conference whereby the brand had the opportunity to show some of its new styles which comprises of a range of new goggles in vibrant colours and patterns; a style feature which is typical of Von Zipper. These goggles incorporate further examples of their trademark unusual names such as 'graphic puke' to describe some of the more vibrant patterns and colour tones.
The Feenom Von Zipper goggles are one of the most popular ranges by the brand and feature oversized lenses yet fit smaller faces due to the spherical goggles which are designed to fit slightly smaller faces, but retain a large scale vision. This is a design feature that Von Zipper goggles are particularly renowned for. There is a highly trendy pink and white colour combination with smoky pink lenses which are great for a cute girly style whilst on the slopes!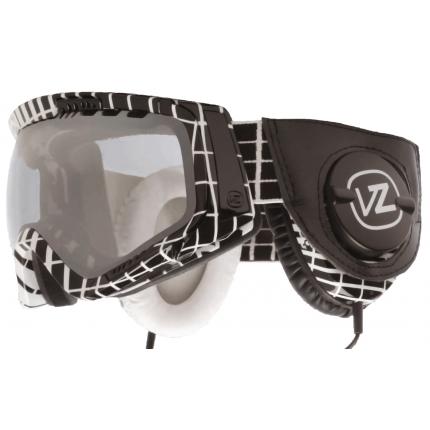 The Von Zipper Skull Candy Replica Goggles are incredible in style and have the added function of removable headphones so you can rock out whilst on you snow adventure! Music is a strong influence on the Von Zipper styles and designs, especially the hip-hop and punk rock genres and cool bands including Green Day and Velvet Revolver both support the Von Zipper brand and are regularly seen wearing the products. These Skull Candy goggles are a great way of representing that influence and have some great core features such as air circulation between the goggle and the face, forward venting and wide peripheral vision. The black and white web inspired design is also extremely funky for a hardcore look.
The Bushwick Von Zipper goggles are strong favourites and have a sleek look again with fantastic features such as a triple density contoured face foam ensuring all day comfort. These goggles are also ideal for medium to large sized faces.
Von Zipper is respected
for its exceptionally high standard of quality using the most effective and sought after technologies including Polycarbonate Lenses, Gradient Lenses, and 6 Layer Glass Polarised Lenses to ensure ultimate protection and product reliability. Placing style as an important factor in the production stages, Von Zipper goggles incorporate designs which depict the essence of a competitive attitude and portray a rush of adrenaline. The goggles keep up with current snow-wear trends but retain a distinctive style that dares to be a little different and bold. If you prefer something with style but more understated there are also patterns and colours which cater for this preference.
Von Zipper goggles express confidence and the high tech functions and features ensure that maximum visual clarity is achieved and that your face and eyes are fully protected which allows you to concentrate on having fun and working at perfecting your snow sports performance.
Tags:
6 Layer Glass Polarised Lenses
,
Andy Irons
,
Billabong
,
Bushwick Von Zipper goggles
,
Feenom Von Zipper goggles
,
goggles
,
Gradient Lenses
,
Polycarbonate Lenses
,
Snowsports Industries of America (SIA) conference
,
Von Zipper
,
von zipper goggles
,
Von Zipper Skull Candy Replica Goggles
The Nixon brand was founded in 1997 and thus is relatively new, but certainly making its mark in the industry producing a collection of high quality and visually striking watches, clothing, headphones and accessories. Founded in California Nixon originally began as a small watch manufacturer and designed and made watches for the younger teenage orientated market. However in the past ten years they have broadened their target audience and have become regarded as one of the cool and edgy brands in the fashion industry.
The Nixon style is geared towards skateboarders, surfers, and snowboarders and the brand is often associated with many top athletes who are leaders in their sports and work with them to create an elitist watch which matches their needs and reflects the level and expertise required to be the best in their field. Bob Burnquist, a skateboarder, skydiver and adrenaline junkie is one of these sports personalities who favour Nixon as is Surf Word Champion Andy Irons. Nixon also appears at many high profile sporting events such as the Skate Amateur World Championships. Music is a string influence of Nixon and bands such as the Foo Fighters and popular DJ's are often seen wearing products by the brand.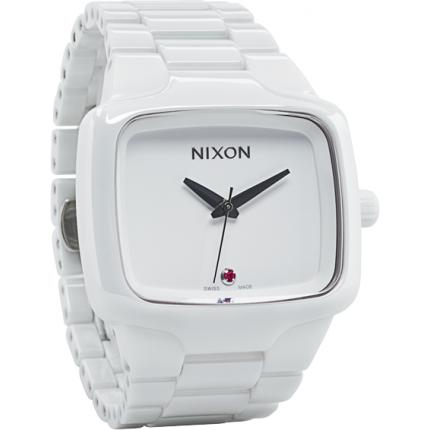 Nixon watches are a highly desirable accessory and convey style, personality, innovation and quality in your individual fashion preference. No matter what your character and style, you will definitely find a Nixon watch to suit.
Nixon watches have that effortlessly cool style and have collections for men and women. The collection also incorporates smaller versions of the men's styles for women made for a smaller wrist, for example The Small Player for a boyfriend inspired look. The watches are made using a variety of exceptionally high quality materials including leather, quartz, ceramic, metal, and rubber according to the consumers needs and what they will primarily use the watch for. In terms of actual style and aesthetic, Nixon watches range from casual through to dressy with a variety of models also very funky and eclectic. Some Nixon watches also have unique faces incorporating bold geometric patterns and funky bands. For those who prefer traditional clock faces, Nixon have watches which incorporate this as well as some models using a digital time display. In terms of using the watch for sports purposes, some Nixon watches cater accordingly by featuring large dial faces and brightly coloured numbers, making the watches easy to read whilst on the go.
A selection of the funky new styles include the highly elite Ceramic Player with a simple yet striking white chunky aesthetic, this men's watch uses only the finest materials with Swiss made movement incorporating 25 jewels making the watch incredibly precise and functional.
Another Nixon men's watch and a strong favourite; The Murf features a square face and again, its unique point is the bold colour including blue, gold and silver. The top half of the face is opaque and the crown is very bold and large allowing you to alter the time and date easily without too much fuss or difficulty if you have larger hands. This watch uses Japanese Direct Drive Quartz technology.
A highly stylish ladies watch includes The Iris and this timepiece is extremely fashion forward and looks absolutely beautiful on the wrist. The face is opaque and includes two small windows; one to reveal the hour and one the minute. This design is available in vibrant blue and versatile black should you like to keep things a little more understated.
The Nixon collection really is a special range of watches which are geared more towards a style personality as opposed to reacting to current trends. A relatively new brand, they have firmly established their niche in the watch industry and the watches themselves are incredibly designed with the finest technologies and materials and are therefore a notch above many other brands. Associated with the coolest sports and finest of athletes, Nixon watches convey skill, dedication, and an ambition to be the best.
Tags:
Andy Irons
,
Bob Burnquist
,
California
,
Ceramic player
,
Foo Fighters
,
Japanese Direct Drive Quartz technology
,
nixon
,
Nixon watches
,
Skate World Championships
,
the Iris
,
The Murf
,
watches