With summer on the way, a pair of sunglasses provides the essential accessory to protect your eyes and ensure that you look super stylish. Whether you prefer your sunglasses to be chic, sophisticated, super glamorous, sporty, or perhaps a combination of each style, we definitely have something that will appeal. With a huge array of designer brands to choose from, you need look no further than Shade Station when finding your perfect pair of sunglasses.
Carrera sunglasses are going to be huge this summer and we have already seen both Lady Gaga and Alicia Keys rocking a pair of Carreras in their recent music videos. With celebrities such as Kanye West and Paris Hilton also working the Carrera sunglass look, these retro sporty inspired sunglasses with vibrant coloured and fresh toned frames are effortlessly cool, great for everyday chic and offer something a little alternative.
A new exciting brand just added to our list is Pucci sunglasses . This designer label is famous for its vibrantly printed scarves with beautiful swirly, psychedelic style patterns and the brand has now launched a sunglasses range. Capturing the key trend of colour, the collection comprises of some wonderfully glamorous oversized retro style sunglasses with the iconic boho style Pucci pattern as well as block colours including stunning aqua tones as well as feminine violet and purple. The detailing incorporated into the Pucci sunglasses is also striking.
Next up we have the ever stylish and faithful Police sunglasses brand which with their understated yet effortlessly cool range, you will never fail to look chic and stylish. Police shades have also added some new styles to their collection which include sleek wraparound sunglasses, classic style sunglasses with narrow frames and aviators and even some retro oversized styles with a sporty edge. Great sunglasses for both the guys and girls!
Fendi is also a hot designer brand to look out for and following the launch of the new Fendi Chef handbag, the luxury brand thought it only fair to launch a pair of Fendi sunglasses to match – perfect for every fashionista! There are some wonderfully dramatic but elegant Fendi oversized sunglass styles with pretty embellishments such as a small flower positioned on the frame making for a delicate touch. Perfect for channelling a high fashion and polished edge.
Who could forget Prada? The ultimate in glamour, Prada sunglasses have some incredibly styles for both men and women ranging from classically oversized to cool aviators and some new geek chic styles with narrow lenses and thick frames. The Prada butterfly sunglasses which are nipped in at the centre are still a huge must-have for this season and add definition and a unique edge to your look – perfect for something that little bit different. In an array of vibrant colours as well as classic tones such as black and brown, Prada sunglasses tick every style box.
Prada Sport sunglasses are also a new addition and offer something a little more sports orientated and great for everyday on-the-go chic with understated classic styles complete with the vibrant Prada Sport logo. Wraparound sunglasses, visor style sunglasses, geek chic style sunglasses (thick frames and narrow lenses) and aviator sunglasses are the hot designs to look out for and perfectly capture that summer chic look with a casual edge.
Ray-Ban sunglasses never fail to be a hot favourite and the style icons cannot get enough of the revamped and on-trend colourful Wayfarers which are constantly seen when the sun comes out (and even when it doesn't!). This season, Ray-Ban have also launched Limited Edition Wayfarers which of course, are only available for a limited amount of time and are going to be a firm style favourite this summer an sure to be seen at the music festivals. One of the most classic of all the Ray-Ban's and one of the first styles of sunglasses to be launched is the Aviator RB3025 sunglass which is still going strong and a classic that has been adapted to incorporate various lens and frame colours but retaining the original edge that makes it so popular and again, a favourite among the celebrities!
For something ultra dramatic, glamorous and show stopping look no further than BVLGARI sunglasses. These sunglasses are always regarded as on trend due to their high fashion appeal that never fails to attract attention. Regularly spotted on the most chic of style icons and celebrities BVLGARI sunglasses are the depiction of luxury fashion. With intricately designed hinge detailing, embellishments that often stretch down the length of the arm and the incorporation of exquisite colours the collection of oversized and visor style BVLGARI sunglasses are timeless accessories.
Tom Ford is the man of the moment in both movies and fashion and his collection of Tom Ford sunglasses are wonderfully chic and glamorous. One particular style that will definitely turn heads is the oversized Nico Sunglass style – these sunglasses are creatively designed with a triangular style frame but as this season is all about going bold and as fashion is about creating a statement then why not give them a try and assert your own unique high fashion style! Other styles include the more classic and slim framed oversized styles as well as some super chic new aviators which are timeless sunglass classics.
Lady Gaga shot to stardom in 2009 and she is now one of the most famous ladies in pop, also noted for her unusual but amazing sense of fashion. Whilst off stage Lady Gaga can often be spotted working the latest designer shades and she was recently featured on the front cover of V Magazine in a pair of MMJ112 Marc Jacobs peel-off style sunglasses! The MMJ112 sunglasses are an oversized retro style and look incredibly funky and stylish in hot seasonal colours. These are sure to be a favourite this spring/summer along with the other oversized and aviator Marc Jacobs sunglass styles.
The famous Oakley sunglass brand never fails to surprise and impress with its highly innovative and stylish range of sunglasses, perfect for every sporting need. Some of the new releases including the O Rokr and Split Thump incorporate added high tech features such as an MP3 player and Bluetooth so you can listen to your favourite tunes and keep in touch whilst on the go! The new Oakley Conduct frame is an amazingly slick visor style with Oakley's unique High Definition Optics for precise visual clarity and a chic and bold aesthetic style. The Oakley M Frame sunglasses capture the futuristic style appeal and feature innovative M shaped lenses for function, style and comfort and the new Oakley Hinder sunglasses are an oversized style for ladies with that distinct Oakley attitude with a high trend edge. Oakley is always at the forefront of eyewear technology and the brand's sunglasses never fail to look sleek and streamlined and convey that the wearer really means business!
Other hot brands to look out for include the classically sophisticated Chanel sunglasses  in addition to Dior sunglasses, Dolce & Gabbana sunglasses, Roberto Cavalli sunglasses, Gucci sunglasses and Armani sunglasses for a wide array of super glamorous sunglasses that make for the one faithful accessory that will remain stylish for seasons to come. D Squared sunglasses, Prada Sport sunglasses and Von Zipper sunglasses offer a fantastic range of sporty but cool sunglasses and are a hit among the extreme sport athletes and celebrities. For a classic touch of chic, look no further than Armani sunglasses, Roberto Cavalli sunglasses and for that injection of street style edginess, why not opt for a pair of innovatively designed Diesel sunglasses?
At Shade Station we are always on the lookout for the latest brands and styles and regularly update our sunglasses collections. Check out our style blog so you are up to speed with what's hot and new in! Be sure to also check out our sales to get that sought after style at a fantastic price. Whatever style of sunglasses you opt for, or even if you are looking to try something new, we have all the latest and classic styles to ensure that we fulfil every sunglass style and function need.
Tags:
Alicia Keys
,
Armani sunglasses
,
aviator rb3025
,
aviator sunglasses
,
Bvlgari sunglasses
,
Carrera sunglasses
,
celebrity sunglasses
,
chanel sunglasses
,
designer sunglasses
,
Diesel sunglasses
,
Dior sunglasses
,
Dolce & Gabbana sunglasses
,
fashionable sunglasses
,
fendi chef sunglasses
,
Fendi sunglasses
,
funky sunglasses
,
geek chic sunglasses
,
Gucci sunglasses
,
hot sunglasses
,
Kanye West
,
Lady GaGa
,
lady gaga marc jacobs
,
limited edition wayfarers
,
luxury sunglasses
,
Marc Jacobs sunglasses
,
new sunglasses
,
oakley Hinder sunglasses
,
Oakley sunglasses
,
oversized sunglasses
,
Paris Hilton
,
Police sunglasses
,
prada butterfly sunglasses
,
Prada Sport sunglasses
,
Prada sunglasses
,
Pucci sunglasses
,
Ray Ban sunglasses
,
retro sunglasses
,
roberto cavalli sunglasses
,
sunglasses
,
Sunglasses Homepage
,
tom ford nico
,
Tom Ford sunglasses
,
Tom Ford Whitney
,
visor sunglasses
,
von zipper sunglasses
,
wayfarer sunglasses
,
wraparound sunglasses
The Carrera brand though noted for its funky and highly trendy style, was founded in 1956 and the company produces a range of sports eyewear including ski helmets, goggles and sunglasses. The Carrera name was inspired by the 'Carrera Panamerica' which is a car race that covers the whole of Mexico. The spirit of Carrera is very much of the philosophy that its wearers have a huge passion and enthusiasm for sports and maintain the desire to be the best.
Carrera sunglasses are definitely one of the most fashion-forward of all of the sunglasses brands, especially those within the sports/fashion sector. The sunglasses are retro in style with funky and contemporary edges and are worn by a number of celebrities including Paris Hilton and Kanye West.
Carrera has very recently announced that one of the new frames within its collection, the Panamerika 1 design will be included in 12-time Grammy-winning singer/songwriter and producer Alicia Keys' new music video. The song from her new album 'The Element of Freedom' is called 'Try Sleeping With A Broken Heart',  which is being released on December 15th. The theme of the video shows Keys as a superhero, sporting the
Panamerika 1 Carrera shades.
These particular sunglasses are incredibly retro in style with a distinct 80's aesthetic and are part of Carrera's recently relaunched vintage collection and look spectacular in the new video. Another video in which you may recognise the Carrera brand is in Lady Gaga's new track Bad Romance. We see the pop diva rocking the super stylish Champion Carrera sunglasses which fit perfectly into the abstract and surreal nature of the video which sees Lady Gaga performing within a somewhat controversial and risqué setting.
The Champion Carrera sunglasses are a further highly stylish part of the collection and are again, retro in style and reminiscent of an oversized aviator. The white versions are incredibly cool and also feature the trademark Carrera red line across the top section of the frame. The Carrera brand is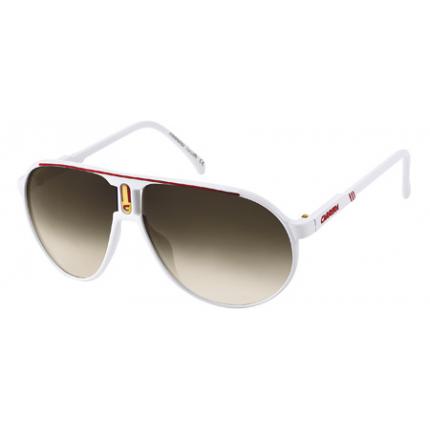 always successful in maintaining the core retro style but adding injections of contemporary elements such as bold and fresh colour. The fact that it is the chosen brand to be featured in high profile music videos by iconic artists is testament to how popular and fashion forward Carrera is regarded.
There are some hot new styles to look out for this season which include some classic aviator styles with vibrant lens and frame colours such as the Gypsy in addition to some striking sporty styles with that high trend edge such as the Jocker/T sunglasses in hot pink. Carrera sunglasses definitely make a style statement and should be worn with confidence and attitude! The brand is geared towards the theme of striving to be the best and you will definitely be the leader of the style pack whilst working a pair of these!
Tags:
'Try Sleeping With A Broken Heart'
,
Alicia Keys
,
Bad Romance
,
Carrera
,
Carrera Panamerica
,
Carrera sunglasses
,
Gypsy
,
Jocker/T
,
Lady GaGa
,
Panamerika 1
,
sunglasses
,
The Element of Freedom
In recent years, many designers and artists have channelled their creative skills into designing clothes and accessories. A perfect example of this is the range of Nooka watches, designed by New York artist Matthew Waldman. Waldman aimed to create a new and innovative way to look at time and took great care in discovering new ways of presenting it in an abstract manner. Nooka is a boutique design company that focuses upon slightly edgier watches with a different time viewing layout that the norm – the watches tell the time in hour dots and dashes and incorporate a countdown status bar which increases as the hour passes by – very reflective of the current era, as if you are waiting for the hour to download.
These trendy and quirky looking watches come in a variety of styles ranging from slick and chic to bright and bold. One of the more futuristic styles with quite the sizeable display looks particularly abstract and very art inspired. The faces of all the watches are neither digital nor analogue and have been carefully designed to represent the time in a more visual yet though provoking way. The Nooka Zirc watches have a sophisticated feel with a black face and textured wrist band. In contrast, the Nooka ZUB20 Zot is made entirely from polyurethane and displays the hours as a progression of 12 dots. The watch is designed to combine fashion with function as is water resistant, durable and is available in black, white and canary yellow.
Celebrities are also favouring the Nooka brand – Kanye West sported one in his 'Beatdowns' portrait and Lil Wayne, Snoop Dogg and Alicia Keys are also fans – the range has certainly become a strong contender in the most hip and trendy of the watch brands. Waldman aimed to create a more forward thinking way of telling the time and these watches with their quirky aesthetic design are definitely a fun, stylish and practical option plus despite sounding like you need a maths degree to read them, they are actually very simple to use!
Click here to visit our Nooka Watches section
Tags:
Alicia Keys
,
alternative watches
,
Kayne West
,
Lil Wayne
,
Matthew Waldman
,
nooka
,
Nooka watches
,
Nooka Zirc
,
Nooka ZUB20 Zot
,
Snoop Dog