It has been 40 years since Adidas first released a the Trefoil, the legendary three leafed logo that has become a symbol for quality across all of their products. In 1972, Adidas spawned the idea that all of their products must brim with creativity, originality and of course authenticity…and the Trefoil is the way they showed this. From then on, Adidas watches and the brand as a whole has grown and grown until it has now become a goliath in the world of fashion and sport alike; adorning the tracksuits, football shirts and watches of everyone from Kevin Pietersen to David Beckham. To celebrate this remarkable milestone in the brand's history, they are releasing a limited-edition watch; a numbered series of only 500 watches and you can get yours right here at Shade Station.
Quality. If you buy a 'quality' watch, you expect a certain degree of excellency that can only be seen on the likes of Adidas products. The ADH9040 is a celebration of just how good a watch can be and Adidas have cut no corners! Complete with a polished finish and rotating bezel, the watch features a 50mm case constructed entirely of solid steel and finished with gold-tone plating. The production process is exceptionally unique for a watch like this also. Each dial has the Trefoil logo hydraulically stamped onto it and a plaque with the watch's exclusive number emblazoned on it. Of course, this is still a practical watch for anyone in any walk of life. The watch is 50 metres water resistant, meaning it can be used in the pool too. Looking at all of this, I think it is safe to say that when you order this watch, you will be receiving a watch superior to others around it,  a watch with style, class and importantly originality.
Even with all of this being said, the cherry on top of the cake is that only 50 of the 500 watches being made are being sold in the UK…and we are guaranteed to have stock of this item! Of course, the limited availability of the ADH9040 does mean that when the stock is gone; its gone, which is why we have made it available for pre-order now. Why not get your own piece of history? A watch that represents style, class and quality. A watch that you can look at and know that when you see the Trefoil, you are joining the ranks of elite sportsmen and women in honouring the values and morals set down by Adidas watches: quality and originality for all.

Tags:
40 year anniversary
,
5 ATM water resistance
,
50 metre water resistant
,
adh9040
,
Adidas
,
bezel
,
bracelet
,
case
,
dial
,
fashion
,
gold
,
gold plated
,
hands
,
history
,
hour
,
limited edition
,
originality
,
plaque
,
second
,
solid steel
,
sport
,
trefoil
,
unique
,
watch
,
watches
Adidas is one of the official sponsors of this year's Virgin London Marathon – taking place on the 17th April. The London Marathon will see thousands of participants pound the streets of the city all in aid of great causes. Having trained for the best part of a year it's important that everything goes well on the day and runners need to take extra care that they've selected all the right equipment and sports gear for the race.
As an official sponsor Adidas are best placed to advise on what to wear and what accessories are key. As such they've posted some useful guides to equipment and preparing for the race on The Virgin London Marathon website. In addition to the right clothing it's important to wear eye protection and also have some method of telling the time on you! All runners will have a time in mind that they aim to cross the finishing line in and it's important to be able to keep pace and be able to monitor their speed. Adidas watches have all sorts of functionality and importantly combine comfort, style and accurate time-telling. They enable the runner to run their own race whilst being confident that they can keep an eye on their pace and adjust if necessary. Adidas watches offer a massive range of styles and colours, and they all look sporty and cool, whilst being durable and very practical.
It's not often the sun shines in London in April, but on the rare occasion it's important to be prepared! The marathon on average takes runners between 4 and 5 hours to complete and in bright conditions sunglasses are vital. With the glare reflecting off the road and the sun's damaging UV rays directly in the eyes, it's not only uncomfortable, but extremely harmful too. Adidas sunglasses are designed specifically for sports and are therefore packed full of technology and detailed finesse. Constructed with lightweight material, all Adidas sunglasses boast a sleek design with auto fit technology, a double-snap nose bridge, and an inbuilt ventilation system. The Adizero Adidas sunglasses style is designed specifically for runners and as such the lenses protect the eyes from not only UV light but insects, dust and wind too. They are also produced to enhance the runners vision on uneven surfaces!
For marathon runners it is critical they are equipped with the very best equipment to minimise damage to their bodies and with Adidas they can be confident they've come prepared with the very best.
Tags:
Adidas
,
Adidas sunglasses
,
Adidas sunglasses Adizero
,
Adidas watches
,
marathon runners
,
Sports sunglasses
,
sports watches
,
sunglasses
,
Virgin London Marathon
,
watches
If you think that sporty and glam can't go together in one look, then we have just the accessory to prove you wrong! The whole laid-back luxe trend is huge at the moment – it's great for when you want to infuse a burst of sparkle into your everyday look; keeping it casual but striking.
Adidas have got the look spot on with their new Cambridge watches. Available in a variety of colours including hot pink and violet in addition to your staple black and white versions, these watches are perfect for making a statement and are effortlessly trendy.
If you like your watch on the larger side, the Adidas Cambridge watches are a great option. If you also can't resist a bit of sparkle, even better, as the hot pink and violet versions boast diamante embellished bezels. Some of the Cambridge styles also come without diamante studs – the Cambridge watches are unisex and not
all guys, or girls for that matter, always want the bling effect so both tastes are catered for! The Cambridge watches incorporate all the regular Adidas functions including three hand movement and a date window and are ultra sleek with the style versatility to work with every look.
If you prefer a watch that is a little smaller, the Mini Cambridge Adidas watches, as the name suggests, are scaled down versions of the Cambridge watches. Again, some options within the Mini Cambridge collection feature a diamante-studded bezel whilst others are left plain. The rubber straps inject a casual and trend inspired edge and the
dials are sleekly and minimally designed; displaying the iconic Adidas logo at the top centre.
These new Adidas watches perfectly build the bridge between sporty and glam and are an incredibly hot style of watch to be wearing this season. They're great for dressing up a casual look, whilst also adding a more laid-back feel to a dressed up outfit. Best of all, they're budget friendly at between £39-£46.80 each!
You can check out the full Adidas watch collection here.
Tags:
Adidas
,
Adidas Cambridge watches
,
Adidas Mini Cambridge watches
,
Adidas watches
,
watches
On Saturday, despite the raging sunshine, fashion prevailed and we took the opportunity to head out to Earl's Court in London to the Clothes Show event which saw a number of designer brands and boutiques on show in addition to designers and stylists providing their fashion pearls of wisdom.
The event also involved a Fashion Show in the main theatre which used the theme of fashion inspired by countries including France, Italy, USA and England and presented this with a fusion of music, a dance troupe and models which really made it more
of an all-round performance as opposed to just a catwalk show. The show was full of energy, fantastic choreography and amazing outfits – all accessorised of course with sunglasses, watches and jewellery in some of the hot styles of the moment!
We were very pleased to see an array of our brands exhibiting their products including Ray-Ban, Zodiac, Fossil, Diesel, Superdry, Adidas, Guess and LTD Watches. The Ray-Ban Wayfarers were definitely a hit with the eager style spotters – particularly the new and revamped colourful versions. Guess watches and Guess jewellery were also proving incredibly popular. The watch look that all the fashionistas are sporting this season are white or light toned chunky watches – polycarbonate bracelet straps are a key look and especially with glitzy diamante embellishments to add that bit of sparkle to a casual yet statement watch! Check out this Guess Prism watch which is the perfect choice to
capture the desired look!
I could hardly get a glimpse at the LTD Watch stand which is testament to how popular these strictly limited watches are. LTD Watches are highly trend inspired and the particular model that definitely seems to be a must-have this summer is the Maximo LTD Watch; available in a variety of vibrant colours and boasting a sleek yet chunky aesthetic. The Maximo watches were selling fast so make sure you check out the range here and get yours before they all go!
So, that is the rundown of some of the key looks and styles that were prominent at the Clothes Show London event which also clearly demonstrated that accessories in general are a major look of summer 2010. All of the brands mentioned above are available here at Shade Station so make sure you take a look to see what ultra fashionable designs we have, and make this summer your most stylish one yet!
Tags:
Adidas
,
Diesel
,
Fossil
,
Guess Watches
,
jewellery
,
LTD watches
,
Ray Ban
,
sunglasses
,
Superdry
,
The Clothes Show London
,
watches
If you are looking to add a touch of colour to your summer style then look no further as Adidas has a new range of exciting and vibrant watches in an array of retro inspired tones that are sure to become your next accessory staple!
The new designs are called the Seoul watches and are a unisex style available in a variety of colour tones including green, red and white, red, white and blue, and green and yellow to name only a few. With a distinctly retro vibe, the Seoul Adidas watches depict the same sporty appeal that Adidas is renowned for, but inject a high trend finish to the overall aesthetic. Retro inspired sports watches boasting old-school colour combinations are uber fashionable this season and can either be worn on their own, or for the girls, also look great contrasted with a number of bangles and chunky rings. A further fashionable way of wearing this style of watch is to wear two stacked up the wrist for an ultra unique look!
With a highly
durable and flexible grooved coloured rubber strap, the Seoul watches typically feature a different coloured case and a striking toned bezel which in most versions of the Seoul, has a metallic finish for added definition to the overall look. The dial is digital with multiple functions including a dual time display, chronograph, a light, a date display, an alarm and a 10 lap memory. The watch is also water resistant up to 50 metres.
At a budget friendly price of just £50 each, the Adidas Seoul watches are definitely a must-have style investment to see you through this season and beyond and of course, in true Adidas style, match their great looks with ultimate sports function when on the go!
Tags:
Adidas
,
Adidas Seoul watches
,
Adidas watches
,
watches
Adidas is a brand that is constantly launching new and exciting collections and maintains its original core values of creating functional products that have the style factor and great value for money. The Adidas watch collection has definitely caused a stir in the watch industry during 2009 with the launch of the colourful Oddity Candy range. However there is now a new Adidas watch on the block to look out for which goes by the name of the Adidas Super Splice, soon to arrive here at Shade Station!
The Adidas Splice watch is a unisex style, which has an extremely funky and contemporary aesthetic with bold and fresh colours. One version for example features an ice blue toned strap and a green and silver digital dial and a further version has a pink strap with a purple and silver digital dial. Colour is a key trend that burst onto the style scene in 2009, particularly in accessories and this is definitely set to continue into 2010 and is the perfect way to jazz up the winter blues!
So, in terms of function, what does the Adidas Super Slice have to offer? Firstly the rubber strap means that the watch is incredibly robust and durable and creates a chunky and youthful look which again is very much on trend. The features include a digital display which presents the time, day and date as well as an alarm setting and a backlight to ensure you can clearly view the time in low or dark lighting. The watch is also water resistant up to 50 metres and uses quartz movement. Adidas is of course, predominantly a sports brand but in recent years it has successfully merged sport and fashion and the Super Splice watch is a great example of an accessory that can be used on the go for sporting acti
vities as well as an accessory that makes you look incredibly fashion forward and stylish. The bold and bright colours will add vibrancy to your look and if you are a girly girl, the pink Super Splice is perfect!
At just under £50, the Adidas Super Splice watch is also budget friendly and you can be assured that you are buying a product of a fantastic quality that can endure physical activity and will last for years to come. Adidas is a trusted brand and having existed for over 60 years, people respect and favour the label for its value of creating superb quality products that offer high function and durability. In recent years, Adidas has also heavily focused on the aesthetic design of its collections which has resulted in the brand now being regarded as incredibly fashion forward and ultra trendy – the new Adidas Super Splice watch is the perfect example of this. Make sure you keep your eyes peeled for when we have them in stock!
Tags:
Adidas
,
Adidas Super Slice
,
Adidas watches
,
Oddity Candy
,
watches
Adidas is one of the most loved sports fashion brands in the world and is probably one of the oldest having being founded over 60 years ago. Famous for its three stripe branding, Adidas is popular for its high quality yet affordable range of footwear, shoes, watches and snow goggles. The brand was founded by Adi Dassler who was a shoe maker from a small rural town who wanted to create a shoe that was original in design yet practical and durable.
The company was gradually passed down the Dassler family over the years but is now run by Bernard Tapie who is responsible for extending the Adidas product lines to further clothing and accessories but still likes to maintain the original co
re brand values which is what makes Adidas so popular today. With names such as Run-DMC associating themselves with Adidas, the brand is now synonymous with a cool and funky image and regarded as highly on trend. The Adidas timeline is quite extrordinary and marks the launch of some iconic products including the tracksuit which again, wasn't popular before Adidas put its name to it.
Adidas goggles are one of the recently launched accessories by the brand and like all Adidas products, are favoured for their practical capabilities and stylish aesthetic.
Adidas goggles aim to combine the best of Adidas sport technology as well as stylish features and the result is a range of simple designs that are comfortable to wear, highly durable and highly effective in terms of visual protection and performance.
Here are some of the unique features of Adidas goggles-:
- Vision adv
antage PC lenses which provide 100% UV protection, are resistant to impact forces, are shatterproof, lightweight, scratch resistant, and provide an exceptionally high level of optical quality.
- Ventilation system – the men's Yodia goggles feature this.
-  Quick change lens system which enables the wearer to change the lenses according to the light and weather conditions.
- Anti-fog coated lenses – the men's Burna goggles incorporate this.
- Siliconised adjustable strap which provides extra security and guarantees that your goggles will stay in place.
- Fully padded soft face foam – a soft, comfortable layer of goggle foam that provided the wearer with a unique custom-fit feel and allows you to be comfortable with your goggles on throughout the day. The men's ID2 goggles feature this.
Adidas goggles have been designed to be simple and to meet snow sport objectives. The collection has been created and developed for and with professional athletes and provides ultimate visual clarity, optimum protection, a customised fit and maximum durability. When skiing or snowboarding, eye and face protection is paramount and Adidas goggles effectively counteract the effects of the wind, sun and snow and provide exceptional visual clarity. When safety is the primary objective; style of course must come further down the line but the range of Adidas goggles are incredibly stylish, incorporating the famous Adidas three stripe branding and are designed  in a range of cool and funky styles which reflects the typical simplicity that Adidas has always favoured.
Superb high quality, durability, comfort, style and affordability, Adidas goggles are the perfect way to accessorise every snow adventure.
Tags:
Adi Dassler
,
Adidas
,
Adidas goggles
,
Bernard Tapie
,
Burna goggles
,
goggles
,
ID2 goggles
,
Run-DMC
,
UV protection
,
Yodia goggles
Sports brand Adidas was originally founded in1949 by Adi Dassler who began designing sports orientated shoes which were aimed to be stylish yet practical and functional. We all recognise Adidas as the label with three stripes and Dassler decided to brand his products with this design because it was simple and unusual at the time. This proved to be very effective and allows all Adidas products to be immediately recognisable. The president of Adidas today is Eric Stamminger who feels that the success of the Adidas brand is largely due to Dassler's genuine passion for sport that enabled him to create a product that other athletes or aspiring athletes would benefit from. He was also the first person to think of such an innovative idea and product. Adidas has recently celebrated its 60th birthday and decades on, the brand maintains its simplistic styling and original core values which its customers recognise and therefore often stick with Adidas for a number of years. It has become a highly recognisable lifestyle brand and the product lines have extended to clothing and accessories.
Adidas watches – The Oddity Candy Collection-: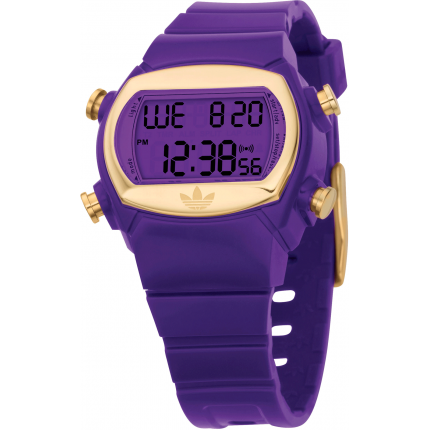 Adidas watches are funky, simple and functional but the unisex Oddity Candy range has definitely offered something that little bit extra to the overall collection. Focusing heavily on style and trends, these range of Adidas watches are extremely cool with vivid colours including hot pink, yellow, blue and green and tick all the right boxes of combining fashion and function. Brightly coloured and chunky style timepieces have been a huge trend this year and so these watches are the perfect option if you are trend conscious. With a multi-functional digital display, Adidas have certainly maintained high function and the stainless steel coloured bands ensure durability. Possibly the best aspect of these Adidas watches is the price tag; at approximately £45 each these watches are budget friendly and look incredible on the wrist.
Some of the new Oddity Candy Adidas watches to look out for include-:
-          ADH2027 – This watch is hot pink with gold detailing and injects a burst of string colour into your look
-          ADH2013 – A sporty and funky exclusive Oddity Candy watch, this style has a striking white pearlised strap with a blue face and a reverse digital display
-          ADH6011 – An Oddity Candy watch for ladies, this has a retro appeal and a beautiful baby pink aesthetic.
Many of the Oddity Candy range are unisex but some of the more feminine styles are geared specifically towards ladies. This range captures every essence of high trend with bold colours and a chunky look but also retain that simple, functional and sporty Adidas style.
Adidas is a brand that many of us like and trust because at some point in the past decade we will have probably owned a pair of Adidas trainers, piece of clothing or an
accessory. Even if you are not a sporty person, Adidas watches are highly fashion focused and the wide range of colours as found in the Oddity Candy range allows you to pick a watch which reflects your style. Versatile, functional, funky and affordable, Adidas watches are a great way of injecting a burst of colour into your winter look.
Tags:
ADH2013
,
ADH2027
,
ADH6011
,
Adi Dassler
,
Adidas
,
Adidas watches
,
Eric Stamminger
,
Oddity Candy
The end of the summer doesn't spell the end of candy coloured watches in our books. Just because the sun has gone into hibernation, doesn't mean we can't flash a colourful wristwatch when the fancy takes us.
Along with LTD watches, Adidas Oddity Candy watches have been massively on our radar this season. Nailing the colour trend nicely, Adidas have seduced both the fashion consumer market and the sports market. With celebs like Lindsay Lohan and Paris Hilton running around La La Land sporting Oddity Candy watches and an unparalleled sporting heritage to it's name, Adidas has a lot to be happy about.
Their brilliantly titled Oddity Candy watch range, has been engineered to appeal to sports buffs – with classic features such as a timer, a ten lap memory, water resistant design and a back lit display – however the aesthetics of the watch means it has mass appeal beyond sport as well. The collection is fashionably chunky and comes in a wide range of colours, including lemon, shocking pink, green and purple. Adidas Oddity Candy watches can be bought in single block colours or in contrasting colours, such as a white wrist strap with a blue face.
With Adidas sponsoring some of the biggest names in sport (think Beckham and our 2009 Ashes winners, the England cricket team), you'd be hard pushed to find a more relevant or contemporary watch brand to allie yourself to.
Click here to visit our Adidas Watches section
Tags:
Adidas
,
Adidas Oddity Candy watch
,
Adidas watches
,
colourful watch
,
David Beckham
,
Lindsay Lohan
,
Paris Hilton
,
sports watch
Colour is big news this summer and Shade Station is spoiling you with our on-trend colour palette and amazing selection of designer watches and sunglasses. For your fashionable summer wristwear look no further than Adidas and their new Oddity Candy range. The equivalent to Lancôme's Juicy Tube Lipgloss for lips these brightly coloured watches will arm you with perfect digital timing and the necessary pop of colour on your wrist to embrace this season's trend.
"But I don't 'do' sport!"
Yes, that may be the case but we bet you still wear Adidas shell toes to the pub and have worn an adidas tracksuit or hooded top to the supermarket at some point. Adidas is of course the premier sports label, however it is also a lifestyle label. Stella McCartney and Japanese designer Yohji Yamamoto both know this, as does glossy magazine, Instyle, which featured the Adidas wrist-candy in last months issue. The point is; Adidas Oddity Candy watches are both functional and superbly fashionable.
With a rainbow selection of hues, the Oddity Candy range has colours to suit all tastes, from turquoise and dusky red to green and baby pink. For those with more traditional tastes, white and black are available and those who embrace colour will love the Adidas Oddity Candy watch in 'vibrant orange', which is exclusive to Shade Station.
For all your pursuits this summer, colour is a must and the easiest way to wear it, is a burst of Oddity Candy on your wrist!
Click here to visit or Adidas Watch section
Tags:
Adidas
,
Adidas Oddity Candy
,
Adidas watches
,
colour
,
Instyle
,
perfect digital timing
,
Stella McCartney
,
watch
,
wrist-candy
,
wristwear
,
Yohji Yamamoto
Older Posts »