Start Autumn in Style with Fossil Watches
Fossil watches are a sure favourite among many, with fans of the Fossil brand loving the highly varied and unique styles of watches available that vary from vintage influenced through to eclectic and unique in addition to a great selection of trend inspired options if you like to be on top of the fashion game!
Fossil regularly launches new and exciting styles and we have a stunning selection of new Fossil watches for you to kick off the autumn season.
An ultra bold, visually striking and statement Fossil watch for men is the new JR1202 watch. This design is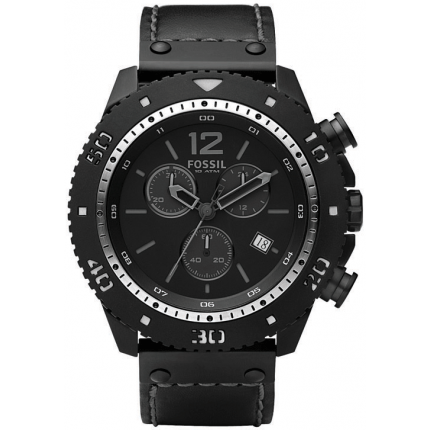 masculine and very much on-trend with its carbon coated stainless steel case, black leather strap and prominent round dial. The description 'industrial inspired' springs to mind with this watch and it certainly has that wow factor appeal!
Something more demure for the ladies, the ES2681 Fossil watch is a further trend orientated style and appears similar the watches that are highly fashionable at the moment with polycarbonate bracelet straps. However, Fossil has adapted this look slightly and this watch instead of a polycarbonate or acetate strap, features a highly polished stainless steel bracelet strap along with a silver dial and a beautiful diamante embellished bezel. Though very chic due to the aesthetic style, this watch is incredibly adaptable and would look great teamed with your little black dress as well as glamming up a casual outfit of a jeans and blazer.
Fossil is the perfect brand if you are seeking a watch that is elegant and demure. The ES2654 ladies Fossil watch is a fine example of this; boasting a gold plated stainless steel ID style bracelet strap (balancing the elegant factor with edgy!) and a petite and minimally styled gold square dial. Gold is a must-have watch colour for
autumn/winter but as it may not always appeal or suit every skin tone, the same watch is available in silver.
Another new design for the men and combining sporty with sophisticated, the CH2626 Fossil watch is an easy to wear style and is ultra versatile. With a sleek black leather strap and a round vibrant dial with an amalgamation of black, gold, red and silver accents, this watch also features three hand movement, sub dial chronograph and a date window. Statement without being too overstated!
Fossil is one of those brands that you can always rely on for great quality watches and flawless, unique and innovative style – always injecting its own quirky features with some watches more bold than others and therefore catering to as wide a range of style preferences as possible. Fossil watches are affordable and are highly respected for their fine quality materials, movements and all-round reliability.
Make sure you check out the new Fossil watch additions for autumn – we're certain you'll be spoilt for choice!
Tags:
CH2626 Fossil watch
,
ES2654 ladies Fossil watch
,
ES2681 Fossil watch
,
Fossil
,
Fossil watches
,
JR1202 watch
,
watches
No Comments
No comments yet.
RSS feed for comments on this post. TrackBack URL
Sorry, the comment form is closed at this time.