Ray-Ban Sunglasses – The History of an Iconic Brand
Ray-Ban sunglasses are one of the most timelessly stylish sunglasses in the industry and never fail to look on trend. The brand is also the choice of many celebrities and fashion icons and the various styles are consistently making appearances at summer music festivals and high profile events.
So where did Ray-Ban begin? The brand certainly has a unique history and many young people who regard Ray-Ban as contemporary and bang on trend are often unaware that the company has existed since 1936. What prompted the design of the first pair of Ray-Bans was when General John MacCready permanently damaged his eyes on a high altitude balloon flight. He realised a specific type of eyewear protection was required for flights of this nature and thus in 1929, a pair of gold-coated Aviator style of sunglasses complete with anti-glare G15 lenses were created and Bausch and Lomb won the contract to work on producing a whole collection. In 1936, the first Ray Ban plastic Aviator style was launched to the public who quickly realised the high function was complimented by style appeal. Finally in 1937 a patent for the G15 lens was issued and the brand name Ray Ban was trademarked and officially launched.
The ultimate goal of these unique large curved glasses was to protect the eyes from every angle for optimal protection from the sun. In the 1940's, Ray Ban was hired by the US Air Force to develop these glasses even further for use by air force pilots. The Aviator glasses soon became popular with the other branches of the US military as well and when General Douglas MacArthur was photographed landing on a beach in the Philippines during World War II, he was wearing a pair of Ray Bans.
It didn't take long however for the flattering style of Ray-Ban sunglasses to come to the fashion forefront and the sunglasses steadily became the hot accessory to be seen in. In 1952, the iconic Wayfarer was launched which subsequently went on to become the world's best selling type of sunglasses from any brand. Ray-Ban became the leading eyewear brand which has continued through to today.
Ray-Ban became incredibly p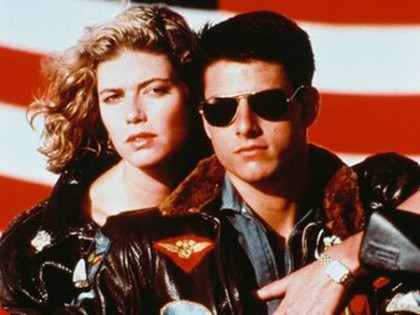 opular and being featured on the silver screen only helped to create a further buzz. Since the early 1960's, the collection has made numerous appearances in a wide selection of the world's most iconic films. In 1961 the Wayfarer was seen on the ultra glamorous Audrey Hepburn in Breakfast at Tiffany's. Other films whereby Ray-Ban's have been featured include Donny Brasco, Reservoir Dogs, Risky Business, Blues Brothers and who could forget Tom Cruise's famous Ray-Ban Aviators in Top Gun!
In addition to film, Ray Ban is also synonymous with the celebrity and fashion scene. Fans of the brand include Brad Pitt, Kate Moss, Alexa Chung, Nicole Ritchie, Sinenna Miller, Natalie Portman, Demi Moor and countless other A List stars. Where there is a great band or musician, it is also likely that there will often be a great pair of Ray-Ban's to complete
their look. Ray-Ban was particular popular at the time that Rock and Roll burst onto the scene and artists such as Madonna, Bob Dylan and David Bowie were often seen rocking out wearing their Wayfarers. More recently front men such as Brandon Flowers (The Killers), Ricky Wilson (Kaiser Chiefs) and Bobby Gillespie (Primal Scream) have been spotted out and about or on tour wearing their Ray-Bans. Effortless thrown- together style is the look that many Indie or Rock bands go for and Ray-Bans definitely compliment this depicting the essence of a cool and retro inspired trend.
Music is hugely association with the Ray-Ban brand and the recent revamped Wayfarers which have retained their original style but added a splash of vibrant colour, have been a massive focal accessory at the recent iconic music festivals such as Glastonbury and V Festival and the fact that both the audience and the artists, musicians and bands were wearing them is testament that they are accessible to everyone and actually look fantastic on both men and women and also on a variety of face shapes.
In 2008, Ray-Ban launched Ray-Ban rooms whereby the brand makes appearances at the most popular music festivals and has designated spaces or 'rooms' on site whereby they host DJ sets and performances from cutting edge new bands as well as past icons and current favourites. Within this space they also use the opportunity to showcase their new styles. At the recent the Isle of Wight festival, presenters, actors, celebrities and bands or artists including Fearne Cotton, Nick Grimshaw, Jameela Jamil, Tim Burgess, Samantha Morton, The Prodigy, McFly, The Pixies and Razorlight were just a handful of people who made an appearance at the Ray-Ban rooms which took place in various themed locations on-site. The celebs and audience were also able to sneak a peek at the new Colorize collection. By collaborating with highly popular current events, it gets the brand seen and associated with some of the coolest and highly regarded in the entertainment industry. This initiative also allows people to interact on a dedicated online site to vote their favourite Ray-Ban style and favourite bands as well as being able to try on the new styles at the locations and find out a bit more about the brand and what it represents. Ray-Ban recognises that getting closer to the consumer helps to raise their profile and understand the wants and needs of their customers to design new styles accordingly.
What is also favourable about Ray Ban is the brand's ability to consistently update their styles yet maintain that original retro appeal. The hot new styles recently launched include the Clubmaster which has been seen on numerous celebrities and incorporates a bold splash of colour to inject a contemporary edge. Featured in all the iconic fashion publications such as Elle Magazine, this is definitely a hot style to be seen in. High quality materials and the use of innovative technologies is incredibly high on Ray Ban's agenda and the brand uses specific types of material to create its products which then undergo numerous amounts of testing to ensure quality and durability.
Polarised lenses are also a defining technical feature of Ray-Ban sunglasses which provide ultimate glare protection as well as incredibly sharp and precise vision. The use of carbon fibre also means that the sunglasses are lightweight, strong, durable, flexible and comfortable for all day wear. One hundred percent UV protection is also used on each pair of sunglasses.
Ultimately Ray-Ban has certainly come a long way since 1936 but despite keeping up with current trends and always placing themselves at the centre of the action, the brand has maintained its core values. Ray-Ban sunglasses today are one of the most stylish and trendy but in addition provide the best eye protection and durability which was the purpose of why they were originally designed. If you are looking for incredible style and the best function, Ray-Ban will certainly be top of the list for many more years to come.
No Comments
No comments yet.
RSS feed for comments on this post. TrackBack URL
Sorry, the comment form is closed at this time.