Nixon Watches – A Creative Fusion of Sport, Art and Music
Nixon is an exceptionally cool brand that is highly prominent in the creative scenes ranging from music and art through to skating and extreme sports. Nixon is always being spotted out and about at industry events and has recently showcased its new collection of watches for 2010 at Baselworld in Switzerland which is the world's leading international watch tradeshow. Nixon was excited to debut the new collection as well as some existing Nixon classics so I'm sure we have lots of new styles to look out for during 2010!
In other Nixon news, a Nixon watch favourite; the Time Teller P was selected by a prestigious design jury as the best watch of 2010. The watch was chosen as the best watch by the 2010 Travel+Leisure Awards because of its variety of
cool colours and polyurethane materialisation and has also been described as a great watch to travel with due to its innovative design and durability. Indeed, the Time Teller P is definitely a cool watch and in a choice of vibrant and trendy colours including blue, pink and purple, it is simple yet striking and is the perfect accessory to jazz up your look.
The collection of Nixon watches are incredibly varied in terms of both style and price. On the higher and more elite end of the scale, watches such as The Ceramic and The Ceramic Player are made from exceptionally high quality materials such as mineral crystals and also feature custom three hand Swiss movement. These make for the perfect watch investments that are sure to last a lifetime.
Of course, recognising that budget is of the essence for many, Nixon also have some amazing styles that are a little easier on the bank balance but are still right on trend and perfectly convey the Nixon attitude and character. Bold and chunky styles are a common throughout the collection with design features such as prominent dials and wide straps including The Banks and The Duke.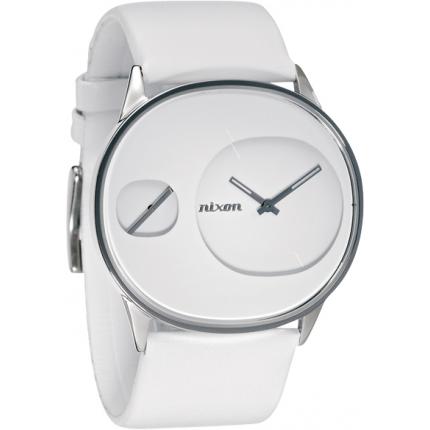 Nixon watches definitely have a sporty feel but with a smart edge and are designed with contemporary aesthetics using interesting shapes and strong lines. The watches for ladies are feminine and incorporate colours such as purple, white and pink but are still designed with that typical Nixon attitude. The Rayna for example has a beautiful white leather strap and a white round dial which has a main inner dial and a smaller sub-dial making the watch minimal but visually striking.
Ultimately Nixon is a brand that designs watches with a fun and youthful vibe but the high quality materials used in production and the sophisticated and innovative designs means that they are much much more than just trendy watches. Inspired by sport, art, music and fashion, the collection is vast and wonderfully creative, definitely adding a sense of something unique and edgy to your look.
We're sure that Nixon have many more cool watch styles to offer in 2010 so be sure to keep your eyes peeled!
Tags:
Baselworld
,
nixon
,
Nixon watches
,
The Ceramic
,
The Ceramic Player
,
The Duke
,
The Rayna
,
The Rocker
,
Time Teller P
,
Travel+Leisure Awards
,
watches
No Comments
No comments yet.
RSS feed for comments on this post. TrackBack URL
Sorry, the comment form is closed at this time.