Every Girl Loves a Seksy Watch
Seksy watches are made by the watch manufacturing giant Sekonda and were launched back in 2004 with the main focus being watches designed for the younger and fashion conscious market. The brand wanted to create affordable watches that looked super stylish and of a high quality. The first ever range of Seksy watches was made up of seven different designs which had a bracelet style aesthetic and had striking features such as Swarovski diamante embellishments. Appealing to the ultra feminine consumers who liked a girly style, this collection was hugely successful and the jewellery-like design has hence become typical of Seksy watches today.
Seksy is now one of the most popular ladies watch brands in the UK and are renowned for their bold yet feminine looks and super sexy designs without being too over the top. The brand name is pronounced 'Sex-sy' and thus the subtle play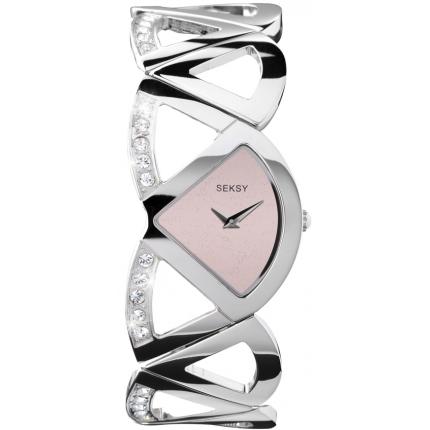 on words relates to the fun and flirty tone of the brand. Seksy watches certainly keep up with current trends but retain their own unique and elegant style and are very distinctive with their jewellery like looks and feminine designs. The watches are fun to wear and inject a sense of fun and elegant style to your overall look. With versatile colour schemes, most Seksy watches are mainly either gold or silver with additions of colour to emphasise particular features and add a sense of sparkle or vibrancy to your look.
The new Seksy styles are incredibly striking such as the Seksy 4278 watch which has triangular shaped links in a bracelet style and a diamante detailed edge. The subtle hint of pink in the dial adds a feminine edge to a unique and edgy shape.
The new 4275 Sesky watch available in a range of colours also pushes shape boundaries with an open wave style bracelet strap. The rest of the design is kept simple but with the subtle addition of diamante embellishments a white dial, the watch is certainly a glamorous statement piece and looks striking on the wrist. Many of the new styles incorporate this theme of interesting patterns and shapes with stunningly elegant colour suggestions.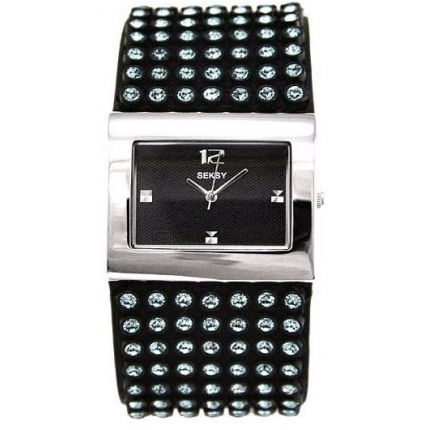 The new range for the forthcoming season is typical to the Seksy style but still varied enough to appeal to a variety of tastes and fashion preferences. There are also some beautiful but edgier styles including the Seksy 4809 watch. With a chunky cuff style black strap with blue diamante detailing, this is a slightly funkier style but the diamantes inject a super glam edge with a hint of bling appeal. The new Seksy 4285 watch is also worth a strong mention with its floral inspired open links and a vibrant pink face, this is a simply stunning watch that every girl would be proud to own!
Many glamorous female celebrities love the sophisticated yet fun and flirty style of Seksy watches and the brand is very clever at how it advertises its products to get noticed. Indeed, prime time television shows are the perfect way o capturing your target audience in one hit and therefore Seksy has been featured on shows such as the X Factor and has also sponso
red the advertising breaks. The beautiful Girls Aloud are the most recent Seksy brand ambassadors and the girls can often be seen sporting the latest Seksy watches and thus portray an image that every girl can also relate and aspire to. Television shows such as 'Katie and Peter – The Next Chapter' have also been sponsored by Sesky. In addition to associating celebrities with the brand, Seksy watches are also regularly seen adorning the pages of glossy magazines targeted at women between the ages of 17 -35. If iconic celebrities who we aspire to dress like are seen wearing Seksy watches then this allows us to identify with them knowing that we could own the same accessory.
Seksy watches are the perfect brand to be seen in for the party season as that sense of unique Seksy sparkle adds the wow factor to your daytime look and will compliment your favourite evening party dress. Whether you are typically girly or like your accessories to look feminine with unique edge, Seksy watches are a must for every fashion loving lady!
Tags:
4275 Seksy watch
,
Girls Aloud
,
Kate and Peter The Next Chapter
,
Sek-sy
,
Sekonda
,
seksy
,
Seksy 4195 watch
,
Seksy 4278 watch
,
Seksy 4809 watch
,
Seksy Watches
,
Sesky 4285 watch
,
watches
,
X Factor
No Comments
No comments yet.
RSS feed for comments on this post. TrackBack URL
Sorry, the comment form is closed at this time.