If there's any time of year to add a bit of glam and sparkle into your look, then now is the time to go for it! What with the party season upon us, accessories are the key way to update or transform your party outfit and the new watch designs by DKNY are the ultimate show stoppers – remaining elegant and demure but statement and ultra glitzy.
The NY8097 DKNY watch is top of our Christmas list this year as is beautifully trend inspired but is also delicate, glamorous and will instantly compliment every look. With
a clear polycarbonate bracelet strap, a diamante embellished bezel and highly functional dial, this watch is sophisticated and chic whilst also being trendy and contemporary.
Gold is a huge look this season and the new NY8034 DKNY watch for ladies is a great way of channeling the gold trend in exquisite style. Featuring a gold plated stainless steel triple strand bracelet strap and a petite square dial, this watch is striking but non-fussy and incredibly versatile.
DKNY is renowned for its unique approach to design and the NY8044 DKNY ladies watch is a perfect example of this. The watch features a highly polished stainless steel bracelet strap incorporating four rows of small circular diamante stones which immediately creates a dramatic and glam effect. The styling of the dial then remains minimal for full impact. This style is also available in gold.
Something for the men, the new NY1456 DKNY watch is the absolute depiction of classic sophistication. With its sleek black leather strap and bold silver dial with
rounded vertical edges, this watch will work with any look and will remain timelessly stylish for years to come – a true DKNY classic!
We are definitely impressed with the new array of DKNY watches, and if you're looking for some Christmas gift inspiration, a DKNY watch will certainly score you some serious points in the present giving department! Best of all, the collection has something to suit all style preferences.
Tags:
Christmas
,
DKNY watches
,
NY1456 DKNY watch
,
NY8034 DKNY watch
,
NY8044 DKNY ladies watch
,
NY8097 DKNY watch
,
watches
If you think that sporty and glam can't go together in one look, then we have just the accessory to prove you wrong! The whole laid-back luxe trend is huge at the moment – it's great for when you want to infuse a burst of sparkle into your everyday look; keeping it casual but striking.
Adidas have got the look spot on with their new Cambridge watches. Available in a variety of colours including hot pink and violet in addition to your staple black and white versions, these watches are perfect for making a statement and are effortlessly trendy.
If you like your watch on the larger side, the Adidas Cambridge watches are a great option. If you also can't resist a bit of sparkle, even better, as the hot pink and violet versions boast diamante embellished bezels. Some of the Cambridge styles also come without diamante studs – the Cambridge watches are unisex and not
all guys, or girls for that matter, always want the bling effect so both tastes are catered for! The Cambridge watches incorporate all the regular Adidas functions including three hand movement and a date window and are ultra sleek with the style versatility to work with every look.
If you prefer a watch that is a little smaller, the Mini Cambridge Adidas watches, as the name suggests, are scaled down versions of the Cambridge watches. Again, some options within the Mini Cambridge collection feature a diamante-studded bezel whilst others are left plain. The rubber straps inject a casual and trend inspired edge and the
dials are sleekly and minimally designed; displaying the iconic Adidas logo at the top centre.
These new Adidas watches perfectly build the bridge between sporty and glam and are an incredibly hot style of watch to be wearing this season. They're great for dressing up a casual look, whilst also adding a more laid-back feel to a dressed up outfit. Best of all, they're budget friendly at between £39-£46.80 each!
You can check out the full Adidas watch collection here.
Tags:
Adidas
,
Adidas Cambridge watches
,
Adidas Mini Cambridge watches
,
Adidas watches
,
watches
We are very pleased to now have the latest Kenneth Cole watches available here at Shade Station and if you are looking for something super sleek and contemporary in a watch, this could be just the collection for you!
As an individual, Kenneth Cole is renowned for his resourceful way of thinking in business and entrepreneurship and actually started his label Kenneth Cole Productions by pretending that he was a filmmaker. Selling 40,000 pairs of shoes from a truck in downtown Manhattan, it didn't take long for the word to spread about this innovative new designer on the scene.
Today, Kenneth Cole Productions is an incredibly high profile American designer label, famous for its fashion forward and often contemporary in style products including shoes, clothes, fragrances and the range of Kenneth Cole watches.
The collection of Kenneth Cole watches comprise of ultra stylish designs for men and women. Though the watches are contemporary and trend inspired, Kenneth Cole likes to inject his own unique twists in the designs, allowing them to remain distinctive and striking. Many of the watches boast multifunctional digital dials that operate via a touch screen, so are also perfect for those who like their high-tech gadgets! The watches tend to be streamlined, with smooth contours and in fresh colours including white, black and silver with the odd
splash of vibrant colour also thrown in on some designs!
Each watch is incredibly chic and sophisticated and is statement enough to add a really polished edge to your look without being so bold that it lacks versatility. Kenneth Cole likes to design pieces that are highly wearable and easily fit into your lifestyle. With material options including stainless steel, silicone and carbon coated stainless steel, this also slightly adapts each watch in terms of its style.
Best of all, Kenneth Cole watches are affordable, so you really can get the true designer style and quality for purse friendly prices, making these the perfect investment watches.
Fantastic quality, affordable, high-tech and ultra chic, a Kenneth Cole watch will compliment your every look and see you top of the style ranks!
Tags:
Kenneth Cole
,
Kenneth Cole Productions
,
Kenneth Cole watches
,
watches
Philippe Starck watches really can be placed in a niche of their own. The man behind the creations, Philippe Starck, is a renowned for his interior design work as well as being famous for his homeware items that move beyond the boundaries of conventional design.
The range of Philippe Starck watches are incredibly contemporary – some could even be described as futuristic and all boast minimal designs but with smooth contours and unique shapes and features. Each and every Philippe Starck watch is a sho
wpiece that creates a statement and portrays original personal style!
There are some new Philippe Starck watch designs in at Shade Station, the first being the PH5036 watch which is a unisex style and features a stainless steel case and a black rubber strap. The 'mystery' dial which is sleekly contained within the main body of the watch is uniquely designed by Starck; displaying the logo at the fifteen minute marker and like the remainder of watch, the design is completely minimal. This watch also comes in white.
A further new design is the PH5039 Philippe Starck watch which boasts the same minimal mystery dial but with a white leather strap. This adds an ultra streamlined yet statement look on the wrist and is a great example of Starck's ability to create something innovative and visually interesting –injecting that element of intrigue!
The last new design recently added to the collection is the PH1116 Philippe Starck watch. Definitely one of the more futuristic inspired watches, this style features a stainless steel case and a black rubber strap that sits like a band around the wrist but is slightly wider at the front section. The dial is digital and features a red LED display and the Starck logo is subtly positioned directly underneath.
Sometimes it is often refreshing to find a brand that completely moves away from current trends and what is regarded as 'in fashion' and instead focuses on its own unique and innovative style that makes the products incredibly distinctive, unusual and exciting. This is definitely the case with Philippe Starck watches and a great opportunity to experience a piece of this highly renowned designer's work!
Tags:
Fossil watches
,
PH1116 Philippe Starck watch
,
PH5036 watch
,
PH5039 Philippe Starck watch
,
Philippe Starck watches
,
watches
The new collection of Amplifyd watches are one of the most bling-tastic on the style scene and their popularity among music stars and celebrities are definitely on the up!
The latest star to be seen sporting the Amplifyd Concepts watch is none other than rapper Dappy from music sensation N Dubz. You can see the watch featured in the latest music video 'Girls' by N Dubz which you can view by clicking here.
The Amplifyd watch perfectly suits the style of Dappy – bling, overstated and ultra pimped up!
In fact, Amplifyd watches can be described as pimped up versions of regular Casio watches. What makes Amplifyd watches draw attention and stand out from other watches on the scene, are the highly bling inspired exquisite hard set stone embellishments positioned around the case, dial and bezel. With gold, silver and black
stones available, the larger models feature 275 stones and the smaller models boast 200 stones.
Part of the hype surrounding Amplifyd watches is also due to the fact that each design is only produced in extremely limited quantities, so get yours quick as these watches are highly sought-after and in demand!
Dappy definitely rocks his Amplifyd watch in true style, so make sure you check out the full collection and add some bling to your look this season!
Tags:
Amplified Watches
,
Amplifyd Concepts watch
,
Amplifyd watches
,
Casio
,
Dappy
,
N-Dubz
,
watches
,
'Girls'
If you are looking for something that extra bit special in a pair of sunglasses, then you need look no further than the Oakley brand. A fine combination of unique, innovative style and incomparable function, Oakley has a distinct vision all of its own and embodies the notion that only the best is good enough.
Part of the reason why Oakley has become so renowned and respected in the eyewear industry is because of its polarization technology. Many of the Oakley styles ranging from the fashionable Oakley Frogskins through to the exclusive, statement and sports orientated Pit Boss sunglasses incorporate Oakley's High Definition Optics and Polarized lenses. Oakley's High Definition Optics (or HDO) provide the ultimate in visual clarity and effectively eliminate any distortion. Often a pair of standard lenses will slightly distort images
whereas HDO lenses enable to you see everything exactly where it is.
Polarized lenses then work to enhance the effect of HDO by balancing light transmission and blocking out glare which can be potentially damaging to the eyes. A huge number of professional athletes including Jake Halstead and Ryan Sheckler opt for Oakley sunglasses with polarized lenses and HDO because they help to maximise performance and always keep the eyes and face protected from harmful rays whilst on the go.
However, Oakley also appreciates that even if you prefer a more fashion forward pair of shades, you may also want to enjoy the superior Oakley technology and therefore a number of the ultra stylish Oakley sunglasses such as the chic and oversized Abandon ladies sunglasses, and the demure, versatile and super sophisticated unisex Square Whisker sunglasses, all have versions available that include polarized lenses.
Part of the reason why Oakley has become so popular is that it provides style options for every sport requirement whilst also creating a superb range of more fashion and trend led designs. Made using lightweight materials including the highly durable C-5 alloy for the slimmer wire style frames, to the robust O Matter frame as seen in some of the more bold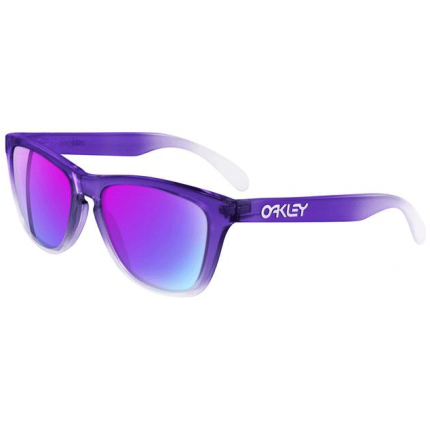 designs that require that extra impact resistance, every part of every pair of Oakley sunglasses through to the frame, fit, aesthetic detailing and lens is designed with the wearer in mind and aims to create the best visual quality and experience possible.
Here at Shade Station we have an extensive collection of Oakley sunglasses available including some of the most iconic designs such as the Oakley Jawbone to the high tech Split Thump sunglasses which innovatively allow you to listen to music and communicate whilst on the go!
So why not check out the entire Oakley sunglasses collection and see the world through the truly unique Oakley eyes!
Tags:
Abandon sunglasses
,
C-5 alloy
,
High Definition Optics
,
Jake Halstead
,
O-Matter frame
,
Oakley Frogskins
,
Oakley Jawbone
,
Oakley Split Thump sunglasses
,
Oakley sunglasses
,
Pit Boss sunglasses
,
Ryan Sheckler
,
Square Whisker sunglasses
,
sunglasses
Michael Kors is very much a leading lady type of label. Glamorous, sophisticated and expensive, it is favoured by Hollywood's A-list and even the First Lady herself. Since the Obama's entered the White House, Michelle Obama has often been snapped wearing Kors to black tie events, which has helped the label enjoy a massive surge in popularity amongst everyday women.
Kors began designing from an early age and set up his own company 'Michael Kors' in 1981. Whilst steering his label to success he also found time to take on the role of Creative Director at French design house, Celine. He oversaw proceedings at Celine for 6 years between 1997 and 2003, during which time he established a critically acclaimed ready-to-wear womenswear line and put Celine firmly on the fashion landscape.
When he left in 2003 it was to concentrate his efforts on his own expanding label. Among the Kors firmament is his very successful watches and accessories line. Which Shade Station will naturally concentrate on here!
We know we bang on about designer watches being a great substitute for a 'way-beyond our price tag' designer frock, but it really is true. Michael Kors dresses can cost in their thousands where as a Michael Kors watch will you set back between £55 and wait for it….. £500! For a really special dress watch it's worth splashing out on a little designer bling. There's nothing worse than seeing a beautiful outfit teamed with a below par watch. Michael Kors watches are elegant, shiny and the perfect accompaniment to a posh dinner date.
There are many different styles of Michael Kors watches and most of them have pretty highly polished bracelet straps or linked straps. There's an abundance of silver and gold plate and there's rose gold, tortoiseshell and even some bright colours thrown in too. All the dials feature the Michael Kors logo for a little extra designer prominence.
As with some of our other designer watch brands, Michael Kors watches fit the bill perfectly for party season glamour. So if you're looking for an extra little sparkle this Christmas, make sure you consider Kors for stylish wrist embellishment!
Tags:
Celine
,
designer watch brands
,
Michael Kors
,
Michael Kors logo
,
Michael Kors Watch
,
Michael Kors watches
,
Michelle Obama
,
Shade Station
,
watches
The BCBG Max Azria brand is creating quite a buzz on the style scene! BCBG stands for 'bon chic, bon genre', which in English means 'good style, good attitude' and perfectly embodies what the brand represents – a fusion of European sophistication and American spirit.
It's no wonder therefore that BGBG Max Azria is a hot favourite show at the Fashion Weeks and loved by the likes of super glamorous stars including Angelina Jolie, Miley Cyrus, Sharon Stone, Victoria Beckham, Beyonce, and Catherine Zeta-Jones. All of these celebrities and many more are often seen at the most high-profile red carpet events adorned in BCBG Max Azria clothing and accessories.
Alas, whilst m
any of us are probably not able to dress in BCBG Max Azria threads, we can now taste a piece of the couture in the form of the designer's recently launched super elegant, glam, unique and sophisticated watch collection which is designed specifically for women and encompasses every element of how a lady likes to feel – beautiful, chic and striking!
If you regard yourself as a fashionista who instantly recognises a fabulous product, we're sure the BCBG Max Azria watches will have already caught your eye. With the watch collection comprising of designs that can be worn for everyday purposes through to ultra special evening watches where you need to make a style impression, the range is feminine, exquisite and fun to wear!
We have a new BCBG Max Azria style new in at Shade Station to introduce to you in the form of the new Florence watch which with its textured leather strap and bold round dial surrounded by a bezel with a series of cut out sections, this design is minim
al yet unique and statement and depicts the essence of star quality. The Florence colour options available are white and rose gold, white and gold and black and silver.
From the exquisite and demure Royale BCBG Max Azria watch to the fun, vibrant and colour popping Elite Sport watches, you will certainly find something that will appeal to your style preference and add that element of celebrity inspired glamour to every look. Best of all, the watches are accessible from a price perspective meaning that now you can experience a piece of the BCBG Max Azria watches action!
Tags:
Angelina Jolie
,
BCBG Max Azria
,
BCBG Max Azria watches
,
BCBG Watches
,
Beyonce
,
Catherine Zeta Jones
,
Elite Sport watches
,
Florence
,
Miley Cyrus
,
Royale
,
Sharon Stone
,
Victoria Beckham
,
watches
Earlier this year, the fashion world came to a stand still after learning the sad news that Alexander McQueen, (or Lee McQueen as he was known by his friends and family) sadly passed away in his London home. Alexander McQueen is one of the most iconic designers of our time and his contribution to the fashion industry was extraordinary.
Whilst the world of fashion has suffered a great loss, Alexander McQueen's collections are still incredibly prominent and the streets (especially in London) can be seen adorned with style icons and fashionistas rocking his trademark skull print scarves, jewellery, clothing and sunglasses. We are extremely excited to announce that the Alexander McQueen sunglasses collection has arrived at Shade Station and is the perfect expression of the designer's amazing talent for sharp style and his sense of imagination.
McQueen was always regarded as an elaborate expressionist and combined the use of unusual materials and fine craftsmanship to create his iconic pieces. The collection of Alexander McQueen sunglasses are definitely reflective of this with
each pair also featuring the iconic skull emblem either on the temple or positioned on the arm. Alexander McQueen sunglasses are luxuriously distinctive; fusing bold, exquisite colours and textures and designed in statement and ultra glamorous oversized shapes with fine attention to detail including elaborately finished and uniquely shaped arms and thick frames. Sleek oversized aviators and butterfly inspired shapes are also aesthetic themes that we see within the range and depict McQueen's flair for statement style entwined with his love of elegant, romantic twists.
Alexander McQueen sunglasses are a huge hit among a number of style icons and celebrities. Catherine Zeta Jones has been spotted wearing a pair whilst Jessica Simpson and Heidi Klum are also fans. Cheryl Cole also sported a pair from the collection when filming the recent X Factor auditions.
If you are looking to make a bold style statement this season, then a pair of 
Alexander McQueen sunglasses will do the job perfectly. A fine expression of the designer's personality and extraordinary talent, each and every pair is unique and dynamic in variety, colour, depth and style.
Tags:
Alexander McQueen
,
Alexander McQueen Sunglasses
,
Catherine Zeta Jones
,
Cheryl Cole
,
Heidi Klum
,
Jessica Simpson
,
Lee McQueen
,
sunglasses
,
X Factor
Jewellery is a fabulous way of updating your look – especially in the autumn and winter months when you can really play around with colour, layers and texture. We have a new brand that has just arrived at Shade Station that is guaranteed to fulfill your jewellery craving this season!
Azuni jewellery is a super exquisite brand that was founded by former renowned chef, Ashley Marshall. The collection comprises of ladies bracelets, necklaces and bangles and luxuriously fuses materials, colours and fashion inspirations.
The jewellery is incredibly unique – mainly due to the fact that every piece is hand crafted by a small fair-trade workshop in Guatemala using beading, hand polishing
and wirework techniques. Materials including semi-precious stones such as Amethyst, Amazonite and Onyx are incorporated into the pieces and all the materials used are expertly sourced from around the world. The pieces boast unusual styling and feature strikingly irregular designs such as the ATH/N3 Azuni necklace with its three hoop pendants and beautiful black and gold colour amalgamation.
For something particularity fashion forward, the Azuni Love bracelets are a great option, and if you favour a haute-hippy inspired look, take a look at the selection of multi-strand beaded bracelets. The colours used are beautifully alluring.
Fashion and trends are certainly an inspiration behind the designs but ultimately the materials used and the craftsmanship mean that Azuni jewellery possesses its own dynamic and rare style. Each piece serves style longevity and is the perfect way to
add a pop of colour to your look!
The designs and colours featured in the Azuni jewellery collection really allow you to express your individual style – ranging from edgy and eclectic to girly and elegant.
If you're looking for something a little different, then the Azuni jewellery brand is a great one to go for – and best of all, the pieces are very reasonably priced ranging from £20 to £97.50.
Definitely one for the Christmas list!
Tags:
Amazonite
,
Amethyst
,
ATH/N3 Azuni necklace
,
azuni
,
Azuni Jewellery
,
Azuni Love bracelets
,
jewellery
,
Onyx
Older Posts »