Whenever Fashion Week comes to town, DKNY is label that is always at the forefront of the catwalks and events surrounding the twice yearly iconic occasion. The brand is renowned for its exceptional pieces which are favoured by a number of A List celebrities and DKNY watches as part of the range of accessories are timeless, elegant and have an appeal whereby anyone can wear one, feel fantastic and look great according to their own unique style.
When you purchase a DKNY watch, you can be assured that you have invested in something truly dynamic, and a quality product that can last a lifetime and continue to look super stylish throughout the years. From function, aesthetic form and technology, Donna Karan has successfully fused all the vital elements to create a collection of stunning watches that are affordable and accessible. With designs incorporating wide bands to narrow bands, from stainless steel to leather, the perfect DKNY watch for every style preference can be found, allowing everyone to experience the ultimate in designer style.
Here is a rundown of some of the latest and greatest styles from the DKNY watch collection-:
NY4783-: This ladies watch features a cool and edgy black ceramic bracelet strap and a jewel embellished bezel and silver dial. This is one of the more urban style watches and the diamantes and black strap make for a complimentary contrast between glitzy and funky. This watch also features a sub dial chronograph.
NY3493-: A pretty, feminine and demure ladies watch, this style boasts a sleek and dainty slim bracelet strap with square diamante inserts. The slim rectangular silver dial is understated with minimal detailing and subtly features the DKNY logo. Perfect for eveni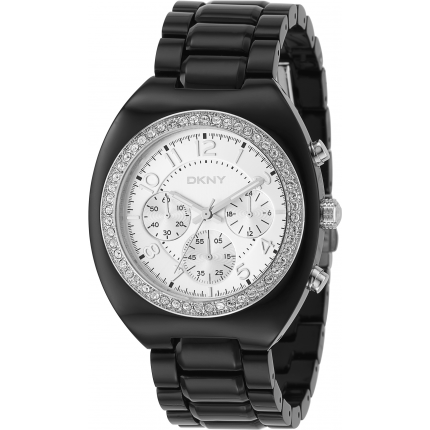 ng glamour!
NY4446-: Combining chic and sophisticated with a funky edge, this ladies watch features a silver bracelet strap with petite square diamante stones along the centre. Again, the silver dial remains understated to keep the focus on the pretty jewellery-like aesthetic of the watch.
NY4422-: Elegant dainty and with a unique design, this ladies watch has a double band twisted bracelet strap, of which the cross over sections above and below the dial are visible on the wrist. The small square dial is black.
NY3605-: Classic DKNY style, this ladies watch is incredibly versatile and will easily take you from day to night. With a silver bracelet strap with square links and a simple silver rectangular dial, this watch is feminine and sophisticated but not too over girly and great for understated glam!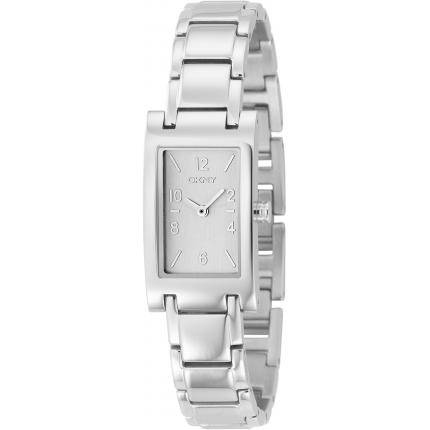 The affordability of DKNY watches is also what makes them that much more appealing as not only is it great if you are on a budget but obtaining a piece of high end fashion be it clothing or accessories can instantly lift your outfit and add that perfect finishing touch in A List style! Watches in addition to being functional are one of the most popular accessories and can create a real style statement regardless of how over or understated the design may be. The collection of DKNY watches definitely offer that exceptional sought after style and convey a true sense of exquisite high fashion. The ultimate elegant accessory that will make for a timeless style investment.
Tags:
designer watches
,
DKNY
,
DKNY watches
,
Donna Karan
,
NY3493
,
NY3605
,
NY4422
,
NY4446
,
NY4783
,
watches
Police was founded in the early 1980's and as the name of the brand suggests, it was inspired by the style of the eyewear as worn by the U.S Police. Police has progressed to become a hugely iconic brand, launched by the eye wear giant De Rigo and has become a worldwide fashion sensation, people loving the sophistication and effortless chic style the range of designs have to offer.
The range of Police sunglasses have a distinctively sporty edge but retain that every day sophistication, typical of Italian chic. The collections are never ostentatious, bold or too overstated but have a confident styling that keeps the designs sleek, streamlined, wearable, practical and incredibly stylish. The frames are designed to suit and flatter a wide range of face shapes and are extremely well constructed to ensure durability. The variety of frame materials and colours also mean that you can inject your own personal stamp on your look. The lenses within the Police collection tend to be more neutral and understated and thus perfectly they compliment the colour and style of the frames. This balance of edgy and classic retains the Police sophistication and wearability.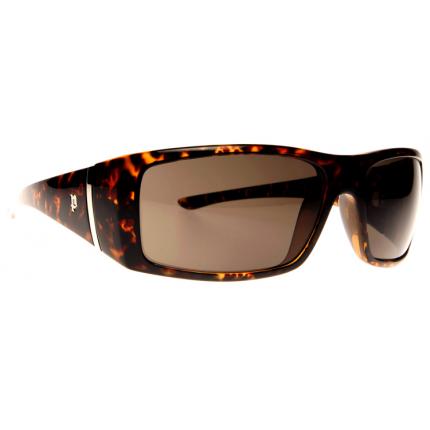 Most of the Police sunglasses designs are unisex and look equally great on and men and women. Police was originally geared towards men however and thus designed their range of sunglasses according to the male facial structure. Appreciating that male and female style has become more entwined over recent years, especially with accessories, Police have adpated the styles accordingly and are now worn by many women who favour that edgy yet sophisticated Police attitude that the brand is synonymous with. The sunglasses ultimately look masculine on men and funky yet chic on the girls.
The Police collection is incredibly stylish – here are a few styles to look out for this season-:
- S1594 – A classic wrap around style, these Police sunglasses have thick tortoiseshell frames and dark brown lenses with the 'P' Police logo on the arms. These sunglasses are are versatile and the dark brown tone adds something a little unique and different.
- S8296 – A super chic
and streamlined pair of Police sunglasses, the sleek chrome frame and arms add a sophisticated edge to a sporty style. Perfect for that on-the-go Police attitude!
- S8182 – A retro inspired pair of Police sunglasses with a contemporary edge, this style is incredibly classic with oval shaped lenses and chic chrome wire frames. The slightly mirrored lenses add a modern edge. These shades are great for all occasions.
- S8194 – Typically Police! These dark and sporty but chic shield wrap around Police sunglasses convey attitude, confidence and charisma. The black frames and lenses also add a sense of mystery!
Police is very much associated with men such as David Beckham, George Clooney and Antonio Banderas, all of whom are regarded as handsome, charismatic, charming and talented. All of these iconic individuals have been ambassadors
of Police and featured in the brand's advertising campaigns. Of course, we can't all look like the actors, sportsman and models featured in slick advertising campaigns but this certainly helps to create a sense of what the brand is all about and the image it portrays. The range of Police sunglasses due to their minimal and simplistic yet effective design features, look fantastic on most people and allow that effortlessly stylish attitude to be achieved by each individual in true Italian style. Police is ultimately a highly regarded, super sophisticated and respected brand and a pair of Police sunglasses will always remain a strong recommendation by the style experts, making for a long lasting investment.
Tags:
Antonio Banderas
,
David Beckham
,
De Rigo
,
George Clooney
,
Police
,
Police sunglasses
,
S1594
,
S8182
,
S8194
,
S8296
,
sunglasses
There is simply no stopping the sports/fashion brand Oakley! The latest exciting news from the brand is that in preparation for 2010, it will sign a new long-term partnership with Grouse Mountain, Vancouver's premiere four-season recreation destination. This resort is ideal as it will provide a fantastic base the 2010 Winter Olympic Games, in which more than 300 Oakley athletes from all around the world will be competing.
Grouse Mountain is located just 15 minutes from downtown Vancouver and will be open for 24 hours a day for the 17 days of the Olympics, offering all round rest and recreation facilities for even those who take part in night skiing and riding.
In addition to this, it will also prove incredibly popular among fans of the Oakley brand who can visit Grouse Mountain each day to take a tour of the Rolling O Lab set up at the base of the mountain, which will showcase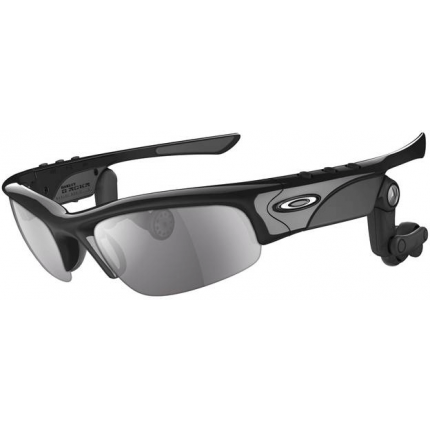 Oakley's products and technologies throughout the Olympic Games. The brand is notorious for designing its products including the superb range of Oakley watches, Oakley sunglasses and Oakley goggles, according to the needs of athletes and as their skills develop, so must the Oakley products to support their performance. With more than 300 Oakley athletes competing in Vancouver, this will be the ideal time and location to showcase Oakley's latest collection of sport performance eyewear.
After the Olympics has finished, Oakley and Grouse Mountain will continue to work together throughout the seasons on key events which will include the Oakley Nightjams, Quiksilver Showdown Over the City, BMO Grouse Grind Mountain Run and Seek the Peak Relay.
The latest range of Oakley watches, Oakley sunglasses and Oakley goggles are simply incredible in both function and style and you really can't find products that undergo better testing, manufacturing and design. Oakley sponsors a significant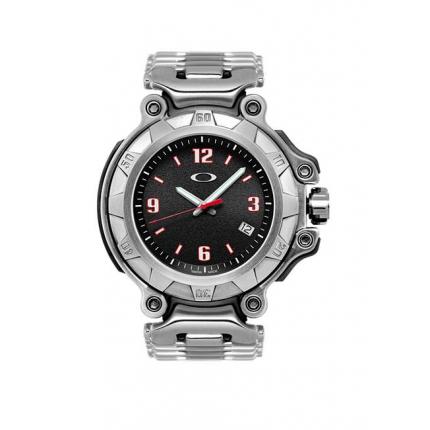 number of world class athletes who compete in many different sports from cycling to snowboarding. These include Lance Armstrong, Marc Lacomare and Nicolas Almagro to name only a few. Whilst some Oakley products may be of a higher price tag, this is reflective of the use of cutting edge technologies (unique to Oakley), intrinsic attention to detail and the ultimate in design and function and Oakley is regarded by many people all over the world as a trusted lifestyle brand and has exceptional high quality attached to the name. People like what Oakley represents in terms of its products and that it is a brand who is always at the forefront of high profile sporting events. Perfect for all manner of sporting activities, Oakley's main goal is to enhance and maximise sports performance and therefore the team of designers and engineers design the products according to top athlete's requirements. A stylish brand, Oakley has also very much come to the forefront of fashion in recent years and the incredible diverse range of products which can be tailored to your specific sports or style needs, look incredibly fashion forward, slick and are instantly recognisable as Oakley, as well as being top of the game in the technological and function stakes.
Tags:
2010 Winter Olympic Games
,
BMO Grouse Grind Mountain Run
,
goggles
,
Grouse Mountain
,
Lance Armstrong
,
Marc Lacomare
,
Nicolas Almagro
,
O Lab
,
Oakley
,
Oakley goggles
,
Oakley Nightjams
,
Oakley sunglasses
,
Oakley watches
,
Quiksilver Showdown Over the City
,
Seek the Peak Relay.
,
sunglasses
,
Vancouver
,
watches
The iconic Carrera Panamericana Mexican car race is the inspiration behind the name of Carrera sunglasses which were first launched in 1953 in Austria. The brand is renowned for its exceptional attention to detail and when designing its products, everything  is developed internally by a dedicated Research & Development department in Padua, Italy.
Carrera sunglasses comprise of three main elements, all of which contribute to the high standards and prestigious nature of the brand. These are the design, the technical innovation and the raw sporting theme. A typical wearer of Carrera sunglasses is always on-the-go, enjoys an active lifestyle and is fast paced. The brand maintains a strong principle of achieving success and it is that competitive nature that makes Carrera sunglasses loved by so many all over the world who like to convey that in their style.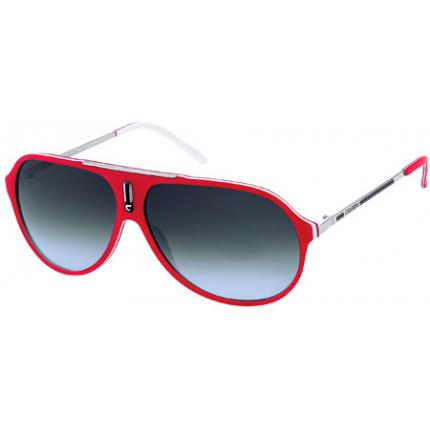 During the process of product development, the sunglasses are tested both in the laboratory and by athletes during competitions and training to make sure that the Carrera sunglasses meet the technical innovation standards needed to make them durable and effective.
The range of Carrera sunglasses are very specific and distinctive in style and boast the following aesthetic features-:
-          Sports style frames – With large lenses that feature a straight top edge, the style of all Carrera sunglasses have a retro sport feel. Depending on the style of sunglasses, this varies slightly; the Safari sunglasses (as worn by Paris Hilton) are smaller than the Olympia 1 style for example. The Easy Driver sunglasses are a little more aviator style with the two lenses separated with a t-bar.
-          Colour – An injection of strong bold colour is also what makes Carrera sunglasses unique to the brand and this is incorporated on the frames, ear socks and the lenses. The Hot sunglasses for example have a vibrant red frame and red ear socks whilst the Easy Driver sunglasses feature violet lenses and ear socks with a white top bar. The colour combinations are complimentary of one another and again, have a sporty feel but with a bang on trend edge.
With any sports orientated product, function and style must be balanced accordingly as with sunglasses especially; you need them to be durable, able to endure physical activity and impact and maximise performance by providing you with clear vision. Carrera therefore places such great important on the research and development phases to ensure that as well as looking great, the sunglasses will really go the distance and the brand is now respected as premium and one of the major players in the sports fashion industry. At prices ranging from between approximately £57 and £68, you really can't go wrong  and with celebrities such as the Beckhams and Paris Hilton often spotted wearing them, you know that these are a genuinely super stylish pair of shades!
Designed for those who enjoy sports or want to look trendy whilst on the go, Carrera sunglasses are distinctive yet simple in style which is ultimately what makes them so popular. In unisex styles that look equally great on men and women, with strong colour, funky frames and lenses designed to fully protect your eyes and endure impact, Carrera sunglasses are definitely top of their game.
Tags:
Carrera
,
Carrera Panamericana Mexican car race
,
Carrera sunglasses
,
Easy Driver
,
Hot
,
Olympia 1
,
Paris Hilton
,
Safari
,
sunglasses
,
the Beckhams
Prada is possibly one of the most renowned designer labels in the world and was founded in Milan in 1913 and began by designing and creating leather goods. In 1978 Miuccia Prada expanded the company into the world wide fashion house that it is today and Prada Sport which is sometimes referred to as 'linea rossa', meaning red line (because of the red line branding), is the sportier and lifestyle section of the Prada brand.
The Prada Sport brand was created because it wanted to bridge the gap between sport and fashion and entwine the two equally as often you find that one surpasses the other. Prada Sport is typically high fashion and retains the Prada glamour but has a distinctively sportier edge comprising of sports style shades such as visors and wrap-arounds as opposed to fashion classics such as the bug eyed Hollywood style oversized shades.
Prada Sport sunglasses are perfect for those who are after on-the-go style and are ideal for outdoor sports or physical activity. The collection varies b
etween vibrant and bold frames as well as classic and understated. A common aesthetic feature is the injection of Italian style and these are definitely sunglasses that ooze quality and high class with a laid back edge. Prada Sport sunglasses are have a strong design personality with strong and sleek lines and that effortless cool style.
Some new styles to look out for this season include the PS07HS which with their sleek visor/shield style lenses and wide arms with the red Prada Sport branding, look fantastic for on-the-go style. The new and ultra sophisticated PS531S Prada Sport visor sunglasses feature a highly stylish slim arm, again with the red branding. These are sporty but are simultaneously extremely glamorous. The PS501S sunglasses are reminiscent of an oversized and sporty aviator and have a slightly retro feel with graduated brown lenses and arms which curve at the ends. The PS52ES sunglasses are a wrap-around style and with their silver frames and jet black arms these are timelessly stylish sunglasses with that ready for anything sporty feel.
Of course, Prada Sport sunglasses as well as the style factor have superb function and provide full UV protection from the sun's rays in addition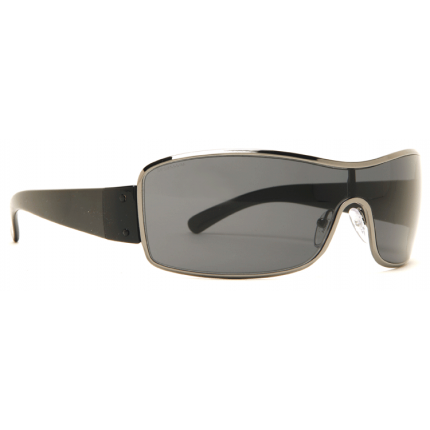 to durable and robust frames and lenses which are designed to be comfortable for all day and everyday wear. The sunglasses are produced in Italy using only the best an innovative manufacturing techniques and as a brand in general Prada is highly regarded for its superb quality and refined materials used in each and every product.
Prada Sport sunglasses are fantastic for people who like to look stylish but want their sunglasses to suit and compliment an active lifestyle. With chic and streamlined aesthetics and a distinct edge, you will never fail to look sharp in a pair of these. With celebrities such as Brad Pitt and Eva Longoria rocking their Prada Sport shades, is just goes to prove how highly regarded they also are in the celebrity world.
Tags:
Brad Pitt
,
Eva Longoria
,
linea rossa
,
Miuccia Prada
,
Prada
,
Prada Sport sunglasses
,
Prada sunglasses
,
PS07HS
,
PS501S
,
PS52ES
,
PS531S
,
sunglasses

There's no mistaking the famous Oakley logo; it's been part of the sports landscape for the past 30 years. Found on the arm of Oakley sunglasses, it is a subtle logo yet coveys a punchy reminder of just how big and well-respected the brand has become.
There's also no mistaking a pair of Oakley sunglasses. The classic sleek, sporty design has been imitated over and over again – to such an extent that it's important to make sure you buy your Oakley sunglasses from an official dealer, like Shade Station.
Oakley was designed and developed for sportsmen, so it's not surprising they're the brand of choice for a lot of active people in both traditional and freesports. As well as fielding their own Oakley teams in a number of competitive sports, they have some high profile athletes on their books representing the brand. These include: cyclists Victoria Pendleton and Bradley Wigan, cricketer Kevin Pieterson, and golfer Ian Poulter.
Oakley have earned an enviable reputation over the years through the production of high quality, innovative, performance enhancing eyewear for men and women. The company work hard for their money and reputation, continually developing new technology and specialist features, which they incorporate into the design of their sunglasses. For instance all lenses are produced with Oakley's pioneering 'High Definition Optics' which was developed to give the wearer ultimate visual clarity. Other examples of innovation are Oakley's 'Thump' and 'O Rokr' styles which feature both bluetooth and MP3 facilities built into the arm.
Although sport is Oakley's main draw, plenty of people choose to wear Oakley sunglasses as a fashion statement or simply because they like the quality of the glasses. So in addition to high-performance sports sunglasses, Oakley have a number of collections including 'Design your own Oakleys', 'Fashion' and 'Collector's Items'. The highly collectable Oakley 'Frogskin' is an example which displays the diversity of sunglass styles that can be found within the Oakley portfolio.
Tags:
Bradley Wigans
,
Ian Poulter
,
Kevin Pieterson
,
Oakley
,
Oakley Frogskins
,
Oakley sunglasses
,
Oakleys
,
Shade Station
,
shades
,
Sports sunglasses
,
sunglasses
,
Victoria Pendleton
Since the iconic Dolce and Gabbana label was born in 1985 as founded by design duo extraordinaire Domenico Dolce and Stefano Gabbana, the brand has it has established itself as one of the main leaders and inspirations in the fashion industry loved by celebrities and A Listers alike.
Renowned for their exquisite sense of sexy and glamorous designs with an essence of sophistication, the collection of D&G sunglasses perfectly depict that with the range comprising of classic styles, oversized, aviators and visor styles.
Sunglasses are so much more than just an accessory to protect the eyes – they have become an indispensable fashion accessory and a part of our everyday lives, even when the sun isn't shining. They can be a remarkable representation of your personality, style, status and can transform the look of any outfit to inject a chic and polished edge. With styles for men, women and unisex, a pair of D&G sunglasses are on trend and effortlessly refined and make for the perfect autumn and winter accessory.
Many people like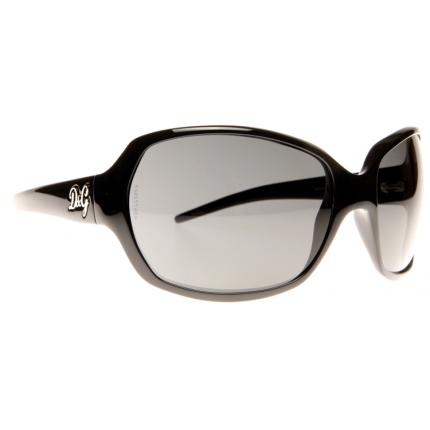 their sunglasses to be overstated and the best way to work this look is to keep you main attire chic and simple. If getting noticed is your thing and you love the glam effect, a pair of the DD8018 D&G sunglasses with their jet black oversized frames are the perfect choice. With the sleek brand logo on the arms, this style retains that Hollywood glamour oversized look and creates a dramatic look but the jet black colour and slim frames keep the sunglasses versatile and chic. The DD3030 frames are similar but have a thicker and more retro inspired oversized frame.
For something a little sportier but maintaining the glam factor, the unisex DD8037B visor or shield style sunglasses are perfect with wide frameless lenses and thick jet black arms. The D&G lettering logo is positioned on the arm in diamante stones which definitely adds a favourable touch of bling which is synonymous with the D&G brand. A further funky oversized pair includes the DD6022B sunglasses which have goggle style frames and again feature the diamante D&G logo. These frames are also retro inspired in their design.
For something sharp a little edgy and funky and very D&G, the DD6057 unisex shades have large square shaped lenses with jet black arms and dark grey lenses. Slightly retro with a contemporary twist, these sunglasses have a sleek edge that will instantly transform your overall look. Not too over the top or understated they definitely add that essence of effortless A list glamour.
D&G sunglasses provide a great example of the classic and tailored approach that the brand favours and will make for a fantastic accessory staple that will look great for a numerous seasons,  conveying timeless style. Sophisticated, polished and chic with the offering of just the right level of bling, a pair of D&G sunglasses will see you through every fashionable season in true Italian D&G style.
Tags:
D&G
,
D&G sunglasses
,
DD3030
,
DD6022B
,
DD6057
,
DD8018
,
DD8037B
,
Dolce & Gabbana
,
Domenico Dolce
,
Stefano Gabbana
,
sunglasses
Tom Ford is an iconic figure in the fashion industry and noted primarily for being the man responsible for turning Gucci which was on the edge of becoming bankrupt into a multi-billion dollar fashion house through the reinvention of its brand image including intelligent strategic marketing and a new bold and chic design. After leaving YSL in 2005 (Gucci had bought a controlling stake in Yves Saint Laurent and Ford was appointed creative director), Tom Ford and his partner Domenico de Sole founded 'Tom Ford' which was a new company that produces luxury high end and uber fashionable sunglasses.
If you are a fashion and style conscious individual, a pair of Tom Ford sunglasses should be one of your handbag essentials and can transform your on-the-go look in an instant. They have very much come to the forefront in 2009 and are set to be equally successful and prominent in 2010. People love the luxurious and ultra sophisticated essence
of Tom Ford sunglasses with their typically glamorous oversized aesthetic and are regularly spotted on high profile celebrities such as Angelina Jolie, Brad Pitt and Lindsay Lohan (pictured above wearing the Margaux Tom Ford sunglasses).
This season is all about being bold with strong silhouettes, colour and sharp chic lines. Tom Ford sunglasses perfectly compliment this with bold styles which are typically and dramatically oversized. If you want your look to be overstated yet chic, this is definitely the brand to opt for. The fun element of Tom Ford sunglasses is that each pair has a name to represent the style.
Here are some of the key Tom Ford styles to look out for-:
James Bond Exclusive-: As the name suggests, this is the cool aviator style that Daniel Craig in his portrayal of 007 in the James Bond film Quantum of Solace. Tom Ford was specifically asked to design the frames to perfectly suit the legendary and super charming and charismatic James Bond character!
Anais: A perfect contemporary frame for ladies that features dramatically oversized frames with a square shaped finish. This look is very much on trend for autumn and winter.
Whitney: A popular among celebrities such as the Olsen twins and Angelina Jolie, these sunglasses are very representative of the 'bug eye' look. A truly dramatic and glamorous frame with figure of eight style oval frames with bamboo style arms and a thick rounded frame, the
se are a must for every fashionista!
Andres: The Andres Tom Ford sunglasses are a unisex style and one of the sportier versions within the collection. Featuring large square shaped frames with rounded edges; this style is certainly unique with a hint of retro appeal.
Lilliana-: Tom Ford Lilliana sunglasses are largely popular as they depict the essence of drama, sophistication and class. The off white versions with subtle pink lenses are also a beautiful and unique colour combination and very complimentary against paler skins and blondes.
Tom Ford sunglasses represent an ultra high end and luxurious appeal and with their bold yet sophisticated features they are designed to make a statement about your look. No matter what your outfit, with the simple addition of a pair of Tom Ford's you will instantly add a high fashion, couture edge to your look and  feel feminine and glamorous. With a wide array of colours available including, black and brown tones as well as lighter, muted and neutral tones, you are certain to find a pair of sunglasses within the range that compliment your skin tone and hair colour. The man who put Gucci firmly back on the map has definitely injected his own unique and high end style into his range of Tom Ford sunglasses making you look and feel every inch the Style Queen (or King!) this season.
Tags:
Anais
,
Andres
,
Domenico de Sole
,
James Bond Exclusive
,
Lilliana
,
Lindsay Lohan
,
Margaux Tom Ford sunglasses
,
sunglasses
,
Tom Ford
,
Tom Ford sunglasses
,
Whitney
,
YSL
,
Yves Saint Laurent
When you are preparing for an adventure on the slopes, to enjoy the experience to the max, it is vital that you choose the correct goggles to protect your eyes and face. Dragon is one of the most respected and renowned snowboarding brands and its goggles have become notorious in the snow sports industry.
In terms of style, Dragon goggles are striking with funky patterns and vibrant colours. They are also designed to be durable enough to handle extreme conditions and to endure repeated physical activity. The brand has existed for over 15 years and has spent much of its time researching and developing the latest goggle technologies and production methods to ensure their finished products are always superb in both style and function. The brand sponsors a number of professional snowboarders and therefore design their goggles according to athletic standards alongside with using the lens technology developed by NASA. Dragon goggles are ultimately strong, flexible, and durable  enough to cope with all temperatures and snow conditions.
When it comes to goggle technology, one of the primary technical features that you require is fog prevention. Dragon goggles feature the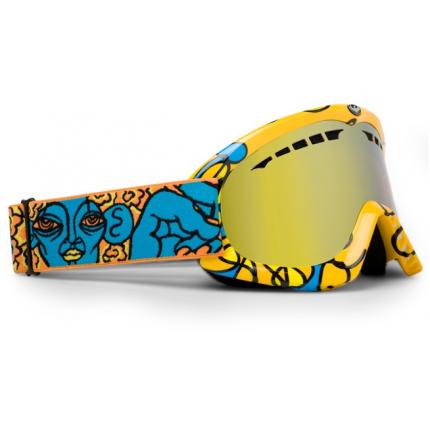 most powerful anti fog system and treatment available in addition to dual layer face foam, a unique air flow system to prevent fogging and an adjustable double sided strap. The goggles are also designed so that the contour fits effectively with your helmet, ensuring a comfortable and secure fit. Dragon goggles are also renowned for their ability to provide wide peripheral vision which again is something that is hugely important when taking to the slopes and can significantly enhance your performance.
So Dragon goggles are definitely winners in terms of cutting edge technology and function but how do they rate in style? The brand has a selection of different types of goggles, each with their own unique and incredibly edgy and cool style. The Dragon DX goggles for example come in a wide array of colours including blue, pink, white, grey and purple to name only a few, some incorporating a funky graffiti or tie dye style pattern on the face strap and some alternatively using plain bold colour and the Dragon logo. A selection of the goggles also feature psychedelic patterns or cartoon graphic styles which definitely ens
ure that you get noticed on the snow! Some even include the personal designs of snowboarding legend Jamie Lynn. The Skull Candy Dragon goggles are an extremely prominent and popular design and combine the quality of Dragon's goggles with the iconic Skull Candy headphones. The collaboration has proved very successful and these goggles have been noted to be going down a storm on the slopes! Dragon also caters for the kids with a Lil' D range of goggles. These include the same striking and vibrant designs and are crafted to provide maximum protection.
Dragon is a brand which is noted for its eclectic style and superb quality. It also happens to be one of the most budget friendly brands with prices averaging from between £40 – £60. Great value, amazing function and vibrant and innovative style – Dragon goggles will definitely make your snowboarding experience that little bit more exciting, safer and of course, stylish!
Tags:
anti fog system
,
Dragon
,
dragon goggles
,
DX goggles
,
fog prevention
,
goggles
,
Jamie Lynn
,
Lil' D goggles
,
NASA
,
Skull Candy
,
snowboarding
Always renowned for being incredibly stylish and innovative, the designer label Police which produces clothing and accessories including watches, sunglasses and jewellery is an all round lifestyle brand that is favoured for its original Italian style but with that added European inspiration which is what makes it so popular all around the world. Police believes that people should be fashion lovers as opposed to fashion followers and rely on a unique and individual style that suits you regardless of trend or what is regarded as 'in fashion'. Police has always maintained the idea that it designs it products based on individual street style inspired by passion, culture, occupations and the day to day elements which may influence your personal fashion. It has never tried to emulate what other brands are doing but instead has stuck to its own style which has ultimately made it as popular as it is today.
Police – the Background-:
Founded in the early 1980's Police is highly regarded in the fashion industry, possessing that unique sense of Italian chic that cannot be replicated. The typical Police wearer oozes with self confidence, style and charisma and that is exactly what the brand aims to portray when designing the effortlessly cool products. Throughout the years, Police has extensively developed firstly launching its collection of sunglasses in 1983, fragrances in 1997, watches in 2003, jewellery in 2005, leather goods in 2007 and finally clothing in 2008 making it an al
l round brand with a huge range of lifestyle accessories.
Police – the Ambassadors-:
The most famous of all the Police icons and ambassadors is probably our very own David Beckham who was photographed in a Police advertising campaign sporting a pair of their wraparound sunglasses. The other ambassador was George Clooney who wore a pair of Police aviators representing a cool and chic look and Antonio Banderas is a further brand icon. Each of these men are testament to the theme and image of the Police brand and are renowned for their sense of style and of course being rather dashing in the looks department conveying a glamorous yet strong and masculine image for Police. The brand has also recently announced that it will be sponsoring Italian 21 year old Formula 2 driver Edoardo Piscopo who is tipped to be a rising star in the motor racing industry.
Police Watches – the Style-:
Police watches are designed for men and women who favour a chic and sophisticated style without looking that they are trying too h
ard. If you wear a Police watch, you are confident with your own dynamic style and tend not to follow fashion simply because something is regarded as on-trend. Many Police watches are chunky and feature stainless steel bands and striking dials with dual functions. Some also have black leather straps or black coated stainless steel which makes for an urban on-the-go look that easily takes your style from day to night. Police wearers are seen to be always on the go the range of watches are casual enough for daywear yet would still spruce up an evening outfit.
Police Sunglasses – the Style-:
Police Sunglasses were the first product launched by Police and provide the foundation on what the brand is based upon. The style has changed throughout the years with the design theme varying according to the era but has always maintained that effortlessly cool essence with sleek frames and striking designs. Police sunglasses move beyond
fashion and style and are designed solely to flatter and inject an individual look. Ultimately they are designed to compliment a cosmopolitan lifestyle for people who can be described as trendy in a unique and off-beat way.
Police jewellery, like the watches and sunglasses also reflect that edgy, street style with unisex designs that definitely convey a dynamic sense of fashion. With silver and black colours heavily featured as well as dog tag and rope style designs, the range of Police jewellery is geared towards those who dare to be different and refuse to conform to trends for the sake of it. The Police brand definitely maintains a timeless appeal and will always be one of the primary contenders in the fashion industry.
Tags:
David Beckham
,
Edoardo Piscopo
,
George Clooney
,
jewellery
,
Police
,
police jewellery
,
Police sunglasses
,
Police watches
,
sunglasses
,
watches
Older Posts »