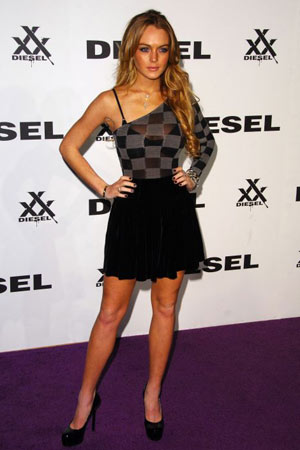 Diesel was once renowned as a fashion brand which specialised in denim, but over recent years the label is now not only popular for its cool range of jeans but also its accessories; particularly watches. The creator of Diesel is Italian fashion designer Renzo Rosso who founded the company in 1978. Rosso's aim was to design pieces that were unique and completely different from the common trends of fashion within that era and would continue to question fashion tradition in the future. Therefore his creative team were encouraged to be as daring as they liked, and the end products resulted in clothes and accessories that are an expression of individual style.
We all know that Diesel jeans are still a firm favourite today with their edgy look and great fit, and the same can also be said for their watches which are one of the best quality range of timepieces you could invest in. If you are looking for a purely classic style, this may not be the range for you, but what you will certainly find is a fantastic selection of watches that give you the ability to express yourself and really make a style statement. If you are after a watch with a strap or perhaps a more elegant style bracelet, Diesel watches appeal to every age and taste. For the more 'techy' fashion fans among us who prefer watches with a futuristic twist, the Diesel DZ9024 model is perfect and has a funky design with a multi display. We all like to feel that we are buying something on trend yet still unique to our own style. Diesel has depicted that statement perfectly and as a result, their watches will never look dated or 'out of fashion'.
Having recently celebrated its 30th birthday this month, Diesel went all out and held parties in 17 cities around the world. Celebrities such as Paris Hilton, Lindsay Lohan, Mark Ronson and Supergrass who are fans of the brand were in attendance and this significant birthday proves that Diesel has become one of the most influential and fashionable brands the world has ever seen……and is only becoming stronger with age.
Click here to visit our Diesel Watches section
Tags:
Diesel
,
Diesel celebrates 30th birthday
,
Diesel DZ9024
,
Diesel jewellery
,
Diesel watches
,
jewellery
,
Lindsay Lohan
,
Mark Ronson
,
Paris Hilton
,
Renzo Rosso
,
Supergrass
You may have read last week's blog entry about Black Dice watches being all over X Factor, putting in an appearance on more than one occasion, and it looks like they're on a roll. Striking lucky at the MOBO's last week as well, everyone wanted a piece of the action as stars queued up to get a pic of their watch-adorned wrists.
Unable to wait til they got home, the guestlist started unwrapping their goodie bag bling before you could even utter the words Black Dice. Not only that, they just couldn't resist ripping them out of the packaging and planting them on their person. Everyone from Jay Sean to Radio 1's Reggie Yates and Billy Ocean to Noel Clarke were spotted eagerly popping on the prize-goods and it wasn't just the boys that took a shine to the brand's bootie, Alesha Dixon, Sinita, Mica Paris and Jamelia were all eager to show off their treats too.
Despite the A-listers all having different tastes, Black Dice managed to cater for every single celeb there with everyone leaving a happy customer, thanks to their super-extensive range. If you want to be part of the Black Dice crew, don't forget to check out our very own collection of the wonder watches here.
Click here to visit our Black Dice Watches section
Tags:
Alesha Dixon
,
Billy Ocean
,
Black Dice
,
Black Dice watches
,
Jamelia
,
Jay Sean
,
Mica Paris
,
MOBO Awards
,
Noel Clarke
,
Reggie Yates
Our very own Shadestation has certainly been celebrating and raising its champagne glasses! Last week we attended a prestigious ceremony in London having just been named as one of Britain's best places to shop on the internet according to leading price comparison website Shopzilla.co.uk
Shadestation.co.uk was one of only 11 companies nationwide to receive a highly acclaimed Shopzilla Circle of Excellence Gold Award, the scheme's second highest honour. Our diverse and wide range of designer watches, sunglasses and jewellery are part of the reason why we have received the award but other factors such as customer satisfaction, customer service, ease of use and on-time delivery and were also measured.
This is the first time that Shopzilla have held the Circle of Excellence Awards in the UK and David Allen of Shade Station commented "We are absolutely delighted to win a Shopzilla Circle of Excellence Gold Award. It has been awarded solely on the basis of feedback from our customers so we really couldn't wish for any higher accolade. Shade Station is a customer focused business, and to have the feedback from customers that we are doing our job well means a lot to us. We constantly strive to improve our service, and mainly focus on the feedback we receive from channels such a Shopzilla. We will not rest on our laurels with achieving the gold award, we have the platinum award in our crosshairs for next year!"
This really is a great achievement for us here at Shadestation as the award is based upon customer feedback which proves that we are keeping the most important people happy; our customers. Of course, this is just the first step and we are always aiming to provide a better service. The highest award – the Platinum Award is the scheme's most prestigious accolade and we definitely have our eye on that for that next year!
Tags:
David Allen
,
shadestation wins Circle of Excellence Gold Award
,
Shopzilla Circle of Excellence Gold Award
,
Shopzilla.co.uk
A cornucopia of cool, Black Dice watches have been spotted on many a celebrity's wrist. In fact just last Saturday, two of the X Factor finalists were seen showing off their top notch Black Dice watches to millions of viewers.
The new fans came in the form of critic's choice boyband – JLS and solo starlet Austin in Mr Cowell's category. All five wanabees wore watches by the British born-brand that was born out of a love for everything music, fashion and design, and is one of the main reasons they've gained such a strong and loyal following. Recognised for their strong association with their roots, it's this that's led them on the road to success.
In black, white and brown, the watches chosen for the X factor hopefuls came in a combination of analogue and digital form, with the exact models revealed later as The cash, Hustle, Heist, Consortium and Duo. Luckily they all got their fair share of coverage after they received their very own close-up camera shots – well done Austin and the JLS boys for grasping their microphones with their bejewelled hands!
With over fifty contemporary styles to choose from, Shadestation has one of the most comprehensive Black Dice collections on offer, with a mix of men's and women's styles to choose from. Showcasing all the watches seen on the ITV show, take your pick from the five aforementioned options or select yourself an original with one of Black Dice's unforgettable designs – exclusive to us!
Click here to visit our Black Dice Watches section
Tags:
Austin
,
Black Dice
,
Black Dice watches
,
JLS
,
Simon Cowell
,
watches
,
X Factor
The brand name Oakley is indeed a familiar one and is mostly associated with their fine range of sports orientated sunglasses. Favoured by avid sport enthusiasts and celebrities, Oakley combines high style with full function in their watch designs and is one of those brands which has real value in terms of quality and reliability. Oakley watches are designed to suit every taste. For cool, slick and understated you can opt for a metal wrist band whereas if you prefer your timepiece more functional and durable you can choose a leather or rubber watchband.
A new addition to the range includes The Oakley "Blade" which is definitely a fresh and chic group of watches. These timepieces use the same pure sapphire crystals as used in most high-end watches and they are also enhanced with an anti-reflective coating. The stainless steel bracelet is made so that it can fit a range of wrist sizes and a funky feature of the watch incorporates curved blade shaped hands that are signature to Oakley. The analogue chronograph watch, the "Detonator" has a very James Bond-esque appeal and has that futuristic scientific vibe in its design features. The watch has a 7-hand display, a strong 3-D internal frame even measures 1/5-second intervals, elapsed time, split time, accumulated time, and dual competitor time!
Oakley watches are beautifully and skilfully crafted and really have that classic but cool edge. They are also
very popular among celebrities such as Nicole Ritchie, Lil John and sports stars including Lance Armstrong and Ryan Sheckler. Oakley has always maintained its commitment to predominantly being a sports brand but has successfully diversified into the fashion market meaning you can be sporty and stylish.
Click here to visit our Oakley Watches section
Tags:
high style and full function
,
Lance Armstrong
,
Lil John
,
Nicole Richie
,
Oakley
,
Oakley Blade
,
Oakley Detonator
,
Oakley watches
,
sports watches
The fashion brand synonymous with style and quality has expanded its watch range and launched some seasonal time pieces that will no doubt be snapped up pretty pronto. With a watch to suit every taste, the range ticks every trend box too – from animal-print straps to diamante displays, these affordable accessories are the next big must-have.
Famous for bringing a designer approach to the high street, Karen Millen was established in 1981 with the flagship store opening just two years later in 1983. Since then the brand has gone from strength to strength and now has stores all over the world, as well as its fair share of celebrity fans with Daisy Lowe starring in their advertising campaign this winter. Isla Fisher and Christina Ricci are also rumoured to be part of the KM fan-club.
But it's not just A-listers who can bag this booty; accessories are one easy way to get your claws into a
designer piece without going overboard on the pennies, and even as everyone starts tightening their belts (or should that be watch straps), luckily this new range won't make your eyes water when it comes to cost. Starting at £60 for a classic black watch that would work with every clothing item you've ever owned, think of it as your LBW (little black watch) –or if you're a fan of the slightly less conventional watch styles we highlighted last month (think pendants, bracelets etc), why not try one of the Karen Millen cuffs with padlock style face instead? Even the most expensive piece – a jewel studded stainless steel bangle watch – is a justifiable £150, and we all know sparkle doesn't come for free.
Click here to visit our Karen Millen Watches section 
Tags:
Daisy Lowe
,
Isla Fisher
,
Karen Millen
,
Karen Millen watches
,
watches
Nixon are most commonly renowned within the sports industry and their timepieces have steadily made an impact on the watch scene over the last decade. Nixon watches originated in California in 1997 as a boutique watch manufacturer making specialist watches for the youth and fashion market and wanted to create something a little different by catering to all styles and tastes.
Particularly popular within the surfing market, Nixon now also produce a wide range of lifestyle products but are probably most famous for their extremely well crafted and on-trend timepieces. Nixon watches are regarded as highly sought after and represent style, class, individuality and quality.
Nixon aim to create watches with personality and the various designs are created according to individual personalities. If you are after something bold, vibrant and fun, the Vega Nixon watch in hot pink would be a perfect choice whereas if you are seeking something a bit more subtle, The Private would be a more suitable option. Nixon have even designed something for the dork in us (there is a dork in everyone after all!) which is aptly named The Dork. The names are definitely part of the fun when choosing a Nixon watch!
Of course, where there is a cool accessory, there is a cool celebrity who will be seen sporting it and Nixon
have even recently created an elite new range designed by celebs such as Fall Out Boy, Ringo Starr and Jack Black who are all fans. The proceeds of this range will go towards The Grammy Association's MusiCares MAP Fund and The Tony Hawk Foundation. Of course, Nixon are primarily geared towards surfing and sport and so have many celebrities in this field such as Casey Brown and Mike Gleason who are all fans of the brand. Johnny Depp was also recently spotted wearing a Nixon watch. These watches all have a sporty yet stylish edge and have that element of knowing you are wearing something ultra cool!
Click here to visit our Nixon Watches section
Tags:
Casey Brown
,
Fall Out Boy
,
Jack Black
,
Mike Gleason
,
Nixon watch
,
Nixon watches
,
Ringo Starr
,
sports watches
,
The Nixon Dork
,
The Nixon Private
Spreading a little 'ooh la la' onto the fashion scene, Paris has spent the past few days hosting the spring / summer 09 fashion week finale. And what a way to end the season; with the likes of Gareth Pugh, Louis Vuitton, Nina Ricci, DIOR and Givenchy all unveiling their forthcoming collections. Once again, accessories were the name of the game and came in every shape and size imaginable. From hats to bags, boots to berets, the designers ticked every accessory box going.
Bag-wise, expect clutches to continue at the top of the charts, seen clasped daintily between model's hands on the catwalks of Balenciaga, Lacroix and Dries Van Norten. The latter also taking a shine to big, black bug-like shades. And not wanting to be outdone, Karl Lagerfeld persisted with his monochrome palette and popped a pair of dark black circular shades onto models as they headed on down the runway.
Another big player at Lagerfeld and Lacroix and in fact Andrew Gn was the use of cuffs incorporated into the outfit, and we're not talking cuff detail on clothing either. This is all about separates – think punched-out leather detailing, multicoloured materials and fossil-like adornments. For extra drama, mix with over-sized necklaces and bauble-esque earrings a la Gn, or do as the French do (or should that be Sonia Rykiel) and invest in a cashmere beret – c'est magnifique!
Rykiel also proved that not all sunglasses next spring will be big and bulbous, opting for a 70s white rimmed frame with graduating lens. Hussein Chalayan on the other hand, decided to opt out of using lenses altogether and chose to go all futuristic, using plastic wrap-around glasses that could easily have passed for 3D specs instead.
From head to toe and feet were covered up with candy coloured contraptions at Jean Paul Gaultier, complete with ankle-tie ribbons whilst at Givenchy, over-the-knee boots were the focus footwear, although we're not sure you'll get away with them on the beach!
Tags:
Balenciaga
,
Dior
,
Dries Van Norten
,
Givenchy
,
Karl Lagerfeld
,
Lacroiz
,
Paris Fashion Week
,
Spring summer 09
As Fashion Week rotates around the globe, the penultimate week has very recently rounded off in the city of the sophisticated and chic; Milan. The catwalks which displayed the various collections for Spring/Summer 2009, focused heavily on jewellery and the general consensus is definitely the bolder the better. Baubles, bangles vibrant necklaces and earrings have returned with a bang to the Milan runway after several seasons of the more minimal and subtle alternatives.
The prominent jewellery trend seen on the catwalk maintained an earthy vibe, almost with a tribal edge and incorporated wood detail within necklaces and bracelets. Earrings were large, colourful and dangling as seen at the Marni show whereby the earrings were made out of heavy stone and featured crystal detail. The Gucci show was typically filled with beautiful, wearable styles and continued its favourable bejewelled theme. Classic style large brooches with gemstone hues were used to pin gowns together. Gucci's creative director Frida Giannini who is an expert in accessories suggests that the best way to stylishly include jewellery into your look is to limit it to large and bold precious stones, including amethyst, agate and crystal. Giannini has incorporated the use of beautiful and colourful stones embellished onto clutch bags which injects an element of decadent class and sophistication.
Cavalli opted for a classic yet bold style with the use of glimmering gold and stone teamed with his mini ball gowns. The bracelets were worn as strands and wrapped around the wrist like a cuff.
London consistently maintains an experimental and sometimes unpredictable sense of style, whereas Milan is renowned for its classic and continuous elegance in fashion. The various pieces of jewellery seen on the catwalks this September were certainly a bolder statement than we have seen throughout previous fashion weeks. Definitely a welcome return!
Tags:
bold jewellery for Spring/Summer 2009
,
Cavalli
,
Frida Giannini
,
Gucci show
,
jewellery
,
Marni show
,
Milan Fashion Week Spetember 2008